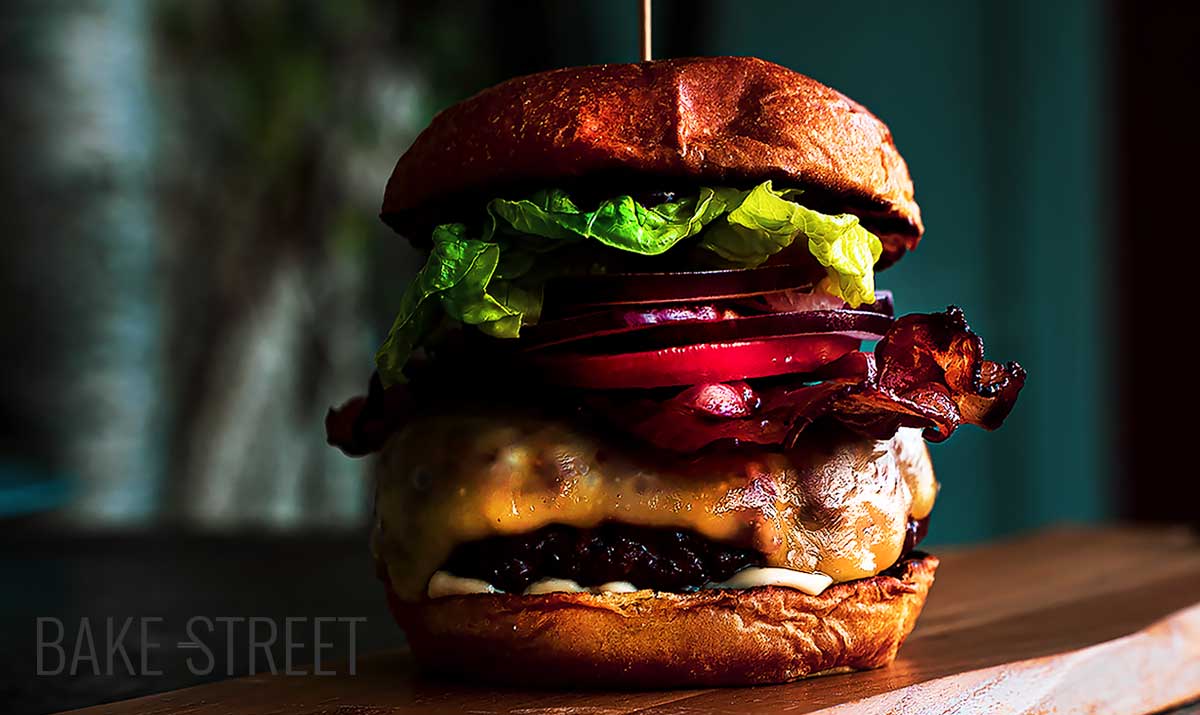 How to make the best bbq burger
Este post también está disponible en Spanish
After a long summer break, it was time to get back to work. And what better way to do it than with a recipe to know How to make the best bbq burger. I think there are many ways to get back into the swing of things and return to our daily routine, but few can compare to this… can they?
I had been thinking for a long time about writing a post about how to make the most delicious, juicy and perfect burger within what can be encompassed in the definition of "perfection". Obviously nothing is perfect, but there are things that we prefer over others. So this summer I have suffered a lot trying different burgers to find the recipe that best suits my tastes and my palate. And I do all this for you, so you can see what I love you, right? Hahaha.
I have to say that I didn't find the recipe that fit the first, second or third time… I tried different spices, percentages of meat, but without varying the types of meat. This point, after much reading, was clear to me. The combination should be brisket and bacon.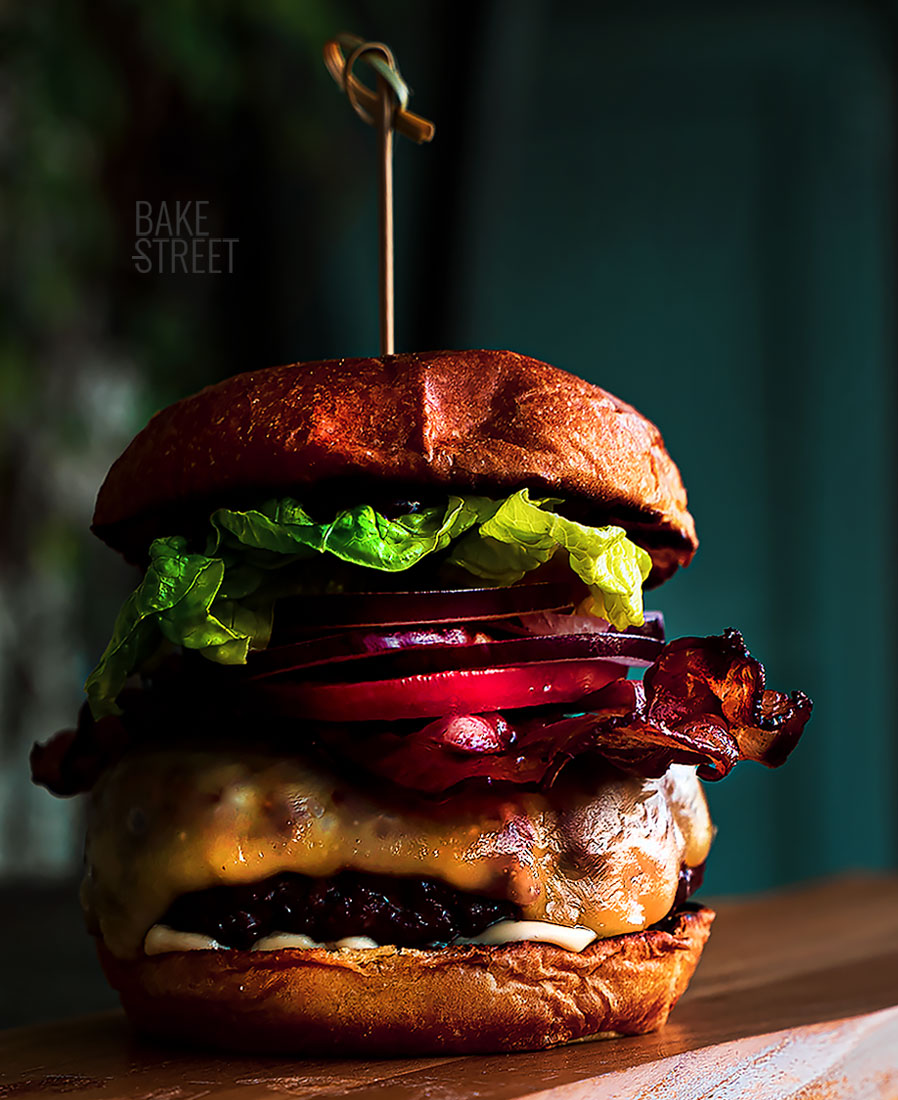 Why brisket? Why raw bacon?
The idea that goes around in my head as an "ideal hamburger", not a vegetable although I like these very much, is a beef burger. When choosing pieces to make a hamburger, among all the cuts there are, it is important to choose one that is tender and juicy.
I have to say that when I arrived at my butcher's shop I asked for a type of meat and my butcher asked me what I was going to use it for. I told him I wanted to make hamburgers and add a percentage of fat to the meat. Here he told me that there was no discussion possible, that the best thing was to use brisket because it is a very tender meat. I listened to him, of course! Whenever he gives me a recommendation, he is right. So I changed my initial idea for this other cut.
To keep the meat juicy after cooking, it is important to add fat when mincing the meat.
In my case I followed Gordon Ramsey's recommendations who recommends adding between 20-25% of fat with respect to the final weight of the meat we are going to mince. He leaves us two options; bacon or pork snout. I chose the first one at 25%.
The combination of these two types of minced meat is spectacular. Promise, tested countless times this summer.
Thinking about spices…
There is an immense variety of spices that fit very well with the meat, but not all of them can fit us in a hamburger. The truth is that I had no trouble choosing them since I wanted two of them to be present, but not to be noticed in terms of texture; garlic and onion powder.
I also wanted to give a spicy point that was fresh, so the options were clear; ginger powder and black pepper.
Sumac was a variety that I added in later tests. I think that the fresh citrus point that this spice brings, suits it very well. But without exceeding it. And, of course, salt. Without it we cannot enhance the other flavours that we have unified and make them "shine".
But, not only using the right meat along with the right mix of spices guarantees that we get an ideal burger. To do so, we will have to take into account two other factors; handling and cooking point of the meat.
How to work wit meat.
When forming the burgers, there are two things we must take into account:
Size of these
Meat handling
When I visualized the burger in my mind, I did it in a large format, very exaggerated. I wanted the cut to show a good piece of meat accompanied by vegetables, cheese, bread, sauce… So the first ones I made were 200 g/piece burgers. Of course, the amount of meat you make each one of them with will be linked to the hunger you have or how you like the thickness of the burger. I think it is a bit exaggerated, but I like it very much visually.
The burger in the video, the one that is assembled, weighs 200 g. All the others are 150 g/piece. I consider that this last one has a more appropriate weight, for my liking, which doesn't have to be for everybody, so I can accompany it with potatoes or other garnish. Besides, we must not forget that the thicker it is, the longer it will take to cook. And vice versa.
The handling of the meat should not be excessive. Both when we mix the meat with the spices and when we shape them. On the one hand, if we touch the meat too much we will obtain a mixture similar to a not very pleasant paste at the time of eating. On the other hand, if we press the meat too much when we shape the burgers, we will avoid the final result to be juicy after cooking.
So these two steps that seem to be unimportant, we should not give them away if we want to get good results.
Meat cooking/doneness stage.
This is no mystery. There are different cooking stages when cooking meat that will directly suit our personal tastes. They can be done by time or by measuring temperatures. The ideal is to do it with the last option because it is the safest way to do it properly without exceeding or falling short.
Bleu: 46º-55ºC, sealed meat with a well-cooked outer layer, but the center is deep red, raw and even cold
Rare: 50º-55ºC, sealed meat with 75% red meat inside. Ideal stage to eat beef meat because it does not lose its juiciness
Medium Rare: 55º-60ºC, sealed meat with 50% red meat inside
Medium: 60º-65ºC, sealed meat with a pink shade inside. At this stage in the doneness process, the meat begins to lose its juiciness and flavor
Medium Well: 65º-71ºC, meat with a brown shade accompanied by a very scarce pink center
Well Done: 71º-80ºC, grayish brown meat on the outside and brown on the inside. At this stage of cooking the meat loses up to 70% of its juiciness and has a rather hard texture
Ideally, beef should be eaten rare in order to enjoy all the juices it contains, having lost only about 1% of its juiciness. But, for a hamburger, it is still not the most suitable doneness.
Important note: meat doneness that does not involve health risks is not the same for all meats; beef, pork or chicken.
In my case I like it rare, my husband likes it medium and my son likes it well done… The rest of my family left it up to me, so I decided to do a little what I thought was right. I got them all out, except for mine, medium and I had no complaints about any of them. I took a bit of a risk, I know, but I didn't want them to lose their juiciness. Thank God everyone liked it, hahaha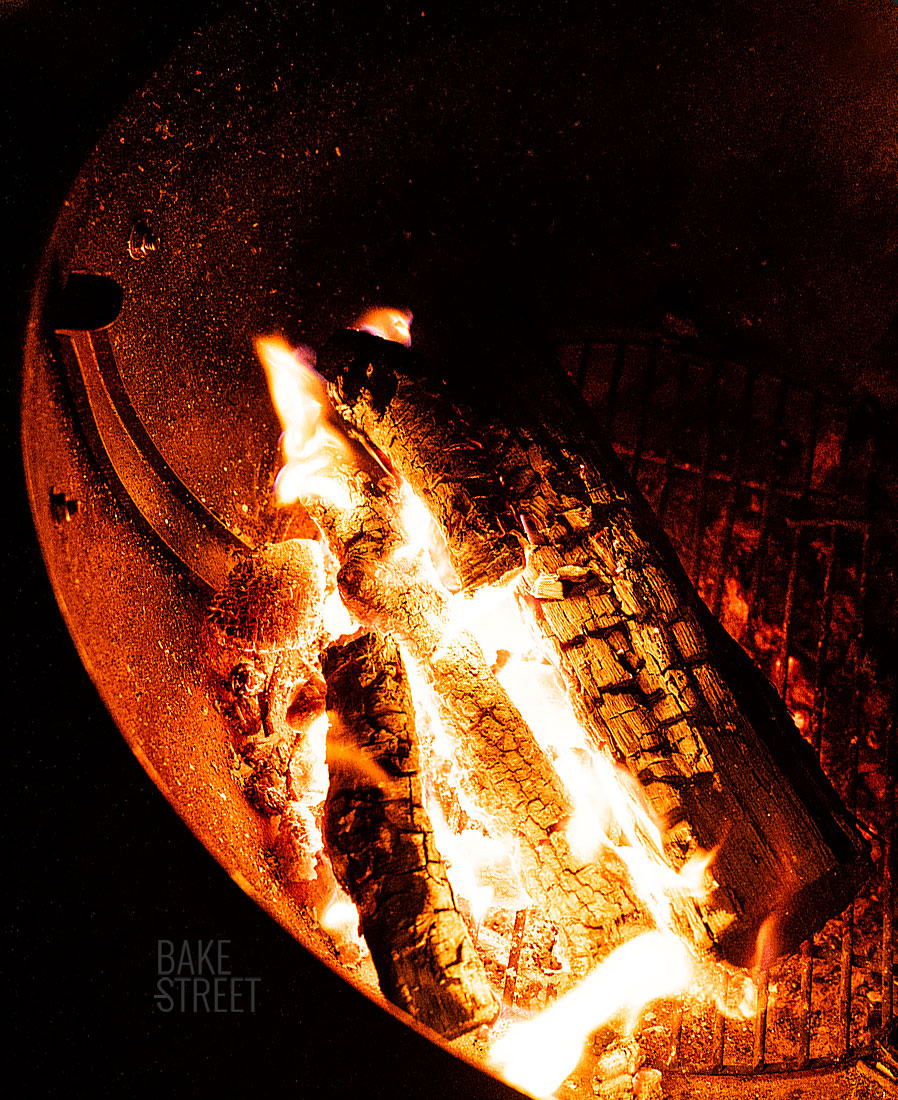 A brief note: If you are going to accompany the meat with cheese, I recommend placing this when we have about 1 minute to finish cooking. That way we will achieve that it melts and "accommodates" completely on the meat.
Assembling burgers.
At this point, we have the most "complicated" part done. Now we only have to combine the ingredients we like the most along with a good burger bun.
As I mentioned below, the option with which I decided to present these burgers are the most classic and traditional, but also that which guarantees that many people will like. Crispy and golden bacon, fresh tomato, red onion, lettuce… And sauce to your choice.
The order of the ingredients does matter.
Surely many of you think that "the order of the factors, does not alter the product". But, in this case, I'm going to be a bit like Sheldon Cooper when it comes to eating a sandwich 😉
Apparently, the order in which we place each of the ingredients does affect the final result. Ideally, we should build our burger in the following way:
Lightly toasted burger bun base to enhance its aromas and flavors, as well as providing extra tenderness
First layer of sauce to taste, preferably mayonnaise or mustard
Meat, mixed with 20-25% fat for extra juiciness, with melted cheese
Crunchy and classic toppings: tomato, onion, gherkin or cucumber and lettuce
Last burger bun with ketchup or other sauce of your choice
For the bread there was no other option than a brioche burger bun. Without a doubt this is my favorite along with bretzel bun. In your case, of course, you can use the burger bread that you like the most. In the notes section, below, I've linked several types of hamburger bread that I have in the blog in case you want to use any of them. And I still have to let you know how to make a brioche burger bread. I won't be long in bringing it, I promise 😉
Sauces with which we can accompany our hamburgers.
When seasoning our burgers we can use an infinite number of different sauces, totally adapted to our tastes or combined with other ingredients. Without forgetting the classics; mayonnaise, mustard and ketchup. Even the barbecue sauce.
I'm going to leave you with some options that I have on the blog and others that can be made in a little more than 30 seconds, but without exact amounts so that you can combine them to your liking:
Avocado sauce: 1 ripe avocado + 1 tablespoon of freshly squeezed lime + salt + chili flakes to taste
Guacamole:link recipe
Sesame and soy mayo: Mayonnaise + sesame oil + soy sauce
Alioli: 1 egg L + 210 g sunflower oil + 1 garlic clove + salt + (chopped coriander, optional)
Aromatic Sauce: Mayonnaise + crème fraîche + chopped fresh basil + chopped fresh thyme + chopped fresh chives + black pepper + salt
Tamarind mayo:lin recipe (Spanish only)
Sesame honey mayo:link recipe
Classic hamburger sauce: Mayonnaise + ketchup + mustard + chopped gherkins
Lime chile mayo:link recipe (Spanish only)
Blue cheese mayo: Mayonnaise + crumbled blue cheese
Creamy carrot, ginger and chipotle sauce:link recipe
Sriracha mayo: Mayonnaise + sriracha sauce (link recipe)+ chopped fresh cilantro
Watercress, dill and peanut pesto: link recipe
Cream, mint and honey sauce:link recipe
Yoghurt tangerine and ginger tahini sauce:link recipe
Mole negro: link recipe
Macadamia, soy and lime sauce:link recipe (Spanish only)
Watercress, sage, ginger and hazelnut pesto: link recipe
Basil, arugula and almond pesto:link recipe
Hoisin, lime and sriracha sauce:link recipe
Honey, dried peaches and cumin sauce link recipe (Spanish only) + harissa
These are some of them, but we can make and combine many of them. Even a little more elaborate.
By the way, in case you want to make them in the bbq, take the opportunity to make some s'mores. We did it (you can see it at the end of the video) and we finished on Saturday shooting completely. They are very easy to make; marshmallows, milk chocolate and crackers. Love them, though, sugar by the clouds!
Bbq burger recipe
Ingredients for 8 hamburgers 150 g/piece
BURGER PATTIES:
minced meat (1 kg of brisket (beef) + 250 g raw bacon)
2 tsp ginger powder
2 tsp garlic powder
2 tsp of onion powder
ground black pepper to taste
pinch of sumac
salt to taste
TO ACCOMPANY:
brioche burger buns
sliced Gouda cheese
bacon
fresh tomato, sliced
red onion, sliced
Polish pickled gherkins, sliced (optional)
lettuce to your choice
mayonnaise, ketchup, mustard...
Instructions
FIRST DAY
Prepare minced meat.
If we have a meat grinder at home, we can do it ourselves. If not, we will ask our butcher to chop up brisket together with raw bacon.
In a big bowl incorporate the meat together with the spices and salt. Mix to distribute well the spices throughout the meat, as well as to distribute perfectly the two types of minced meat.
We must not manipulate/touch the meat in excess. Just enough to distribute everything evenly.
Cover with film and let it rest in the refrigerator overnight.
SECOND DAY
Shape burger patties.
In my case I made 150 g burger patties. The first time I tried to make them of 200 g and we found them very big... Although the cut is much more eye-catching. The burger in the video is 200 g of meat, but all the others weighed 150 g. I leave the final weight of the burgers to your choice.
Take portions of meat and shape them into a ball, without pressing too much or manipulating the meat.
Prepare a ring with a slightly larger diameter than the burger buns and place it inside.
Press gently to give it a circular shape. In this step DO NOT press too much, otherwise the meat will lose its juiciness because it will be too compact when we cook it.
Repeat the same step with the rest of the meat.
Light the barbecue.
In my case I cooked the burgers on the barbecue. I know this is not a viable option in all cases, but that doesn't mean we can't make them at home. We can always cook them on a griddle or in a grilled pan. If you want it to have the characteristic smoky flavor that the bbq gives us, we can add some concentrated smoke powder to it.
Prepare the charcoal for the barbecue. In my case I use a charcoal chimney starter like the one you see in the video. It is very comfortable to light the charcoal.
Once the charcoal flames are out and the charcoal is white, dump it under the barbecue grate and spread it out.
With the help of a barbecue fork, rub the whole grate with half an onion. This will prevent the patties from sticking to it and could break them when turning them over.
Cook the burger patties.
Place the burger patties on the grate and cover with the bbq lid. In this way we will achieve a more uniform cooking, besides getting the meat to smoke with that particular flavor.
Cook for 4 minutes, remove the lid, turn the burgers over and cover again.
The cooking stage of the meat will depend on how you like to taste it. We can guide ourselves by time, but the easiest and safest way not to fail is by using a digital kitchen thermometer.
Depending on how we like the meat, we will reach one temperature or another. Check the temperatures I leave above to cook them to your liking.
When there is little time left to reach the desired temperature, we will place the slices of cheese.
In my case I like meat rare, with a very juicy inside, so I cooked the meat 4 minutes on one side and 3 minutes on the other. One minute before the end of the cooking time, I put the cheese and covered the barbecue again so that it melted well on the meat.
Took the meat out of the bbq with the help of a spatula and placed it on plates or a tray.
Cook the bacon and toast burger buns.
Place bacon slices on the grill, made 2 per person, and cooked on both sides until they are well browned and crisp. But not black.
Take them out and put them on a plate.
Put the burger brioche breads on the grill to toast them lightly. Keep an eye on them because from one second to the next they go from perfect golden to black.
Remove the buns from the grate.
assemble the burgers.
Place the base of the burger bread and, on it, mayonnaise.
Put the burger patty with melted cheese, two slices of crunchy bacon, one slice of fresh tomato, sliced red onion and lettuce. In the video I forgot to put the Polish gherkin in slices... I always put it on top of the mayonnaise.
Finally, pour ketchup on the top bun and place it on top of the burger. Optionally we can cross it with a bamboo skewer to avoid it from falling apart.
Serve immediately.
Notes for the best bbq burger
Finding a good combination of meat and fat is important for a juicy and tasty result. After doing many tests during the summer, with the consequent suffering hahaha, we saw that the ideal proportion was to add 25% of fat to a meat that we left knowing that it was tender. Like brisket in this case.
Since fresh bacon has some meat in it, we can change it for another type of fat if we wish.
To control the cooking doneness of the meat, I recommend using a digital thermometer. That way we can control the cooking much better, especially if we cook them in bbq since the amount of heat emitted by the embers can vary.
If we don't cook the burgers on a barbecue, but on a pan or a griddle, but we want to have that touch of smoky flavor we can add a little bit of concentrated smoke powder. This would be added along with the spices.
The variety of cheese, in case you want to add it, will always be to your taste. I really like how Gouda cheese works with meat. So, mostly, it is my choice when I make hamburgers at home.
Personally, I love the brioche burger bun. In fact, I have to leave you a recipe to make them. But, if you want to try other versions at home, I remind you this bretzel burger bread (only available in Spanish), red pepper burger bread (only available in Spanish), kaiser rolls, red miso and nori seaweed burger bread or turmeric and coconut milk burger bread (only available in Spanish).
The accompaniment of the burger is completely optional. On this occasion I have decided to choose very basic sauces and elements, but which always work well. Tomato, red onion, lettuce, bacon... A classic, but I'm sure I'll get it right.
If you want to see other options in terms of sauces or accompaniments for your burgers, you can take a look at my vegetable burger recipes; whiskey caramelized onion, guacamole, black mole, tamarind mayonnaise, honey and mustard, lime and chili...
No doubt this summer there is one thing we have done a lot at home and that is barbecues... Of all kinds. And we have eaten a few hamburgers, hahaha. I hope that you will also decide to cheer up with them and try how to make the best bbq burger. Or without it! Because it will give good results in both cases.
Only we already know that the bbq manages to give that special touch that is only achieved when we cook on the charcoal and on a grate. But that we can also emulate, in a very satisfactory way, at home.
I wish you a very happy return to the routine life that, despite being less attractive, does not have to be boring at all.
Have a wonderful, happy weekend!
Big hugs,
Eva
Sources: BBC
Archivado en