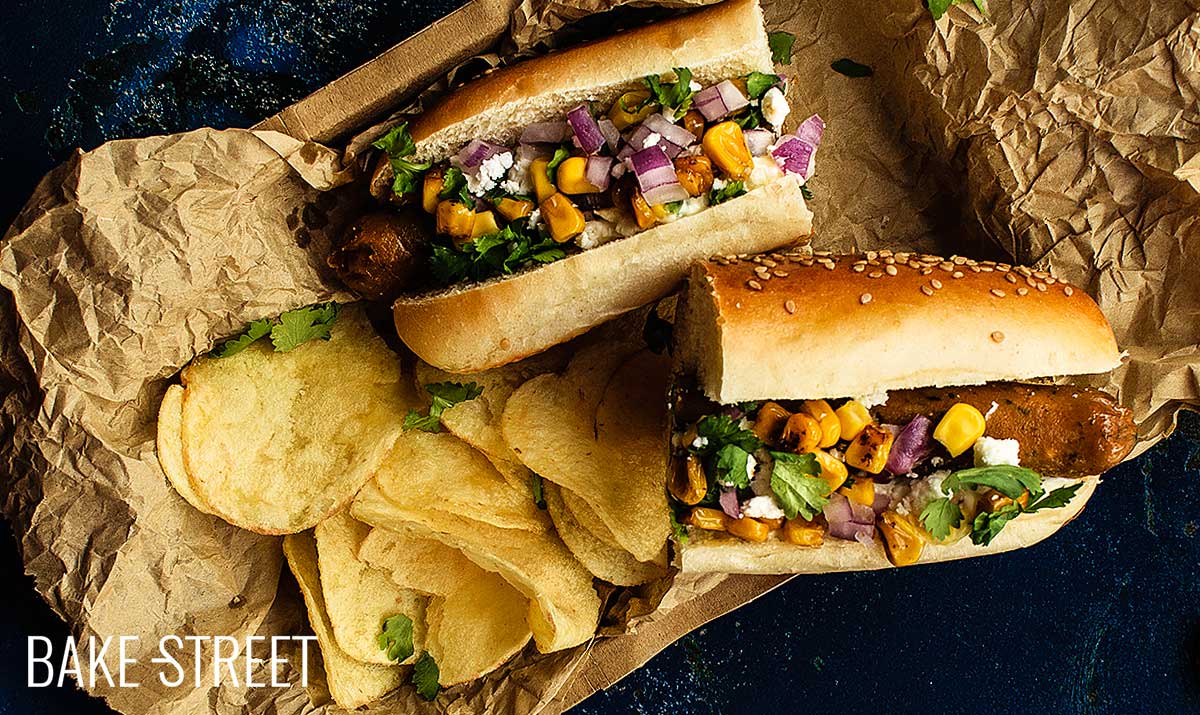 Vegan Sausage Hot Dog
Este post también está disponible en Spanish
I have prepared a lot of veggie burgerson the blog (if you want to see more recipes, you can do it on the Spanish section), at home we like them a lot, although I have to admit that we will never say no to a good meat burger. This is another recipe that I have in mind in the near future, to find the ideal recipe for a perfect hamburger. But for the moment we're staying on the vegetable side. The thing is, a couple of months ago I was thinking that I had never prepared vegetarian or vegan sausages, and I was really looking forward to it. So I started looking, reading and looking to leave you this Vegan Sausage Hot Dog.
When I started looking for information on how to make vegetable/vegan sausages, I saw that it wasn't as simple as making a burger. The latter does not require certain ingredients or processes to ensure a texture, finish and shape. On the contrary, when we prepare sausages there are certain steps to take into account.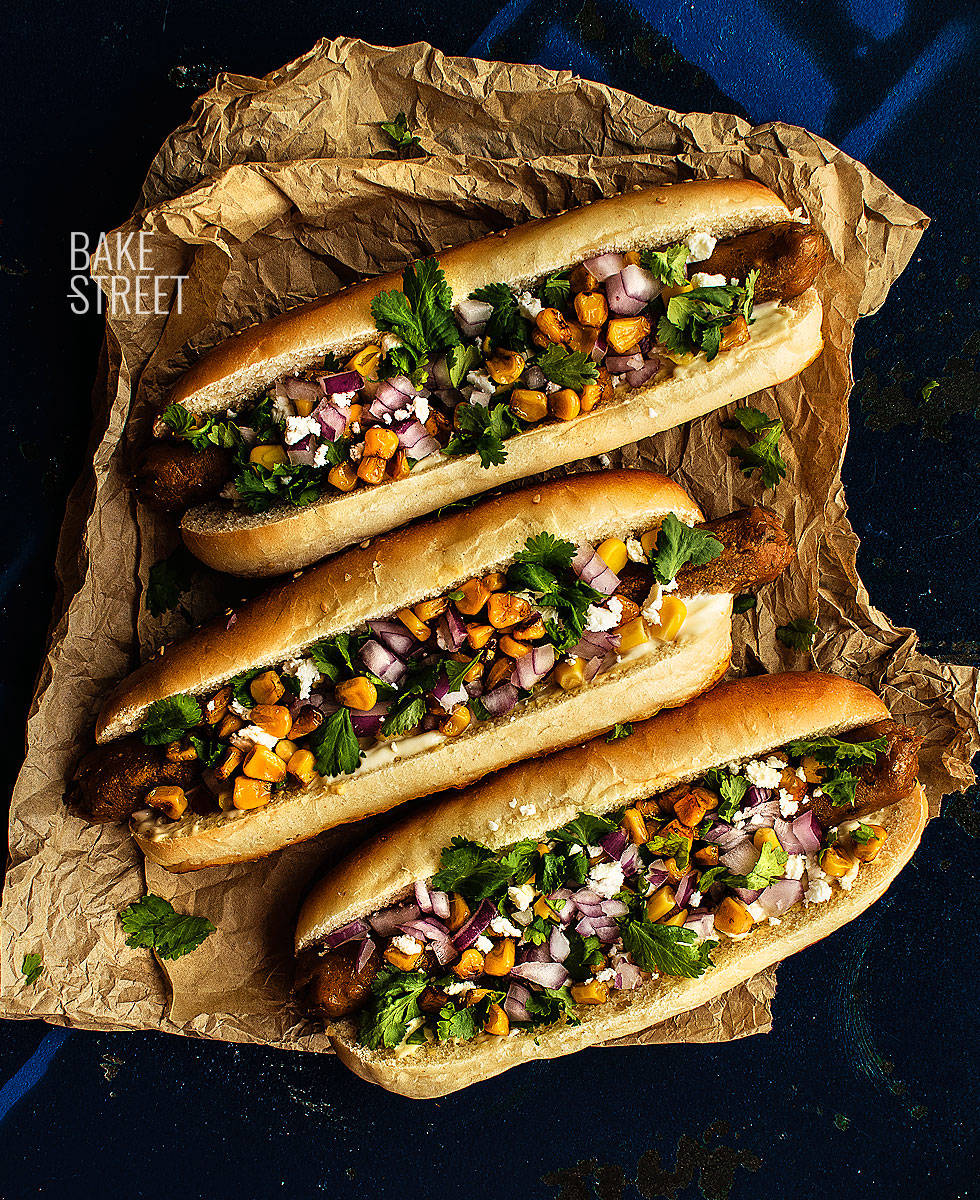 Making gluten-free, vegan sausages.
The first thing I had to do was look for a base ingredient that would result to the sausage. As I read about it, I saw that 90% of the recipes had one ingredient in common and that was wheat gluten. In some cases seitan. This is used to give texture to the sausage and has a finish very similar to those made with meat. But here I had a doubt, what about gluten intolerants?
I know that, in my case, I prepare them with a gluten bread. But for those of you who are celiac, you can make the sausage and serve it with a gluten-free bread or even without bread. It occurs to me to accompany it with rice noodles, salad, vegetables, sauerkraut…
Because the main ingredient is gluten and then it is accompanied by other elements that give it flavor and color… I didn't like this. What I was supposed to be looking for was a sausage made mostly with vegetable ingredients and some other element to help you acquire that texture and finish. Then I found others made with tofu, an ingredient that I don't like very much… So none of them convinced me.
I started thinking about what I could use to provide texture without using gluten, tofu, seitan… I wanted the main element to be chickpeas combined with spices. And then I thought about glutinous rice flour. This type of flour acquires a glutinous texture when cooked, which would give us a perfect result when preparing a sausage. In addition, I decided to add potato starch to combine with glutinous rice flour and add texture. It's not the same as using potato flakes, it has nothing to do with it.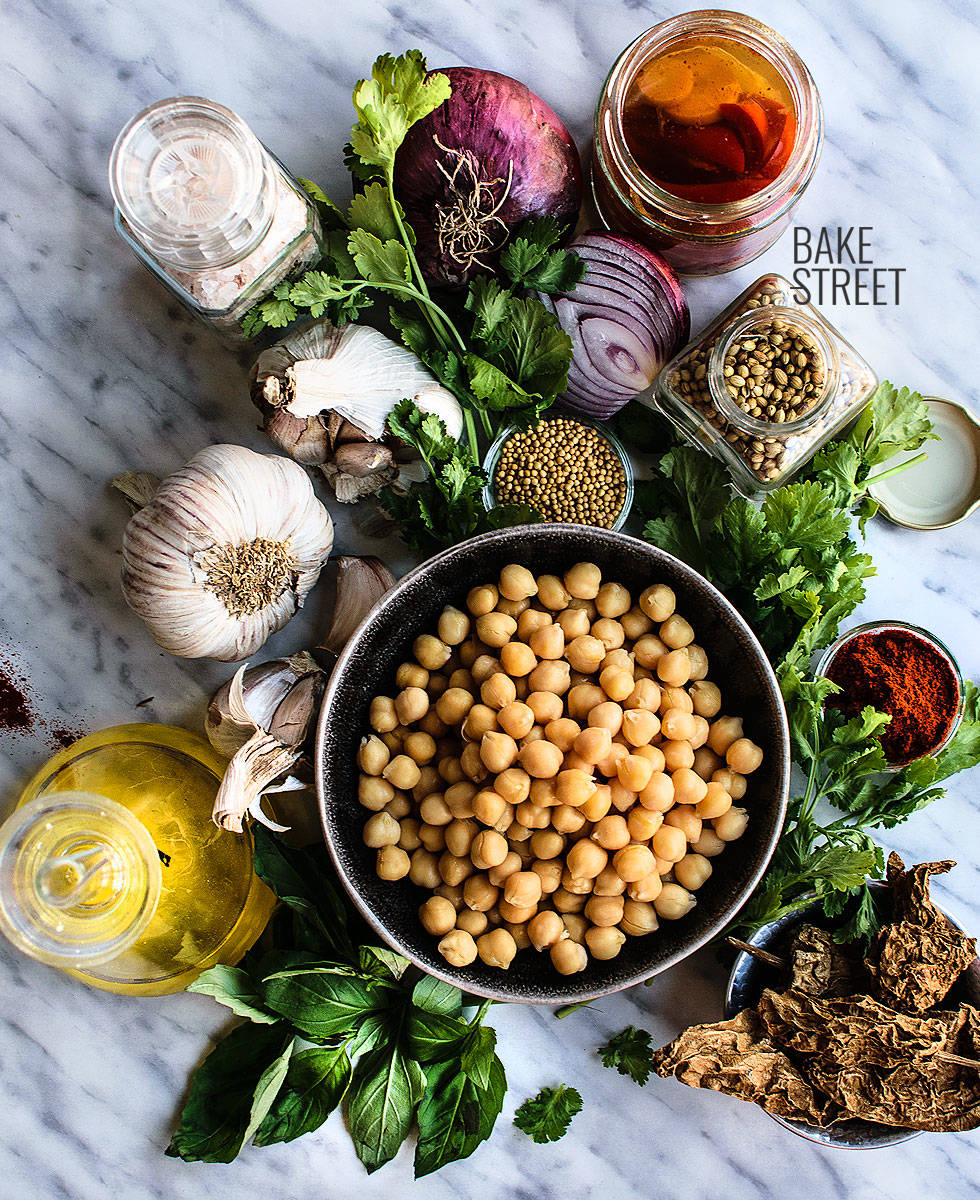 Why potato starch instead of corn starch?
Potato starch contains a high percentage of phosphate, this will favor that it increases the viscosity of our elaboration. It also has gelatinisation capacity and a high swelling power.
But it not only provides characteristics that improve the appearance or final result of our production but also has many benefits for our body. Specifically for our bacterial ecosystem.
Potato starch together with other foods such as green bananas, cereals, legumes, rice and oats are rich in resistant starch.
What's with the resistant starch?
As its name suggests, it resists digestion. It passes through our digestive system practically intact until it reaches the colon where our bacteria receive it with all the affection of the world. There are several types of resistant starch:
Type 1: Non-digestible because it is protected by cell walls such as legumes, cereals and seeds.
Type 2: Basically undigestible due to its high amylose content. If cooked at high temperatures, it becomes digestible. We can find it in raw potato and green banana.
Type 3: Also called retrograde starch, it is formed when certain types of starch are heated and cooled.
Type 4: Chemically modified artificial starch.
It is arguably one of the healthiest foods for our bacteria. It also prevents metabolic damage, reduces blood glucose levels and improves insulin sensitivity. It improves intestinal health and produces good fats.
If you want to know more about this subject, I recommend you take a look at the Fitness Revolucionario post. It explains it very well (only Spanish) and gives a lot of information about it.
It's Friday and… music!
You know that I am "very musical" and whenever I can, I like to recommend a song or group. Today I'm not going to discover anything new because they are known worldwide. Just tell you that this is one of my favorite songs of this group and that the day we saw them in concert almost cried of emotion LOL Foo Fighters "The Pretender" (Youtube link).
Assembling our hot dog with gluten-free vegan sausage.
We've got it all. Our homemade hot dog roll, our vegan and gluten-free sausage… now we only have to choose the ingredients that will accompany it.
In my case I opted for corn, fresh cilantro, onion, feta cheese, mayonnaise and sriracha sauce. It is only a suggestion since you can choose those ingredients that you like the most. In even accompany it only with mustard and ketchup! 😉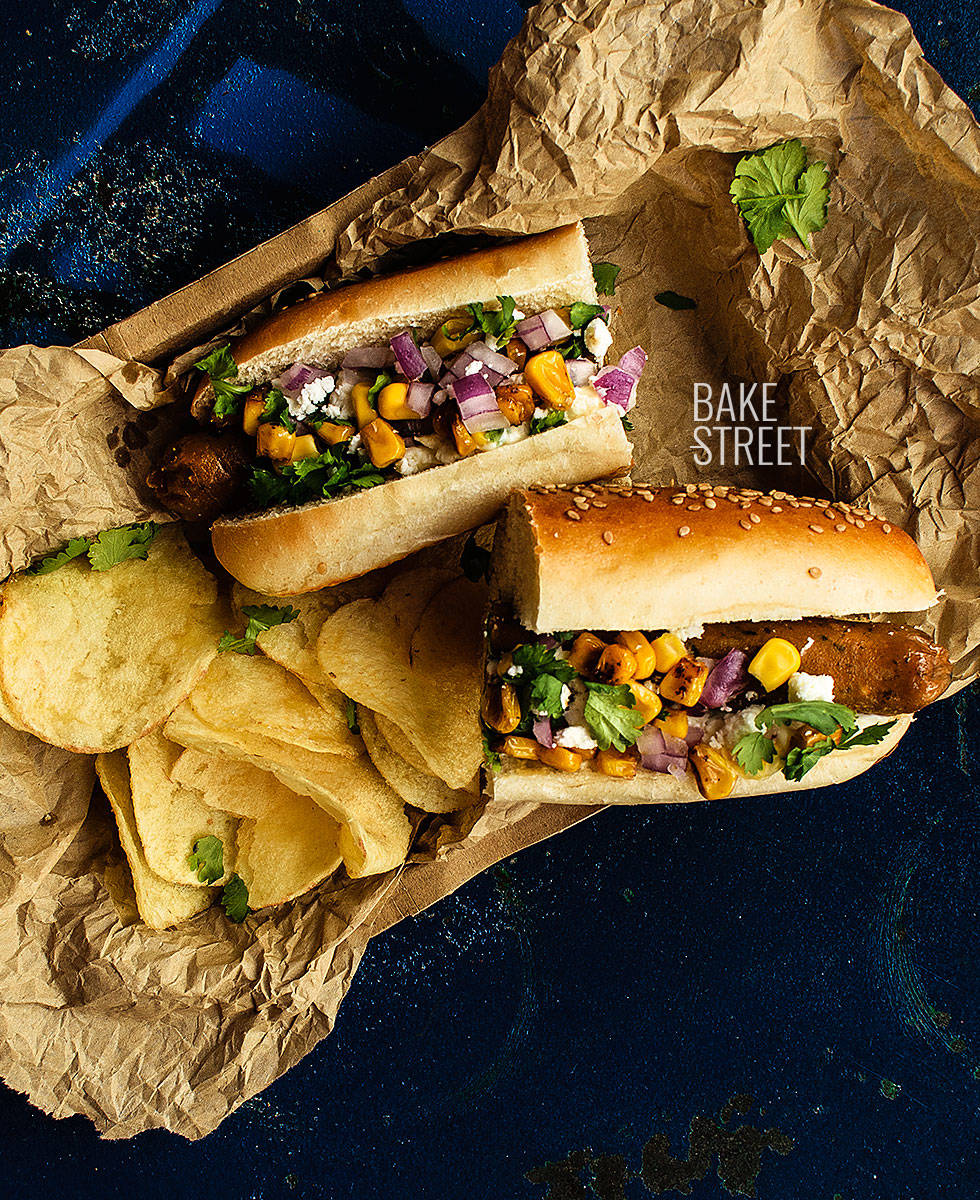 Ingredients for 6 pieces
FOR GLUTEN-FREE VEGAN SAUSAGE:
265 g boiled chickpeas
25 g potato starch
65 g glutinous rice flour
55 g red onion
20 g roasted peanuts
3 g chipotle
8 g red chile, pickled or fresh
5 g garlic
15 g harissa paste (link recipe)
2 g fresh cilantro, only the leaves
4 g fresh basil
1/2 tsp mustard seeds
3/4 tsp cilantro seeds
1 g sweet and sour paprika
28 g water
12 g olive oil
8 g Worcestershire sauce (optional, one of its ingredients are anchovies)
5 g soy sauce
salt to taste
FOR HOT DOG:
hot dog buns (link recipe)
fresh or cooked corn, sautéed with butter and salt
fresh cilantro
finely chopped red onion
crumbled feta cheese
mayo and sriracha sauce (link recipe)
Instructions
Make gluten-free vegan sausages.
In a food processor add the chickpeas together with the garlic, onion, peanuts, spices, water, oil, sauces and chiles. That is to say, we will process all the ingredients except the potato starch and the glutinous rice flour. We will do it until we obtain a homogeneous paste.
Try and rectify salt or some other spice to our liking if necessary.

Transfer the mixture into a bowl and add the potato starch together with the rice flour. Mix very well until completely homogenized.
The result will be a mixture that can be easily shaped. If it is very wet, add a little more starch and rice flour proportionally.
KitchenAid blender from Claudia&Julia
Shape sausages.
Divide the mixture into 6 equal portions, each one weighing 80 g.
To form them, we will give elongated form helping us of both hands. We can roll the mixture on a clean work surface, in the same way that we would form a cord of dough. We will give it a length of approximately 7 inches/18 cm.
Place each sausage on a sheet of aluminum foil and roll. We will do it trying to exert the right pressure so that there is no air between the paper and the sausage, it must be tight and tense. Roll up the ends in the same way we would roll up the paper of a candy.
Repeat the same process with the following sausages.
Cook.
Preheat the oven to 375ºF (190ºC).
Place a metal dish on the oven rack and fill with boiling water to about half.
On this metallic dish, place a rack and on this one the sausages wrapped in aluminum foil. Cover with an oven tray (or place one of the oven trays on the nearest slot) and cook with steam for 20 minutes.
Remove from the oven (be careful not to burn you with the steam!) and let it warm up for a few minutes on a rack.
Carefully unwrap the sausages and place them on a plate to prepare the hot dogs. If you are not going to use all of them, wrap them individually in film and refrigerate or freeze them.
Prepare hot dogs.
Heat a griddle or skillet and pour 1 Tbsp of olive oil.
Once it has a temperature, place the sausages in it and cook for 2-3 minutes. They should have a nice golden color.
While the vegan sausages are cooking, cut the buns for hot dogs. You can make a central or lateral cut, as you prefer. If you like that it has a crunchy touch, I recommend you toast them lightly on the griddle... They are spectacular.
Spread the base with mayonnaise and sriracha sauce to taste. Place the vegan sausage and garnish with toasted corn with butter, fresh cilantro, red onion and crumbled feta cheese.
Serve immediately.
Notes
You can use chickpeas cooked at home or preserved. Personally I prefer the first ones, but if it is easier for you, use them in preserves. Remember to rinse them well before using them.
All spices and sauces can be adjusted and/or substituted to your choice.

The length I have given them is according to the size of the buns I prepared. You can make them smaller if you wish, just keep in mind that if they are larger, they will need a little more steaming time.
They can be kept refrigerated for 2-3 days or frozen for up to 1 month.
In case of freezing, remember to take them out for a while before using them or if possible (and much better option), the night before and let them defrost in the fridge.
This Vegan Sausage Hot Dog has been a discovery at home. At first they weren't very convinced when I said it... But when they saw what it looked like after steaming it, they changed their minds. And I don't say anything when they saw the whole thing set up.
It is a recipe that you will be able to prepare in a very short time and it can be a wonderful dinner for this weekend ;)
I wish you a wonderful weekend, see you on Monday!
Big hugs,
Eva
This post contains affiliate links
Archivado en