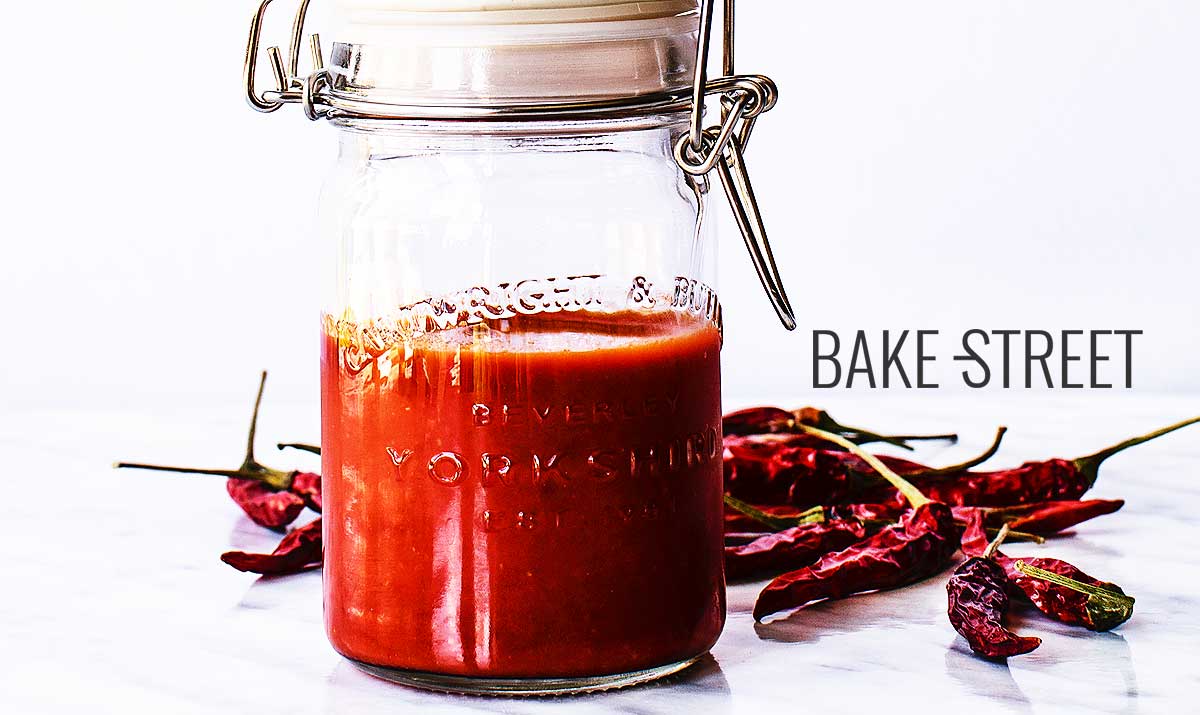 Fermented Sriracha sauce
Este post también está disponible en Spanish
Returning to the fermented foods and, this time, I bring you how to make homemade fermented Sriracha sauce. You know that I love spicy and, as it could not be otherwise, I am a great fan of this sauce. It's one of the ingredients that I never lack in my pantry, I use it a lot, practically in everything… So I thought it was time to make it at home and share it with you.
In spite of being fermented, it is very simple to carry out; starting from the ingredients, to the elaboration process and fermentation time. It is not a recipe that will take months to be able to taste, although on many occasions it is worth this waiting time 😉
The Sriracha sauce.
This sauce is world famous and very popular. So much so that I would assure you that almost everyone could recognize the appearance of its bottle, with the famous cock, even without having tasted it.
Sriracha, in Thai "ศรีราชา", is a sauce made with fermented chiles from Southeast Asia and very popular in Thailand. Its name comes from the city located on the beach Si Racha, where it emerged as a local product.
Its flavor is slightly sweet and spicy, is often used to season Pho or even as a sauce to accompany seafood and vegetables.
The basis of the recipe, chili.
As I mentioned above, the base of this sauce are chiles. You will probably wonder what variety is the most suitable to prepare this sauce, to which I will answer: it depends on what you like the spicy.
Chilis get their spicy flavor from capsaicin, an oil found in the seeds and veins of them.
Traditionally it is made with Thai chili, fresno, jalapeño or serrano peppers that can be found between 2,500 and 23,000 on the Scoville scale. Although this sauce scores, on the same scale, at a value of 2000 what does not correspond to a very spicy sauce.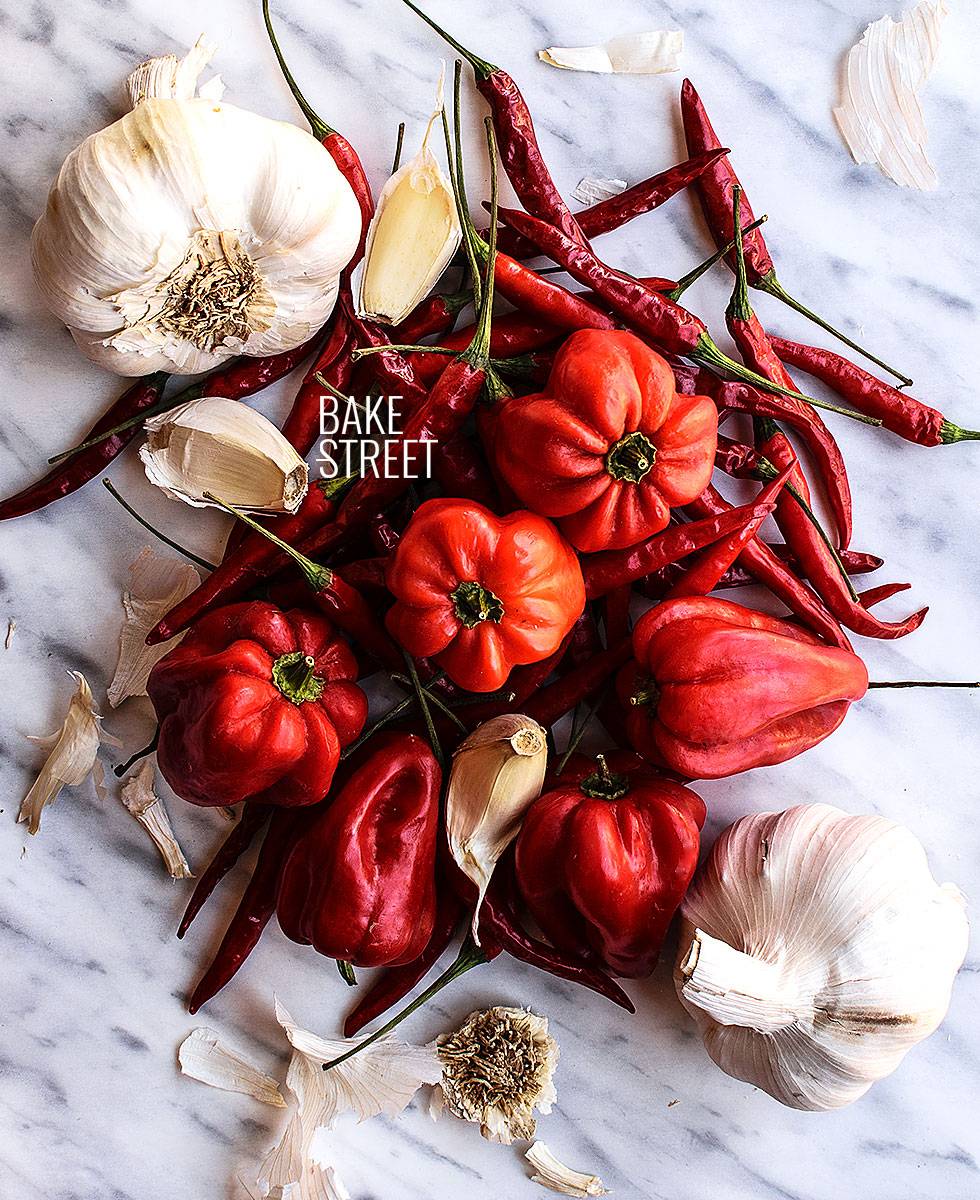 In my case I have tried different types of sriracha sauce, and I say different because the spicy flavor varied from one to another. Due to my unconditional love for hot pepper, I have opted for more powerful chilies to carry it out.
In the list of ingredients you will see that I use two types of chili, one of them very spicy (habanero chili) so if you don't tolerate it too much, I recommend you to use another variety of chili. For example, jalapeño or serrano and season it with habanero chili, if you like, to give a little joy to the final result.
We will not abuse the added sugars.
Commercial sauces generally use a higher sugar addition for two reasons: to preserve the product and to impress the palate. We will add a small amount that, depending on the chili we choose to use, we will appreciate it in greater or lesser quantity.
I'm sure you've wondered more than once what should I take to neutralize the burning of some chilies?
Capsaicin does not dissolve well in water, so drinking too much of it to prevent hot will not help. However, we can prevent it by taking sugar, oil or fat. That's why they always tell us to drink whole milk to help the hot flavor go away as soon as possible. Although the result is not immediate.
On the other hand, the intake of spice causes the organism to release endorphins to alleviate the burning sensation it produces, which is why we can explain that happiness/addiction to this ingredient.
Ingredients
7 oz (200 g) red chili (I've used 100 g habanero chili and 100 g tree chili)
2 large garlic cloves
0,14 oz (4 g) flaky salt
0,7 oz (20 g) dark muscovado sugar
0,9 oz (25 g) water
0,9 oz (25 g) apple cider vinegar
add 1,8 oz (50 g) more water after fermentation (specifically during processing)
Instructions
Prepare the ingredients and ferment.
Wash the chilies and dry well.
Use gloves to cut the chiles, I detail below.
Remove the stems and cut the chiles without discarding the seeds.

Place in a food processor together with chopped garlic, sugar and salt. Blend until get a paste.

If the result is too dense, add a couple of water tablespoons and mix until fully integrated.
Pour into a bowl, cover with film and let it ferment at room temperature for 3-4 days. Small bubbles should appear due to the natural fermentation process.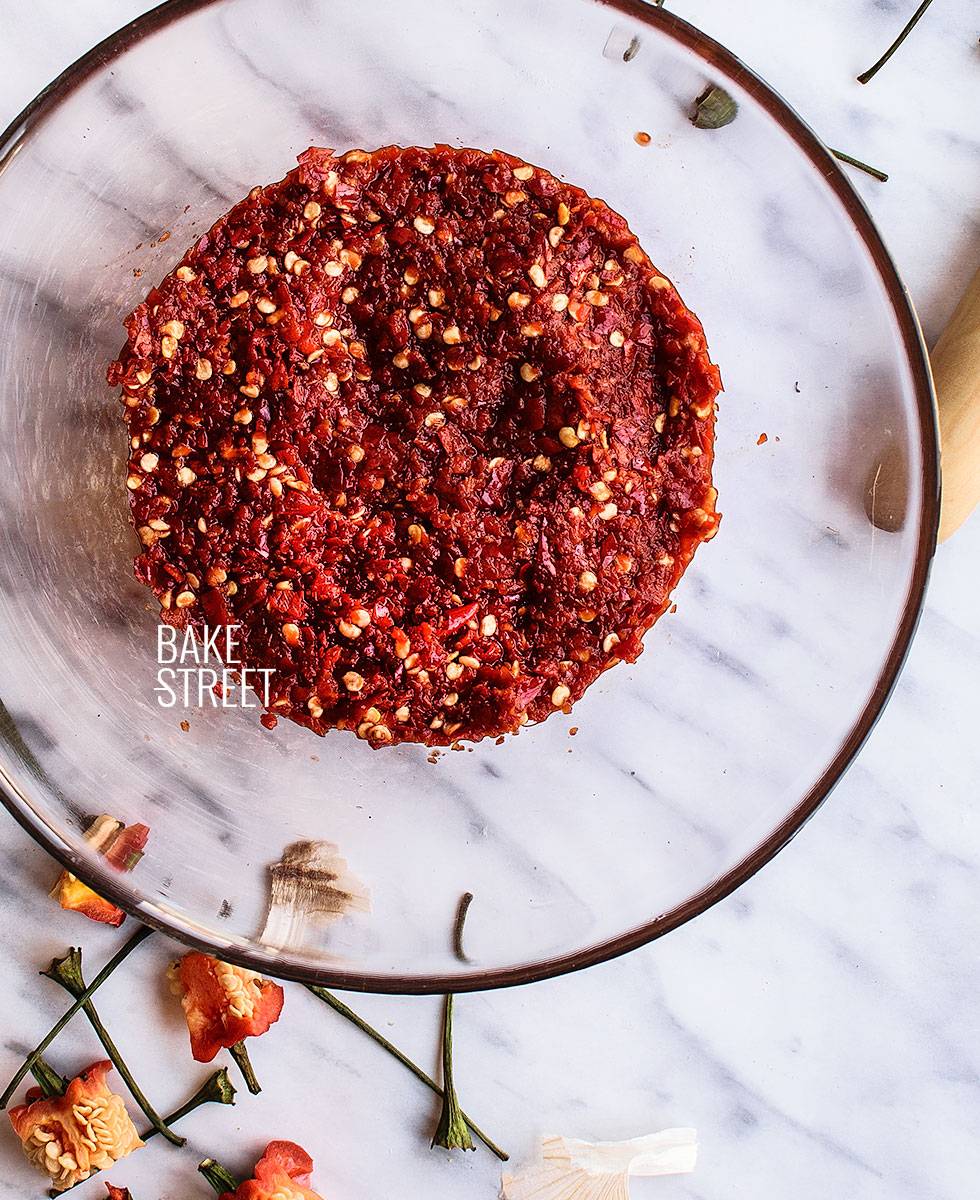 After the fermentation time, finish the Sriracha sauce.
In a saucepan pour 25 g of apple vinegar together with 25 g of water and chili paste.
Place at medium high heat and let it boil. At that time, reduce to very low heat and leave and simmer for 5 minutes.
Remove from heat and let it cool completely.
Blend the mixture again until a homogeneous and very fine paste is obtained.
Strain the paste through a very fine mesh strainer and add water until the desired density is obtained. In my case it was 50 g more water.
Taste, carefully because it is very hot, and rectify vinegar, salt and/or sugar if necessary.
Store in an airtight glass container and refrigerate for 3 days before consuming.
Notes
Depending on the type of chili we use, it will be necessary to add more or less water. In my case I have used habanero chili and tree chili, which do not have much water and for that reason a major addition is needed.
If you use Fresno chili (the most used to make this sauce) or Serrano chili, the final amount of water to add will be lower.
If you use a variety of dried chili, you will have to hydrate it in water before proceeding to prepare the sauce. Soaking water can be reused to lighten the sauce later.
Don't forget to wear gloves when you cut and manipulate the chili. Believe me. The oil that comes off (capsaicin) adheres to our hands and produces the same burning as if we had burned with fire. I've had this discomfort for hours, don't do the same nonsense like me.
If you don't want to add sugar muscovado (unrefined sugar) or sugar, you can use another type of "more natural" sweetener such as coconut sugar, honey or similar.
Salt can be substituted with fish sauce if you wish.
The fermented Sriracha sauce lasts for many months refrigerated in an airtight container.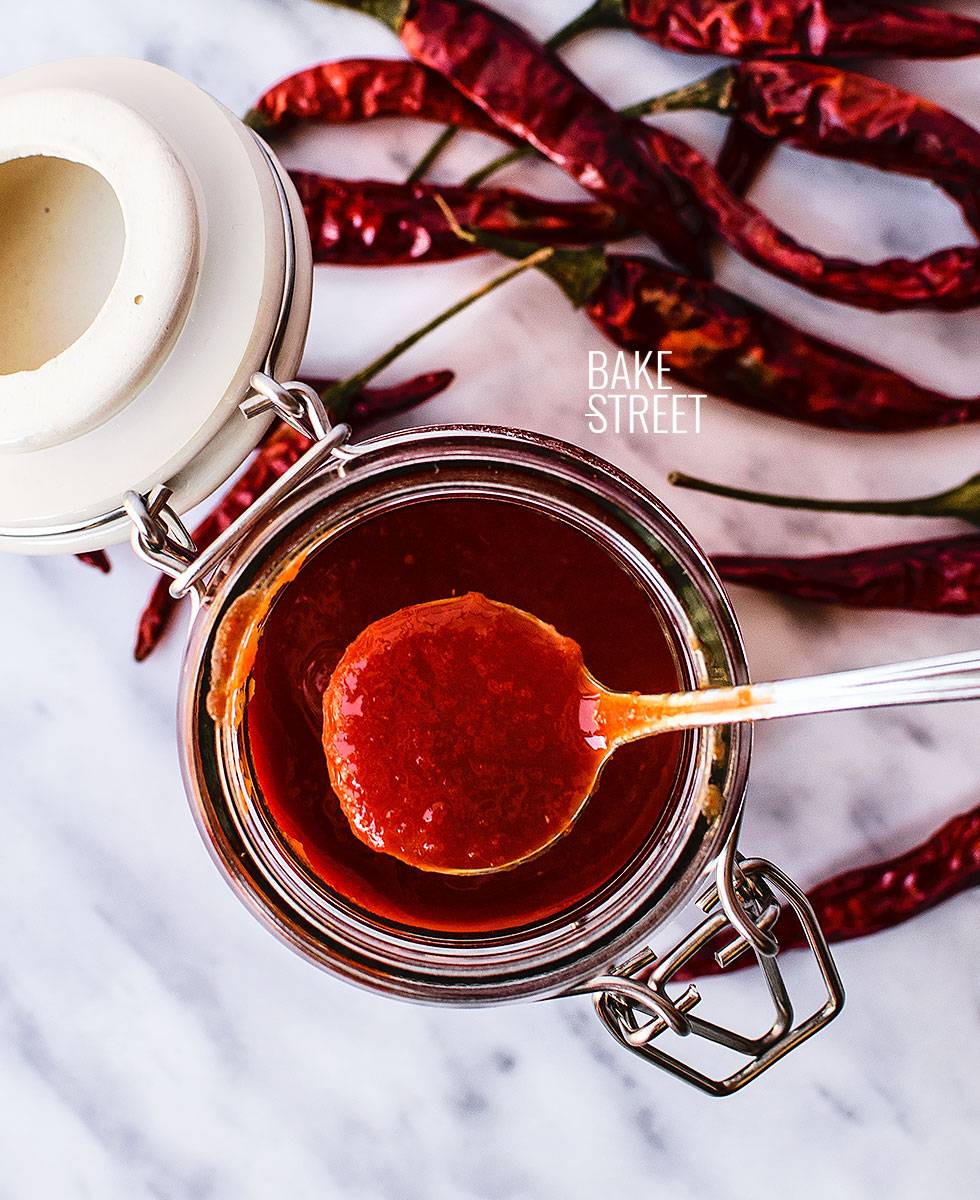 Wasn't it simple to make this fermented Sriracha sauce? In a week or so, you can enjoy it to season and / or accompany countless recipes.
You will also know all the ingredients, as well as the process, that have been used to carry it out. This is a point that is much appreciated today because E- preservatives have unfortunately become part of our daily ingredients.
Big hugs,
Eva
Sources: Mastering fermentation, Wild Green Sardines, Viet World Kitchen
Archivado en