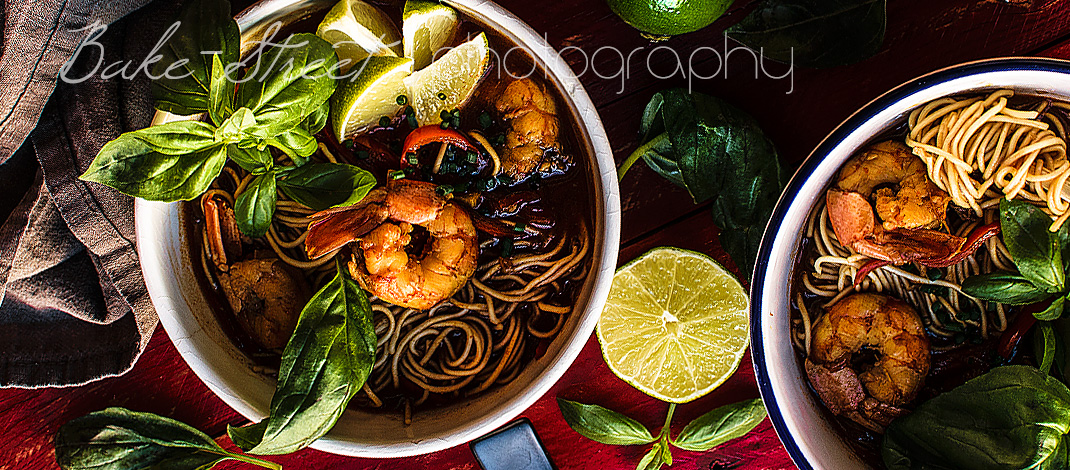 Tom Yam Kung, Thai coconut and curry soup
Este post también está disponible en Spanish
I have been some months buying Asian products and ingredients. I really like this gastronomy, I am trying homemade recipes because I love this cuisine for long time ago. Today I show you how to make a Thai soup with coconut milk, red curry and prawns; Tom Yan Kung.
It is an amazing soup, really, a big explosion of flavor. But is too spicy, I advise you. Maybe you like Thai food not too spicy, so when you make this recipe, add red curry and Sriracha little by little. Taste and add more if you wish.
I am crazy for spicy food. In fact, when we eat Japanese food I eat little amounts of wasabi, unaccompanied, and enjoy.
Tom Yam Kung o Tom Yum Goong soup is one of the most famous of Thai cuisine. I has a great combination of aromatics herbs along with vegetables broth; galangal (blue or Thai ginger), lemon grass, shallots, lime, tamarind, chili… served with egg noodles and prawns.
This soup can be cooked with chicken (tom yum gai), fish(tom yum pla) or a mixture of seafood and mushrooms (tom yum talay) garnish with fresh cilantro leaves. You can find to ways to make this soup: with or without coconut milk. I prefer the first one, in fact it is the recipe that I will show how to make. But if you don´t like coconut, you can omit it and make it with more broth 😉
TOMA YAM KUNG, THAI SOUP:
2 generous serves or 4 medium (not bigger) serves.
4 oz (115 g) dried egg noodles
2 Tbsp olive oil
1 shallot finely diced
1 tbsp (25 g) fresh ginger grated
2 large garlic cloves finely diced
2 Tbsp  Thai red curry paste
1/2 tsp turmeric
1 cardamom pot, only seeds smashed
8 oz (230 g) coconut milk
1 cup (235 g) homemade vegetable broth*
1 Italian red pepper finely sliced
Fish sauce, 2 Tbsp
Tamari, 2 Tbsp
2 y 1/2 tbsp moscabado sugar
1/2 Tbsp Sriracha sauce, if you want to made it homemade click here
1/2 lime juice
8 raw, peeled and deveined prawns
*Chicken and vegetable broth is perfect too.
FOR DECORATE:
fresh basil
chives finely chopped
lime
INSTRUCTIONS:
Make sautée vegetables.
Dice shallot finely and grate ginger, set aside.
In a small pan pour olive oil and place over high medium heat. Once oil has temperature, add shallot along with ginger and sautée for 3 minutes.
Add garlic, red curry paste, Sriracha sauce and cook medium heat for 2 minutes. Remove from the heat.
Cook noodles.
Fill a pot with 50 fl oz of water, place over high heat to boil.
Once the water is boiling, remove from the heat and add noodles. Let sit for 4 minutes.
Drain and set aside.
Make broth for the soup.
Peel the prawns, set aside.
Slice red pepper into finely strips, set aside.
Transfer sautéed vegetables to a medium pot and place over medium heat.
Add coconut milk and vegetable broth, let until simmer.
Incorporate sliced red pepper along with fish sauce, tamari, moscabado sugar, cardamom seeds, turmeric and peeled prawns. Cook for 4 minutes.
Give a generous squeeze of lime, taste and add more if it is necessary.
Remove from the heat.
Serve the soup.
Divide noodles into the bowls and pour the soup, with red pepper and prawns, over them.
Garnish with some fresh basil, finely chopped chives and lime segments.
Serve immediately.
NOTES :
You can make homemade red curry paste. For this time I have used paste store bought, but I will post in the future how to make it at home.
If you don´t like egg noodles or if you prefer other kind, change them without problems. For example, rice noodles will be nice.
It is common to finish soup with fresh cilantro leaves but I prefer to garnish with some fresh basil. Contrast is awesome.
Tamari is a kind of pure soya sauce fermented with water and salt. If you haven´t got this kind, you can use soya sauce instead.
Amount of lime juice is at your choice. I usually add a bit more once I have soup on my bowl. Taste it and rectify if you wish.
This Thai soup is going to be one of your favorites, I see it 😉
I really love this cuisine, especially, soups. They are really amazing and perfect for these cold days.
Enjoy a tasty broth with noodles, vegetables, prawns… I think that I will be crazy if I don´t like it!
Que me estoy aficionando a este tipo de cocina y, sobre todo, a las sopas. Qué buenas están, qué agradecidas son y ¡qué bien sientan con estos fríos! Come on and try this recipe, really easy to make (only 15 minutes!) and perfect for an incredible supper.
Big hugs,
Eva