About me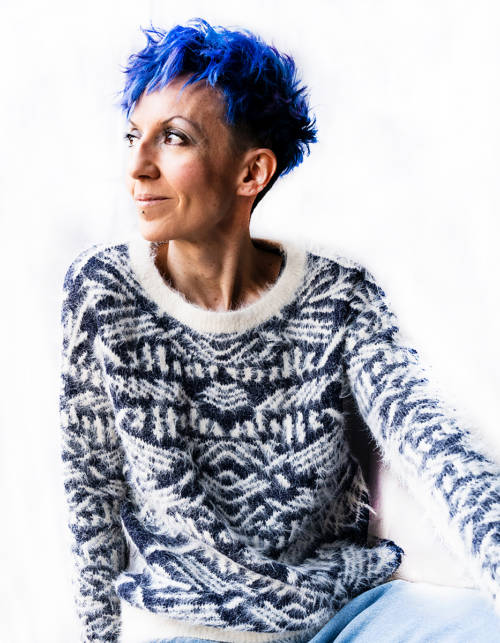 My name is Eva, I'm a graphic designer, mother of a beautiful child (what else could I say about my offspring!) and the wife of a wonderful man with infinite patience. He was the one who pushed me to create the blog and who takes care of "everything you can't see" so that it works properly and you can use the blog quickly and easily. The luck of living with a computer scientist.
I have (had) two cats, one black with green eyes called "Pepper" and another white with brown and black spots called "Topi". To tell you the truth they belong to my husband, now to both of them, I never thought I was going to have cats and I have to admit that I love them madly (despite sharpening their nails in all the furniture I like the most).
Now we are one more in the family, a wonderful and crazy puppy named Björn who has stolen our hearts. Life has changed us a lot, and for the better, since he came home.
I live in Torrejón de Ardoz, Madrid, although my dream is to move to a much quieter area, with lots of green and if there is a beach nearby, better.
I am quite a stubborn person, persevering and somewhat demanding with regard to my work. I always put a lot of passion into everything I do because I get very involved with each project.
I have lived the cuisine intensely since I was a child thanks to my mother, my best teacher.
She managed to awaken in me that curiosity to create and try. Another of my great passions is drawing, I remember spending hours drawing, totally losing the notion of time… Many times I miss being able to dedicate hours to a notebook and a pencil.
I started working when I was 18 years old, combining studies and work, because I had an immense desire to be independent. I spent many years working with public and I have to admit that I love dealing with people. Today I can maintain close contact with many people, but in a different way. I currently work from home.
My blog started as a hobby, a personal recipe book that I never thought I could read as many people as they do today.
The name of the blog has its story.
Since I was a little girl I've loved Sherlock Holmes and the film "The Secret of the Pyramid" was one of my favourites. I thought of Mrs Hudson, Mr. Holmes' housekeeper, who had spent much of her time in England and where she acquired great culinary knowledge. That's how it all began.
One year, at Christmas, I decided to "dedicate" to her a special post, which I have to admit, I had a great time 🙂
That beginning has become my absolute current dedication.
Many of you ask me; who does all the work on the blog? Who cooks the recipes? Who does the photography, videos, photo and video editing, recipe writing, information search, English translation…? Although it seems impossible, which it isn't, I'm the one who does all this work.
Yes, as you can imagine, it occupies 90% of my time including weekends and holidays. I always have to juggle in order to make time to do things at home, to be with my family and friends (as I read in a blog that now I don't remember the name, "I'm a mother, wife, friend, blogger and a Goddess of the home", hahaha, I always loved it!). But when you enjoy and are happy doing what you do, nothing is impossible.
Funny things that have happened to me since I started the blog…
When I gave my first face-to-face workshop, I was very nervous so I was in the room getting things ready while people were arriving. When I introduced myself, saying that I was the one who would be teaching the course, they were both amazed and slightly embarrassed (I think they were even disappointed to see such a young girl!). The reason is that, when I started my website, I didn't have a real profile picture, it was a picture of the central part of the middle of a person in a period costume, and my presentation was fictitious. As I said above, I didn't know where it was all going to end up… My presentation was a nod to Sherlock Holmes' housekeeper, so everyone was expecting a Julia Child type woman. A woman with history, many experiences behind her, wrinkles, old hands, dressed in classic English style and an almost literary life. It was quite a curious anecdote and gave us a lot to talk about and to clear my nerves, hahaha.
A person got a tattoo of a photograph I took, this made a big impact on me because there is a little piece of me that will accompany someone forever. This is the photograph (the last one in the post, I named it "
Carrier of dreams") and this is the tattoo.
A girl who studies interior design had to do a project in which she designed a house for a person who was a cook and shared her recipes publicly. She wrote to me to ask me if it was OK to do it for me and, of course, I said I would be delighted. When it was finished, she sent me the plans so I could see the attic she designed. Thank you from the bottom of my heart because I loved it.
Thanks to this way I began to touch many areas that I had never imagined, such as bread world.
To the point of being totally fascinated by it and having an uncontrolled eagerness to want to learn and know every day a little more. It's very hooking, I tell you.
I have many projects in mind that, I hope and desire, will materialize little by little. At the moment I'm very happy with my work, I hope it will continue its good trajectory and be able to continue many years more enjoying it.
For me it is a pleasure to receive you always. If you want to share with me any suggestion, recipe or just want to write, I will be happy to read to you and give you a hand (within my possibilities!)
I want to make a special mention to 3 composers who, thanks to them and their generosity in sharing some of their wonderful royalty free musical works, you can enjoy some incredible music in my videos. Undoubtedly, a very important part in the composition of them. From here I want to send them my infinite gratitude for helping other content creators with their impeccable work that, I hope and wish, will be recognized worldwide very soon.
If you can, check out their work and don't forget to follow them both on their social networks and Spotify 🙂
Sergey Cheremisinov: web & Spotify
Welcome and I hope you enjoy it!