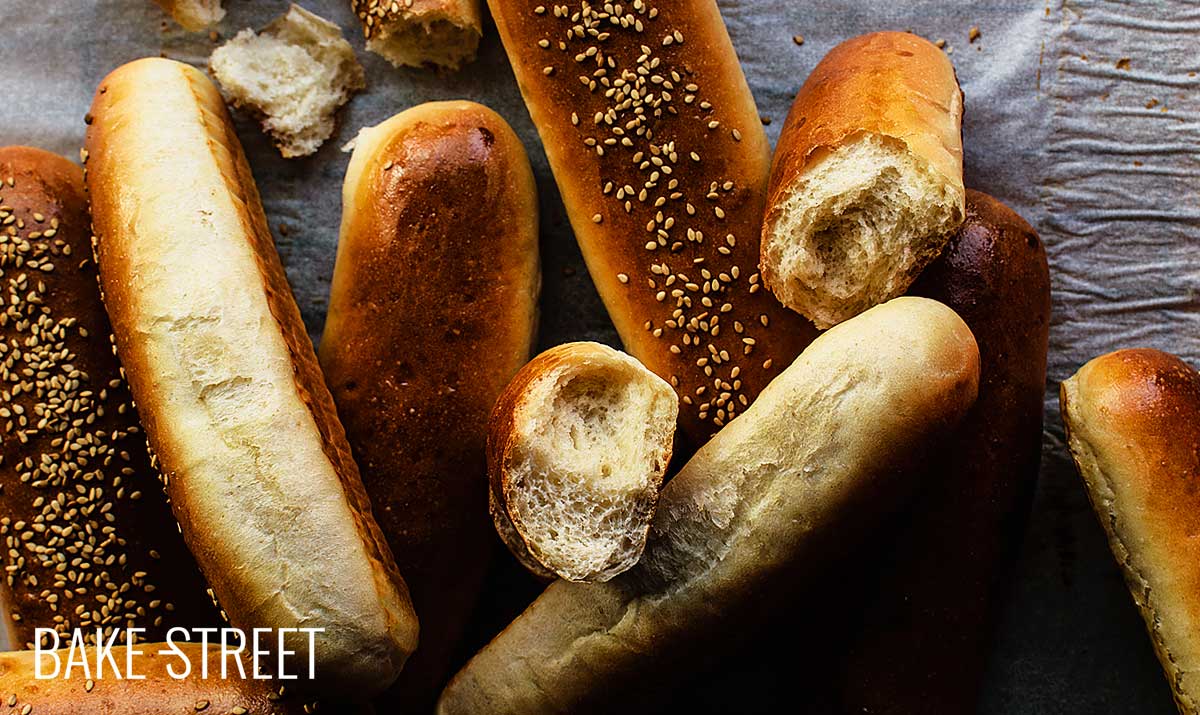 Hot Dog buns
Este post también está disponible en Spanish
I don't know if it will happen to you the same, but I've been buying hot dog buns for a while now and the few times we buy them we don't like anything… Normally I try to do everything I can at home, but I don´t always have enough time and there are occasions that we buy the elaborated ones. I don't like them at all… Not only because of the size, which seems too small, but also because of the whitish color, flavor and texture of the crumb. It crumbles! For that same reason the last time I bought them I said, it's over, from now on I'll make homemade Hot Dog buns.
So I started looking for a recipe that could go well for this type of bread. My idea was a dough with a very tender, soft, spongy crumb…With a golden exterior finish and a larger size. I looked for some recipes to guide me and this is how I found the recipe that Dini leaves us in her blog "The Flavor Blender". I loved the finish, the crumb, the way to make them… So I let myself be completely carried away by his recipe making only a few small variations in some quantities of ingredients and adjusting fermentation and baking times. Don't miss her blog, you'll love it 😉
Hot Dog origin.
Who among us has not eaten a Hot Dog more than once? The truth is that for such a simple and easy preparation, it is absolutely delicious. An elongated bun filled with a boiled Frankfurt or Viennese sausage and accompanied by sauces, usually ketchup and/or mustard.
Hot dogs were made in different parts of Europe before European immigrants, especially Germans, took them to the United States and became a popular street food among the middle class.
In New York it made its way in the first decade of the 19th century thanks to the contribution of several European butchers who tried to replicate the sausage in the new continent. It is said that the German butcher Charles Feltman was the first one to sell hot dogs in street carts on the beaches of Coney Island in 1867. His success was such that, in a short time, he could afford a larger cart in which several waiters joined him.
In time Feltman had a competitor, Nathan Handwerker of Polish origin who was employed by him in his origins. He saved enough money to open his own hot dog store just across the street.
Nathan set very competitive prices.
In addition to accompanying his shop with big banners and installing sirens that sounded like a fire engine. This helped his business prosper by opening a retail chain called "Nathan´s Famous". In the 1920s, Stillwell Avenue metro station opened right in front of his establishment, gaining him popularity by leaving Feltman out of business in the 1950s.
Today Nathan's business is still on Coney Island, on the corner of Stillwell Avenue, although his business has expanded considerably. Every July 4th he sponsors a hot dog contest and is also the one who imposed the hot dog cart fashion in New York. Chris Von der Ahe was the one who popularized the sale of hot dogs on baseball fields.
Over time this food expanded throughout the United States. German immigrant Oscar Mayer settled in Chicago and began selling the first brand of sausage. In Los Angeles, the brothers Dick and MacDonald opened a hot dog cart and, due to their success, were able to build the first fast food chain "McDonald´s".
Where does the term hot dog come from?
Supposedly this term comes from the hand of the cartoonist Tad Dorgan who wrote and drew comic strips for the New York Evening Journal. Apparently at a game at the Polo Grounds baseball stadium in 1901, he heard Harry Stevens (a sausage vendor) say:
"They're red hot! Get your dachshund sausages while they're red hot!"
This expression inspired Dorgan to make one of his strips where he drew a dachshund dog inside a bread and hence the idea of "hot dog." Some researchers disagree with this story and make different arguments about its veracity. The first recorded use of this term is from the Yale Record of October 1895.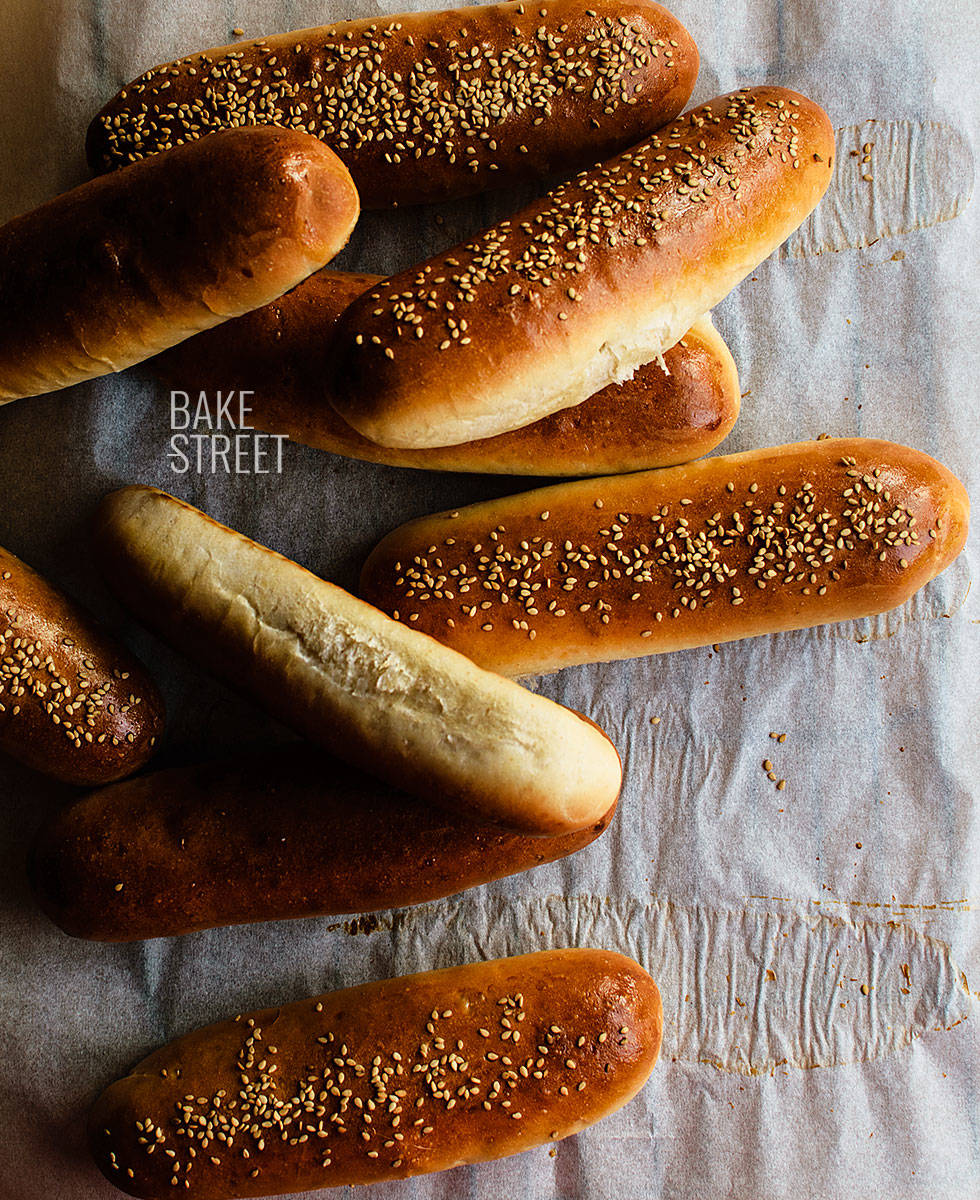 Ingredients for 8 pieces
FOR THE DOUGH:
500 g AP/plain flour
120 g whole milk
115 g water
1 large egg
30 g unsalted butter at room temperature
2,5 g dry yeast + 5 g water
15 g sugar
9 g salt
FOR BRUSH:
1 beaten egg + pinch of salt
sesame (optional)
Instructions
Make the dough.
In a large bowl or in the bowl of the stand mixer add the flour together with milk, egg and water. Mix until completely amalgamated, there should not be any part of dry flour. To mix it can be done manually or in a kneader using the hook, always mix at the lowest speed for 2-3 minutes maximum.
Incorporate salt and sugar and mix again.
Add yeast. Dissolve it with water and pour into the dough.
Knead well until it is fully integrated.
Finally, add the butter and knead again until a completely homogeneous and smooth dough is obtained.
Transfer to a clean work surface, finish kneading by hand (you know that this is personal mania ...) and put the dough in an airtight container previously greased with olive oil.
Cover with its corresponding lid or film, to prevent the dough from drying out, and make bulk fermentation of 2 1/2 hours at 82,4F (28º C). It should grow a little more than double of its volume (the time will depend on the temperature of your home).
Preshape hot dog buns.
On a clean work surface, turn the dough over and degass it gently.

Divide the dough into 8 equal pieces, about 3,88 oz (110 g) each.
Preshape, cover with film and let stand for 20 minutes.
Shape hot dog buns.
Line two baking trays with parchment, set aside.
Stretch one piece with the help of a roller, roll up on itself and seal the ends. Each roll will have an approximate length of 6,7 inches (17 cm).

Place on the tray and repeat the process with the following pieces.
Remember to keep the pieces covered with film at all times to prevent them from drying out.
Let rise.
Cover with film and let rest until they double in size, in my case it took 80 minutes.
Bake.
Preheat oven to 390ºF (2o0ºC).
Brush the rolls with beaten egg and sprinkle with sesame if desired. We can make half one way and half the other.

Bake for 15 minutes, they will turn into a beautiful golden brown.
Remove from the oven and let cool over a rack.
Notes
Remember that the type of flour we use will condition the final hydration of our dough. We can notice a slight difference depending on this element, for that reason we should work the dough observing it and add more or less hydration.
If you wish, you can let the dough stand in the fridge overnight. Let it rise a little less than 1/3 and refrigerate it until the next day. Before working with it you will have to temper it for a couple of hours.

Buns can be frozen once baked and completely cooled.
If you want the upper surface of the bun not to shine, brush them with milk instead of egg.
Preservation: We can keep them in perfect condition stored in a zip-type bag for 3-4 days.
These hot dog buns will fascinatet you. It has nothing to do with the ones we buy in large supermarkets and we can keep them for several days without problems.
In addition that we can use them to elaborate sandwiches if we want it, they are very versatile. Soon I will leave you an idea to accompany them that, I advance you, at home they loved. I wish you a wonderful beginning of the week.
Big hugs,
Eva
Source: Wiki
Archivado en