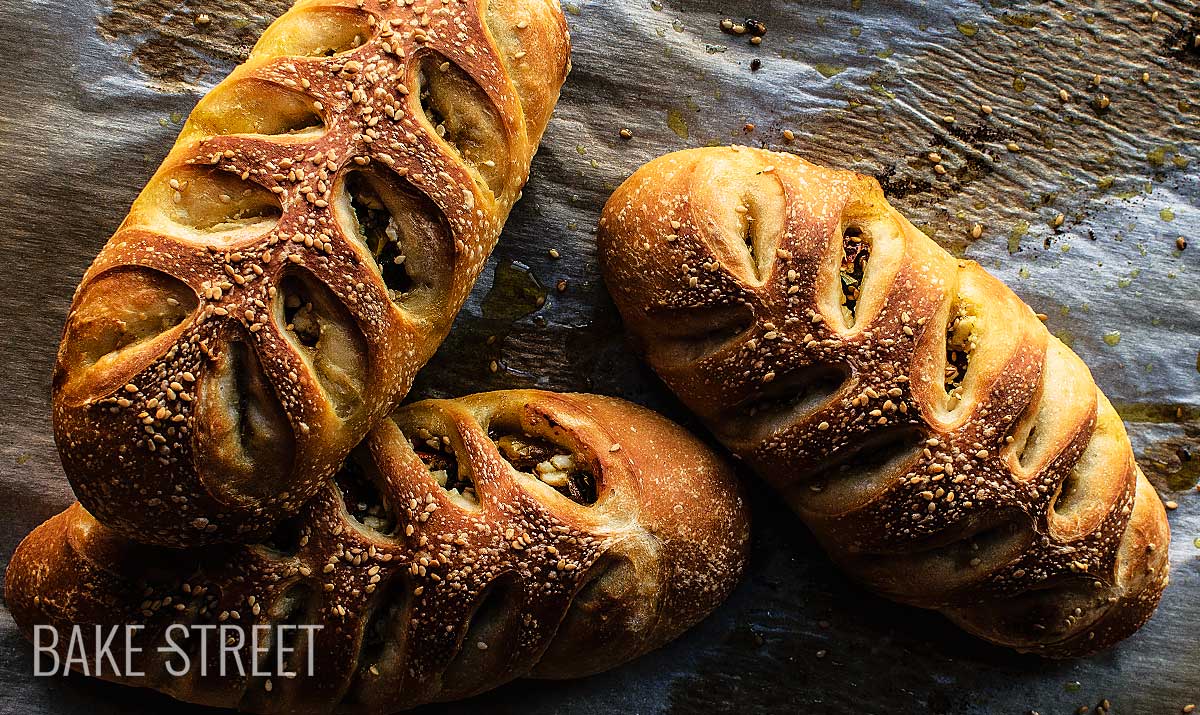 Khoya rolls with pepper curry
Este post también está disponible en Spanish
For this weekend I'm going to share with you an idea that can solve some dinner or food cravings, we also have to give ourselves whims from time to time! They're khoya rolls with pepper curry. You may think that lately I use khoya a lot… hahaha. Well, if I'm honest with you, it's an ingredient that I really liked from the first time I made it and, as I told you, I'd leave you more recipes with it.
The last batch I prepared I made quite a lot and, in addition to doing what I had in mind, I wanted to try something new. I thought that a bread made with khoya had to give a good result, since it was milk that had undergone a process to obtain this density. And flavor, let's not forget that.
So I didn't have to think about it too much before I got into it. The kind of bread I wanted to make was more or less clear. At home they like stuffed breads very much, especially my son, so the format was decided.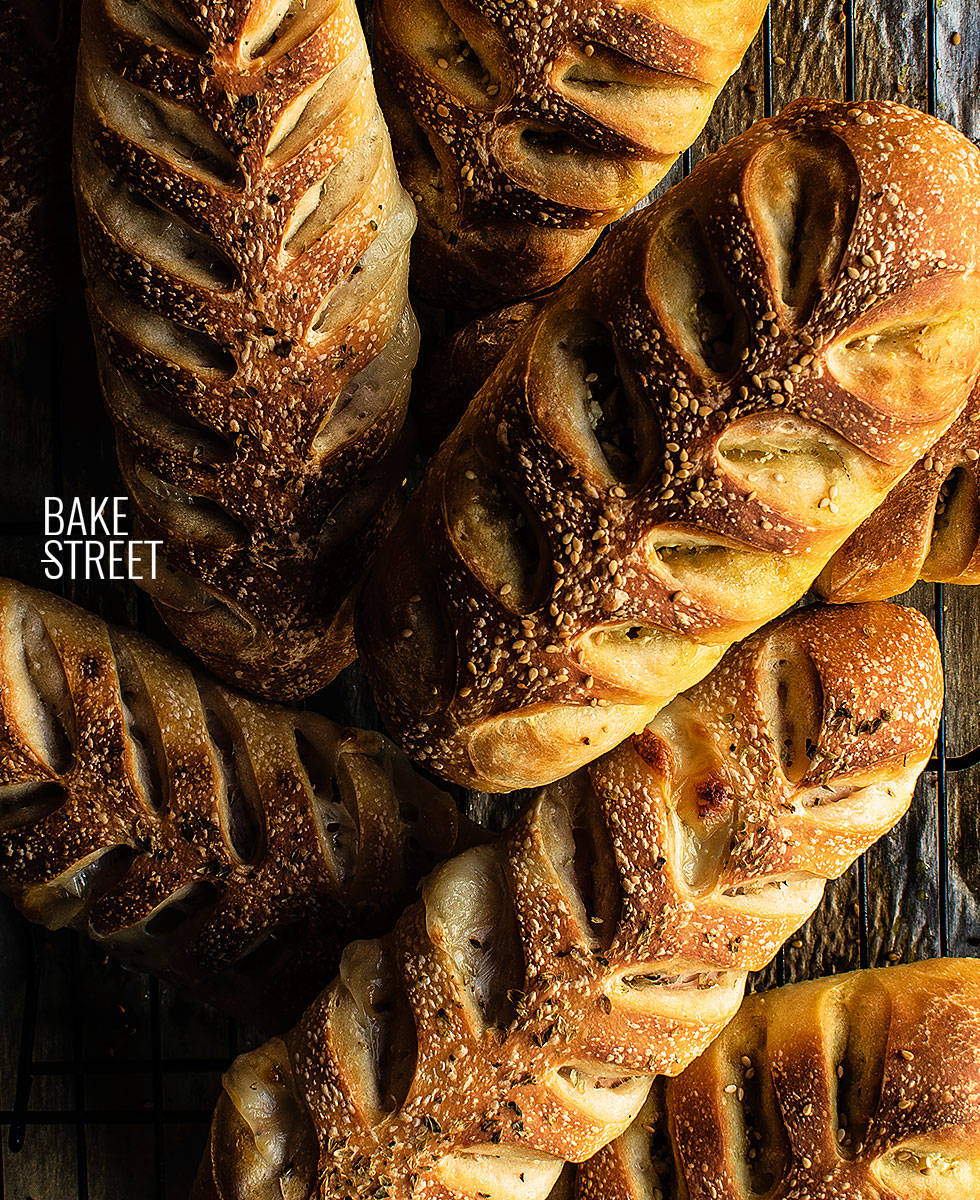 Looking for a filling.
They always prefer breads stuffed with charcuterie and cheese, but I wanted to make a different filling than what I usually prepare for them. I wanted to use fresh ingredients, with spices and a spicy touch. Then I thought it might be a good idea to make a pepper curry.
But it also had to be a curry of "colored peppers". When I make peppers jam at home, I always use red, green and yellow. Not only because of the striking combination of colours, but also because of the different flavours and nuances they bring. In this case the result would be much more attractive than with jam….
I also added a little bit of feta cheese, that taste and point of salt that I like very much and provides a creamy texture. It is also an ingredient that combines great with everything.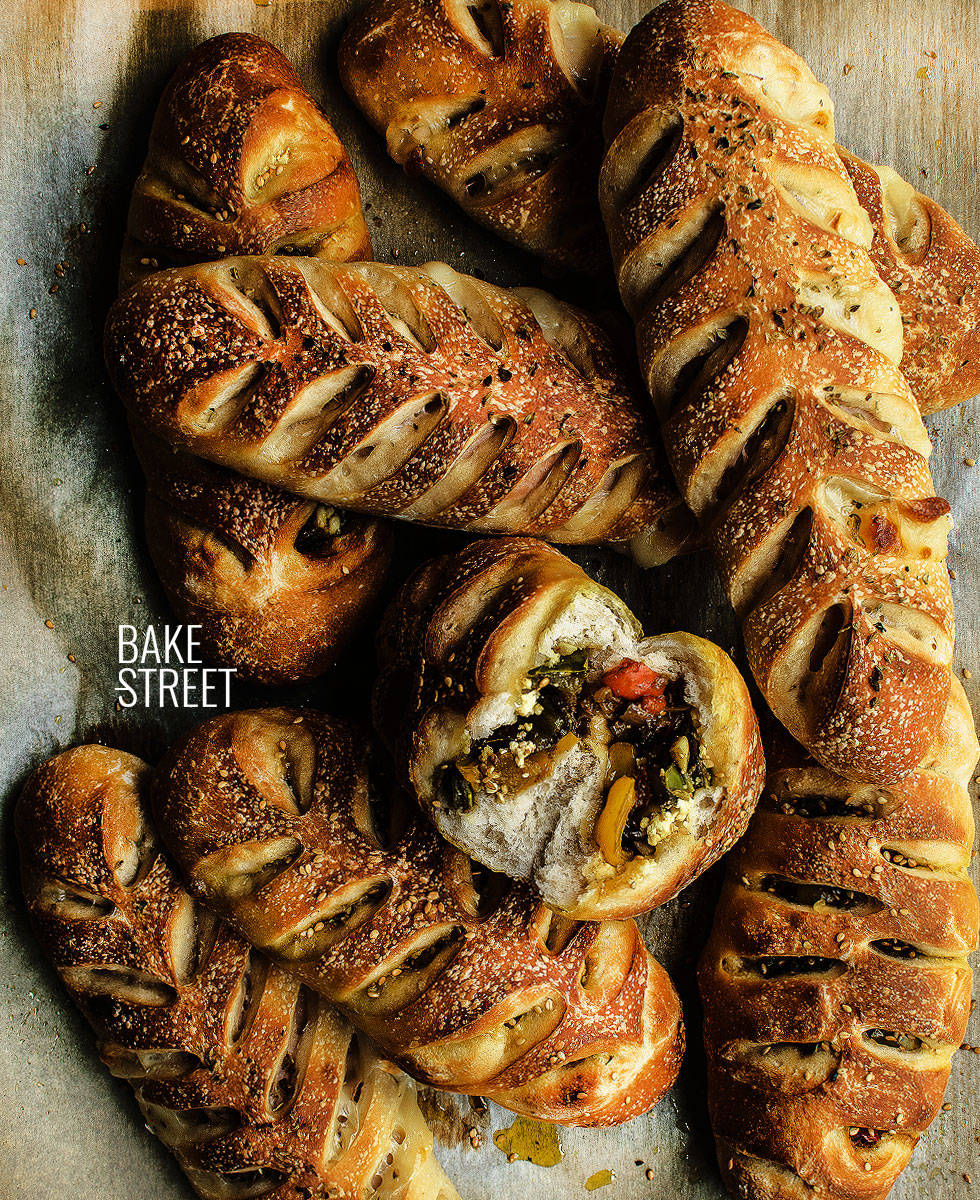 Shaping the rolls.
Some time ago I left you some marinated tomatoes and mascarpone rolls, very similar to these in their shape. The bread dough has nothing to do with it and the filling is very different.
But I didn't want them to look too much alike, so I decided to score them in the same way I did with the viennoise deux couleurs. A spike shape that I have always found super elegant and easy to carry out.
To finish them we will only have to brush them with a little olive oil and sprinkle with sesame, oregano or that ingredient you like and combine well with the filling. This or the one you prefer!
Ingredients for 8 pieces
FOR THE DOUGH:
21,1 oz (600 g) bread flour
3,5 oz (100 g) pastry flour
15,7 oz (445 g) water*
3,5 oz (100 g) de khoya (recipe on the link)
0,1 oz (3 g) dried yeast or 0,3 oz (9 g) fresh yeast + 0,17 oz (5 g) water
0,45 oz (12,6 g) sea salt
* This amount will always depend on the absorption capacity of your flour. The dough is slightly sticky to the touch but easy to handle.
FOR THE PEPPER CURRY:
2 medium red peppers*
2medium green peppers*
2medium yellow peppers*
4 medium garlic cloves, finelly chopped
1 purple onion, finelly chopped
0,35 oz (10 g) fresh ginger, finelly chopped
2 tsp curry
4 Cobán chiles or cayenne instead
6 Tbsp olive oil
salt to taste
feta cheese to taste
* They are of this variety, in large supermarkets usually sell them in packs of 3 together or you can also find them in your trusted fruit shop.
FOR BRUSH:
Instructions
FIRST DAY
Make the dough.
In a bowl large bowl add to types of flour and mix.
Pour the water together with the crumbled khoya and mix until completely amalgamated, there should not be any part of dry flour. To mix it can be done manually or in a kneader using the hook, always mix at the lowest speed for 2-3 minutes maximum.
Add the yeast. Dissolve it with 0,17 oz (5 g) of water and add it to the dough.
Knead well until it is fully integrated.
Add the salt and knead again until it is completely integrated.
Once we have both ingredients integrated in the dough, make 3-4 folds more with the French kneading and place the dough in an airtight container or bowl previously greased with olive oil.
Cover with its corresponding lid or film, to prevent the dough from drying out, and make bulk fermentation of 2 hours at 68F (20º C). It should grow a little more than 1/3 of its volume (the time will depend on the temperature of your home).
The dough is then stored in the refrigerator until the next day.
SECOND DAY
Temper the dough.
Remove the dough from the fridge and let itt temper for about 1 1/2 hours.
Cook the filling.
Wash the peppers and remove the top stem together with the seeds.
Cut in small squares, set aside.
In a small frying pan add 2 tablespoon of olive oil and place on medium heat.
Add the onion, garlic and ginger. Cook at medium low heat for 5-7 minutes. Remove from the heat and set aside.
In a large frying pan add 4 tablespoons of olive oil and place over medium heat.
Add the peppers and cook over medium low heat for 12-15 minutes. They should lose some water, but still stay a little crunchy.
Add the sautéed onion mixture together with curry, mashed chiles and salt.
Mix and cook for 1-2 more minutes. Taste, rectify salt if necessary and remove from heat.
Let it cool completely.
Preshaping the rolls.
On a clean work surface, turn the dough over and degass it gently.
Divide the dough into 8 equal pieces, about 5,3 oz (150 g) each.
Preshape, cover with film and let stand for 20 minutes.
Shape the rolls.
Line two baking trays with parchment, set aside.
Stretch one piece with the help of a roller, giving it a slightly oval shape.
Generously stuffed with crumbled feta cheese and pepper curry.
Close the dough taking the sides to center and press. Now, bring the ends to the middle of the roll and press lightly. Seal the dough well to prevent it from opening during cooking.
Rotate and move from front to back, with both hands, to make a long shape.
Transfer to the baking sheet and repeat with the remaining pieces.
Score and let proof.
With a bread lame, lightly damped to avoid dough sticks to it, make cuts over the bread like a spike.
Cover with film and let rest for 40-50 minutes in a warm place.
Bake.
Preheat oven at 470ºF (240ºC) at least 25 minutes prior to baking with your stone or steel sheet on it positioned on medium rack.
Brush the rolls with olive oil and dust with sesame or dried oregano.
Transfer to the oven, spray with some water and close immediately.
Bake for 15 minutes, they will turn into a beautiful golden brown.
Remove from the oven and let cool over a rack.
These khoya rolls with pepper curry are great to enjoy over the weekend. Well, weekdays too, but you might not have that much time to prepare them.
We can leave them baked and eat them throughout the day at a time of your choice. Although, if I'm honest with you, when they are best enjoyed are freshly baked. Its flavor and texture are wonderful, although this is nothing new because any freshly baked dough is always better than a few hours later.
Have a wonderful weekend, see you on Monday!
Big hugs,
Eva
Archivado en