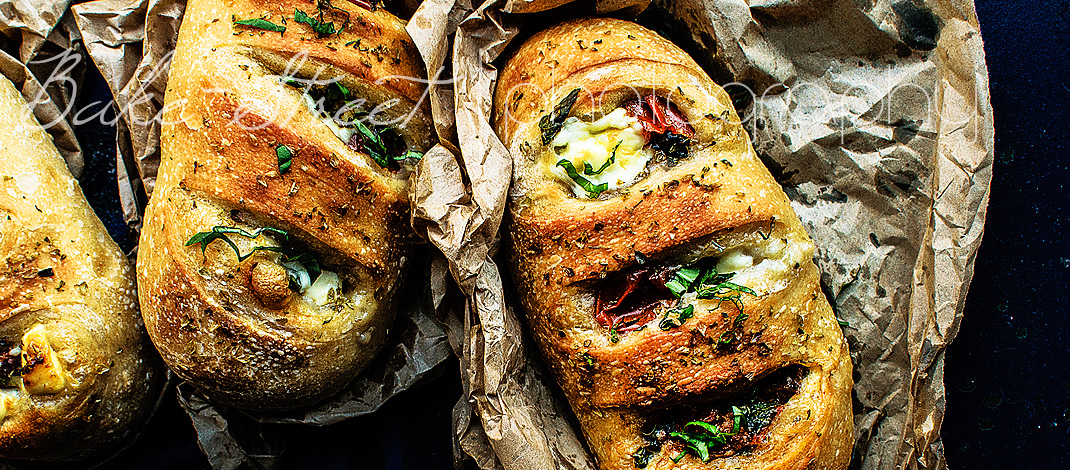 Marinated tomatoes and mascarpone rolls
Este post también está disponible en Spanish
One of the most useful and healthy things are sandwiches and rolls (not only salads). But we can go further. These marinated tomatoes and mascarpone rolls with fresh basil are a great option if you want to enjoy a freshly baked bread stuffed and flavorful.
I took the idea from one of my favorites books, Le Grenier à Pain, I have spoken about it some times. It is a really good book. The idea is the same from the book, but I used my own recipes to make them. The reason is not that they are bad, absolutely, but I am used to work with them and I get always a great results.
To make these breads or rolls, they use a baguette dough. Two years ago I worked with these kind of breads and I searched for "my perfect recipe" with my flours and different hydrations. Finally I found "my perfect recipe" which is that I share below.
If you are used to work with baguette dough and you have your perfect recipe, please, work with it. I think it is good to work with a sure way. Or, maybe, you will like to try this recipe.
The fill is elaborated with marinated tomatoes, goat cheese and spices. In my case, I marinated tomatoes by my way. How I make them always at home. I blanch the tomatoes so they get softer and aromas/flavors are more intense in tomatoes. I prefer to use a soft cheese with neutral flavor, but change it at your choice. Results will be perfect, I´m sure 🙂
Finally, I used chopped fresh basil to add a fresh taste, and nothing more… Simplicity is best, always. I think you must make more rolls than I made.
MARINATED TOMATOES AND MASCARPONE ROLLS:
4 pieces
FOR THE DOUGH:
10.6 oz (300 g) wheat flour
1.75 oz (50 g) pastry flour
1 cup (245 g) water*
0.028 oz (0,8 g) active dry or instant yeast
0.22 oz (6,3 g) sea salt
0.06 oz (1,7 g) toasted malt (optional)
* The amount of water will depend from the absorption capacity of your flour. Dough will be slightly sticky but easy to work with.
FOR THE MARINATED TOMATOES:
17.6 oz (500 g) cherry tomatoes
5 large garlic cloves
12 sage leaves
1 Tbsp dried oregano
olive oil
1/2Tbsp sea salt
FOR THE FILL:
4.2 oz (120 g) mascarpone cheese
marinated tomatoes (5-6 piece/roll)
fresh basil
TO BRUSH:
INSTRUCTIONS:
FIRST DAY
Make macerated tomatoes.
Wash cherry tomatoes, set aside.
Fill a medium pot with water and place a high medium heat to boil.
Once water is boiling, add cherry tomatoes and let cook for 2 minutes. Long enough to soften them slightly.
Remove with a slotted spoon and drain well, set aside.
Cut garlic cloves in halves and put them into a crystal jar (like a Fido jar).
Add cherry tomatoes along with sage leaves, dried oregano, sea salt and cover completely with olive oil. close the jar.
Let macerate for a day at room temperature.
SECOND DAY
Make the dough.
In a bowl large bowl add to types of flour and mix.
Pour water and knead until combined. To knead you can use your hands o an electric mix using the hook attachment. Mix always at low speed for up 2 minutes.
Cover the bowl with a cotton cloth and autolysis for 60 minutes.
Add dry yeast and knead until combined making French kneading technique.
Incorporate salt and knead again until making sure it is completely incorporated.
Make 3-4 folds and put the dough into a grease bowl or recipient. Cover with plastic film and make a bulk proof for 5 hoursat room temperature. My home temperature was 70ºF. Turn and fold 3 times for the first hour after20 minutes each time. time proofing will depend from your house´s temperature.
Let sit until doubled size after make folds.
Preshape the rolls.
Sprinkle lightly with flour a counter and transfer the dough. Degas with care.
Divide the dough into 4 pieces, around 5.1 oz, and preshape each into a ball.
Cover and let stand for 15-20 minutes.
Shape the rolls.
Line a baking sheet with parchment, set aside.
Sprinkle lightly with flour a counter, roll the dough to give an oval shape. It will have roughly o.39 inch thickness.
Stuff with 5-6 marinated tomatoes, mascarpone cheese and chopped basil leaves.

Close the dough taking the sides to center and press. Now, bring the ends to the middle of the roll and press lightly.

Rotate and move from front to back, with both hands, to make a long shape.

Transfer to the baking sheet and repeat with the remaining pieces.
Score and let proof.
With a bread lame, lightly damped to avoid dough sticks to it, make three cuts over the bread. If the roll is too long, make four cuts instead.
Cover with a cotton cloth and let sit for 30-40 minutes in a warm place.
Bake.
Preheat oven at 470ºF at least 25 minutes prior to baking with your stone or steel sheet on it positioned on medium rack.
Brush the rolls with olive oil and dust with dried oregano.
Transfer to the oven, spray with some water and close immediately.
Bake for 15 minutes, they will turn into a beautiful golden brown.
Remove from the oven and let cool over a rack.
TIPS:
Marinated tomatoes, can I make them in advance? Yes, without problems. In fact, the more days pass, the more aromatic they will be. If you make them before, you must to put them in the fridge until use them. Remove from the fridge 2 hours before you need them.
Can I use other kind of aromatics herbs? Of course, you can use what you prefer.
Is it essential to use mascarpone cheese? No, in fact the original recipe uses goat cheese. I think is important to use a creamy cheese, but you must make them with your favorite ingredients.
ABOUT THE DOUGH:
Can I make in advance the dough?

Yes, and it won´t any problems with that

.

Once you have finished the dough, folds process includes, let rise the dough 1/3 and then put it in the fridge until the next day. You have to remove from the fridge 2 hours before to use it and let doubled size. It is easier to work with this kind of doughs, sourdough is quite delicate for time proofing.
So I must score before the final proof? Yes, you have to do it to avoid manipulate dough with the filling before transfer to the oven.
ABOUT BAKING:
If I haven´t got stone or steel sheet, how can I bake? With a baking tray, of course. It is important to place it into the oven when you preheat it.
Is it essential to spray with water? I think it is a good help. When I bake bread, I always use volcanic stones and boiling water to generate steam. It is good to get a perfect oven spring, but in this case a little amount of water would be nice for their expansion.
You can stuff them at your choice.  I make one for my son with different kinds of cheese, turkey, marinated tomatoes, boiled egg and dried oregano. When he finished to eat it, he told me: Mummy, it is superb, I think you have made a small amount.
If you are going to eat them soon, I recommend you to make more… they disappear. I swear.
These marinated tomatoes rolls are perfect to eat them lightly warm or cold the same day you make them. It is not the same to make bread with yeast that with sourdough. They will be great for a few hours, so you can enjoy them at supper if you bake them at half day.
Let´s go to bake!
Big hugs,
Eva
Archivado en