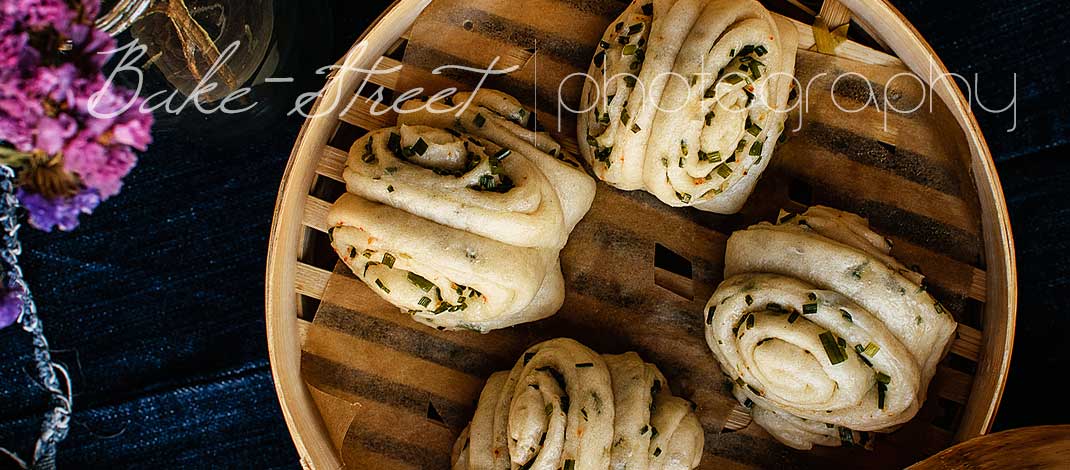 Hua-Juan, steamed scallion buns
Este post también está disponible en Spanish
This version of steamed buns was totally unknown to me and the day they crossed in my way I was totally in love of them. The Hua-Juan originate in China and their translation literally means "flower shape rolls". This variation of steamed rolls is a variant of the mantou, steamed buns (馒头), both are made with the same type of dough although they differ in their external appearance.
Both mantou and hua-juan are an alternative to rice to accompany dishes, especially in northern China. The mantou dough can be elaborated in the way that we will see below or we can hydrate the dough with milk instead of water and add a little amount of sugar, this way is usually served in the south of China.
Its elaboration is quite simple, we only have to knead well to obtain a good development of the gluten and that this allows us to stretch and shape the dough properly. Filling, in this case, will consist of Shichimi and chopped chives but, as I tell you below, you can omit it or substitute with another ingredient to your taste.
The truth is that the steamed doughs are special, the result is always a very tender and fluffy crumb with a very particular exterior. The outside bun is bright and may seem even plastified, but it is only an impression. When you taste it, it is simply spectacular.
It is not the first time I have made steamed doughs, surely many of you remember the Germknödel (only available in Spanish), steamed buns stuffed with homemade plum jam that are consumed both in Austria and Germany, and of course the famous Gua Bao (only available in Spanish). This recipe is one of the most visited on the blog.
It does not surprise me at all because they are addictive … At home we usually prepare them almost every week. My son likes them this way, with the spiced and stewed meat, or shaping into a rounded bun and stuffed.
As you can imagine, when he ask me for the fillings, are quite different from the original version … they are stuffed mostly with an giant percentage of mozzarella and several kind of cheese, ham, bacon, oregano …ok, a pizza inside a steamed bun LOL
These steamed scallions buns can be eaten alone because they are delicious but, no doubt, they are the best companion of our dinners or lunches.
16 steamed buns
FOR MANTOU:
10,5 oz (300 g) T-45 flour or special puff pastry flour or plain/AP flour
6,7 oz (190 g) water*
0,07 oz (2 g) drye yeast
0,10 oz (3 g) salt
* The final amount of water can vary depending on the absorption capacity of your flour. This can range from 160-190 g.
FOR THE FILLING:
olive oil to brush
Shichimi
0,9 oz (25 g) scallions finely chopped
INSTRUCTIONS:
Make the dough.
In a bowl add the flour along with the water *, yeast and salt. Mix with a spatula until the ingredients are combined.
Transfer the dough to a clean work surface and let start kneading. We will have to work it until obtaining a smooth and homogeneous dough, which means that the gluten will be practically developed.
Knead combined with rest, remember to cover the dough always to avoid drying. The total kneading time can be around 10-12 minutes.
Place the dough into an airtight container or bowl, cover and let rise until the dough doubles its volume. In my case it took 1 1/4 hours, it rises quickly.
* Remember that the ideal is to add water little by little to not exceed the final dough hydration. You can add 145 g of water and the rest as you work the dough.
NOTES:
It is important to get a correct gluten development so later we can stretch the dough easily and achieving a very thin thickness.
The dough will be slightly sticky but easy to handle.
Shape hua-juan.
Line the steamer with baking paper, set aside.
Dump the dough on a lightly floured work surface and degassed gently.
Using a scraper, divide the dough into two equal parts. One of them we keep it in the bowl / container and cover until needed.
Lightly sprinkle a work surface and stretch the dough. We will shape a rectangle approximately 35 x 25 cm.
Brush the entire surface with olive oil, except the edges, sprinkle the chopped scallions and add Shichimi to taste.
Roll the dough on the wider side tight so that there are no holes inside. When finished rolling the dough, roll it gently to help seal the joint.
Cut in 16 equal portions, about 2.5 – 3 cm thick.
To shape the hua-juan we will need two pieces per bun. Place one portion over the other and press gently with the palm of the hand.
With the help of a chopstick, press in the middle without fear. Lift the chopstick and, with the help of the thumb and index finger, press the ends towards the center and downside (this is well appreciated in the video).
Place the hua-juan in one of the trays of the steamer and repeat the process with the remaining pieces. I recommend you put 4 buns per tray.
Cover and let rest for 15-20 minutes.
NOTES:
Perforate the baking paper of the trays so that the steam is distributed better throughout the steamer when we are cooking the buns.
If you only have one steamer, you must cook them in two batches. Leave the second batch over baking paper and cover with film until you are going to make the next cooking.
Cook hua-juan.
Use a pot with a size according to your steamer. Fill with water and place over medium heat, we need steam but do not get the water boils.
Place the steamer over the pot, remember that the hua-juan are already inside, and let them cooking with steam for 15 minutes (we must not turn off the heat, it should be on during the cooking time).
Remove the steamer from the pot and let the hua-juan rest for 5 minutes inside the steamer without opening the lid.
Remove from the steamer and enjoy them freshly made.
PRESERVATION: Ideally is to consume these buns the same day we make them and, freshly made, much better. But you can eat all, do the following:
Once they are completely cooled, store them in an airtight container inside the refrigerator.
At the time you want to eat them, remove them from the cold and introduce in the microwave along with a full cup of water at maximum power for 30 seconds.
They will come out very tender and ready to be devoured!
Do not leave them in the cold for more than 2 days.
NOTES:
Why is it important to use a T-45 flour or special puff pastry? Because we need a dough that has a very good ratio of elasticity / tenacity and, in this case, it will be necessary to be able to stretch the dough and to support the shaped.
If I do not have this flour, can I use another one? Yes, of course. AP or plain flour will be nice. If you notice that the dough shrinks during stretching, leave it to rest for a few minutes covered to prevent it from drying.
Is oil essential? Yes, it helps the layers do not stick and provides a lot of juiciness.
If you do not like the scallions you can omit them, in fact you can elaborate them with spices or even without them. But it is true that there will be less tasty. Although they can always be accompanied by some amazing elaboration 😉
Another good option may be to fill them with pieces of prawns, some vegetables or even meat.
These buns must be made in a steamer, either bamboo or metal. You will not get the same result if they are baked, in fact outside texture is obtained by steam cooking. I mention it because it is a common question that you often make me for this type of steamed doughs.
I assure you that these steamed scallions buns or hua-juan are a real delicacy. Small pieces of cotton super fluffy, juicy, tender, full of flavor and absolutely delicious. Maybe you think I'm exaggerating …  absolutely! On the contrary, try them and tell me! 😉
Have a nice weekend! See you on Wednesday, before these public holidays.
Big hugs,
Eva
Sources: Recettes chinoises
Archivado en