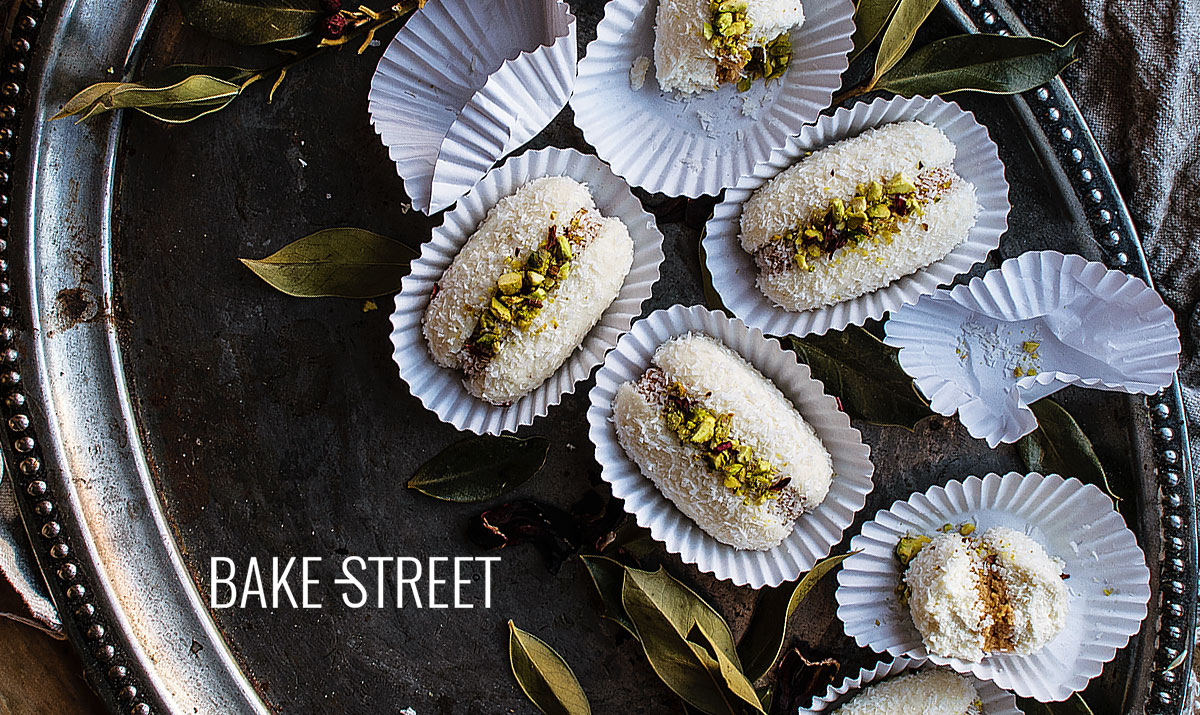 Chum Chum Bengali recipe
Este post también está disponible en Spanish
I'm sure that when you look at the recipe you know what caught my eye when I found it… Yes! Its name. My God, it's so great I couldn't help but see what it was, Chum Chum Bengali recipe. It's one of those names that, even if you don't want to, grab your attention ipso facto.
As soon as you see it, you can't imagine what it could be made of, at least in my case. What appears to be a tender roll, steamed or similar, is the opposite of what we believe. In fact, it is not made with any dough and, 95% of the recipe is made with milk.
What is Chum Chum Bengali?
The Chum Chum Chum also called Cham Cham or Chom Chom is an original Bengal sweet made with chenna, a variety of fresh/cottage cheese. Many versions of this sweet can be found in different parts of India where they specify that they are made with paneer or ricotta. They are all the same type of cheese called in different ways. The main difference between the different preparations can be found in the fillings, the shapes of presentation or the aromas used.
It is a sweet made with milk, both the main piece and the filling, only they are prepared in a different way. The result is a soft sweetness, very juicy, with a very pleasant texture and sweet and delicate flavors. It reminds us very closely of other Indian sweets such as rasgulla or ras malai.
Its elaboration process is very simple.
This is a very simple recipe, it does not require large steps or very complicated processes. All we have to do is be patient, especially to prepare the khoya.
It is an elaboration that requires more attention and affection, to shape them, to cook them… than any other type of skills that require more precision. And in return, we will enjoy sweets so different from what you have tasted until now that will fascinate you.
What is khoya?
Khoya, also known as mawa or khoa, are the solids of evaporated milk. To achieve this, we must cook the milk over a low heat, thus allowing the water to evaporate and obtain these solids that will result in a golden color paste, subtly sweet and very silky texture. Not to mention its smell, which personally reminds me a lot of "dulce de leche".
In Indian cuisine, especially in the north, khoya is the main ingredient in most of its sweets. There are several types of khoya that differ in texture and final consistency from each other:
Solid: It is very thick, so dense that it can even be grated. To make it, the milk should be reduced to 1/5.
Soft: Also known as Mawa or Hariyali. It is less dense than the previous one, it can be molded (it is the one that we will prepare)
Granular: Also known as danedar mawa. To achieve this texture, tartaric acid is added.
This ingredient is also used to season curries.
How should I cook khoya?
With a lot of patience. This is a long process, in my case it lasted 1 hour and 45 minutes for 600 ml of milk, during which time we should cook at low heat. Do not be tempted to increase the temperature to speed up the process. The result will not be the same since we increase the possibilities, by 200%, to burn these solids and transfer an unpleasant taste to the final paste.
It is an elaboration that we can prepare while cooking other things or stay in the kitchen. At first it doesn't require a lot of attention, but as the liquid is reduced, it does need attention and stirring to keep the solids from burning.
Do I get a lot of milk after reducing milk?
No, and even less if we use milks that are not of very good quality. In my case, I used 600 ml of whole milk to obtain 93 g of khoya. I got the exactly amount for this recipe, so if you need more, use more milk.
Keep in mind that it is an ingredient that has a very short shelf life because it is made from fresh milk. Once we've done it, keep it in the fridge for up 3-4 days.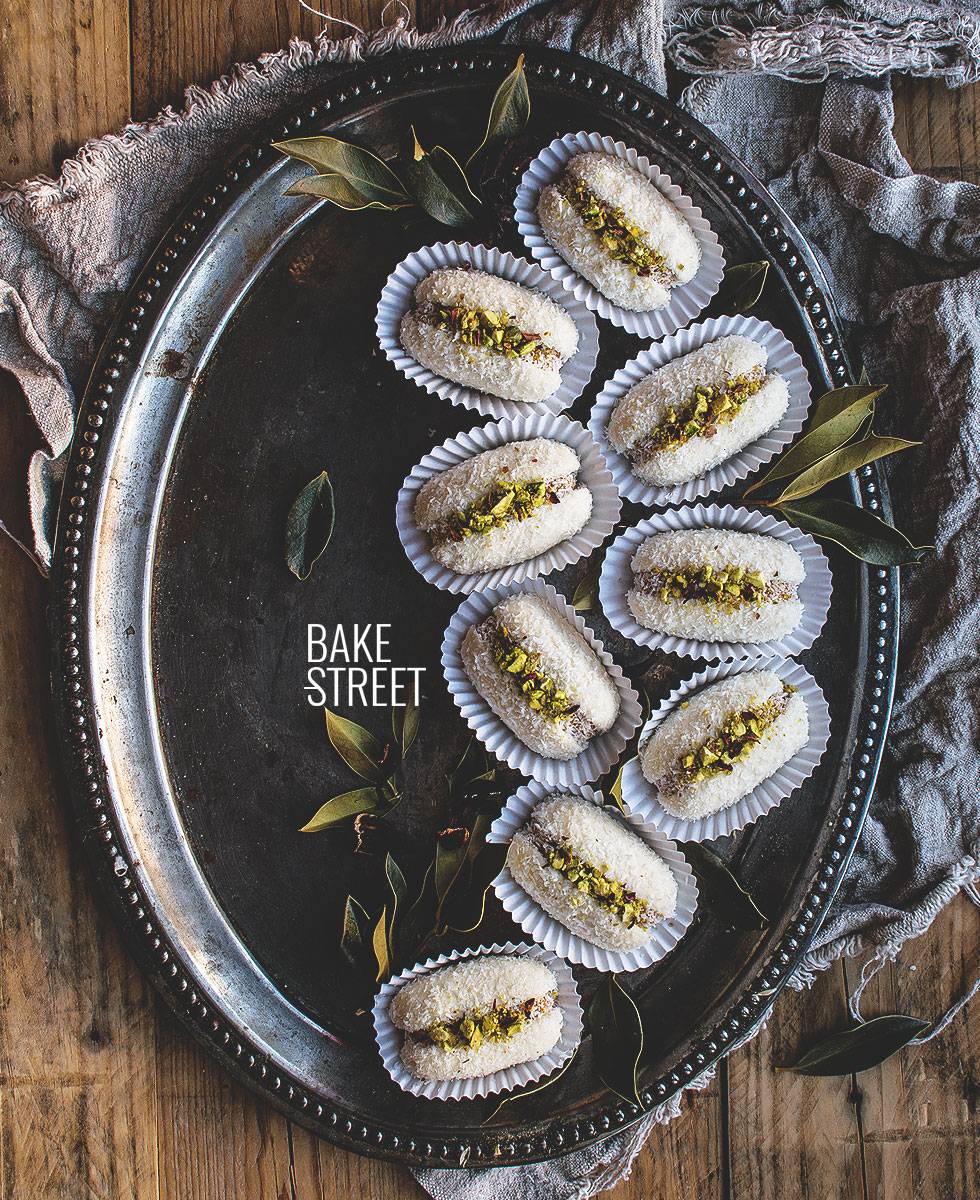 Today I'm sharing with you again a song, which you know I like to do every now and then. The choice on this occasion is a song by Kaatru "Nani".
Ingredients for 9 pieces
FOR CHENNA:
Recipe from Yummy Tummy
1,5 l. whole fresh milk
110 g crème fraîche (optional)
juice from 1 1/2 lemon
FOR THE SYRUP:
33,8 oz (1 l.) water
14,1 oz (400 g) sugar
4 cardamom seeds
FOR CHUM CHUM/CHAM CHAM:
khoya (recipe below)
1 oz (30 g) dried coconut
smashed pistachios
hibiscus flower
FOR KHOYA:
Recipe from Veg Recipes of India
20,2 oz (600 ml) whole fresh milk
Instructions
Make khoya.
In a medium saucepan with a thick bottom, pour the 600 ml of whole milk and place it in a medium-high heat. Leave until it boils gently and reduce to low heat.
As the milk is heated, it will froth many times. We will have to stir the milk from time to time to remove it from the surface and let it be integrated back into the milk.
After the first hour you will notice that the milk has reduced considerably and solids will have formed, many of them will be on the sides of the ladle. We must remove them with a spatula and integrate them into the milk.
As the milk reduces, it will take on a slightly golden color and its texture will become thicker.
At this point, the texture will be very similar to a porridge and the cooking time will be around 1 hour and 15 minutes, we must constantly stir the mixture to finish evaporating the milk completely. The remaining cooking time is about 30 minutes.
You will know that the cooking is finished because you will not see any bubbles over the surface, practically due to the absence of liquid, and the texture will be creamy and thick. The total cooking time, in my case, was 1 hour and 45 minutes.
Transfer the khoya to a glass bowl, cover with film and let cool to room temperature. Afterwards we refrigerate until the moment of its use.
Make Chenna.
In a medium saucepan pour the whole milk together with the lemon juice and crème fraîche. Let stand for 10 minutes. It will take on a curdled appearance.
Place in medium heat and cook for about 3-4 minutes. It will come to a gentle boiling and we will observe how the milk solids are separated from the whey.
Remove from heat and let stand for 10 minutes.
Place a large drainer on a bowl, and over the drainer, place the cheese cloth.
Pour the mixture over the strainer with the cloth.

Once we have contained the solids in the cheesemaker's cloth, we place them under a stream of cold water to remove the possible flavor of lemon juice.
Make a knot and let drain for 30-40 minutes. I recommend you to press the cheesemaker's cloth with the chenna inside it, to help drain as much liquid as possible.
Knead the chenna.
Take the chenna out of the cheesemaker's cloth and transfer it to a clean bowl.
Knead with your hands, in the same way that we knead a dough, to make it amalgamate and acquire a soft texture.
Divide into 30 g pieces and shape balls, we get 9 pieces.
Once we have them ready, we'll give it an oval shape. Cover with film while we prepare the syrup.
Cook the chenna pieces.
In a medium saucepan pour the water together with the sugar.
Place at medium high heat and leave until the sugar dissolves completely. The syrup will boil gently, then reduce to low heat.
Add the pieces of chenna to the syrup and cook for 10 minutes over low heat and covered. These will double their volume.
Turn off the heat, add the mashed cardamom seeds and let it rest for 15 minutes in the syrup.
Carefully remove with a slotted spoon and place on a platter.
Shape and stuff the chum chum.
Divide the khoya paste into 10 g portions and give it a long, flattened shape.

Cut the chenna pastes in half and lengthwise. Place the khoya between both parts and gently press it together.

Coat with grated coconut.

Decorate with cut-up pistachios and hibiscus flower.
Serve.
Notes
What kind of milk should I use to make chenna? I recommend using fresh whole milk that has not been ultra pasteurized (UHT). Semi-skimmed or skimmed milks will not give us good results because they contain very little fat, which is what we are interested in to obtain milk solids.
Why do you add crème fraîche? The reason is that I was looking for a better result when making chenna because the fresh milk I have is not very good quality. So if your milk is of good quality, this ingredient can be omitted.
Can I curd the milk with vinegar instead of lemon juice? Yes, you can. Personally, I like lemon better because it doesn't transmit such a strong flavor. But they both work the same way.
Can I divide the process into 2 days? Yeah. On the first day you can make chenna (I also recommend you to make the khoya), shape it and keep it in an airtight container in the fridge until the next day. On the second day we'll just have to cook the pasties in the syrup, stuff and serve.

Khoya is very laborious, can I buy it? From what I have been able to read, it is available in Indian specialty stores. But despite having a rather long elaboration process, similar to croquettes if we think about it, it only requires our absolute presence for the last 30 minutes. Without forgetting that if we do it at home, it will be 100% pure and free of preservatives and additives.
I've seen recipes of saffron-dyed khoya. In my case I didn't want to do it this way, I like the natural color and its flavor. But I tell you so that you have it in mind in case you decide to do it this way.
The coconut is optional, I have found creations with and without it. So if you like this ingredient, you can just omit it.
As it is made with fresh cheese, we can not keep it after 3-4 days and always refrigerated.
I assure you that if you want to surprise your family or friends with a great dessert, do not forget to prepare this Chum Chum Bengali recipe. They are perfect to finish a lunch or dinner, a sweet made with cheese and nuts is a guaranteed success, in addition to being able to serve them with a green tea, jasmine, spices...
They will be amazed, both in taste and texture. Take good note of the two ingredients we have prepared today, chenna and khoya, because more recipes are waiting for you using them.
Big hugs and a happy start to the week,
Eva
Sources: Spice Up the Curry
Archivado en