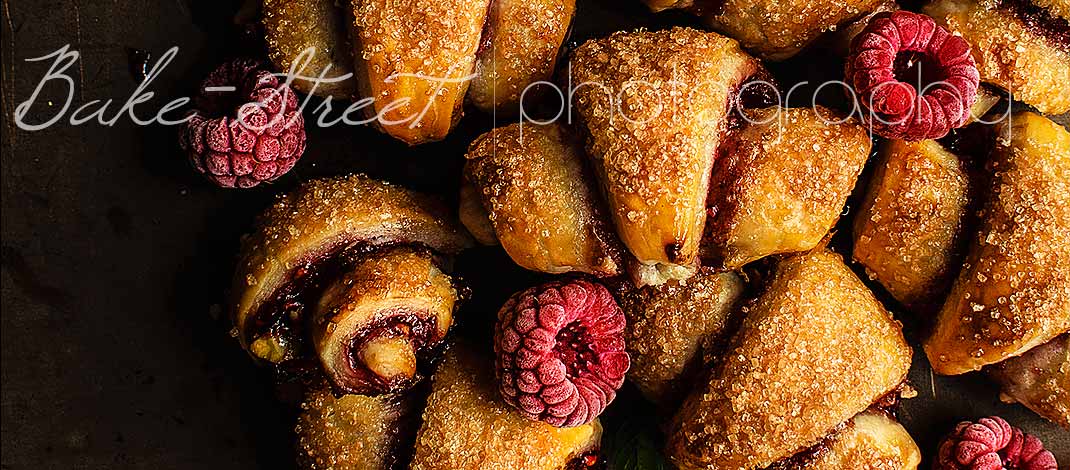 Rugelach, Jewish cookies {Video recipe}
Este post también está disponible en Spanish
Today's recipe is as simple and grateful as you can imagine, and I'm sure many of you already know it. Rugelach, are Jewish cookies of Askhenazi origin (so called the Jews settled in Central and Eastern Europe) with a crescent shaped in its most traditional format.
At first it may seem like a little croissant, but it's just a first impression. It was said that croissant and rugelach had a Viennese ancestor in common apparently to commemorate the Battle of Vienna against the Ottoman Empire in 1683 for its similar appearance.
But this was only a theory since both rugelach predates the Modern Era while the croissant first appeared in the French dictionary "Littré" in the year 1863 and the first recipe was published in 1891 with another type of dough.
Traditionally, these cookies were consumed in Hanukkah, a Jewish holiday that lasts for 8 days also called "The Feast of Lights" or "Luminaries" commemorating the defeat of the Hellenes and the recovery of Jewish independence. At present, they are consumed at any time of the year.
The peculiarity of these cookies remain in one of its main ingredients, cream cheese or sour cream. With this it is possible to provide a softness and texture really surprising to the dough but, besides, it makes the manipulation process difficult. For that reason it is a type of dough that we must always work in cold and trying to touch it as little as possible. That will not be complicated at all.
Surely you have found these cookies in several shapes, this is the most traditional but in the end what is important is that you feel comfortable working with them. So if you want to do it in a circular format, like these spirals, perfect. The result will be just as delicious as with a different final look.
The filling is a raspberry jam with pistachios but, as I tell you below, you can vary it by one that is more to your liking. Whether jam, chocolate, nuts … You'll have them ready on the same day you bake them, and believe me when I tell you, it's worth it to make them.
RUGELACH
Recipe from Baking and Pastry
24 pieces
FOR THE DOUGH:
190 g bread flour
35 g pastry flour
225 g cold unsalted butter
190 g cream cheese
pinch of salt
FOR THE FILLING:
4-5 Tbsp of raspberry jam
100-120 g chopped pistachios
2 Tbsp sugar + 2 tsp cinnamon powder
FOR BRUSH:
2 large egg yolks
demerara sugar
INSTRUCTIONS:
Make rugelach dough.
In the bowl of Kitchen Aid or a stand mixer, add the two kinds of flour along with the butter cut into small cubes.
Mix with the flat beater at slow speed until get a grainy texture. It may remind us to a pâte sucrée.
Add the cream cheese along with the pinch of salt and mix again at low speed until get a homogeneous mixture. During the mixing process, we will stop the stand mixer several times to scrap down the sides of the bowl and facilitate the ingredients to be well integrated.
Transfer the dough to a work surface slightly sprinkled with flour and shape into a round piece.
Divide into two equal pieces and shape a disc with each one of them.
Cover with film and refrigerate for 90 minutes. The dough must become a bit hard to be able to stretch and shape it.
NOTES:
The dough is slightly sticky, to work with it and to be able to shape a disk, we will have to sprinkle with flour on both sides.
At this point you can refrigerate the dough until the next day if you wish.
Shape the rugelach.
Line to baking sheets with parchment, set aside.
Sprinkle with flour on a work surface and proceed to stretch one of the dough pieces.
Stretch until get a diameter of 12-14 inches (30-35 cm). As you stretch the dough make sure, from time to time, the dough does not stick to the work surface and sprinkle with a little more flour if necessary.
Spread the raspberry jam on the surface leaving the edge uncovered and sprinkle with some of the sugar and cinnamon mixture.
With the help of a pizza cutter or a sharp knife, cut the disk into 12 wedges as similar as possible.
Sprinkle the chopped pistachios over the jam.
To shape the cookies we will do it in the same way that a croissant is shaped. Roll each one into a crescent, beginning at the wide end.
Transfer to the baking sheet and repeat the process with the remaining wedges. Place 12 cookies per tray.
Once we have all the cookies shaped, place the baking sheets in the fridge for 2 hours.
NOTES:
While shaping one of the disks, leave the other in the fridge to hold the dough firm. It is very delicate and immediately loses firmness when is out of the cold.
It is important to refrigerate the cookies once shaped to keep their shape after baking.
I filled the second batch with hazelnuts instead of pistachios.
Bake the cookies.
Preheat the oven on 375ºF.
Remove one of the baking sheets from the fridge, brush with egg yolk and sprinkle with demerara sugar.
Bake at medium height for 22-25 minutes, they will take a golden color on the outside.
Remove from the oven and let cool completely on a rack.
Repeat the same process with the other batch.
PRESERVATION: Once they are completely cold, we can store them in an airtight container for 10-12 days. They will not be with you so much time…
TIPS:
Make sure that the dough disk has the diameter that I specify, it must have a thin thickness so that after baking the dough is not  uncooked.
I do not like raspberry jam. Do not worry, you can use another jam that you prefer or even chocolate 😉
Another filling option can be with nuts as the dates, I have an old recipe of dates spirals (very similar to this) and I think it can also be a very good option.
I have used pistachios but can use instead hazelnuts, walnuts, almonds … whatever you like.
You can brush with beaten egg instead of yolk if you wish.
Demerara sugar is a sugar variety that tolerates very well the high temperatures maintaining its structure at the end of baking. In case you do not have it, use sugar or brush with only the yolk or egg.
Rugelach is a type of cookie that you will not forget, not only for its appearance but for its delicate and smooth taste. In my case I have filled them with raspberries and pistachios, because I really like that combination, but actually admits all those fillings you can imagine.
A recipe very easy to make and perfect to try this weekend, what do you think? 😉
Big hugs,
Eva
Fuente: Wikipedia