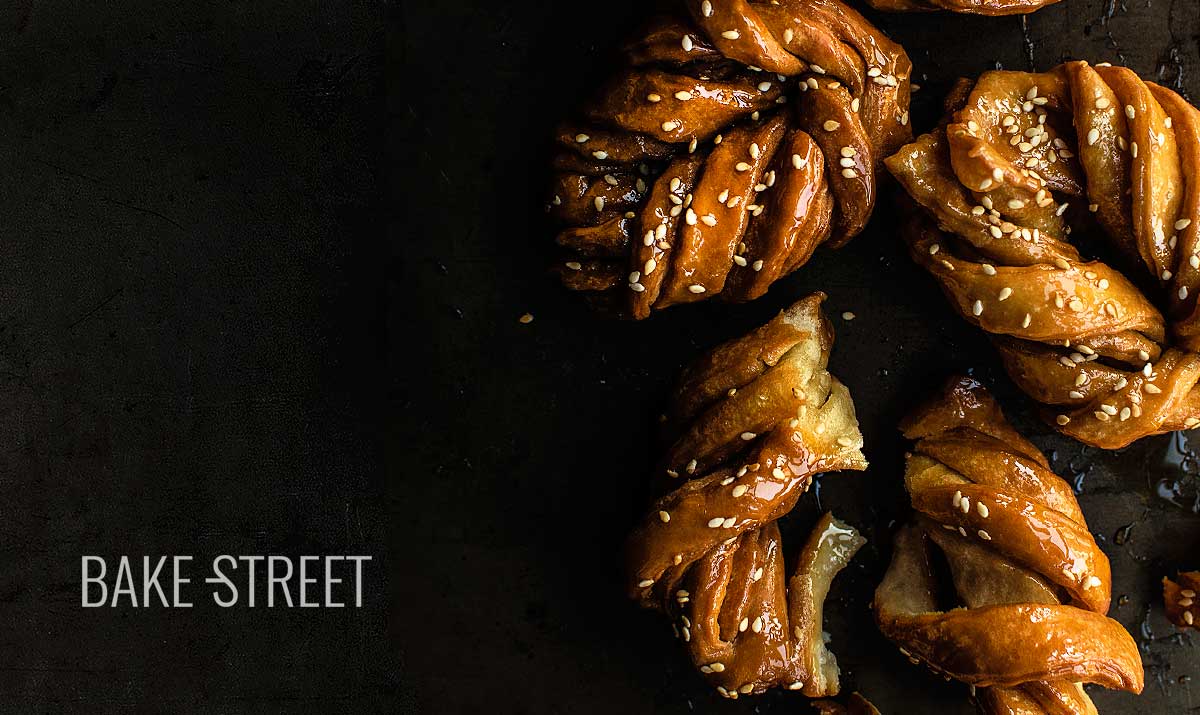 Griwech, Algerian pastry
Este post también está disponible en Spanish
It's not the first time I've told you, but I'm doing it again. I have always considered Arabic pastry is simply fascinating, creative and elegant. They take great care of the presentation, the elaboration process and every detail to carry it out. That's why I find it so beautifully attractive. Today I leave you a new recipe from their confectionery, a jewel of Algerian gastronomy, Griwech.
These sweets are very similar to the traditional chebakia sweets of Moroccan confectionery. The only difference between the two is the presence of ground almonds in the latter, as well as some spice and gum arabic. In Morocco, it is customary to make them on special occasions such as weddings, feasts and, above all, during Ramadan.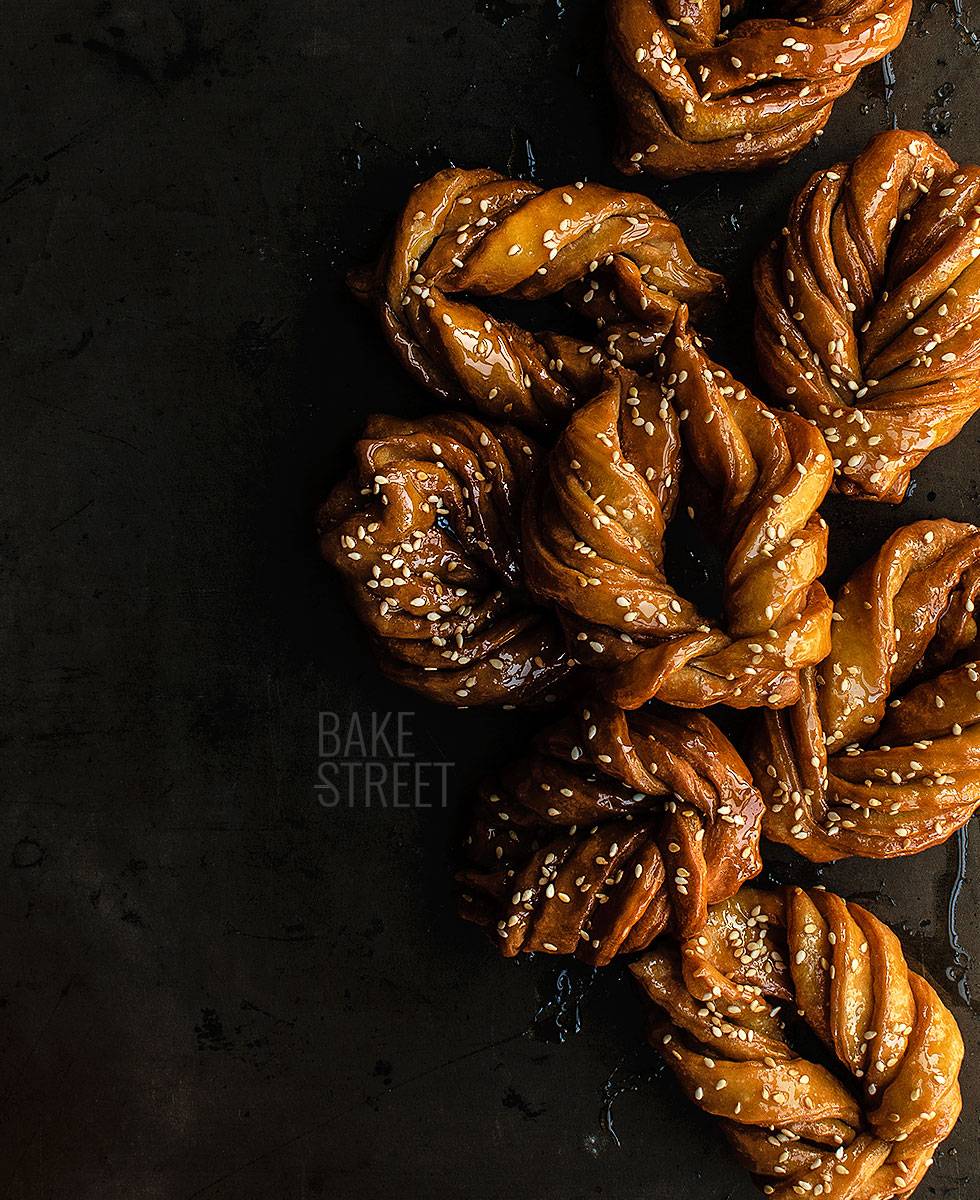 Preserving tradition.
Griwech, like all those preparations that are usually made in each home, vary their recipe depending on the hands that make it. The same could be said of pestiños (a traditional Spanish sweet), in each house is carried out a recipe that is totally different from that of another. Even from the same family.
My grandmother made the best sweet potato stuffed pestiños in the world, and it's not because she was my grandmother, they were simply incredible. Well, she had 6 children of whom 4 were girls (my aunts and my mother) who were taught the same recipe. I assure you that none of them are the same as any other, I have tried them all and it seems that they have learned that recipe separately. Each person gives their personal touch to each process, making it a unique specialty.
By the way, the pestiños I like most are my mother' s 🙂
I'm sure that on more than one occasion your mother has taught you to do something and when you do it, it doesn't taste the same. The famous "mother´s touch", which is only acquired over time. Dedication and cooking hours. I continue with the recipe.
The recipe I share with you may vary from other recipes you know.
I looked and searched long before preparing them at home. I read many blogs, websites, watched many videos and finally I tried to fine-tune a final recipe based on several. This is where you can see that the basis is the same in all recipes, but that each person added their personal touch or followed a different process. In my case, I was guided mostly by the recipes of Hadjer Cuisine and Recette Delice.
Its elaboration.
It is very simple to carry out and enjoyable. The kneading process, as I tell you below, is a laborious but certainly worthwhile process. Since we will have to stretch the dough enough, I recommend dividing it into two pieces.
We'll have to stretch and cut them with a curled wheel cutter. If you don't have it, don't worry, you can cut it with a pizza cutter or sharp knife. Then comes the fun part, shaping them. We'll just have to fry and dip them in honey.
Ingredients 18-24 pieces
FOR THE DOUGH:
17,6 oz (500 g) T45 flour or all purpose flour
4,4 oz (125 g) melted and cooled unsalted butter
7,3-7,7 oz (208-218 g) water
1/2 large egg
0,25 oz (7 g) sugar
0,14 oz (4 g) baking powder
0,035 oz (1 g) dry yeast
0,21 oz (6 g) apple cider vinegar
0,88 oz (25 g) orange blossom water
1 tsp vanilla extract
0,14 oz (4 g) salt
21-24 oz (600-700 g) sunflower oil or another soft vegetable oil
corn starch
GARNISH:
10 Tbsp honey
8 Tbsp water
2 Tbsp orange blossom water
toasted sesame
Instructions
Make the griwech dough.
In a large bowl add the flour, previously sifted, together with the melted butter and egg. Mix lightly with the help of your hands.
Add sugar together with the baking powder, yeast and salt. Mix with both hands and rub the mixture until a gritty texture is obtained.
Pour vinegar, vanilla and orange blossom water. Mix again.
Start adding the water slowly and mix it together. We will knead and observe how the dough behaves.
The texture should be easy to handle and very pleasant to the touch. There should not be a hard and brittle dough, on the contrary, it should be soft.
Knead until a smooth and soft dough is obtained. Remember that rest times, always covering the dough to prevent it from drying out, help a lot and allow us to make the kneading process much easier.
Once the dough is ready, place it in a bowl, cover with film and leave to stand for 1 hour at room temperature.
Stretch the dough.
Place the dough on a surface lightly sprinkled with cornstarch and roll it out. We'll shape a rectangle.
Fold the dough in three parts, like a triptych, and stretch the dough again.
Divide into two equal parts. Cover with film, individually, and let stand for 10 minutes.
We stretch one half and reserve the other half, covered with the film.
Lightly sprinkle the surface of the dough with cornstarch and stretch the dough to shape a rectangle of approximately 12,5 x 20 inches / 32 x 50 cm (for 18 pieces) or 17,7 x 24 inches / 45 x 60 cm (for 24 pieces)
With the help of a paste cutter, we cut the edges to level the rectangle.
Divide the piece into rectangles of approximately 4,3 x 6,7 inches / 11 x 17 cm each.
Make parallel cuts inside each rectangle without reaching the edge. We will make a minimum of 12 cuts. The more we do, the more beautiful the final result will be (within a limit).
Shape griwech.
Fold the piece joining the corners in the same way as if we were closing a book.
Fold back in the same process. Slightly seal the ends.
Insert one end through the hollow between the strips and pull it out. You'll appreciate this much better in the video.
Cut one of the ends into a beak shape or seal to join. Repeat the process with the rest of the pieces.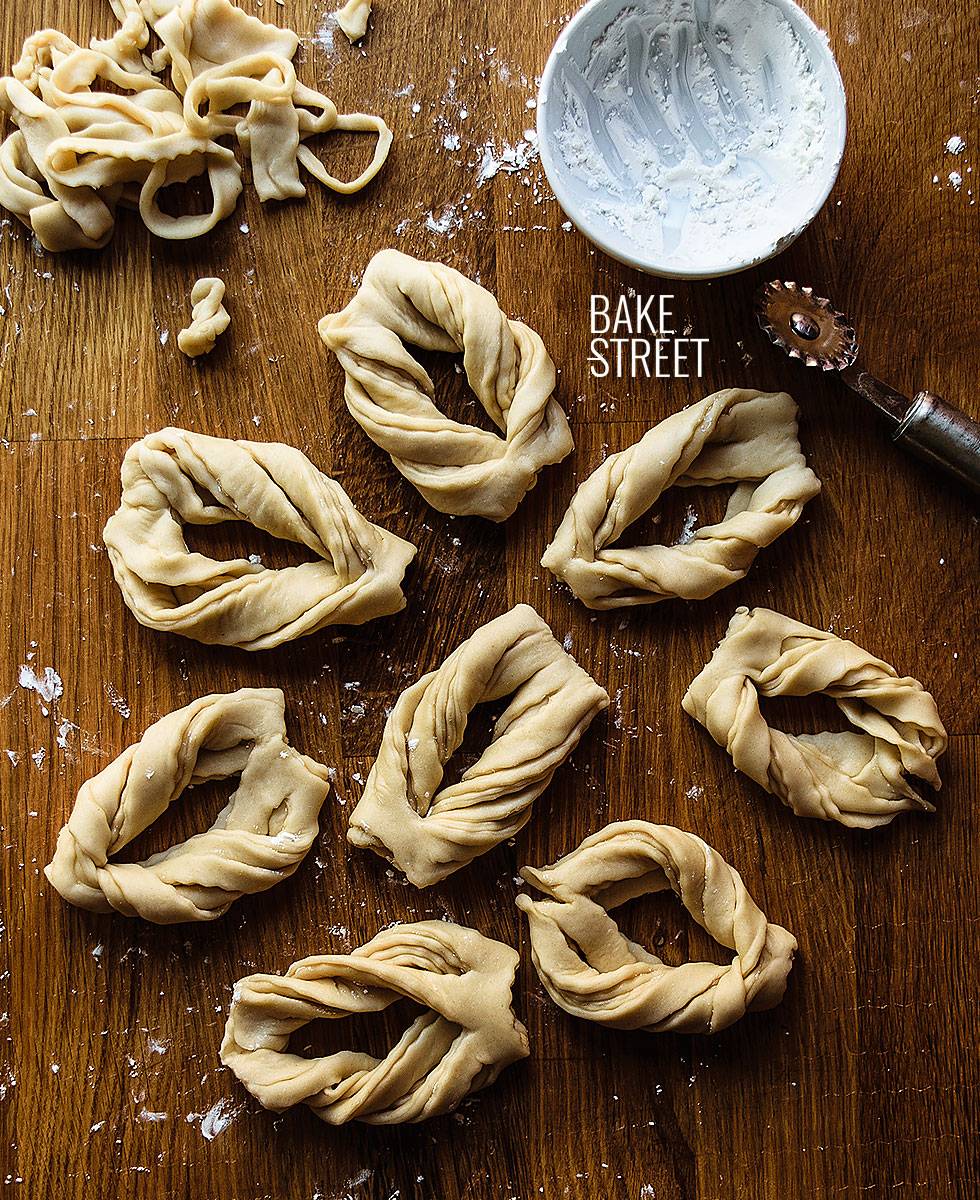 Fry griwech.
Pour the sunflower oil into a medium saucepan, if it's tall, better.
Place it in medium heat and leave until it reaches 300ºF.
Fry the griwech in pairs. I recommend you move them from time to time, carefully, and bathe them constantly with oil using a spoon.
We rotate them from time to time to get a beautiful golden brown over the entire surface.
Remove, drain and place on absorbent paper.
Repeat the process with the rest of the pieces.
Dip in honey.
In a saucepan add the honey together with the water and orange blossom water.
Place in medium heat and leave until it begins to boil. Once at this point, cook about 30 seconds and remove from the heat.
Dip the griweches in honey or brush to cover the entire surface.
Place on a rack, sprinkle with toasted sesame and repeat with the rest.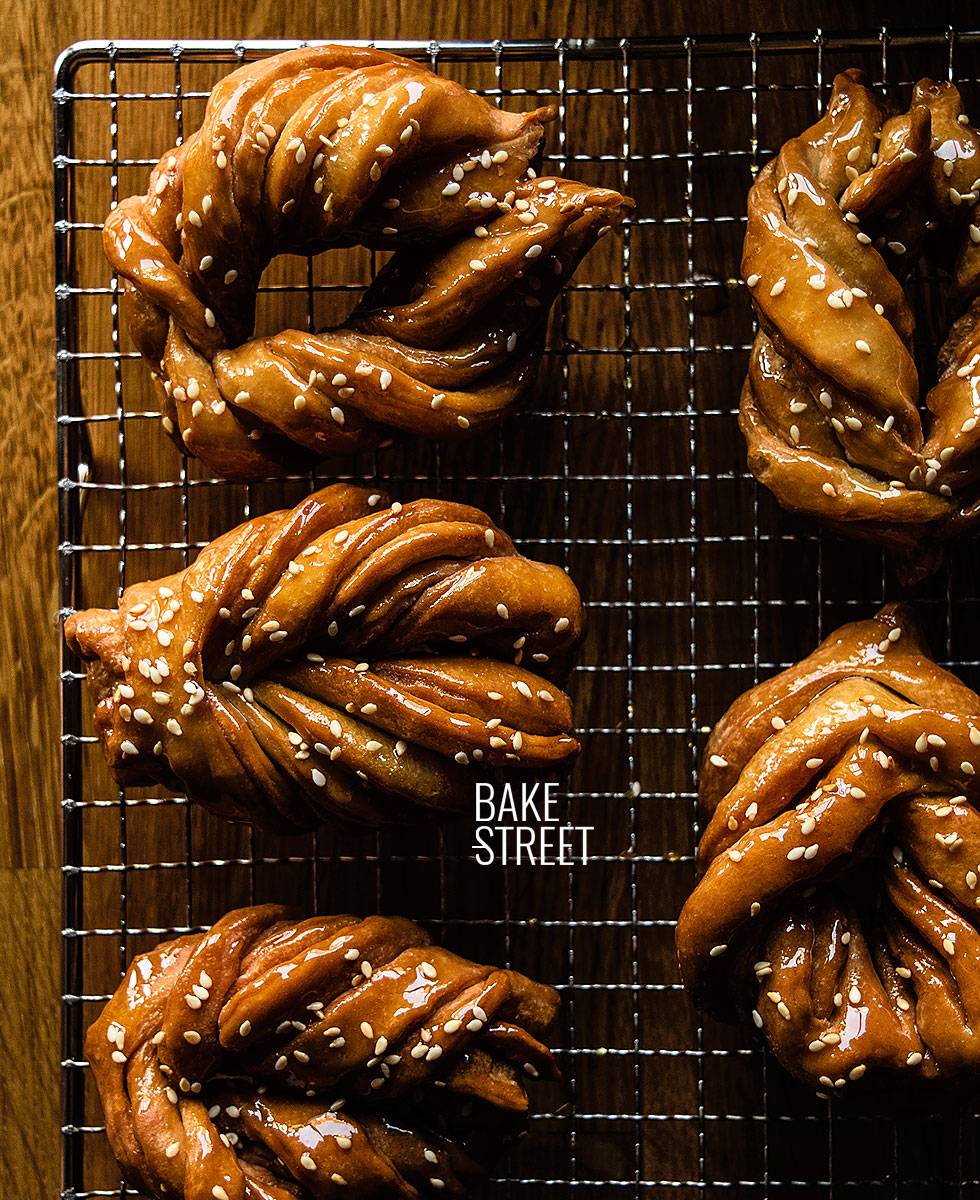 Notes
Why do you specify what we can get from 18-24 pieces? There's a lot of difference. Yeah, that's right. The first batch I stretched and cut, I followed the process that specified the recipe. But in the second batch I decided to stretch them more to get a much thinner thickness (this part is not in the video, but I leave it in photos). I liked the second result much better because it keeps its crunchy texture with the passing time, and it is lighter when tasted. The next picture is from the second batch I made with the thinnest dough.

The quantity of orange blossom water is indicative. I tell you this because depending on whether it is natural or chemical, the flavor potency will be higher or lower.
The kneading process is a bit long since we have to add the water little by little at the same time that we develop gluten. Do not hesitate to rest, always covering the dough, to facilitate this process and make it more enjoyable.
When we have to stretch the dough, remember that it will always be better after a rest. When working the dough we make it tense and this makes the stretching process difficult. You will notice that it contracts after stretching.
Although using dry baker's yeast is a dough that does not have to rise, it only requires a rest period. The use of this one favors that the griwech remain more puffy after frying, unlike the chebakia that do not carry this ingredient and remain flatter.
You can add some spices if you want like aniseed or cinnamon.
Depending on how much you stretch the dough, this will be the result in terms of texture. Creating 18 pieces the thickness will be a little bit thicker and the texture will be crisp on the outside and slightly tender on the inside, you will notice that they acquire volume. If we create 24 pieces, the texture will be super crunchy.
If you don't like honey, although if you decide to prepare this sweet I imagine that this option is not viable, you can prepare a light caramel bath.
They can be stored for a long time in a glass bell or airtight container. If the weather is very hot, it is best to refrigerate them in an airtight container.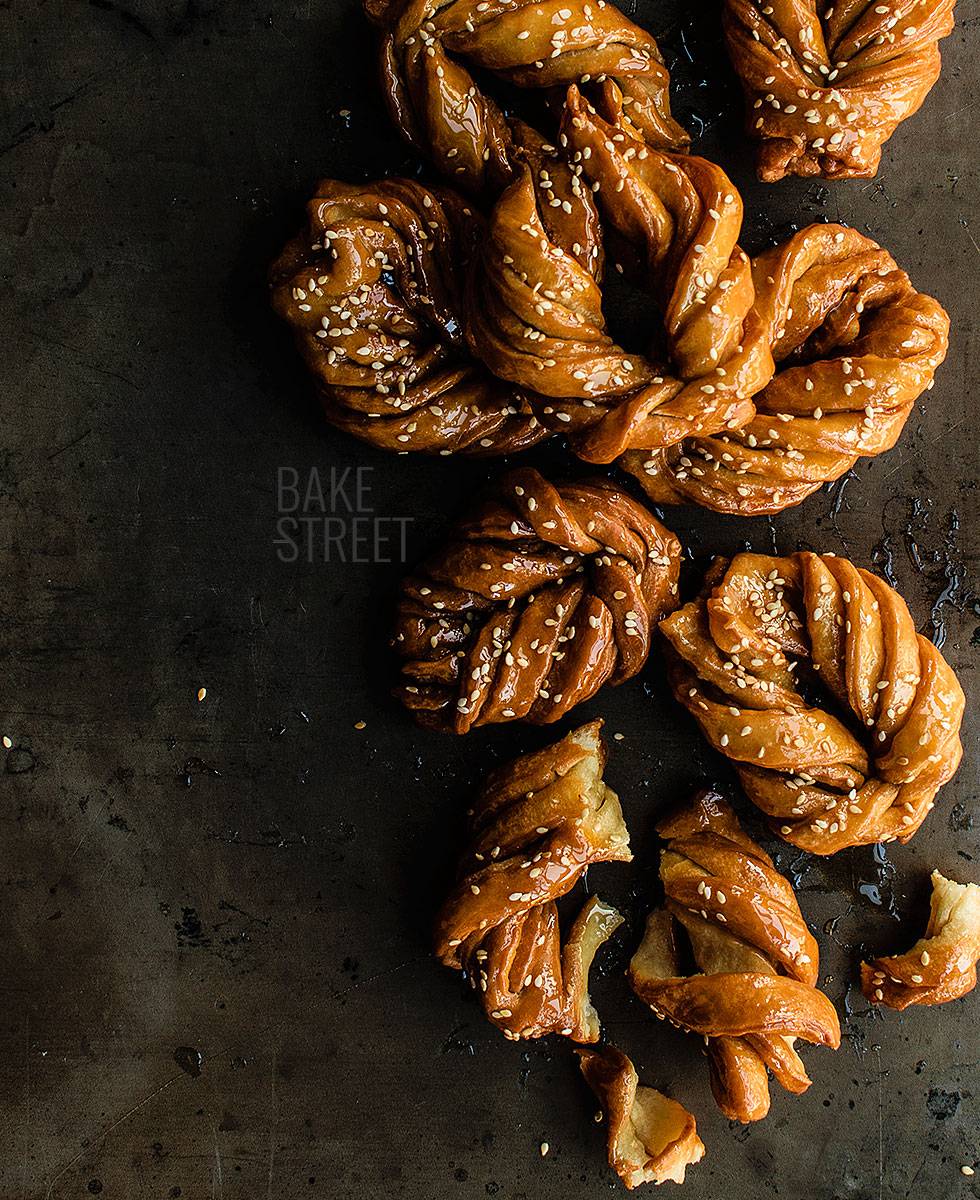 There is no weekend that doesn't leave you homework... No one should tell me on a Monday: - I didn't know what to do during those days -. Griwech is an authentic wonder for sight, smell, taste, hearing (by crunchy) less by touch... you know how sticky honey is.
If you want to surprise your friends or family at coffee time, do not hesitate to try these wonderful crunchy sweets with honey, orange blossom and toasted sesame flavor. You'll love it!
Happy weekend, see you on Monday :)
Big hugs,
Eva
Archivado en