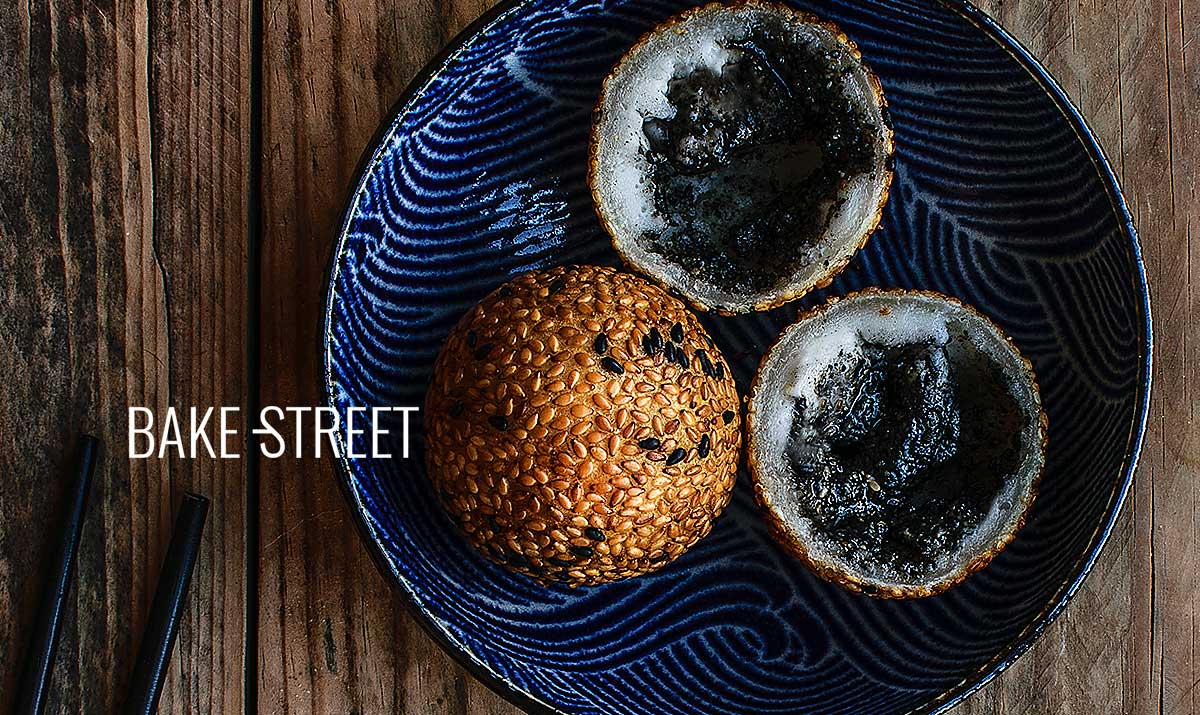 Jin deui – {Sesame balls}
Este post también está disponible en Spanish
Today's recipe is a whim I had to share with you. I am sure that many of you know the Jin deui-Jian dui or, mostly known as sesame balls, goma dango or sesame dumplings. They are a wonder and a joy to do and enjoy.
Jin deui is a type of Chinese sweet made from glutinous rice flour and coated with sesame seeds. Traditionally they are filled with a lotus seed paste, made from dried lotus seeds, which is considered a luxury ingredient. Or anko, a sweet red bean paste made with azuki beans or black bean paste, dòushā.
Jin deui origin.
The origin of this sweet comes from the Tang dynasty and was considered a palatial meal known as ludeui (碌堆). Mention of this sweet can also be found in a poem by the poet Wang Fanzhi.
Depending on the region or cultural zone, jin deui can be found under different names:
matuan in northern China
ma yuan in northeastern China
jen dai in Hainan
Its elaboration…
It's a lot simpler than it looks. The only thing we have to do to get a good result, I mean the dough, is to respect all the ingredients that I specify in the elaboration. With the exception of potato starch, which can be substituted by wheat or corn starch, we must follow the process faithfully.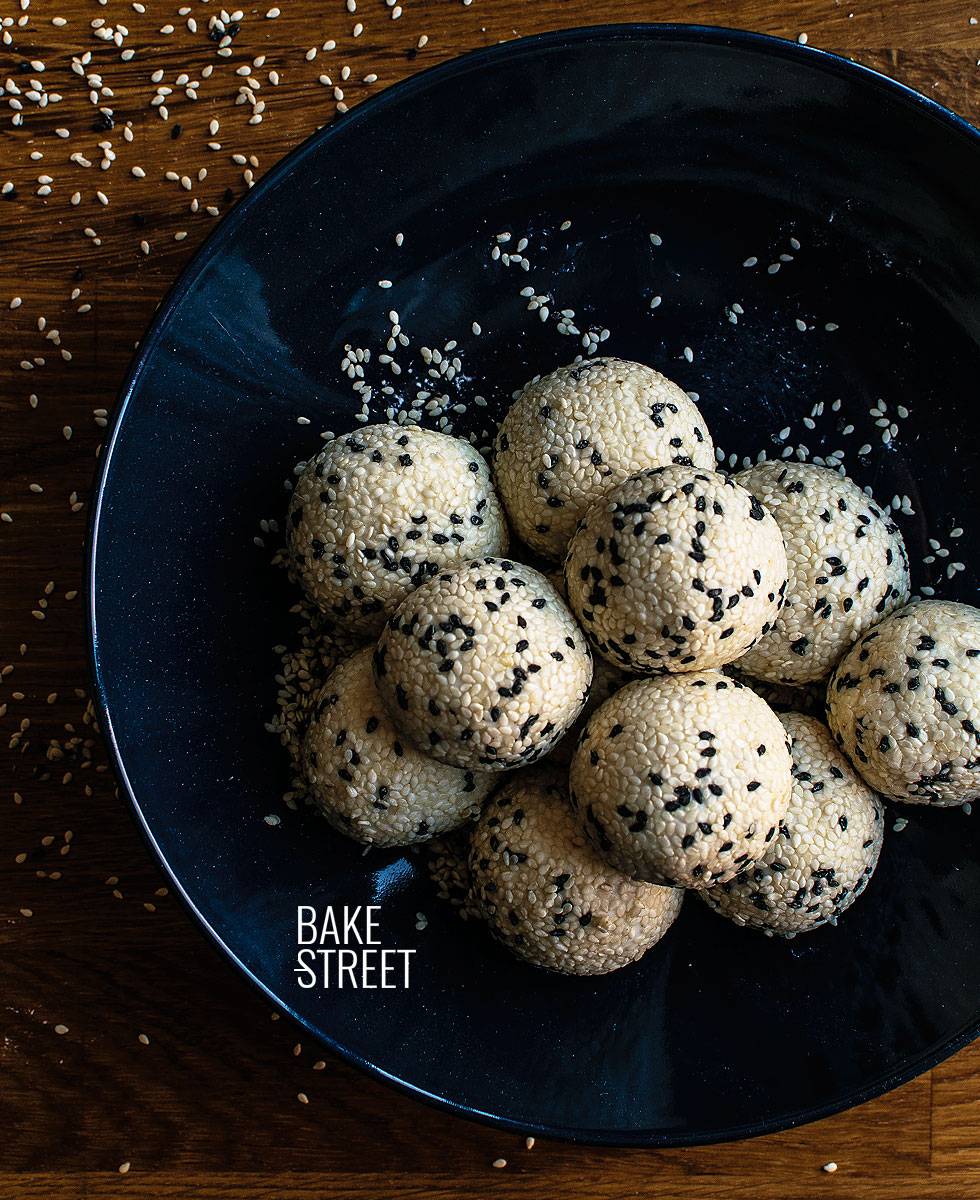 We must always work with hot water to make the dough. With this type of flour it happens to us as with the rest of flours, its absorption capacity can vary from one brand to another. That's why we need to take a good look at our dough and assess if it needs more water.
If so, the water should always be hot. The addition of water must be done gradually, kneading the dough, so that it has time to absorb the water, and show us its real final consistency.
The dough dries very easily, for that reason don't forget to cover the dough whenever you are not handling it. Also, do not hesitate to moisten your hands whenever you consider it necessary.
Where does this recipe come from?
To carry out the elaboration of the jin deui I have followed the steps of the book A. Wong – the Cookbook with her recipe of sesame dumplings with foie gras, a book that I recommend if you like this type of cuisine, and with the recipe of China Sichuan Food. The filling is based on the recipe of Yi Reservation.
A video that can help you in the process, especially when it comes to frying them, is Wantanmien.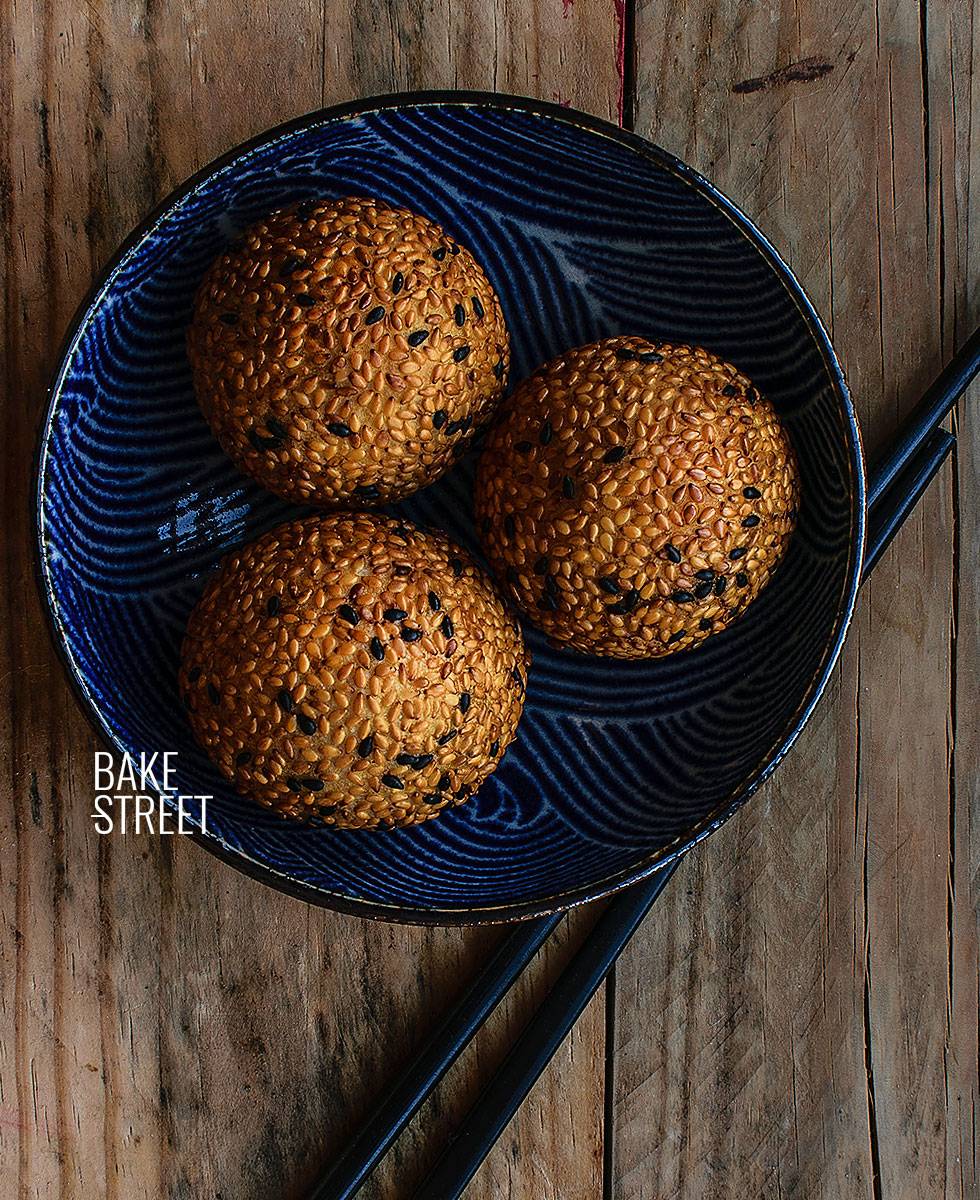 Ingredients
FOR THE GLUTINOUS RICE DOUGH:
7 oz (200 g) glutinous rice flour
1,1 oz (32 g) potato starch
6,15 oz (175 g) water
2,2 oz (63 g) sugar
0,17 oz (5 g) baking powder
white and black sesame to roll the balls
FOR THE BLACK SESAME AND PEANUTS FILLING:
1,25 oz (35 g) toasted black sesame
0,88 oz (25 g) sugar
0,7 oz (20 g) fried peanuts with honey
0,55 oz (16 g) unsalted butter
pinch of salt
FOR FRYING:
21-24 oz (600-700 g) sunflower oil
Instructions for 12 pieces
Prepare the glutinous rice dough.
In a bowl mix the glutinous rice flour together with the potato starch.
In a saucepan pour the water together with the sugar and place it in a medium-high heat. Leave until it boils and the sugar is completely dissolved.
Pour the light syrup over the flour mixture and mix. Be careful if you do it with your hands because the water is very hot.
Knead to obtain a homogeneous dough.
We add the baking powder and knead again until fully integrated.
Transfer the dough to a clean work surface and start kneading. We must knead until obtain a completely smooth and homogeneous dough. It will take about 10-12 minutes.
Remember that you can make rest with the dough if you wish, always covering to prevent it from drying out.
The dough should be pleasant to handle and slightly sticky to the touch.
Place in a bowl, cover with film and let stand for 30 minutes at room temperature.
Prepare the sesame and peanut filling.
In a food processor add the honey peanuts together with toasted black sesame, sugar and pinch of salt.

Blend until a homogeneous paste is obtained.
Add the butter and blend again.

Pour the mixture into a bowl, cover with film and set aside until ready to use.
Shape Jin deui.
Transfer the dough to a clean surface and shape a long log with it.

Divide into 12 equal portions and make a ball with each piece. Cover with film as you make them.
Make a bowl, making sure that the edges are slightly thinner than the rest.

Fill with 3/4 teaspoon of black sesame filling.

Seal the ends very well and make a ball again. Cover with the film and proceed to fill the following pieces.
Cover with the sesame.
Prepare two bowls, one with cold water and the other with a mixture of black and white sesame.
Introduce very quickly a ball of glutinous rice in the water, drain and roll in the sesame.
Gently press gently between your hands so that sesame seeds adhere better to the surface. Make a ball again and place it on a plate.
Repeat the process with the rest of the pieces.
Fry Jin deui.
Pour the sunflower oil into a medium-high saucepan.
Place at medium high heat and leave until it reaches 300ºF.
Fry the sesame balls in batches, I recommend you do not add more than 3 each time.
Once we have placed the sesame balls in the oil, we must move them to allow them to fry evenly over their entire surface. And keep them from over-roasting on one side.
The ideal way to move them is to use some chopsticks, they allow us to handle them with greater care and delicacy.
We will observe that they puff up and acquire a beautiful golden color. They'll be ready by then. About 5-6 minutes.
Remove with the help of a slotted spoon and place on absorbent paper.
Repeat with the rest of the pieces.
Serve warm.
Notes
Can I use rice flour instead of glutinous rice flour? No, it's not the same in any case. The glutinous rice flour is obtained from a short grain rice that becomes sticky when cooked (hence its name glutinous, derived from the Latin glūtinōsus). Rice flour is obtained from long grain rice and works differently if we work with cold or hot water.
Potato starch, in this case, can be replaced by corn starch or wheat starch if it is not available. The difference between them is that potato starch causes dumpling to become translucent when steamed or cooked.
Can I use toasted or fried peanuts instead of honey peanuts? Of course. In my case I have a weakness for them and that's why I decided to use this variety.
Must the black sesame filling be toasted? Yeah. Otherwise it won't be so aromatic and tasty, we'll get a practically tasteless filling.
Can I fill them with a salty variant? Yeah. You can fill them in as you like. In my case I have left you this sweet option, but you can change it for foie gras, some kind of cheese...
In the elaboration you commented that the edges of the dough bowl should be thinner... Yes, the reason is that when sealing the piece joins a lot of dough and, when opening them after frying, we would appreciate a small mound of dough in the center of the piece.
It is important to seal the piece well to prevent the joint from opening during cooking (remember that they grow and puff up a lot) and the filling comes out.

Instead of dipping the pieces in a bowl with water, we can spray them if you prefer.
Can I fry them with soft olive oil? You can, but I think it adds flavor and we're not interested. Ideally, use a variety of vegetable oil with a neutral taste.
The inside of the sesame balls should be hollow. If this does not happen, it would be a sign that the cooking time has been shorter than necessary and for that reason they have not become sufficiently swollen.
Can I freeze them? Yes, you can freeze them shaped and not fried in airtight containers for a maximum period of 1 month.
You'll love the jin deui, I'm sure. Its soft, tender, slightly elastic texture... with a toasted sesame topping and sweet, aromatic filling will fascinate you.
On this occasion the recipe I leave you will be perfect to serve as dessert or a sweet in the middle of the afternoon. But don't rule out trying other types of fillings, both sweet and savoury.
Big hugs,
Eva
Archivado en