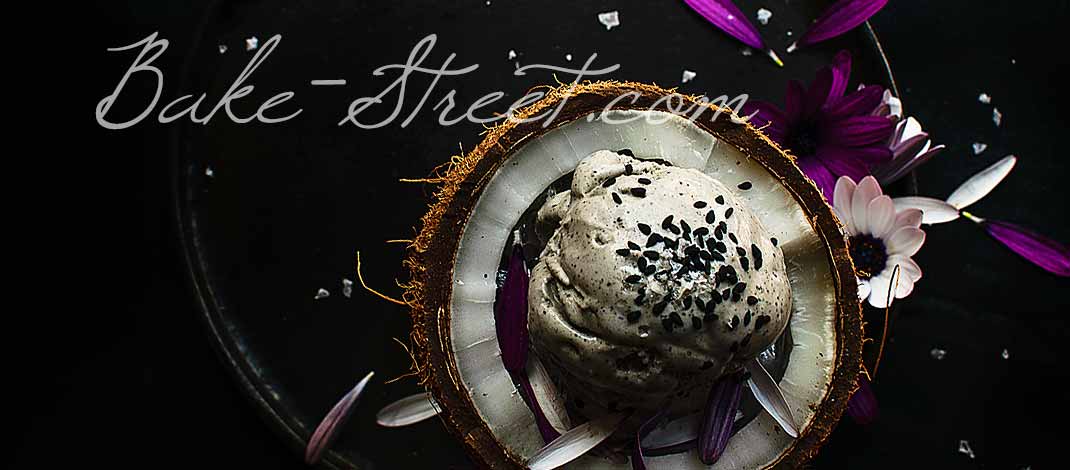 Black sesame ice cream
Este post también está disponible en Spanish
A couple of weeks ago we went to a Japanese restaurant that some friends had been recommended, we really like Japanese food, we would eat it all the time. Dishes from this restaurant were extraordinary, especially a roll of flamed salmon, left us speechless. But the dessert … that really stole my heart, a black sesame ice cream that had everything to make the end of the perfect evening.
The truth was that it was not the first time I had heard of this ice cream, I had already seen it on several blogs and had many recipes pinned in Pinterest. But you know, it's what you have to procrastinate … that we miss things!
That day I returned home determined to make it, so much so that at night I started looking for recipes to prepare it the next day. Yes, I know, I'm impatient.
I read several recipes and finally I followed Sassy-Kitchen´s recipe. I liked the reduced use of sugar, the amount of black sesame in proportion to the amount of cream / milk and the added honey. In my head I tried to simulate the same ice cream I tried and I thought this recipe was as close as I could be to achieving it. I was not wrong.
Fantastic is not enough, a delight ice cream with so much flavor. I was very surprised how creamy it is, it will really come as a surprise for you. We already know that the yolk helps a lot to the final texture to be smooth and creamy, along with the addition of honey, this goal is very well achieved.
Surely many of you are thinking … I do not like honey.
It is not a taste that collapses the whole ice cream, it is true that in the end we have a slight aftertaste, but not at all annoying. What prevails most in the ice cream is the intense flavor of roasted black sesame.
If you do not want to use honey you can use invert sugar instead, in this post I tell you how to do it (only in Spanish). Remember that invert sugar sweetens much more than normal sugar, so you do not increase the amount. I remind you that it is necessary to use some kind of inverted sugar in the ice cream elaboration to avoid the crystallization of this and, consequently, that the result is a very hard ice cream.
But, you must use it to make black sesame paste or "neri gum", as defined in Japanese. I think you would not get that incredible flavor made with any other ingredient, besides, that the method to make this paste consists of these two ingredients. This ingredient is usually compared to the tahini we all know, but its flavor is much more intense and nutty.
BLACK SESAME ICE CREAM
23 oz (650 g)
13,4 oz (380 g) heavy cream
7,75 oz (220 g) whole milk
3 large egg yolks
3 Tbsp honey + 1,2 oz (35 g) honey
2,1 oz (60 g) sugar
1,4 oz (40 g) black sesame
1 tsp vanilla extract
1/4 tsp salt
INSTRUCTIONS:
Make black sesame paste.
Place over medium heat a medium skillet with black sesame seeds.
Toast, stirring from time to time, until they smell nutty and with roasted aromas.
Remove from the heat and let cool.
Add all the roasted black sesame seeds, except 1 and 1/2 tablespoon, into a food processor and blend until get a gritty paste.
Pour the 3 tablespoons of honey and blend again. The result will be a black and very bright paste. Set aside.
NOTES:
Toast the black sesame is something "more complicated" because we can not orient ourselves by its color change. For that reason you must watch it to avoid that seeds are toasted in excess, otherwise you will get a bitter and quite unpleasant taste. Ideally, try it from time to time until you get the desired aroma.
The reserved amount of roasted black sesame is to decorate the ice cream when serving.
Make the base of black sesame ice cream.
In a large pot add the milk along with the heavy cream and the 1,2 oz (35 g) of honey. Place in medium heat and cook until it begins to smoke without getting to boil.
Meanwhile, in a medium bowl whisk the yolks together with sugar, salt, vanilla and black sesame paste. Mix to homogenize the mixture.
Once the cream mixture has taken temperature, remove from the heat. Ladle a small amount onto the bowl of the yolks and whisk quickly. This process is called tempering and serves to transmit the heat gently, and gradually, to the yolks and prevent them from clotting.
Gradually add the remaining cream mixture, always beating at the same time, until it is completely incorporated into the yolks.
Pour into the pot, place over medium heat and, while stirring constantly, cook until it reaches 176º-185º F. We will notice that the mixture thickens slightly and when introducing a wooden spoon we will observe that the mixture creates a layer on the spoon called nappe.
Remove from the heat, pour into an airtight container and let cool completely at room temperature.
Once cooled, cover with film or with its own lid and place in the refrigerator overnight.
Make the ice cream.
Pour the mixture into an ice cream maker and churn for 15-20 minutes, the ice cream base must be firm.
Once the ice cream is ready, pour it in an airtight container or a loaf pan cover with film and freeze a minimum of 6 hours or until the following day.
Serve the black sesame ice cream.
We can serve the ice cream in glasses, plates, bowls … or even in half coconut as I do next.
Serve 1-2 scoops of ice cream, sprinkle with roasted black sesame, flaky salt and serve.
This black sesame ice cream will change your view of ice cream world. I promise you. Its flavor is simply spectacular and you will never forget it, it is those flavors that remain etched on the palate forever.
Toasted aromas, slightly sweet, incredibly creamy … You will love it, I have no doubt. Although you will tell me! 😉
Big hugs,
Eva
Archivado en