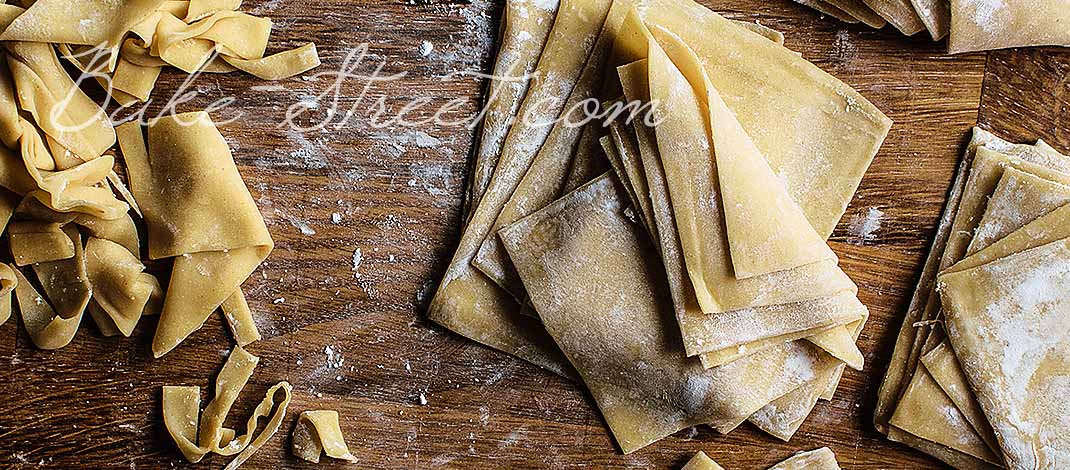 How to make wonton wrappers – {Video recipe}
Este post también está disponible en Spanish
It was time to prepare homemade wonton wrappers, mostly because we really like this type of cuisine at home and when we go out to Asian restaurants, these are the essential dishes. My son loves them, they freak out, he can eat tons of them … and when I told him I was going to make them at home, he was full of excitement!
The truth that is a dough very easy to elaborate, it reminds me a lot of homemade pasta recipe, only that with a finer flour (no semola) and added water. Well, only here, because the kneading process is much more laborious. It is a dough that requires a lot of kneading time because we need to obtain a perfectly developed gluten.
At this point we can find similarity with filo dough, the same one that we elaborate to make the strudel. It is imperative to obtain a perfectly developed gluten and a correct hydration of the dough. Here we must keep in mind an aspect which, I am fully aware of, I repeat to you again and again. Not all flours behave in the same way and not all have the same absorption capacity.
Remember it always. For that reason I often specify a specific type of flour, that is because that variety of flour has some characteristics that work very well for the elaboration I indicate you at that time.
In this case we need a flour with a good ratio of elasticity / extensibility to allow us to stretch, without it contracting, until obtaining a very fine thickness. In my case I used a T-45 but a flour that serves to make puff pastry, or a plain/AP flour that we know is extensible, will also work very well.
What is the difference between dumpling and wonton wrappers?
Well, the truth is that they are practically the same except for a couple of details. The dumpling dough is common to make it in absence of egg, only with water, unlike the wonton dough that does require an addition of egg. In addition, the dumpling  does not need to be as thin as the dough that we prepare for the wontons.
Those are the only two differences that we can find between both and, of course, the shape we want to give or the way to cook them.
Wonton origin.
The wonton, wantán or wontón originates from the Chinese gastronomy and is written húntún (餛飩). It is a very popular Cantonese dish whose meaning is "overflowing clouds", the definition can not be better chosen. Fillings can range from pork, seafood, fish or even vegetables served in soups, spicy or fried sauces.
The final result of this dough is very subtle and delicate thanks to the delicacy and reduced thickness that we achieve in the process of stretching.
WONTON WRAPPERS – Recipe adapted and info China Sichuan Food.
40-44 pieces
10,5 oz (300 g) plain/AP flour (I have used T-45 flour)
2,8 – 3,3 oz (80-95 g) water
2 large eggs
1 tsp salt
cornstarch for dusting
INSTRUCTIONS:
Mix the ingredients.
In a bowl add the flour, set aside.
In another bowl mix the eggs along with the salt.
Pour the eggs over the flour and integrate both with the help of a fork.
Add about 1,8 oz (50 g) of water and mix, use your hands to grasp the dough.
Transfer to a clean work surface and knead. We will add water gradually and at the same time we knead.
Knead the dough until het a homogeneous, more or less smooth and the flour is fully integrated. It will take us about 8 minutes.
Cover with the bowl and let rest for 10 minutes.
Knead until completely develop the gluten.
Continue kneading the dough until obtaining a smooth texture and with a developed gluten. It is a dough that requires a lot of kneading time, it will take about 10-12 minutes to work it.
If necessary add a little more water to the dough. Remember that the absorption capacity of each flour is different.
Once it is well developed, introduce into a lightly floured bowl and cover with film. Let rest for 1 hour at room temperature.
Divided, stretched and folded the dough.
Remove the dough from the bowl and transfer to a surface lightly sprinkled with cornstarch. Divide the piece into two equal parts and proceed to stretch them. While we work one of them, cover the other with film to prevent it from getting dry.
Stretch the dough with a roller to a thickness of approximately 0,11 inch (3 mm).
Sprinkle the surface with cornstarch and stretch. Fold the dough as if we were closing a triptych.
Dust again with a little cornstarch and cover with film.
Repeat the process with the other piece.
Let rest for 30 minutes.
NOTES:
It is necessary to sprinkle the dough with cornstarch to avoid sticking with itself during the resting times.
Rest times are necessary to encourage the dough to relax. In this way we can stretch it very easily and without resistance.
Stretch and cut.
Sprinkle the work surface again with cornstarch and proceed to stretch the dough.
Open the folds and use your hands to get a rectangular shape.
Stretch with the roller until obtain a sheet of dough about 0,03 inch (1 mm) in thickness. As you stretch, check from time to time that the dough has not adhered to the work surface. Lift and if necessary, sprinkle some cornstarch.
Using a pizza cutter remove the edges to give a uniform size to the dough.
Cut squares about 0,3 inch (8 cm) in side.
Sprinkle again with cornstarch and spread, delicately, over the dough surface. Stack the wonton wrappers ensuring that it has cornstarch on both sides. This will prevent the dough from sticking together.
Repeat the process with the other piece of dough.
Make packs of 10 wrappers, cover with film and refrigerate until needed.
PRESERVATION: We can keep the wonton wrappers refrigerated for 2 days or frozen for 1 month.
IMPORTANT NOTES TO GET GOOD RESULTS:
Work with the proper hydration required by our flour. The amount of water can vary from 2,45 – 3,5 oz (70-100 g) of water in total.
Depending on the size of the eggs, the final amount of water may vary. For that reason we must add the latter little by little.
Knead the dough very well until obtaining a complete development of gluten.
Respect the resting times, so that the proteins of the flour are hydrated (first resting) and let the dough to relax after each kneading.
Always cover the dough after kneading to avoid getting dry.
Stretch the dough enough to achieve a paper thickness, this will guarantee us a perfect final result after cooking.
These wonton wrappers will become part of your recipe book, I have no doubt. It is very versatile to work with and we can fill and cook it from everything that you wish. If you are used to make homemade fresh pasta, it will be easy for you.
Of course, respect the resting times always. These are essential for the gluten to relax, after each kneading, and to allow us to stretch without it contracting. Following the steps well, the whole process will go great 😉
Soon we will know where to destine these delicious wonton wrappers!
Happy weekend!
Big hugs,
Eva