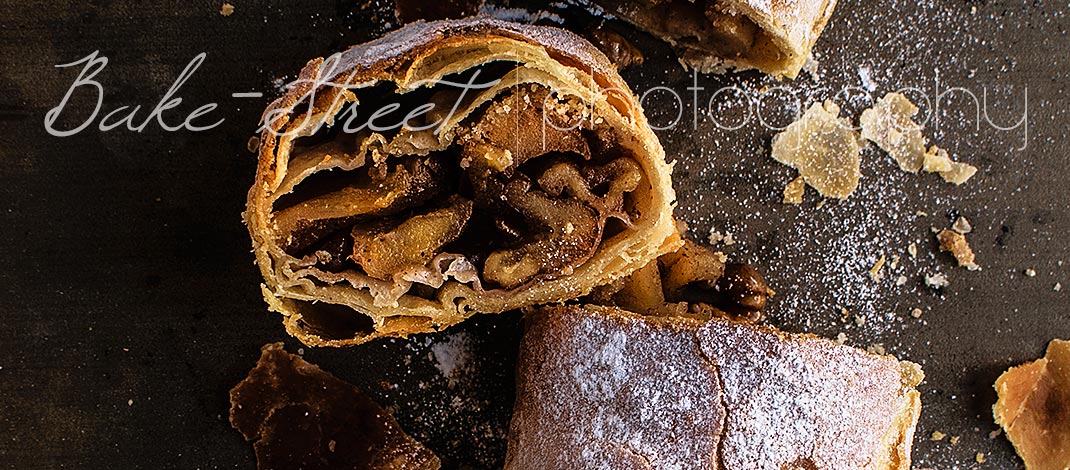 Strudel, how to make phyllo dough {Video recipe}
Este post también está disponible en Spanish
Today I come with a recipe that you asked me a lot, a lot and is how to make homemade phyllo dough. We will use this dough to see how to make Strudel or Apfelstrudel, which is a sin of Gods.
I taught this recipe in one of my online workshops and my pupils always were willing to make it. It may seem like a very complex dough, but nothing beyond the truth, all it requires is a good kneading to get a perfectly develop gluten. It is the only way in which we can obtain a transparent and elastic dough. Well,  something more, but that's what I'm telling you next.
The Strudel, which means "whirlpool", is a dessert typical of Austrian cuisine and southern Germany. Of all the types of strudel we can find we can highlight two:
Apfelstrudel : made with apples, nuts and raisins
Topfenstrudel: made with quark cheese
It is true that we can find many recipes of Strudel made with puff pastry or other type of dough but the traditional recipe is made with phyllo dough.
Origin of the Strudel.
The origin of the Strudel dough is in Arabia, from where it comes from the famous Baklavá.
The Apfelstrudel, in ancient times, was a food for poor people. It is said that the recipe could be brought by the janissary soldiers of the Ottoman Empire, that after the conquest of Byzantium in the year 1453 on the Balkans went to Vienna. This dough was developed there and refined until reach the one we know today.
Phyllo dough has its origin in the Middle East gastronomy, Turkey and the Balkans. It is a very thin dough almost translucent, reminiscent of an onion paper. So much so that once we have it fully stretched we can read through it.
This dough is born thanks to the existence of loaves made with folds that later evolved to work with a great refinement in the kitchens of Topkapi Palace, Istanbul.
The success of this dessert made it popular in all the countries of the former Austro-Hungarian Empire. The first written record dates back to 1696 in a handwritten cookbook at the Vienna City Library.
Simple ingredients.
This dough consists of very basic ingredients; Wheat flour, water, a little oil and a few drops of vinegar or lemon juice. If the dough is for pastry, eggs can be added. Its elaboration requires a lot of patience and delicacy, we must develop the gluten very well at first to later be able to work with a flexible and elastic dough.
We must keep in mind that the German sweets are not as sweet as ours, in this elaboration we will mainly enjoy the flavors of its ingredients, but we will not find an extreme sweetness. I think is better. Some elaborations include pine nuts instead of nuts, this I leave to your choice.
Perhaps you wonder, why breadcrumbs are added?
This will help us to absorb the excess of juice that can loose the apples avoiding that the dough turns soft, since the texture outside should be crisp.
To finish the Strudel it will be enough with sprinkle icing sugar on it and ready to enjoy. So, do not waste more time and take a piece from this Strudel served by a hot and sweet vanilla sauce, ice cream or simply 😉
STRUDEL
The recipe was given to me by an old teacher I had.
You will get 3 strudel of 9 inches/piece
FOR THE PHYLLO DOUGH:
7 oz (200 g) wheat flour
1.75 oz (50 g) bread flour
0.9 0z (25 g) unsalted butter, melted and cooled
1 large egg
3.35 – 3.9 oz (95-110 g) water at room temperature
few drops of lemon juice, 1/2 tsp (2 g) approx.
pinch of salt
FOR THE FILLING:
5-6 apples: Fuji, Granny Smith… but not reinette (Reineta)
fresh lemon juice, to prevent rusting of apples
1.75 oz (50 g) unsalted butter
3.5 oz (100 g) nuts lightly chopped
0.7 – 1 oz (20-30 g) raisins + 1/3 cup ron
1.4 oz (40 g) breadcrumbs
6.2 oz (175 g) sugar + 1 oz (30 g) to sprinkle
0.17 oz (5 g) powder cinnamon + 0.1 – 0.14 oz (2-4 g) to sprinkle
TO DUST IN THE STRETCH:
a small amount of cornflour
TO BRUSH:
4.4 oz (125 g) unsalted butter, melted
icing sugar for dusting
INSTRUCTIONS:
FIRST DAY
The night before, macerated raisins.
In a glass add the raisins along with the rum, cover with film and let rest overnight.
SECOND DAY
Make the apple filling.
Peel and remove apples core. Cut into quarters and cut into slices, 0,20 inches approx.
Transfer them into a big bowl and squeeze fresh lemon juice over them. Mix with your hands.
Place a large skillet over medium heat and add the butter. Let it melt.
Add sliced apples along with cinnamon and sugar. Cook over medium heat for 15-18 minutes stirring from time to time.
The apples should loosen the water and reduce slightly more than half their juice. The texture should be tender but firm, not a compote or puree.
Remove from heat and let cool completely.
Make phyllo dough.
In a bowl add two types of flour along with the melted butter, the egg, the salt, the drops of lemon juice and a little more than half of water *.
Mix the ingredients in the bowl until obtaining a homogeneous dough.
Transfer the dough to a work surface and began to knead. We will add water, gradually, at the same time as we knead. We will have to obtain a smooth, silky dough that does not tend to dry out.
Knead about 12-15 minutes to develop gluten and obtain an elastic dough. The dough must pass the membrane test.
If we let rest the dough, we must always cover it to prevent from drying out.
* To add water, the ideal is to help us with a bottle. In this way we can easily control the amount added.
IMPORTANT NOTES:
Why is lemon juice added to the dough? Lemon juice increases the toughness and elasticity of the dough.
Why is not there an exact amount of water to add to the recipe? Because we depend 100% of the hydration capacity of our flours. The dough should not be dry but not excessively moisturized, which adheres to the hands. We will have to add water little by little while we knead until get a perfect consistency.
Checking the evolution of our dough.
To check if our dough is ready, we will make the window or membrane test.
Take a small portion of dough, or simply stretching from one end of the dough, and with the help of fingertips we will stretch to observe the elasticity of dough. We must be able to stretch until obtaining a very fine dough without breaking.
If this breaks or make small holes is a sign that it has not yet fully developed gluten. We must knead the dough a little more.
Once we have the dough ready, cover lightly with oil on the whole surface and cover with a cloth. Let stand 30 minutes in a warm place.
NOTE: 
The membrane test is better to make it after a rest, the reason is that when working the dough is stretched and it is easier to break when trying to check its state.
The great moment arrived, stretched the dough.
To stretch the dough we will do it on a sheet. We must stretch the dough until get a similar appearance as rice paper, very thin and practically transparent. In this step it would be good not to wear rings, watches, or anything that could hook the dough and break it. If you have long nails, try to work with your fingertips.
Sprinkle the work surface very slightly with cornflour and over the dough.
We will begin by stretching the dough with a roller, we will do it until it allows us to.
At this point, we will proceed to stretch with our hands.
Introduce the hands underneath and slide the fingertips towards us as if we were caressing the dough.
At first, as it will not have a very large size, we can rotate it and continue to stretch. But as it grows in size, we will have to go around the table to access all the dough points.
We will always stretch from the center to the ends. It is very important that we do not exert force or pressure, simply sliding to stretch the dough little by little. You will notice as you stretch the dough, the edges will be thicker than the rest. Try to stretch everything you can, as far as possible.
The dough will be ready when we can read through it.
Using a sharp cutter or knife, cut the edges to remove the possible thicker part.
Problem that we can find when we make the dough.
At this point we may encounter a problem if our dough does not have adequate hydration. If the surface of the dough cracks when it stretches and forms on the surface like a crocodile skin, it will not be worth it. It lacks proper hydration and development of gluten. By stretching the dough it will crack.
If this happens to us, we must start over.
Fill the strudel.
Leave a little margin in the dough that is close to us so that the filling is not on the edge. We can slide the sheet a bit so that the dough "hangs" and is reserved.
With the melted butter we will brush very carefully a section of the dough where we will place the filling.
Sprinkle breadcrumbs in a strip occupying the whole length of the dough.
Place the poached apples, nuts slightly chopped and raisins drained.
Sprinkle with a little sugar and cinnamon on the fruit, lightly sprinkle with the melted butter and proceed to roll the Strudel.
To do this we will help you with a sheet. Lift this slightly and make a forward movement to cover the first part.
Now comes the part that scares us but do not worry because if we do slowly the dough will roll up without problems and it will not fall to the ground, hahaha
Lift the sheet forward, so that we can roll the dough and roll up by itself. Be careful when you get to the end! That sometimes we are so excited that we can make it roll until the end of the table… and the floor is close.
Bake strudel.
Preheat the oven to 390ºF.
Divide the strudel into 2 or 3 pieces, I leave it to your choice.
Transfer them to a tray previously covered with baking paper and brush generously with melted butter.
Place in the oven at medium height for 40 minutes.
In the middle of baking, remove the strudel from the oven and brush them again with melted butter. Introduce again in the oven to finish the baking.
Remove from the oven and let cool completely on a rack.
Before serving sprinkle with icing sugar.
PRESERVATION: The best time to consume the Strudel is the same day it is baked, but we can cover it with foil and keep it for a couple of days. You can warm it in the oven to give it a crisp texture. If you want to keep it for more days, you can place it in the fridge but will soften and lose its crunchy texture.
What a satisfaction, right? And I guarantee that this recipe is one of those that leave a very good taste in your mouth. Not only when you enjoy them, there is no doubt, but during and at the end of the whole process.
It's wonderful to feel the dough slipping between your hands and watch it grow. The fun thing is to roll it up, it's a moment of tension, nerves, emotion … But when you see that it has given the first round, we take a great weight off!
I hope you have a wonderful weekend, see you on Monday.
Big hugs,
Eva
Sources: The Oxford Companion to Food, Wikipedia