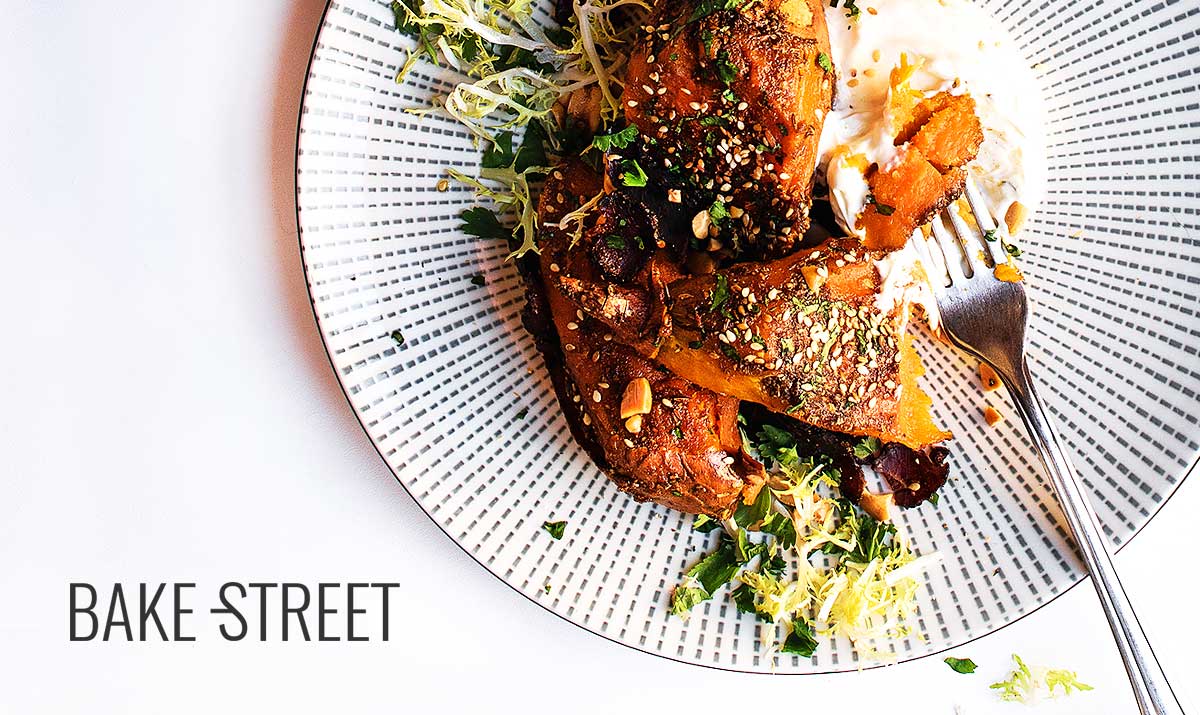 Roasted sweet potatoes with harissa, peanuts and cilantro
Este post también está disponible en Spanish
Taking advantage of seasonal products, which at this time of year are great, we will use an ingredient as traditional as autumn sweet potatoes. At home we usually eat a lot of it, we just love roasts. But many times we go one step further and improve the elaboration a little, as with these roasted sweet potatoes with harissa, peanuts and cilantro.
The good thing about vegetables is that they admit an immense amount of dressings and side dishes. So much so, that I would almost dare to say that we can prepare them with any little thing and always getting an incredible result.
The idea of how to prepare these sweet potatoes came thanks to Sasha from the blog Tending the Table.  Roasted sweet potatoes with a touch of harissa had to give a fantastic result. So I encouraged myself to prepare them, but changing some things to my liking.
Preparing the recipe.
Normally I usually leave you a harissa recipe made with roasted peppers, but this time I have decided to prepare the one Amy Chaplin shows us in her book "At Home in the Whole Food Kitchen". A mixture of spices and olive oil much easier to prepare and with an extraordinary result.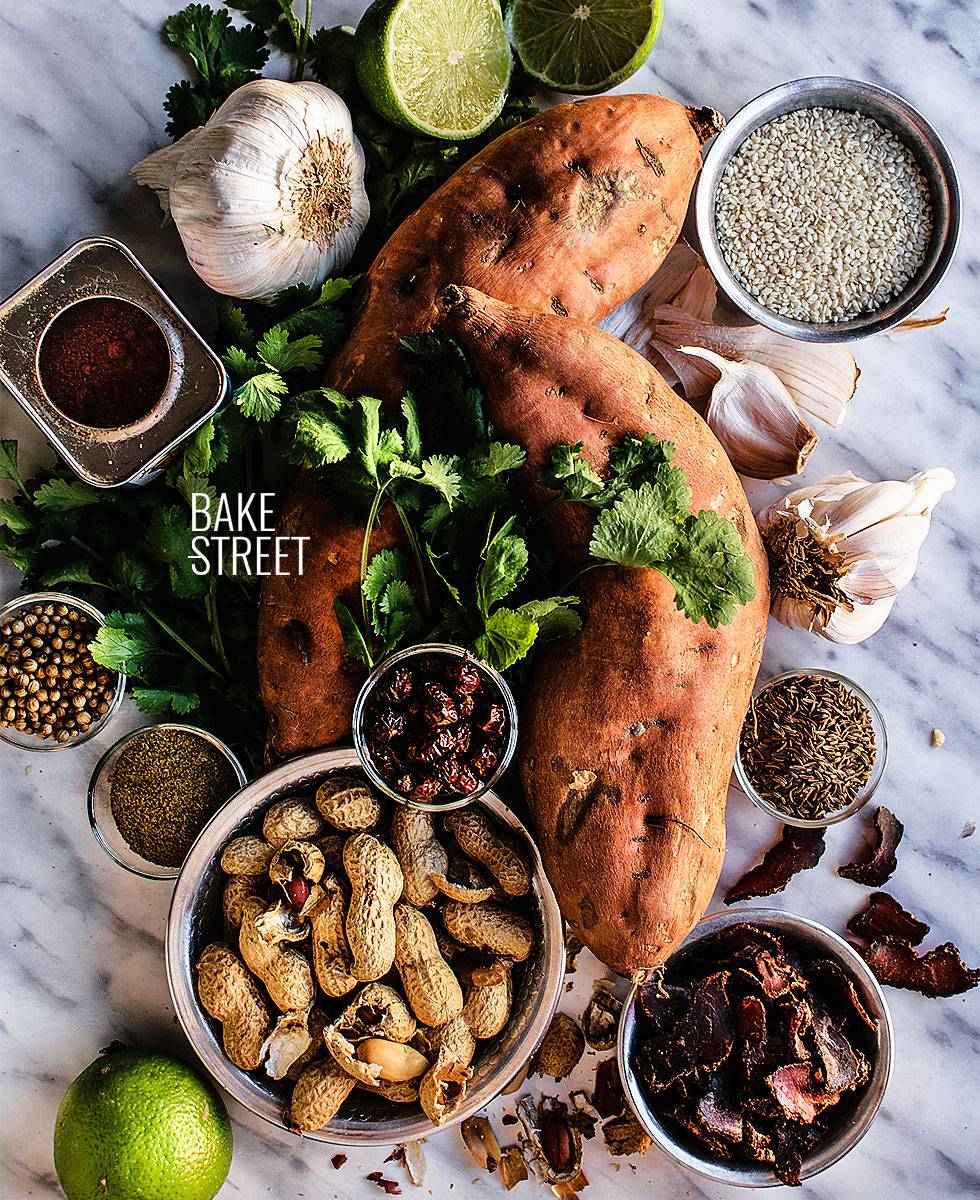 We will roast the sweet potatoes, but before finishing them, we will brush them with harissa and give a final heat stroke to brown them and that these are well impregnated with all the aromas. The finish and taste they acquire after leaving the oven is wonderful…
Afterwards, they won't need much more, although it's true that good companions always improve the final result.
We'll freshen up the dish.
The texture of the sweet potato is dense and buttery, although soft and with a very characteristic sweet taste. To enhance its flavor, along with the spices we have used to make the harissa, we will use fresh cilantro, curly endive and crème fraîche. But remember that there is nothing obligatory to carry out a recipe. You can always vary some ingredient, trying to find a similar one and of our pleasure.
Getting different textures.
The majority of the ingredients used in this recipe have a soft texture, which can make us miss a crunchy touch that breaks the monotony. We'll get that point with roasted peanuts, if possible not fried because their flavors and aromas are different, and toasted white sesame.
Both ingredients have distinctive flavors and a lot of personality, without forgetting that the wonderful result obtained when we combine them.
In this case, I have also made use of a few marinated beef chips (Biltong) that I recently got as a present. I have to tell you that they are wonderful, they can be a little expensive for the small amount that has the bag, but it is also true that it is a product of very good quality. Besides being natural and without added preservatives. So it never hurts to indulge yourself.
Its texture is not very hard and dry, as I thought at first, manages to preserve a point of tenderness that is quite pleasant to the palate. For me, the final touch to finish this dish.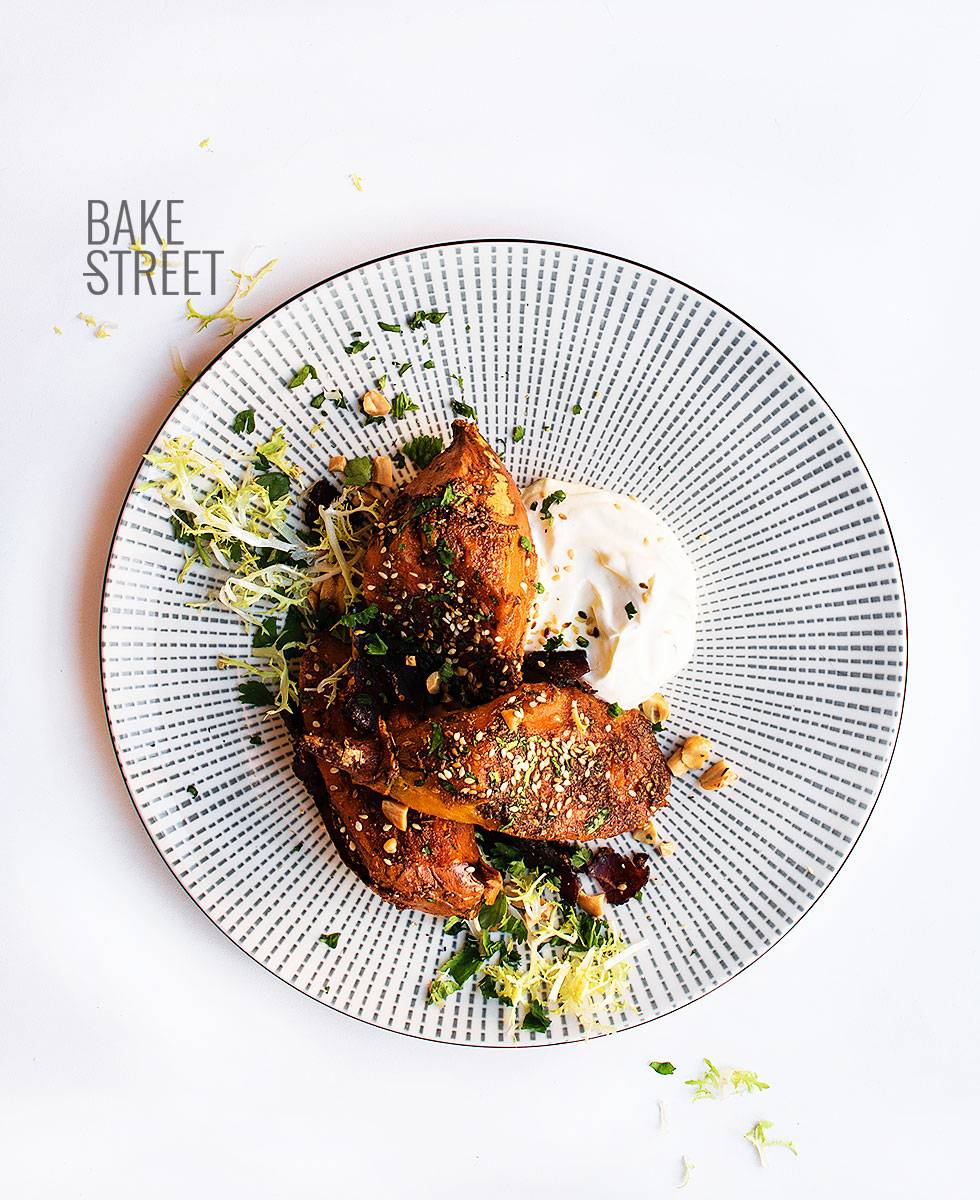 Ingredients for 4 serves
2 large sweet potatoes
2 Tbsp harissa (recipe below)
0,9 oz (25 g) olive oil
1 oz (30 g) honey
FOR THE HARISSA:
1 Tbsp cumin powder
1 Tbsp coriander seeds
1 Tbsp caraway
2 tsp hot paprika
4 Cobán chiles
1 large garlic clove
1/4 tsp salt
1,4 oz (40 g) olive oil
1/2 squeeze fresh lime juice
PARA DECORAR:
cilantro fresco
escarola
cacahuetes tostados
sésamo blanco tostado
virutas de ternera marinadas con pimienta y cilantro (facultativo)
crème fraîche
Instructions
Bake sweet potatoes.
Preheat oven to 355ºF.
Line an oven tray with aluminum foil.
Wash sweet potatoes very well underwater to remove all the mud on the surface. Dry with paper and place in the tray.
Bake for about 1 hour. The baking time will depend on the size of the sweet potatoes, it can be around 45-75 minutes. To find out if they're roasted, we'll prick them with a knife, this one should come out easily.
Remove and allow to temper slightly.
Brush the sweet potatoes with the harissa.
Turn up the heat to 200ºC.
In a bowl add the harissa together with the oil and honey. Mix until homogenized.
Cut the sweet potato into pieces and remove the skin.
Brush with the harissa all over the surface.
Put it back in the oven and bake for 15 minutes.
Remove and allow to temper slightly.
Serve.
Divide the sweet potato pieces for 4 portions.
Serve 1-2 tablespoons of crème fraîche with sweet potatoes.
Sprinkle with toasted sesame, chopped fresh cilantro, a few leaves of curly endive, ground peanuts and some beef chips.
Serve immediately.
Notes
The harissa recipe I leave you today is different from the one I normally share with you. You can see it in this link,(only available in Spanish) in case you prefer to vary it.
Cobán chili is a variety of chili with a smoky touch. In case you don't find it, it's okay. Replace it with another variety of dried chili or even cayenne pepper.
Caraway is a spice that is not easily found, at least in Spain. I've seen that is available in Amazon, but if you have specialty stores in your area, I'm sure you have no problem finding it.
We will have some leftovers of harissa paste from the amount we will make for the recipe. We can store it in an airtight glass container and refrigerate it for 2 weeks.
Crème fraîche can be replaced with coconut yogurt or a soft cream cheese.
The marinated beef chips are from Kubdu. Of course, it's an optional ingredient, but when I tried them I knew they would combine perfectly with this recipe.
Like all the dressings... I recommend you not to omit the fresh cilantro and sesame, they are perfect with the preparation.
These roasted sweet potatoes with harissa, peanuts and cilantro can be a great option to take to work on a tupper (we can reheat it without problems), as a starter or main course accompaniment or to leave a dinner prepared in advance.
Many times we get great dishes without complicating ourselves too much and this is a sample ;)
I wish you a happy start to the week!
Big hugs,
Eva
Archivado en