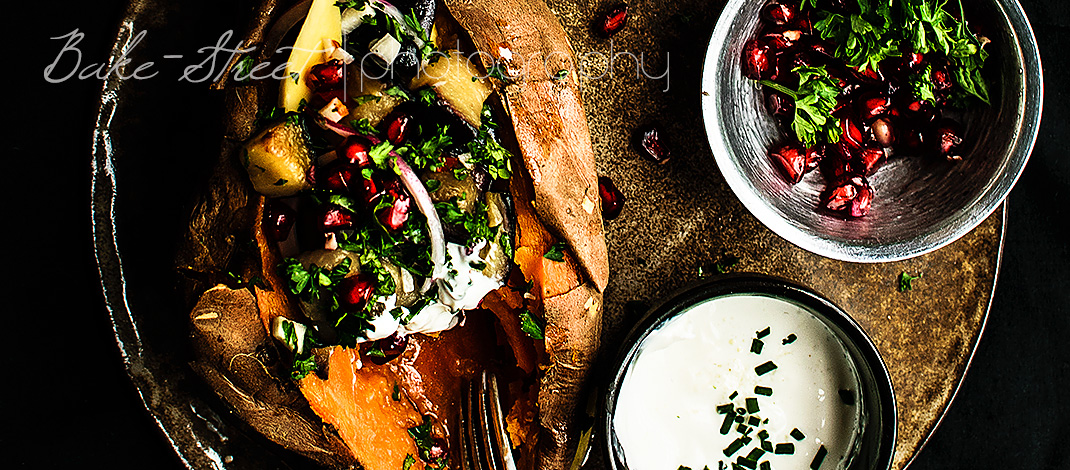 Baked sweet potatoes filled with eggplant and mango
Este post también está disponible en Spanish
Since I was a child I have eaten baked sweets potatoes, my mother always baked them and I love them! I remember that in autumn it was my favorite snack. I sat together with my mother, covered with a blanket and watching a film while we ate them. Love this wonderful memory.
Today´s version is quite different but so delicious too, baked sweet potatoes filled with eggplant and mango.
I have to recognize the first time I saw them filled I was thinking all the time to make them.
For the filling I really looked for a lot of recipes. I wanted to find a potent mix flavour but with some autumn ingredients, or some of them. So I thought about some options and finally Ottolenghi was my best choice.
I saw a fantastic recipe from his book Plenty, noodles with eggplant and mango. I thought that this was an awesome option. This was the first time I made a warm rice vinaigrette with garlic and red chile marinated. After, added sauteed eggplant with purple onion and herbs.
Finally decorate with mango, pomegranate (from my parents´s garden) and more cilantro and curly parsley. No words…
I love fresh sauces to accompany dishes, and I believed that one creamy and simple will be great. Crème fraîche, chives and a pinch of white truffle salt. Perfect. I´m sure that I will make often this recipe. I will try different fillings and I will share it with you if we love the way we make this! 😀
BAKED SWEET POTATOES FILLED WITH EGGPLANT AND MANGO:
Serves 2
2 large or 4 medium sweet potatoes
EGGPLANT AND MANGO FILLED:
1 medium eggplant
1/2 ripe mango
grated zest and juice of one lime
1/2 purple onion
2 large garlic cloves
1/2 red chile
3.24 oz (92 g) rice vinegar
3 Tbsp (45 g) sugar
1/2 tsp salt
1 tsp sesame oil
2.64 oz (75 g) light olive oil
1 handful cilantro leaves
1 handful curly parsley 
pomegranate 
WHITE SAUCE:
1.76 oz (50 g) créme fraîche
chives at your choice
pinch of white truffle salt
INSTRUCTIONS:
Bake sweet potatoes.
Preheat oven 356ºF.
Line a baking sheet with aluminum foil, set aside.
Scrub the sweet potatoes well and pat them dry with kitchen roll.
Place sweet potatoes over the baking sheet and bake for 1 hour. Baking time will depend from sweet potatoes size, it could be 45-75 minutes. To know if they are baked, insert a sharp knife or fork into the center. They should feel quite soft and the knife should easily glide all the way through.
Remove from the oven and let warm.
While sweet potatoes are baking, make the fill.
Cut garlic cloves and red chile into finely diced, set aside.
In a medium saucepan pour rice vinegar with sugar and salt. Cook medium heat for up 1-2 minute, just until sugar dissolves.
Remove from the heat and add garlic and chile.
Once mixture has cooled, add sesame oil, lime juice and grated zest. Stir until combined.

Cook eggplant. Wash and dry eggplant. Cut into 3/4 inch dice without remove peel.
Heat up light olive oil in a large saucepan and cook eggplant until tender and golden brown. Remove from the heat, sprinkle with salt and pepper and put into a colander to drain, roughly 15 minutes.
In a medium bowl mix rice vinegar mixture with eggplants, purple onion finely chopped and half o cilantro leaves and curly parsley chopped. Mix until combined.
Make white sauce.
In a small bowl mix crème fraîche with a pinch of white truffle salt.
Sprinkle with chives finely chopped, set aside.
Assemble baked sweet potatoes.
Cut ripe mango into thick strips.
Cut, lengthwise, sweet potatoes open in half. Fill with the eggplant mixture, be generous, and some slices of mango.
Sprinkle with the remaining cilantro and curly parsley, and some pomegranate.
Serve with white sauce. Enjoy! 😀
I really love this combination! Love too much baked sweet potatoes but filling… They are really amazing.
When you bake sweet potatoes, you can make some more and then keep into the fridge for up 3-4 days. I know they are better freshly baked but if you can´t bake always it could be an easy way to have available for some days. It will be enough to heat for few minutes before eating.
Use them now that they are available in the market! May be this recipe could be part from your weekly lunch 😉
Big hugs,
Eva