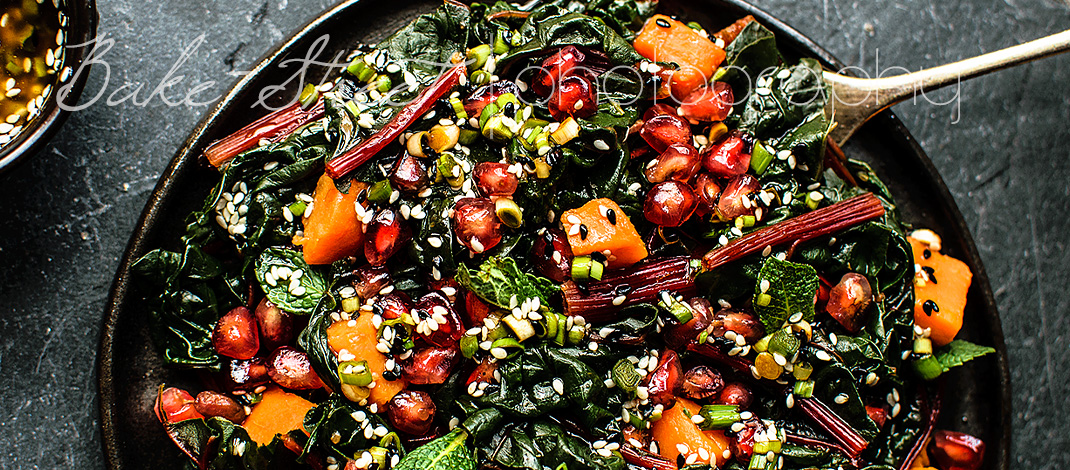 Swiss chard, sweet potato and pomegranate
Este post también está disponible en Spanish
I am sure that many of you after read the title have thought, today recipe is not going to like me. Probably, but if you give it a chance I think you will change your opinion. I know that chard is a not very dear vegetable, but maybe this swiss chard could be more attractive and be able to charm your heart.
This is a very simple recipe, Swiss chard with sweet potato and pomegranate serve with a sesame garlic greens dressing. A healthy recipe that allows us to enjoy seasonal and colorful ingredients.
To be honest, I have seen this vegetable in the market several times but I did not decide to bought them. I think for a simple reason, they are chards! but this last time, I bought them.
They were too attractive with an intense red color and I told myself, why not? So I went home with my lovely Swiss chard 😀
People is often confused about rhubarb and swiss chard, but they are not the same. Certainly they have a similar appearance but no more. As a curious fact, when we cut red stems you can smell a similar beetroot aroma and you will stain your hands too like if you are working with beet. Its flavor is quite similar at beetroot but more soft. I like how it tastes if you serve with a good dressing.
I remembered when I was a child, my mother cooked chard with carrots and potatoes… I always thought that they were bored. But I ate them, of course. For this time I chose sweet potato, I love it, it is similar to potato but more sweet and soft. We get a fresh taste with pomegranate and mint, really amazing I swear!
This recipe without dressing could be insipid… So it is important to serve with this sesame, tamari and garlic greens dressing to make it perfect. Intense, salty and roasted flavors to finish this light and healthy recipe that you can make in less than 30 minutes 😉
SWISS CHARD WITH SWEET POTATO AND POMEGRANATE:
2 serves
25 oz (700 g) Swiss chard
1 large sweet potato
pomegranate seeds
fresh mint leaves
FOR SESAME DRESSING:
Recipe adapted from "At home in the whole food kitchen" by Amy Chaplin.
1 Tbsp light olive oil
1 Tbsp sesame oil
4 tsp Tamari
4 tsp rice vinegar
1 Tbsp white sesame
1 Tbsp black sesame
 4 garlic greens
1/2 lime juice
INSTRUCTIONS:
Cook swiss chard.
Wash well swiss chard and drain.
Cut into 2 inches pieces from leaves to stem, ends trimmed.
Fill a large pot with water and place over medium high heat.
Once water is boiling add a pinch of salt and Swiss chard. Cook for 10 minutes.
Remove from the heat and drain. Set aside.
NOTE: Do not cook more than 10 minutes or they will lost its color. With this time cooking, they will be tender.
Cook sweet potato.
Wash well sweet potatoes to remove remains of mud.
Peel and cut into 1,5 inch squares approximately.
Fill a medium pot with water and place over medium high heat. Once water is boiling add a pinch of salt along with sweet potato.
Cook for 15 minutes, more or less. Pierce them with a fork o know if they are cooked. They must be tender but not in excess.
Remove from the heat and drain. Set aside.
Make sesame dressing.
Cut garlic greens in finely slices. Set aside.
In a bowl add olive oil along with sesame oil, tamari, rice vinegar and lime. Mix until well combined.
Add garlic greens and sesame, mix again.
Serve.
Divide swiss chard into two dishes along with cooked sweet potato.
Sprinkle some pomegranate seeds and some mint leaves.
Serve with dressing in individual little bowls.
I assure you that these swiss chard are a kind of vegetable that is not welcome at home. They hate them! I have only  gotten they eat them two times; roasted with meat and egg, and with this recipe. Dressing is magical along with pomegranate and sweet potato. They did not leave nothing on the plates! Incredible.
Personally, It is not a vegetable that it drives me crazy but I can eat it without problems. This combo is really amazing and fine, I think it is too different that other way to cook them. Result is delicious.
If you try them, please let me know how it goes!
Big hugs,
Eva