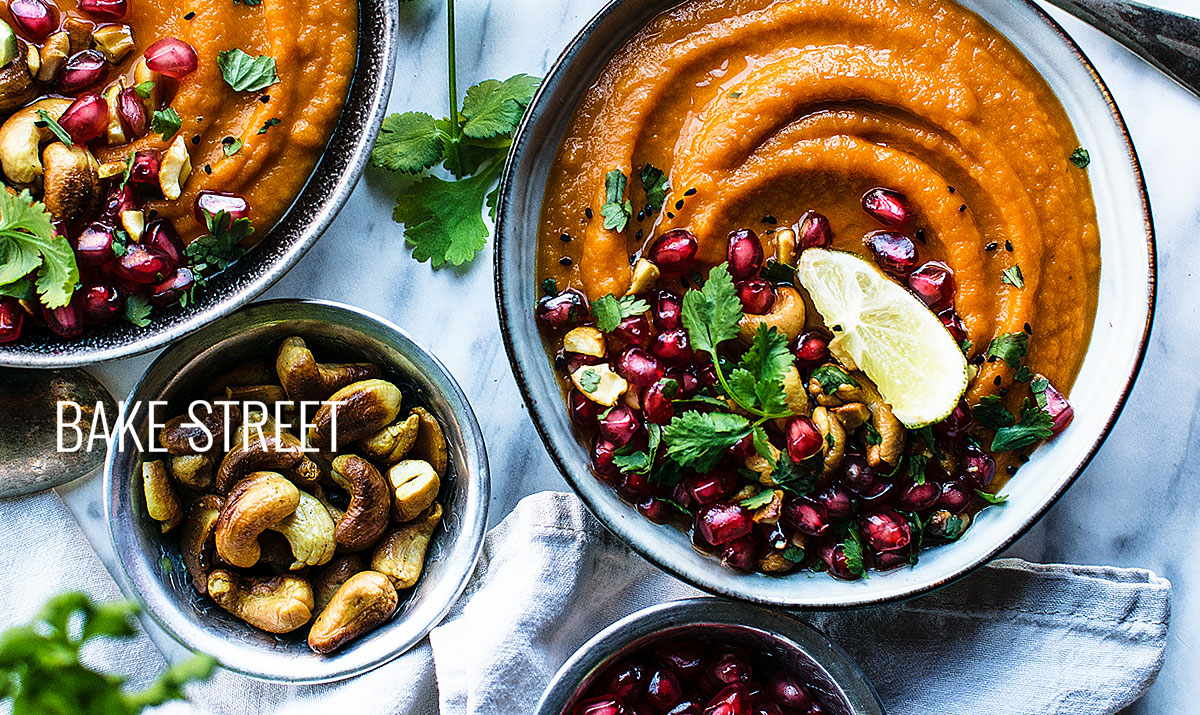 Sweet potato and papaya Thai cream
Este post también está disponible en Spanish
Guess what I brought you today? Yes, a cream, how original! But it's not just any cream, it's an scrumptious  Sweet potato and Papaya Thai cream. For this week's recipes I thought – come on, I'm going to leave them another recipe that is not a cream… – but I tasted it and said – better for next time! -.
It was impossible to leave you without knowing this marvel, really, what an amazing taste, texture and with seasonal products. I'm sure whatever I had in mind could wait for another time.
There are as many ingredients within our reach as options for combining them. Although these can be extended to an infinite limit. It is what I am most passionate about cooking, nothing is impossible, everything is within our reach if we nurture creativity.
I've always thought that creativity should be pampered and cared for every day. If we set it aside without giving it the importance it deserves, will leave us. It is something that I try to encourage every day in my son, when there are small signs of its existence, we must do the impossible to help it finish emerging. Ok, I continue with the recipe.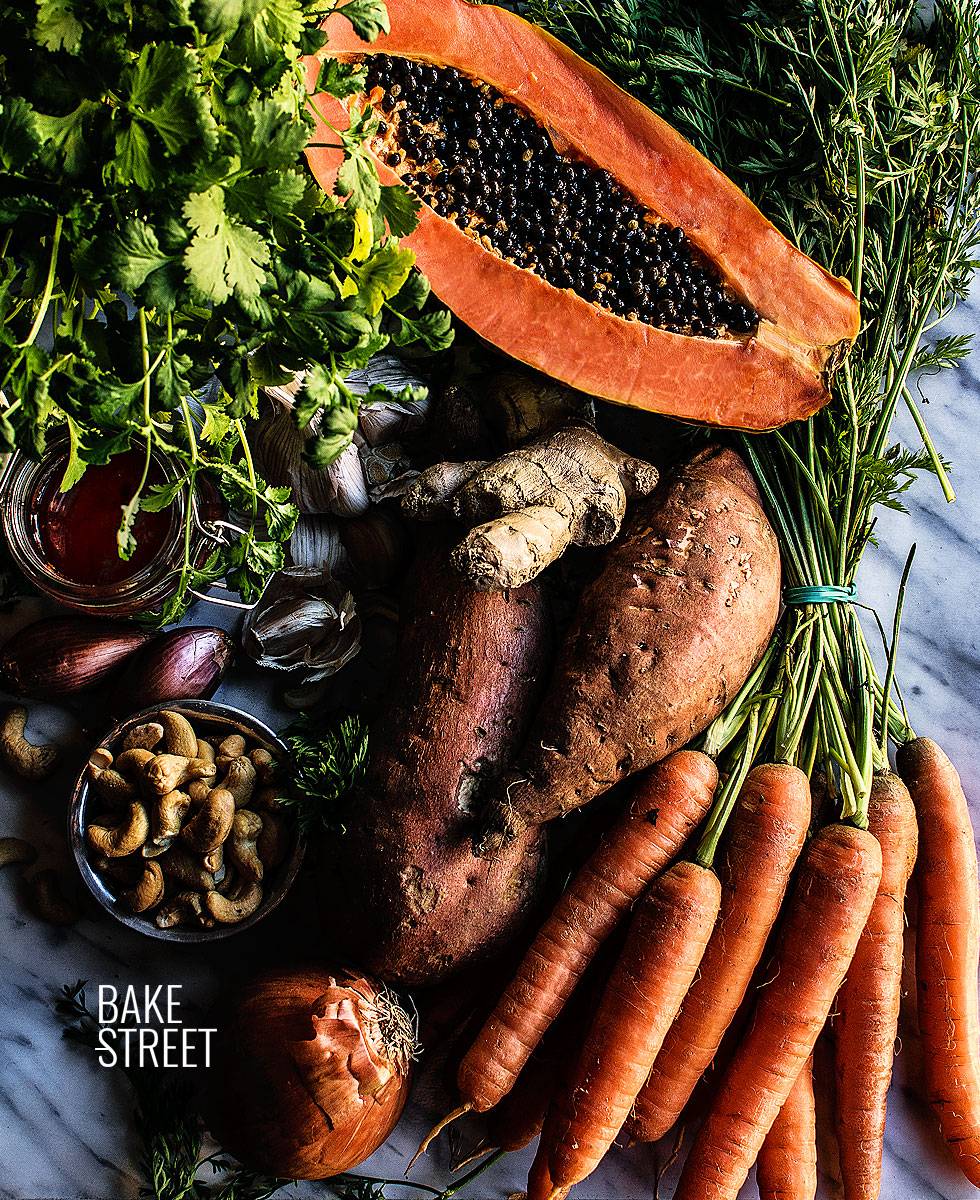 Can I mix vegetables with fruit? Spices with vegetable milk? Spicy with candy?
Of course, we will also create mixtures of wonderful flavors and textures. This time we will combine 3 ingredients with a common connection, the sweet flavor. Sweet potato, carrot and papaya.
To prepare the cream, what we will do this time is sauté the vegetables and then add the sauces, broth and let it simmer. Blend, add the coconut milk and it'll be ready.
The combination of sweet and spicy flavors is extraordinary. When thinking about Thai cuisine, our palate is wrapped in fresh citrus flavors, apart from the spicy, of course. This is where we will make use of the lime and coriander, so characteristic of this type of cuisine. We will finish off the cream with curry cashews, nigella seeds and pomegranate. Taste explosion!
The recipe is inspired by Danae's recipe from Recipe Runner. I have to admit that I liked very, very much the ingredients she chose to prepare this cream. I kept a lot of them, but I adjusted some amounts to my liking. How I like very much the papaya, I decided to add it to get a soft and fresh result.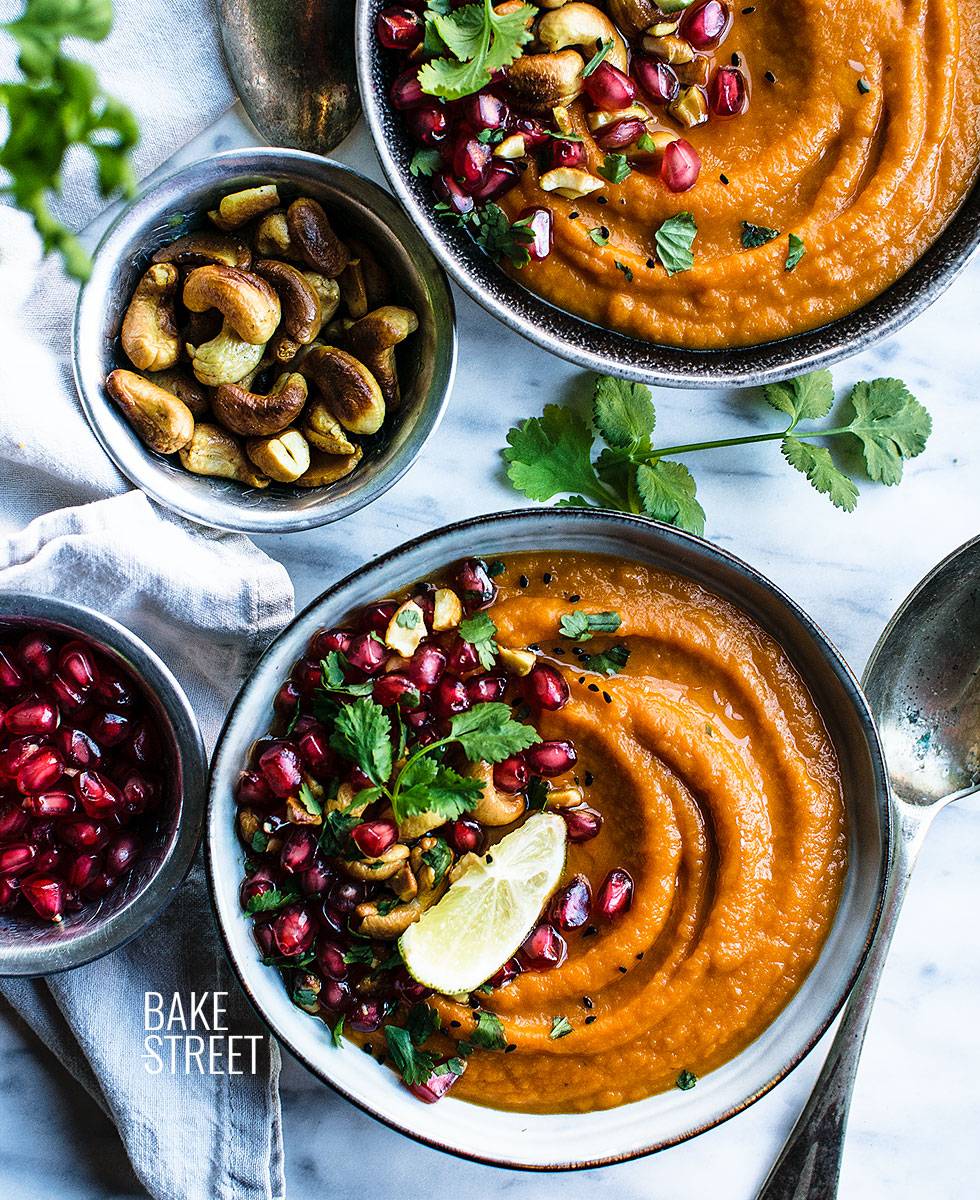 Ingredients for 4 serves
FOR THE CREAM:
20 oz (560 g) sweet potato, peeled and clean
8 oz (230 g) carrot, peeled and cleaned
9,3 oz (265 g) clean papaya, skin and seedless
21,1 0z (600 g) homemade vegetable broth or vegetable chicken broth
2 Tbsp olive oil
1,4 oz (40 g) shallot
5,1 oz (145 g) sweet onion
0,4 oz (11 g) garlic
0,88 oz (25 g) fresh ginger, peeled
2 Tbsp ají paste
1 tsp Sriracha sauce (to make it homemade click here)
5 oz (140 g) high-fat coconut milk
salt
freshly ground pepper
FOR THE CURRY CASHEWS:
2,8 oz (80 g) cashews
0,5 oz (15 g) coconut oil
1/2 tsp curry powder
FOR GARNISH:
pomegranate
fresh cilantro
nigella seeds
lime wedges
Instructions
Make the sweet potato and papaya Thai cream.
In a medium saucepan pour the olive oil and place it in a medium heat.
Once it has a temperature, add the shallots and onions finely chopped. Sauté for 5-6 minutes, until it acquires a semi-transparent texture.
Add garlic finely chopped together with the ginger cut in squares and sauté for 3-4 more minutes.
Add the sweet potato cut into pieces together with the carrot, sriracha sauce, chili paste and cook for 5 minutes.
Pour the broth, cover the pan and cook at medium low heat for about 40 minutes. Sweet potatoes must have a tender texture.
When there are about 15 minutes left to finish the total cooking time (remember that it's about 40 minutes), add the chopped papaya. Leave the lid half open, so that it can evaporate a little, and finish cooking.
Remove from heat, season with salt and pepper and let stand for 15 minutes.
Blend the cream.
Using a hand blender or blender, we process the cream until a smooth and homogeneous texture is obtained.
Add the coconut milk and blend again until fully homogenized.
Taste and rectify salt and pepper, if necessary.
Sauté cashews.
Before finishing the cooking of the cream, we will prepare the cashews.
Place a small skillet over medium heat.
In a bowl mix the cashews together with the coconut oil and curry.
Once the frying pan is hot, add cashews and sauté for 4-5 minutes.
Remove from the heat and transfer to a bowl to prevent further roasting.
Serve the cream.
Ladle the cream in individual serving bowls.
Garnish with curry cashews, pomegranate seeds, chopped fresh cilantro, nigella seeds and a dash of Thai oil.
Serve immediately.
Notes
Can I use roasted vegetables instead of sautéing them? Yes, you can. In that case I advise you to reduce the broth with the onion, shallot and garlic, then add the roasted vegetables and finish cooking as specified in the recipe.
Can I omit the papaya? Yeah, no problem. The result will be good as well.
I know I always tell you... but I'd rather repeat it. The coconut milk I use is canned and its texture is thick. Not the one we found along with the vegetable milks in brick.
I use homemade sriracha sauce, you have the link to the recipe in the list of ingredients. The one I make is very, very spicy. That's why I only add 1 teaspoon, but if the one you use is bought, I'm sure you can add more.
Cashew nuts can be made in the oven or in the frying pan, as you prefer. If you decide to bake them in the oven, at 175ºC for 4-5 minutes will be more than enough.
To garnish it, of course, you can choose the seasonings you like the most. In my case, aside from the curry cashews that are a delicacy, I opted for pomegranate seeds that are now in season. Cilantro always goes great with this type of cream and nigella seeds, along with cashews, provide texture and color.
What do you say? Are you going to try this sweet potato and papaya Thai cream? I recommend that you don't think too much about it, but you will tell me better.
Now is when your conscience says to you; taste it, taste it... I would give anything to know how it tastes! hahaha
I won't keep you any longer, have a great day!
Big hugs,
Eva
Archivado en