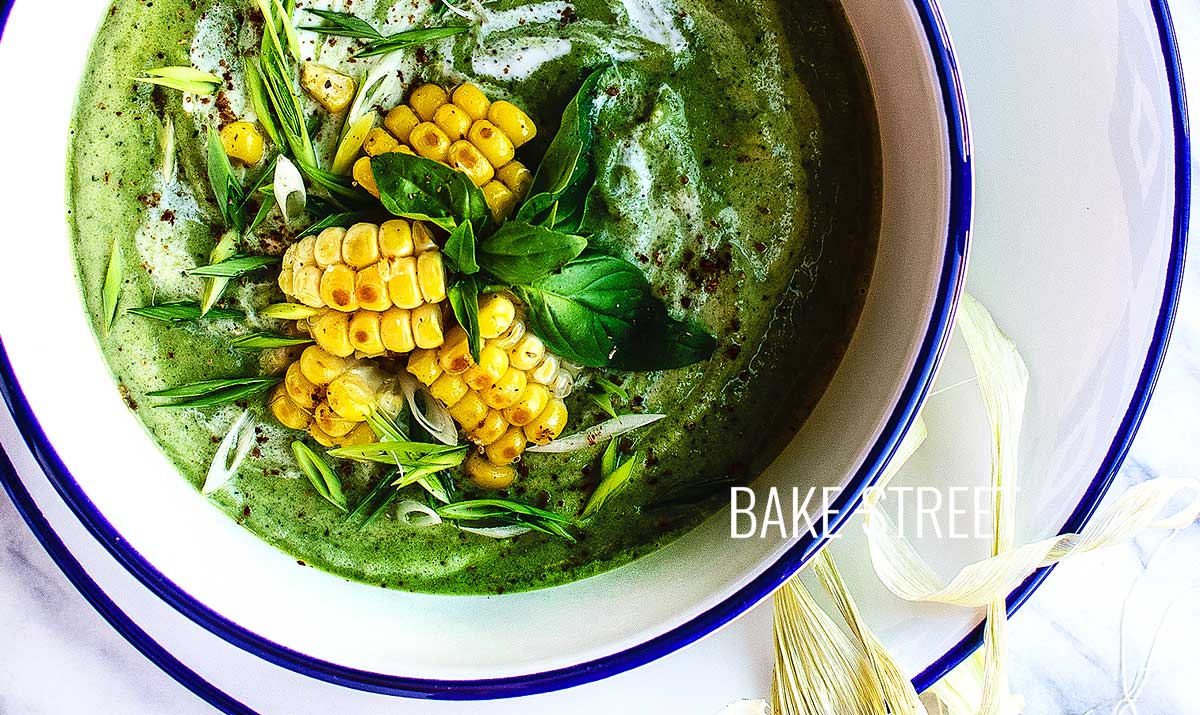 Zucchini cream with chile and basil
Este post también está disponible en Spanish
This week it's good to have a new cream recipe, but not for long as we have a crazy time. Today I bring you a recipe of zucchini cream, but not the one we are probably used to preparing at home, but one with fresh, spicy and surprising flavors. A cream of zucchini cream with chile and basil.
Every week I prepare new creams and/or soups at home, in addition to the ones I usually make by habit or whim. I wanted to make a cream with zucchini and basil, so I started looking for combinations of ingredients to make it. That's how I found this recipe from The Bojon Gourmet and I knew how I would carry it out.
I had never thought of preparing a broth with aromatics herbs that I would later integrate into the cream. Alanna's recipe starts this way, it fascinated me. Before making the cream, we will prepare a broth based on ginger, basil and citronella, which we will leave to cook on a low heat until considerably reducing its volume. In this way we will be able to concentrate much of the flavors and aromas.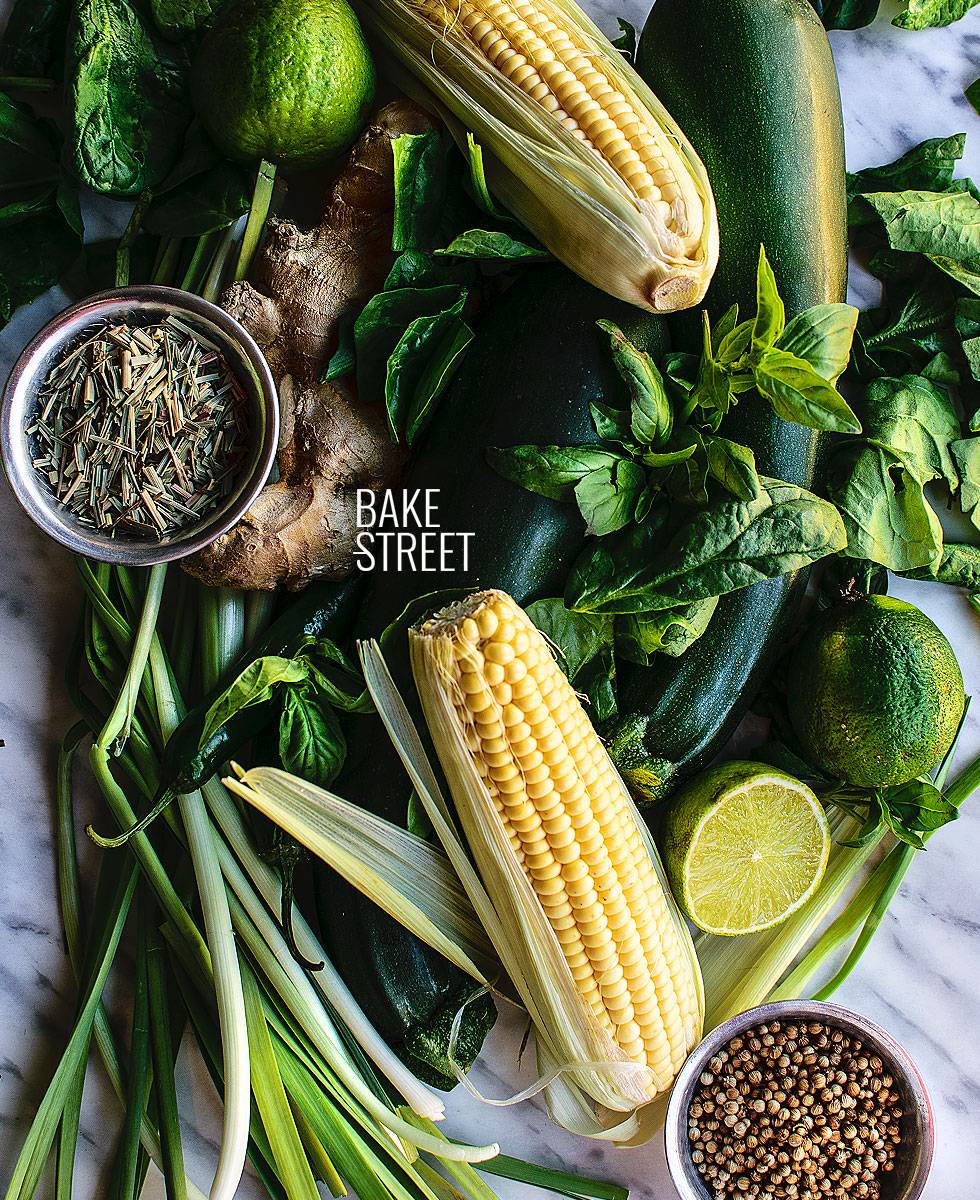 To enhance the flavors of vegetables, sauté them beforehand.
You already know that the creams can be carried out by boiling, roasting or sautéing the vegetables beforehand. The last two will always bring us more pleasant flavours and aromas than if we simply boil them.
This time we will sauté them with coconut oil, lately I usually use it enough to cook vegetables in this way. We will do it in two batches since the zucchini takes a little longer to soften and toast. To enhance the green color I used a small amount of spinach, enough to give a bright green color but without taking prominence in terms of flavor.
Giving texture and softness to the cream.
If we blends the ingredients without adding others that provide some fat content, the result will be a slightly granular paste and not pleasant to the palate. To make it unctuous we must use some element that softens it and provides creaminess.
On this occasion we will use coconut milk with high fat content to, but if you don't like it or don't use it, you can always replace it with a creamy soft cheese mascarpone or even crème fraîche. In this case it wouldn't be a vegan recipe, but for those of you who don't care about this point, it may be an option.
To finish the cream…
What we will do is add the lime juice and fresh basil at the last minute. If not give a slight heat stroke before serving and decorate it.
This you know will always be your personal choice and taste. I loved Alanna's idea of corn, although in my case I don't use this ingredient in the cream, just to decorate.
I have already seen in more than a few cream strings of corn kernels, either together, decorating salads or creams…. I didn't see the day when I could prepare them in this way, until I arrived at this recipe and said – here it is going to be – . I also tell you that it is not easy to remove the row of corn. You need to use a very sharp knife to cut off part of the central base that holds the grains and remove them together.
Since the cream has some green garlic on it, and I personally like a lot, I thought of garnishing with some finely slices. We will finish with coriander seeds, previously roasted and ground, and ready to enjoy 😉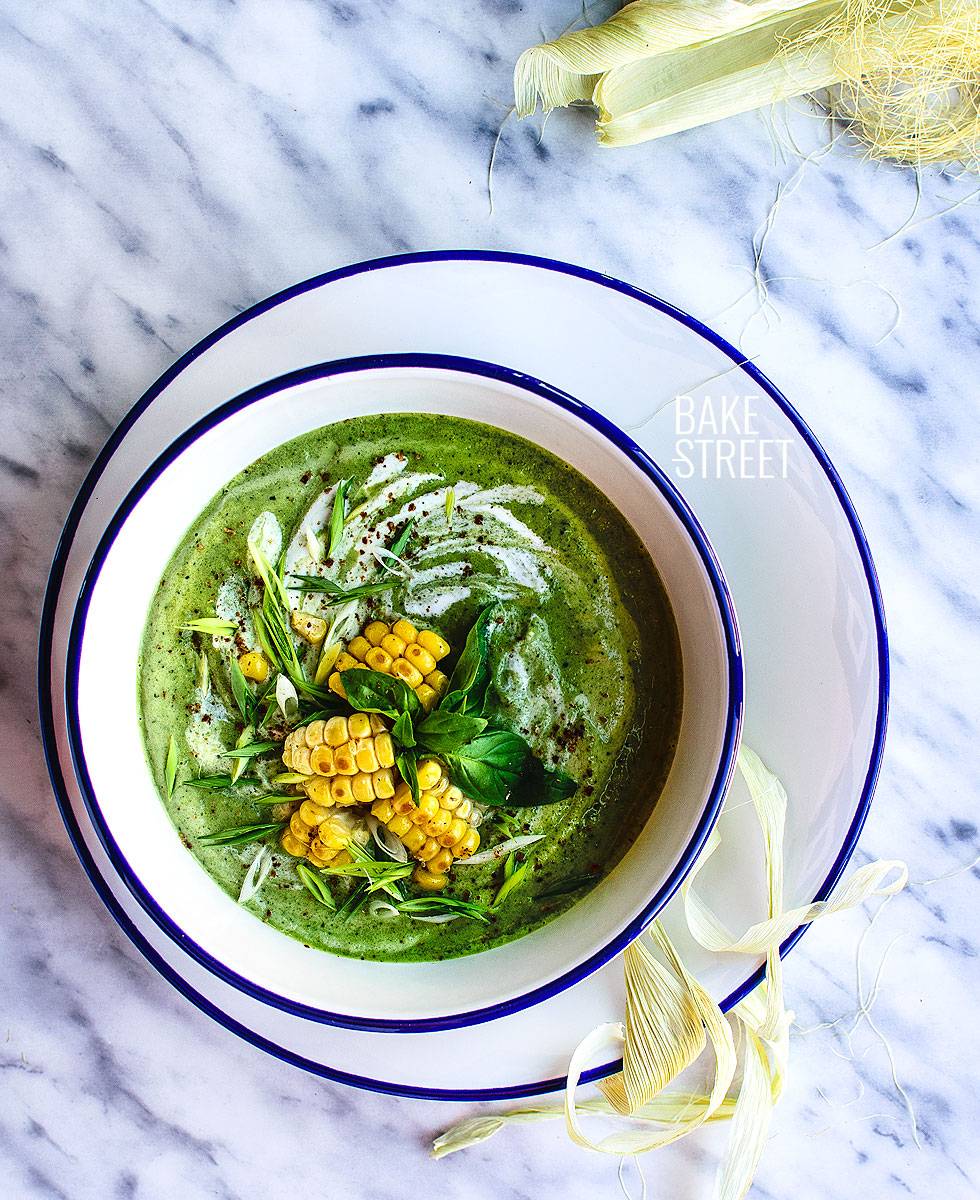 Ingredients for 2 serves
FOR THE BROTH:
18,5 oz (525 g) water
0,14 oz (4 g) dried lemongrass
0,14 oz (4 g) fresh basil
0,88 oz (25 g) fresh ginger
FOR THE CREAM:
15,8 oz (450 g) zucchini
1,58 oz (45 g) green garlics, clean and ready to use
1,75 oz (50 g) spinach
1,25 oz (35 g) coconut oil
1 green chile
1,75 oz (5 g) fresh basil, only the leaves
3,5 oz (100 g) coconut milk, high fat content
juice from 1/2 large lime
salt to taste or tamari
FOR GARNISH:
coconut milk or crème fraîche
1 fresh corn cob
2 green garlics
1 tsp coriander seeds
fresh basil leaves
Instructions
Make the citronella broth.
In a saucepan pour water together with citronella, basil and fresh ginger.
Place in medium heat and leave until it boils.
Once it breaks to boil, reduce to medium low heat and leave for 20-25 minutes. You will need to reduce and concentrate a lot.
Remove from the heat and set aside.
Sauté the vegetables.
Wash the courgette, cut the ends and cut into squares. Set aside.
Clean the green garlics, wash very well under cold water, drain and cut into pieces. Set aside.
Wash the green chile, remove the stem and laminate. Set aside.
In a large frying pan add the coconut oil and place in a medium heat. Once it has reached a medium temperature, add the zucchini and cook over medium low heat until it acquires a tender texture. It'll take about 15 minutes.
Add the green garlics along with chile and some salt to taste, cook for 7-8 more minutes.
Add the spinach, previously washed, and leave to heat until they lose their firmness and water.
Remove from the heat.
Make the cream.
Transfer the vegetables to a food processor and pour 100 g of the citronella broth. Blend until a homogeneous cream is obtained.
Add the coconut milk and blend again.
Pour the lime juice together with the fresh basil and blend once more until a smooth, homogeneous cream is obtained.
Taste and rectify salt if necessary.
Pour into a saucepan and heat, over medium low heat, to warm it. If the texture is too dense, you can pour a little more broth.
Roast the coriander.
In a small frying pan add the coriander seeds and place in a medium-high heat.
Leave until slightly toasted and release a pleasant aroma.
Transfer to a mortar and grind to a very fine powder. Set aside.
Prepare the corn.
Prepare a frying pan with about 1/4 teaspoon of coconut oil. Place over medium heat.
Using a sharp knife, cut the cob lengthwise and from top to bottom. This way we will be able to remove the grains "united in a row" instead of separate.
Place them in the frying pan and sauté for 1-2 minutes. They must take on a golden colour.
Remove from the heat and salt to taste.
Serve the zucchini cream.
Ladle the cream into two individuals serving bowls.
Garnish the surface with coconut milk or crème fraîche, corn, green garlic slices and fresh basil leaves.
Sprinkle with ground toasted coriander and serve immediately.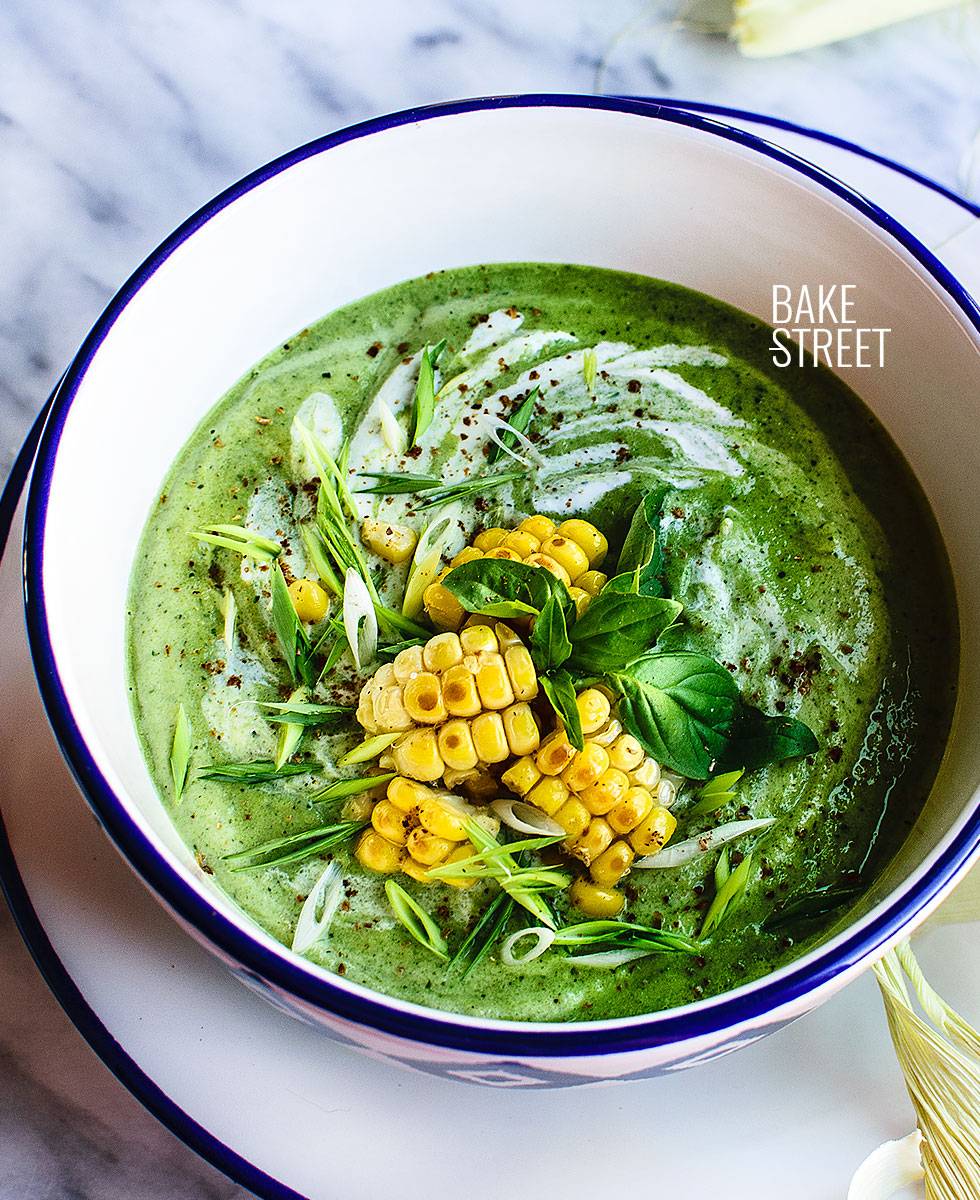 Notes
Is it imperative to use coconut oil? No, not at all. It does have a very pleasant aroma, but we can prepare it with another variety of oil.
Can I use fresh citronella instead of dry? if you find it, of course. The equivalent would be a branch and a half, approximately.
Despite the initial water with which we start to prepare the broth, this will be reduced considerably. In fact, the amount I leave you to add to the cream, you will only have a little more left.
I use canned coconut milk, which is much thicker, and with a high fat content. We will only use the solid part, not the water.
The cream is a bit spicy, you may want to reduce the amount of chile if you don't tolerate this type of ingredient very much.
Can I use canned corn instead of fresh corn? Yes, you can, but the texture is not will be the same. Besides, the touch of roasting it lightly, in the same way that we make the cobs, gives it a very good taste.
I recommend serving the cream with a more corn, green garlic slices and lime wedges to accompany the cream. The combination of all the ingredients is amazing.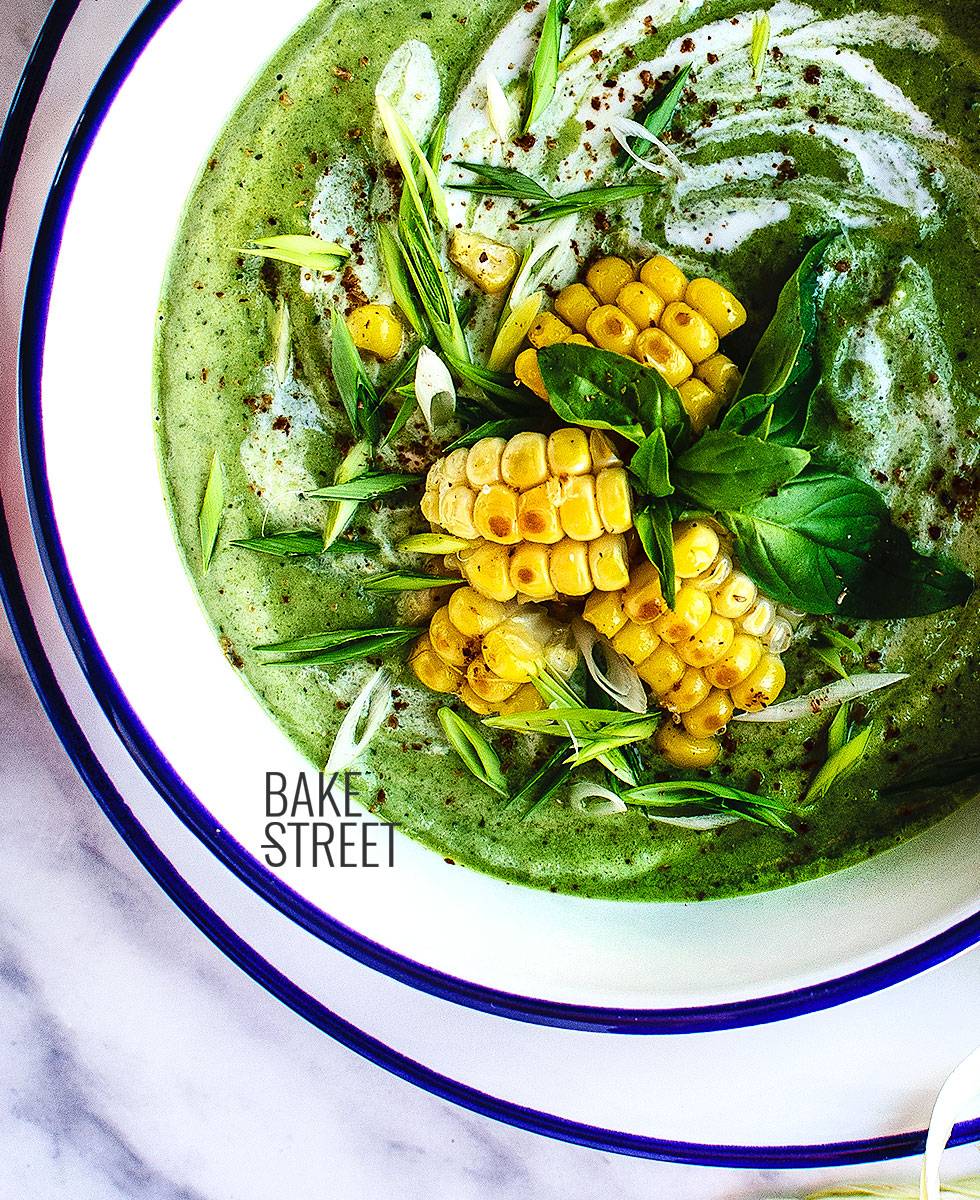 This zucchini cream with chile and basil is another great option to consider and enjoy either as an entrée or dinner. The flavor is powerful, with this I mean that we will find a cloud of aromatic and exotic flavors accompanied by a spicy point.
The texture is very creamy and soft, but you know that you can lighten it until you get the desired consistency. Either by adding more broth or coconut milk.
Big hugs,
Eva
Archivado en