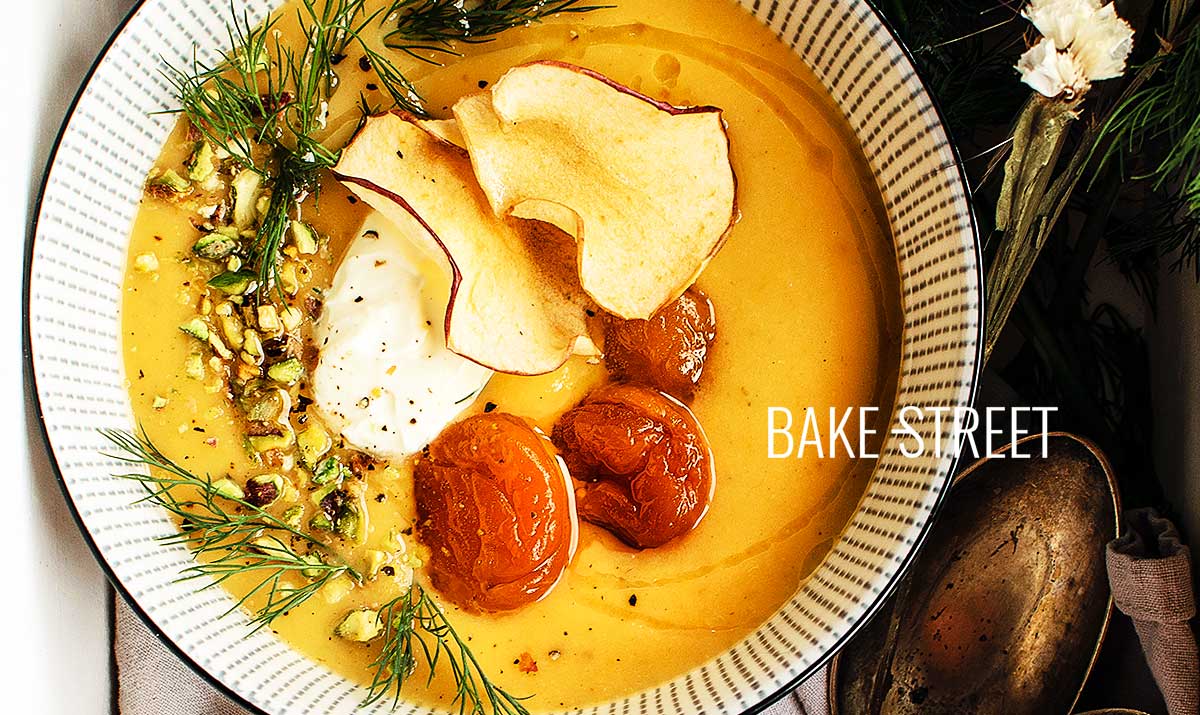 Chilled apricot cream with fennel
Este post también está disponible en Spanish
We are back after holidays, which have been great, and I do with this chilled apricot cream with fennel. The truth it is a complicated summer to get the menu at home. We have a day of frightful heat and the next day dawn gray with torrential rains …
For that reason I believe that we must eat what we want and, whenever possible, adjust the final temperature of our dishes to the weather that we have that day. This apricot cream can be consumed cold, that is the way in which we will see next, as warmed. I have tried them both ways and it is absolutely amazing.
This recipe is based on one of the Bar Tartine book, surely it is not the first time I have told you that I am fascinated about this book, and that it had on waiting list until the apricot season arrived. It is true that I have modified many ingredients and I have adjusted a little to my taste and a little to the ingredients I had to make it.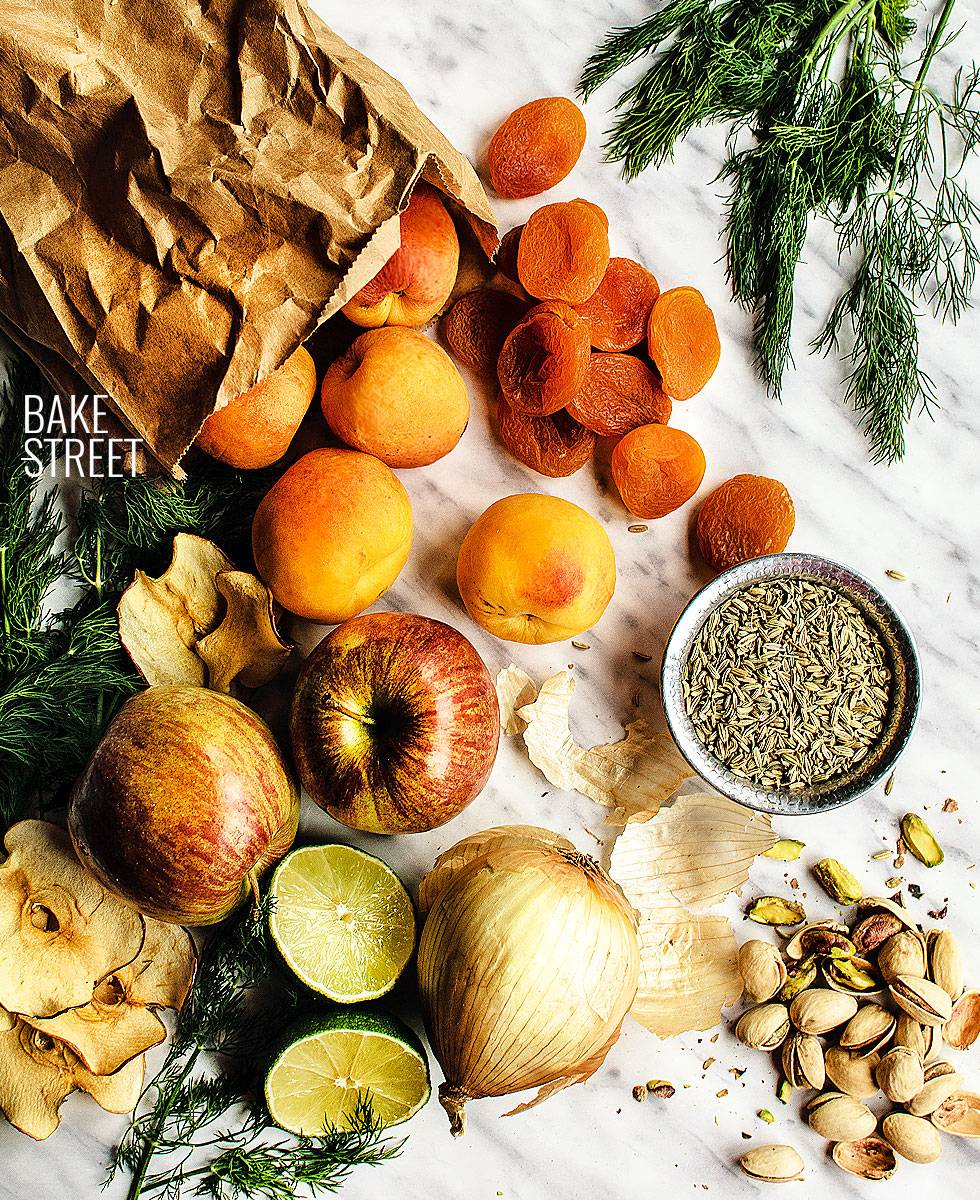 The original recipe is made with a Hungarian sweet wine, Tokaji.
I am a total fan of this wine, I love it. I tried it for the first time at a wine tasting and I said, "I love it" to what my partner said immediately, "of course, you have an eye for it!" Hahaha.
It has an exceptional flavor, it is a sweet wine of which we can find several types depending on the variety of grape used and quantity of puttonyos (residual sugar level of wine, formerly measured in grape baskets). Tokaji can be considered from a minimum of 3 puttonyos being the greater one above the 6 puttonyos denominated Aszu Eszencia with 180 g sugar / l.
We usually buy the Oremus, Furmint Late Harvest variety but it hurts me a little to use this wine to make a cream … for that reason I decided to use a variety of Japanese beer and accompany the kombu broth. I tell you to keep in mind and, if you decide to use it, know that it will go great (of course, it is complicated that the result goes wrong!)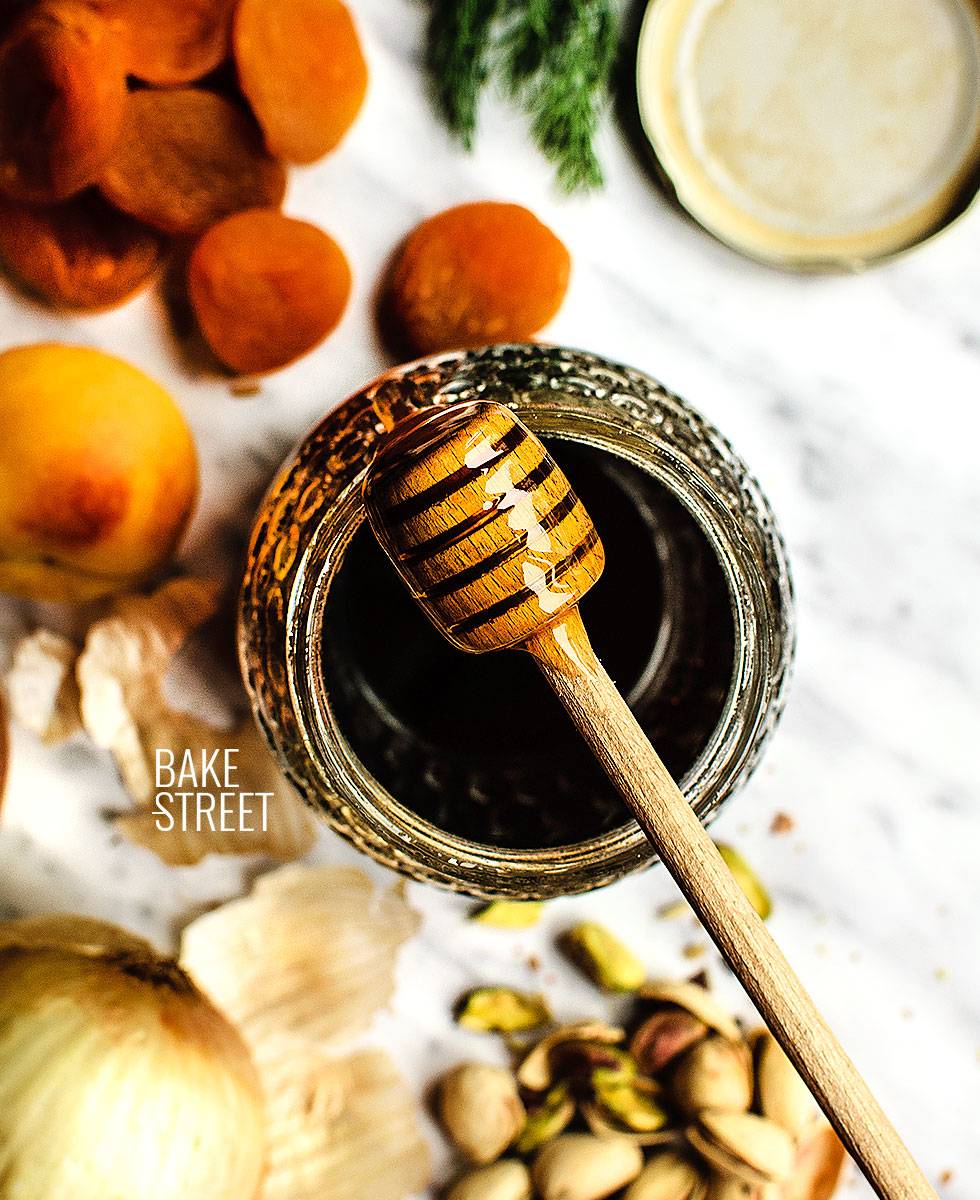 Fresh fennel…
The cream also is made with fresh fennel bulbs, personally I love it but at home they do not receive it as happily as I do. For that reason I had to omit it, although I kept the fennel seeds, and replace it with apple. Being sweet I thought it would go very well to compensate the bitterness of the beer as well as add thickness to the cream.
I will have to repeat it later because I am sure that with fresh fennel the result should be exceptional. Its flavor is very characteristic, a mixture of anise and mint that personally fascinates me and I'm sure the final result is very fresh and light. I remember a salad made by my mother with fennel that was great, I'll have to ask her to bring you one day.
Homemade vanilla salt.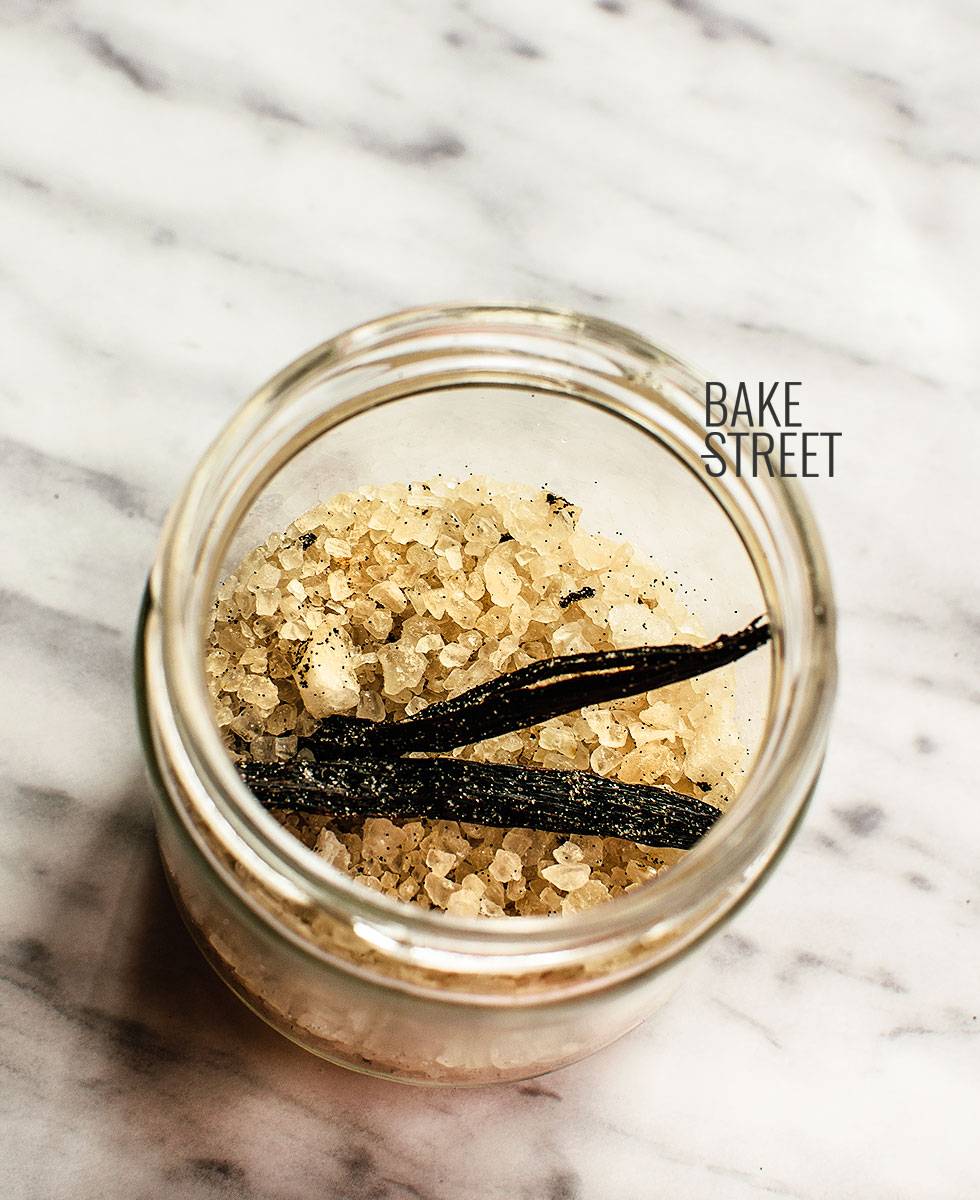 And why use vanilla salt for this elaboration? I remembered this salt I made some time ago (a little more than a year, although I did it earlier for my Scandinavian confectionery workshop) and I do not usually add it in many recipes. This cream seemed to me a good candidate to use it and also to be able to share it with you. It is super simple to make and we will give you an aromatic and different taste to our cream.
You can keep it for a long time without fear because salt is a natural preservative.
To start this Monday I bring you a great song, Jabberwocky – "Pola" 😉
This apricot cream is elaborated in several steps but at all is not complicated to make it. We can have it ready in about 1 hour without the chill rest time.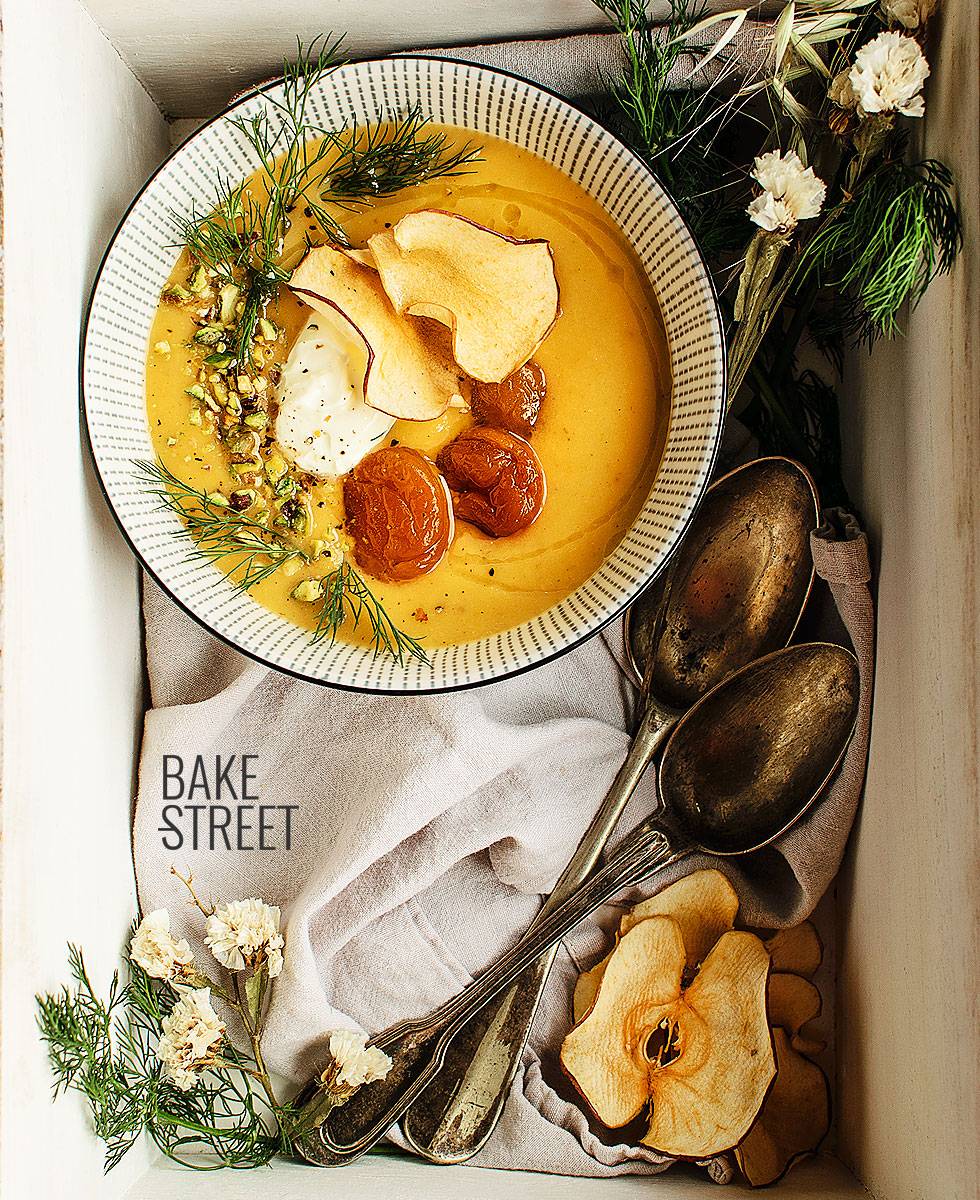 Ingredients for 3-4 serves
FOR THE APRICOT CREAM:
600 g fresh apricots
1 Fuji apple
90 g sweet onion
12 dried apricots
75 g olive oil
330 g Kirin Ichiban beer
320 g Kombu Dashi broth*
2 Tbsp of honey
1 y 1/2 tsp fennel seeds
vanilla salt (recipe below)
* Recipe link
FOR VANILLA SALT:
150 g coarse sea salt
1 vanilla pod
FOR GARNISH:
crème fraîche or unsweetened Greek yogurt
fresh dill
mashed pistachios
black pepper
* Recipe link
Instructions
Make vanilla salt.
Make a longitudinal cut in the vanilla pod and extract the seeds. Set aside.
In a bowl add the sea salt along with vanilla seeds and mix.
Store in a glass jar along with the vanilla pod and let it macerate for 3-4 days in a cool and dry place. Ideally in a kitchen cupboard.
Make apricot cream.
Peel the apple and remove seeds. Cut into chunks, set aside.
In a medium pot pour the olive oil and place over medium heat, let it until it acquires a little temperature.
Cut the onion into wedges and add into the pot along with the apple, cook until the onion acquires a transparent but not golden texture. About 10 minutes.
While in a saucepan heat the Konbu Dashi broth, let it until simmer and remove from the heat.
Pour the broth along with the beer, into the pot where we are sautéing the onion, and let it come to simmer.
Add the dried apricots and simmer for 7 minutes.
Remove the dried apricots from the broth, drain and reserve at room temperature in a container until needed.
Continue the broth simmer until it is reduced by half. It will take us about 30 minutes.
Incorporate the apricots previously washed, cut in half and pitted to the broth. Bring the broth back to simmer and, from that moment, cook for another 10 minutes.
Remove from the heat and let cool for a few minutes.
Toast fennel seeds.
Toast the fennel seeds in a small pan over medium low heat. Let until they turn golden brown and the smell aromatic.
Remove from the heat and mash in a mortar until obtaining a fine powder texture.
Set aside.
Blend the cream.
In a food processor or in a blender, blend the cream until obtaining a very fine and smooth texture.
Add the honey along with the roasted and ground fennel and the vanilla salt. Blend again, taste and rectify salt and honey if necessary.
Pour into an airtight glass container and refrigerate for 3-4 hours.
Serve cold apricot cream.
Ladle the apricot cream into individual bowls.
Garnish with a tablespoon of crème fraîche, 3 reserved apricots, mashed pistachios, ground black pepper, fresh dill, slices of dehydrated apple and a dash of olive oil.
Serve immediately.
PRESERVATION: We can keep it refrigerated in an airtight container for up 3-4 days.
Notes
The ideal is to use ripe apricots but firmness, but always use apricots of good quality that give us flavor.
Olive oil can be replaced with grape seed oil or sunflower oil.
Kombu Dashi broth can be made at home, as I show you in the elaboration, or use a dehydrated preparation. I leave it to your choice.
Why should we bring the broth to a boil? Because that way we will avoid that it jumps when pouring it in the sautéed onion and apple.
Kirin beer is not essential, we can replace it with another soft beer or a sweet white wine.
Vanilla salt gives a fragrant point but you can use whatever variety you have at home.
The dried apricots, once boiled in the broth and rested, acquire a shiny and caramelized texture on the outside (as seen in the photos). But just take them out of the broth will have a seemingly dry texture.
Garnish can be adjusted to your tastes; Hazelnuts, almonds, fresh fennel ...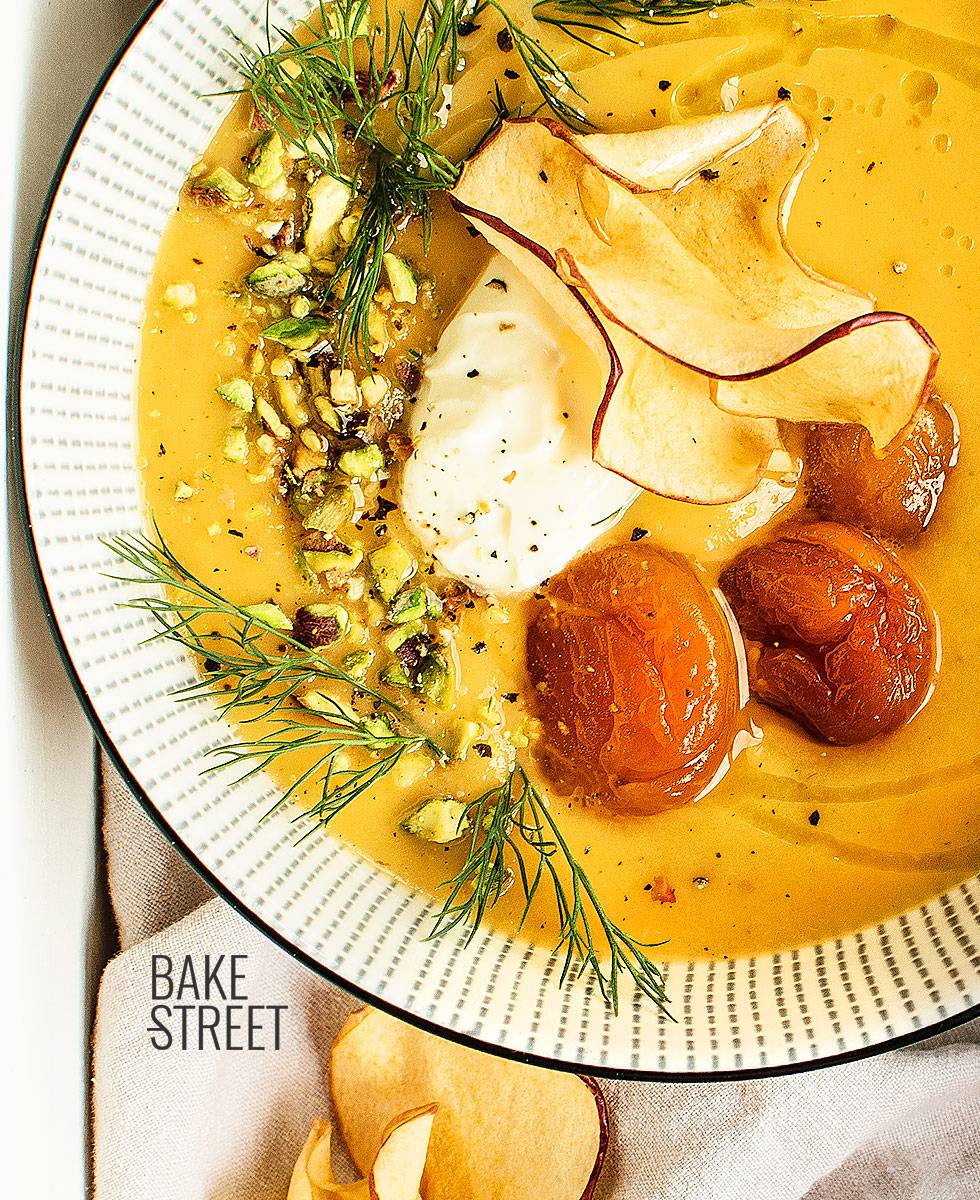 This chilled apricot cream with fennel is a perfect and seasonal entree for this time of year. Texture is very soft and the taste is slightly sweet, aromatic and fresh.
We can serve it as an entree or supper and even varying the quantity, served in individual small glasses. A different way to prepare fruit, which should not always be served as dessert ;)
Happy start of the week!
Big hugs,
Eva
Archivado en