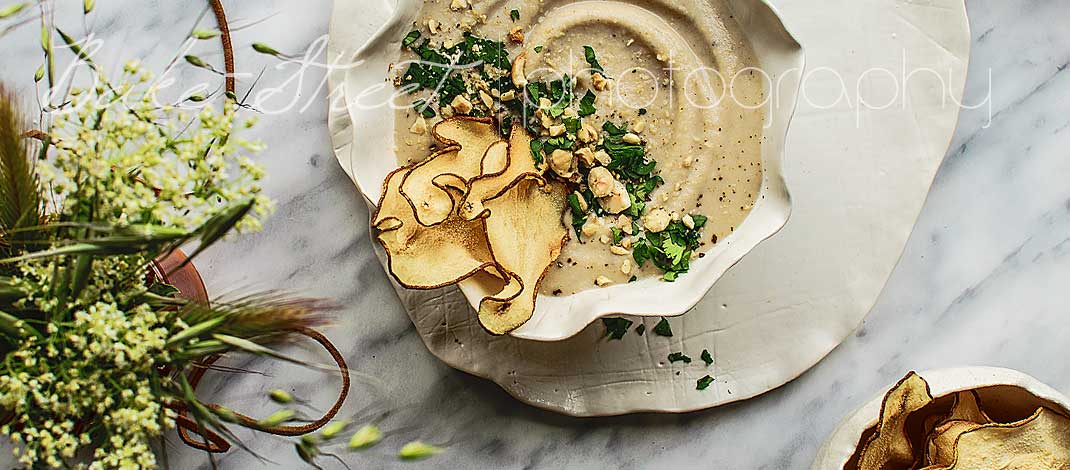 Cauliflower and pear cream with hazelnuts
Este post también está disponible en Spanish
As soon as the cold returns, I start again with creams, I love them! The last one I've tried is this cauliflower and pear cream with hazelnuts. I know they are two ingredients that seems strange to prepare together in the same elaboration, but I assure you it will not disappoint you.
I found  this cream in the blog of Two Purple Figs, through Pinterest (this marvelous social network that connects us with each other through precious images), and I thought – what a great recipe! Maybe both ingredients could seem a strange and different combination, it is real success.
From the original recipe I changed some ingredients like white beans to thicken the cream. I must admit that this variety of legume does not like me too much … so I decided to omit it and change it by increasing other amounts of ingredients. But if you are one of those who like this legume, do not hesitate to take a look at Mahy's recipe.
Besides in my case, I added white miso, tamarind and coconut milk. I can not avoid it … they are ingredients that really like me and when I see the opportunity to combine them in a recipe I do not doubt it a second. We managed to soften the cream even further and enhance the flavor with very interesting aromas.
I'm sure that all those who hate cauliflower will not want to give it a chance, but many times we miss wonderful dishes only because one of the ingredients we do not like us … We must keep in mind that sometimes it is not the ingredient itself that we do not like it, but the way we have cooked it.
Also, the cauliflower in this case enjoys very good company and it is practically impossible to disappoint you … I swear!
How can we serve cauliflower and pear cream?
If you do not have a lot of time or desire, it is not necessary to take too much care, just sprinkle some hazelnuts and chopped cilantro. But if you want to give that different touch and super tasty, prepare the pear chips to accompany it.
Below you will see that it is very simple to make them, making use of the dehydrator you can have them ready in about a day (the pears have a lot of water). We will be able to enhance the flavor of the pear in an incredible way, besides giving that crunchy touch in a very healthy way.
In this last batch I dehydrated a lot fruit and, when I go to the kitchen, I open the glass jar where I store them and I'm pecking a few … They are spectacular! Of course, use a pear with flavor, the conference are perfect for this purpose.
CAULIFLOWER AND PEAR CREAM WITH HAZELNUTS
4-6 serves
FOR THE CAULIFLOWER AND PEAR CREAM:
19,4 oz (550 g) cauliflower washed and cut into small florets
2 Conference pears, 7,8 oz (220 g) pear without peel and seeds
1,8 oz (50 g) roasted hazelnuts
0,9 oz (25 g) oak flakes
3,5 oz (100 g) shallot
2 large garlic cloves
0,35 oz (10 g) tamarind, only the flesh
1 oz (30 g) unsalted butter
1,5 oz (42 g) white miso
2 tsp dry oregano
20,1 oz (570 g w9ater
5,6 oz (160 g) coconut milk
sea salt
black pepper freshly ground
all spice
FOR GARNISH:
dehydrated pear slices*
chopped roasted hazelnuts
fresh cilantro
* We will need 1-2 conference pears to dehydrate.
INSTRUCTIONS:
Dehydrate the conference pears.
Wash and dry the pears.
Using a mandolin with the finest cut, laminate both pears.
Place the thinly pears slices on the trays. Ideally is to take advantage of all the trays with this fruit or others to make good use of its performance.
Place at 160ºF and leave for 24 hours. The final time will depend on the thickness of the slices.
Once they are dry, store them in an airtight container or a glass jar (Fido jar).
Make cauliflower and pear cream.
Add the unsalted butter on a medium pot and place over medium high heat.
Once it has temperature add the chopped shallot along with garlic and oregano. Reduce to medium heat and sauté until the shallot acquires a tender texture and you can smell it fragrant.
Add the chopped cauliflower and cook about 4-5 minutes.
While wash, peel and cut the pears. Ser aside.
Add the oat flakes along with hazelnuts, chopped pear, water, a pinch of salt, freshly ground black pepper and all spice. Reduce heat to medium low and cook until cauliflower is tender. It can take us about 25 minutes.
Remove from heat and blend the ingredients in a food processor.
Add the white miso and blend again. We must obtain a very soft and fine cream.
Season to taste and add more spices if necessary.
NOTE: Be careful when adding the salt, I recommend adding a very small amount. Keep in mind that the white miso is quite salty and we can spoil the cream.
Serve cauliflower and pear cream.
Ladle the cream into individual bowls.
Garnish with some pear chips, smashed hazelnuts and chopped cilantro leaves.
Serve immediately.
NOTES:
This cauliflower and pear  cream is best consumed hot-tempered, although you can taste it colder if you wish.
The pear that I use to make the cream are conference pears, I like much more this variety than the pear of water, for example. They have more flavor and a fantastic texture. You should use them ripe to bring even more flavor.
If you do not like hazelnuts, some almonds or cashew nuts can also work very well with this recipe.
You can substitute the white miso for another type of miso that you like more, but remember that in any case you must always add it to the end of the cooking and once we have removed the cream from the heat. In this way we ensure that you retain all its benefits as much as possible.
If you do not want to use butter, you can use olive or other vegetable oil instead. But butter brings very interesting tastes and flavors.
I know some of you are not very passionate about coconut milk, but you can vary this for another variety of vegetable milk; Almonds, cashews, oats …
Be sure to dehydrate the pear well to avoid that, when we stored them in an airtight container, any remaining moisture will spoil the chips.
This cauliflower and pear cream with hazelnuts is really amazing and different. Its texture is very creamy and smooth, the truth is one of those elaborations that you do not know well how they will turn out and once you finish the recipe and taste it you say … wow, so good!
Since spring has given us a truce of heat these days, we will take advantage of these types of creams before the heat arrives and we just want to eat gazpacho!
Big hugs,
Eva