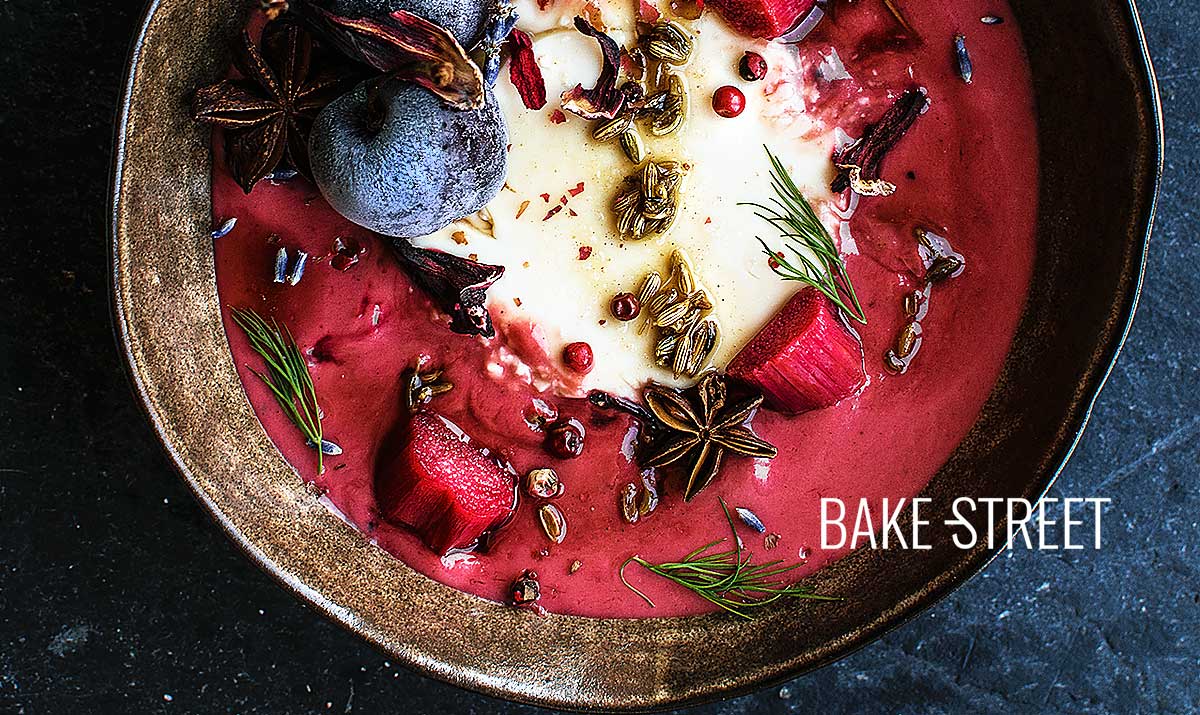 Rhubarb and cherry cream with camomile panna cotta
Este post también está disponible en Spanish
Again I bring a recipe adapted from one of my favorite books "Bar Tartine", but I can not help it … They do a very cool and wonderful job. This time is the turn to a rhubarb and cherry cream with camomile panna cotta, was to see it and fall yielded at his feet. The combination seemed very successful although I have modified it a lot.
They only use rhubarb and the final texture is lighter, like a soup. In my case I decided to make a cream and I combined the rhubarb along with cherries and hibiscus flower (to give it a citric taste). I omitted the fresh fennel as well as some amounts of other ingredients that I modified on the fly. You can do the same way I did, change and adjust quantities or ingredients to your taste and need.
If you do not like rhubarb or you do not find it, you can make the cream of cherry, raspberry, blueberries … are fruits that I can think of and that sure work very well. In my case the rhubarb was frozen from the last time I bought it.
How can I freeze rhubarb?
In my case what I do is remove the leaves since they are toxic and can not be consumed, washed very well and dried. Then I cut it into pieces, like the ones you can see in the photo, and store them in zip bags. When freezing I try to keep the bags fully stretched so that the rhubarb does not pile on top of one another. In this way whenever you need it, you only have to take one of the bags and let it thaw in the refrigerator overnight.
Place the bag under a dish because it will release water. As you can imagine, the texture of the rhubarb changes a lot. Its firmness is lost. This makes its use for elaborations in which we do not need to maintain its shape, such as jams, pies, creams …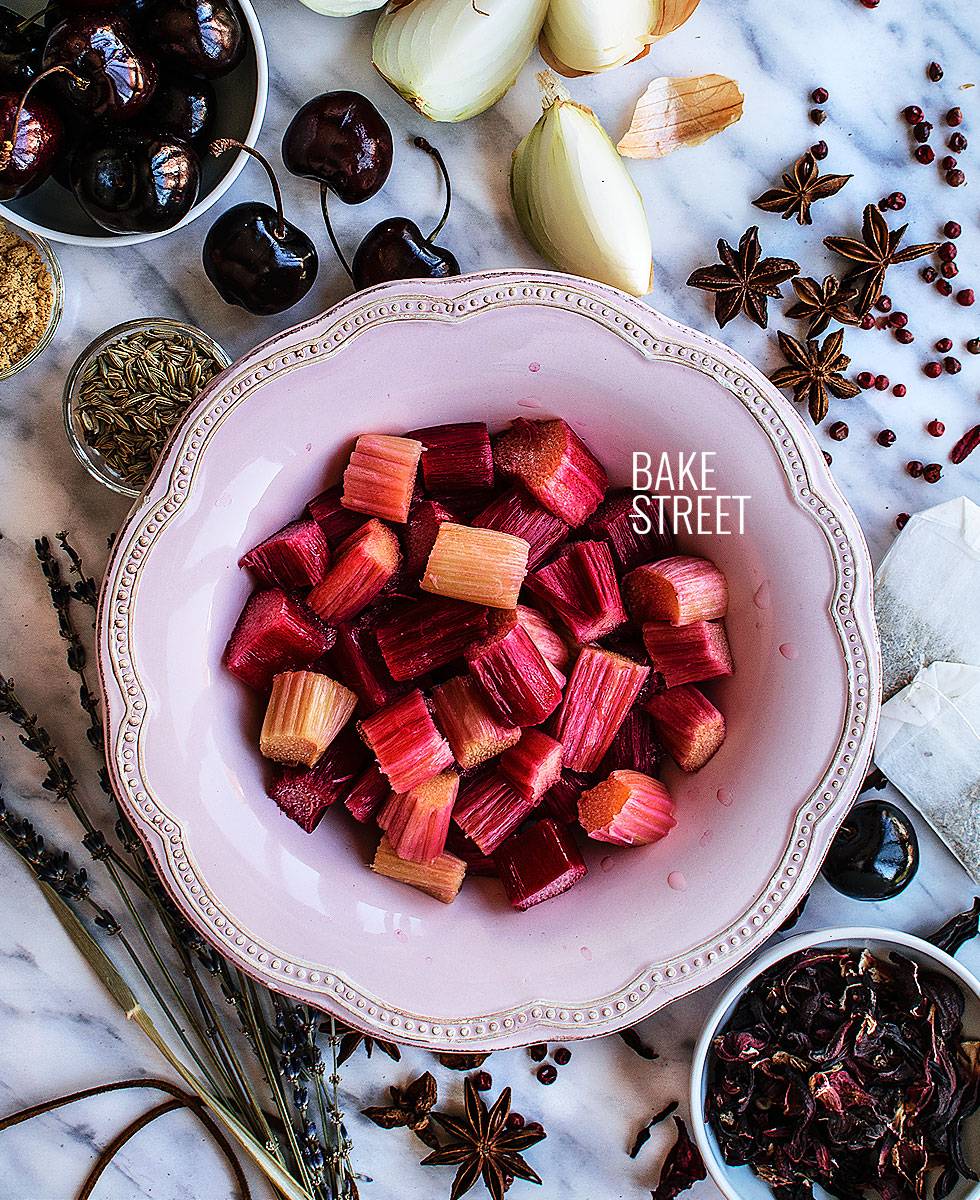 Surely you will be wondering, where did you buy rhubarb?
In my case I bought it in Mercamadrid, there is a local specialized in fruits and exotic products. He always has it when it's season. I bought a box, they are 2,2 pounds (5 kg), and I use everything I can fresh and the rest I freeze to enjoy it throughout the year. But surely in specialized fruit shops, you can find it.
For those of you who are lucky enough to find it in your markets on a regular basis, this will not be a problem.
The camomile panna cotta was actually a cream camomile custard. The ingredients are basically the same except for the natural camomile which in my case I had to use in sachet. I have also replaced kefir with whole milk, it took a couple of weeks without refreshing it and could not make use of it.
Two ingredients that surprise a lot.
I know, what the hell is it, in a supposed dessert, onion and broth dashi? Result is amazing, I swear. We use very little onion and when caramelizing, the flavor it brings is sweet and peculiar. The dashi broth, I have to admit, that also caught my attention but I decided to give it a try. The taste is in a second, third plane … very subtle. Without doubt a whole success the set of ingredients.
Today I share a version (which I love!) from one of my favorite songs "Finally"- Cherry Ghost, Youtube link.
The final decoration …
Here let your personal taste guide you. In my case I have left a suggestion of some elements that combine well with the rhubarb cream and the panna cotta, but in no way you have to make use of all. Of course, do not forget to prepare the candied fennel seeds … the aroma and flavor they bring is simply spectacular.
Ingredients
FOR RHUBARB AND CHERRY CREAM:
8,8 oz (250 g) rhubarb
2 oz (55 g) pitted cherries
3,2 oz (90 g) sweet onion
10,5 oz (300 g) kombu dashi broth
1 Tbsp + 1,4 oz (40 g) sunflower oil
3/4 tsp ginger powder
1/2 tsp fennel seeds roasted and ground
1 anise star
1 hibiscus flower
1,6 oz (45 g) light muscovado sugar
1 camomile sachet
salt and pepper to taste
FOR CAMOMILE AND CREAM PANNA COTTA:
8,5 oz (240 g) heavy cream
1,4 oz (40 g) whole milk or kefir
1,4 oz (40 g) crème fraîche
0,7 oz (20 g) honey
1 camomile sachet
3/4 tsp powered plain gelatin
a pinch of salt
FOR CANDIED FENNEL SEEDS AND SYRUP:
1 oz (30 g) water
1 oz (30 g) honey
1 tsp fennel seeds
FOR GARNISH (OPTIONAL):
frozen cherries
candied rhubarb pieces
pink peppercorn
dill
anise stars
hibiscus flowers
lavender
Himalayan pink salt
Instructions
FIRST DAY
Make candied fennel seeds.
In a saucepan pour the water along with with the honey and place to medium low heat, mix until they are fully integrated.
Add the fennel seeds and simmer for 5 minutes.
Remove from heat and let infuse for 6 hours.
Strain the seeds and reserve the syrup.
Place fennel seeds on baking paper and dehydrated in a food dehydrator at 118ºF (50 ° C) for 12 hours. They will have a brittle texture.
Store in an airtight container until ready for use.
Make camomile panna cotta.
In a saucepan add the cream along with the sachet of chamomile  and place over low heat for 10 minutes.
Remove from heat and let infuse for 1 hour.
After this time, in a small bowl, pour the milk and sprinkle the gelatin powder. Leave it to hydrate for 5 minutes.
Remove the sachet of camomile from the cream and add the honey, stir, place over medium low heat and leave until simmer.
Drain and pour over the milk with gelatin, stir until completely homogenized.
Add the crème fraîche and salt, mix again until obtaining a smooth and homogeneous mixture.
Ladle the mixture in 2 ramekins, previously greased with almond oil, and place in the fridge overnight.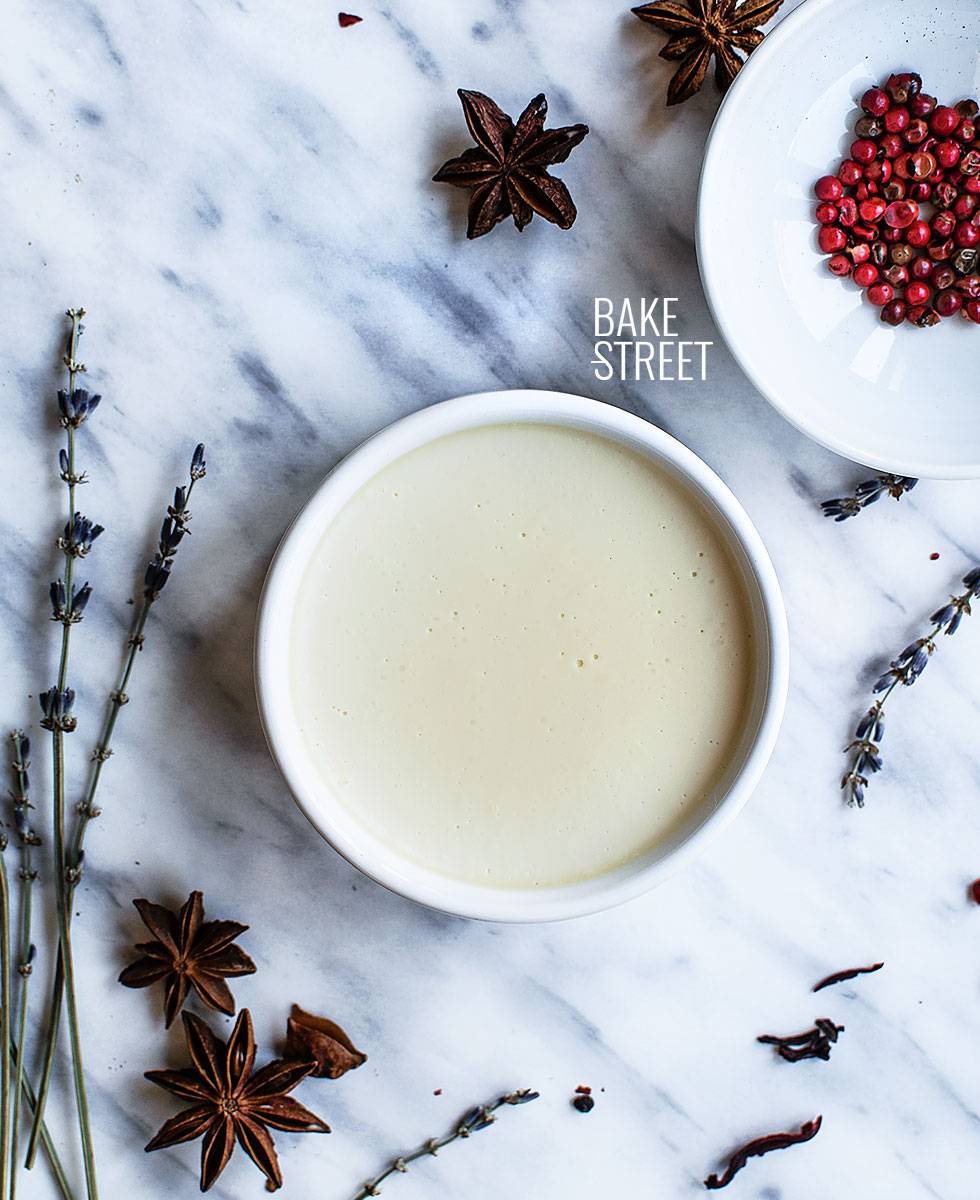 SECOND DAY
Make rhubarb and cherry cream.
In a medium saucepan pour the tablespoon of oil and place over medium low heat. When warm, add the onion finely chopped.
Cook for 20 minutes stirring from time to time, it must acquire a transparent color and slightly golden brown color.
Add chopped rhubarb along with halved cherries, light muscabado sugar, toasted fennel, hibiscus, star anise and ginger. Simmer for 10-12 minutes.
Pour the konbu dashi broth and simmer for 10 minutes.
Stir in chamomile and cook over very low heat for 20 minutes.
Salt and pepper to the taste, mix and remove from the heat. Let stand for 15 minutes.
Remove the sachet of chamomile and blend until get a smooth texture.
Pour the 40 g of oil at the same time as we blends until completely homogenized. The cream will lighten up a little because of the emulsion.
Strain the cream and store in an airtight container. Refrigerate for 4-5 hours.
Serve.
Unmold the panna cotta and transfer in two bowls / individual serving dishes.
Ladle the rhubarb and cherry cream around this.
Garnish with candied fennel seeds, fennel syrup, dill leaves, rhubarb, frozen cherries, pink pepper and hibiscus.
Serve immediately.
Notes
Rhubarb can be replaced with another ingredient, as I said above. Cherries, raspberries, blueberries ... surely you will come up with more combinations ;)
If we use fresh rhubarb, we will have to cook it until tender. It will take us about 20-22 minutes instead of 10-12 minutes.
If you want to obtain a lighter texture, you must add more dashi broth.
The panna cotta can be stored in ramekins or individual molds/pans that you have at home. You can also leave it in another larger container and, the next day, cut it with a cookie cutter.
Rhubarb and cherry cream can be stored in the refrigerator for 5-6 days.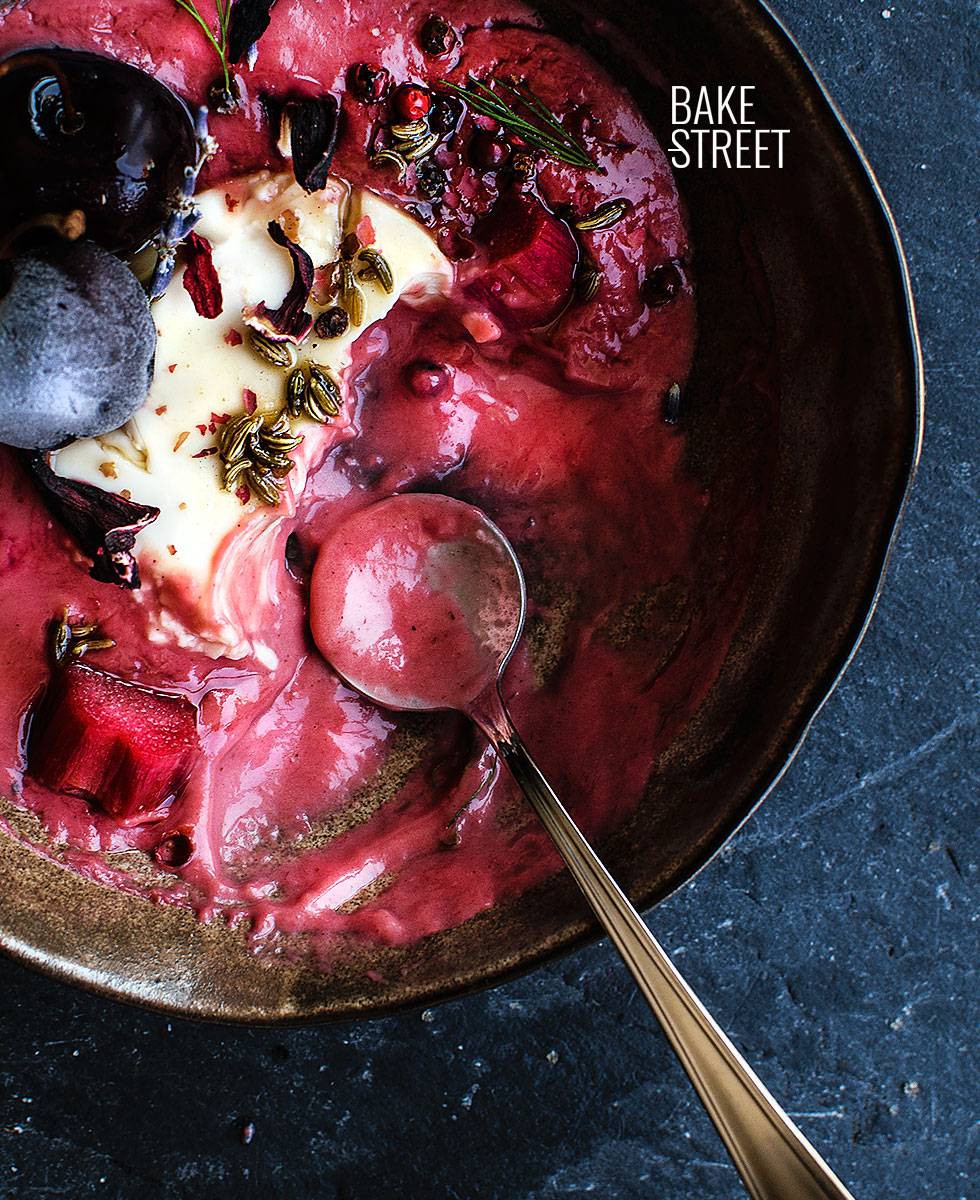 This rhubarb and cherry cream with camomile panna cotta can serve both dessert and starter, as is suggested in the book of Tartine. The truth is that not having a sweet taste, but rather a flavor that mixes the spices with citrus touches, makes it perfect to use in both cases. Just make sure it's cool.
In case of serving as dessert, they comment that they always accompany it with rugelach. What to say has to be the end of a perfect evening! Of course, in that case I think the final amount should be smaller ;)
Have a great weekend!
Big hugs,
Eva
Archivado en