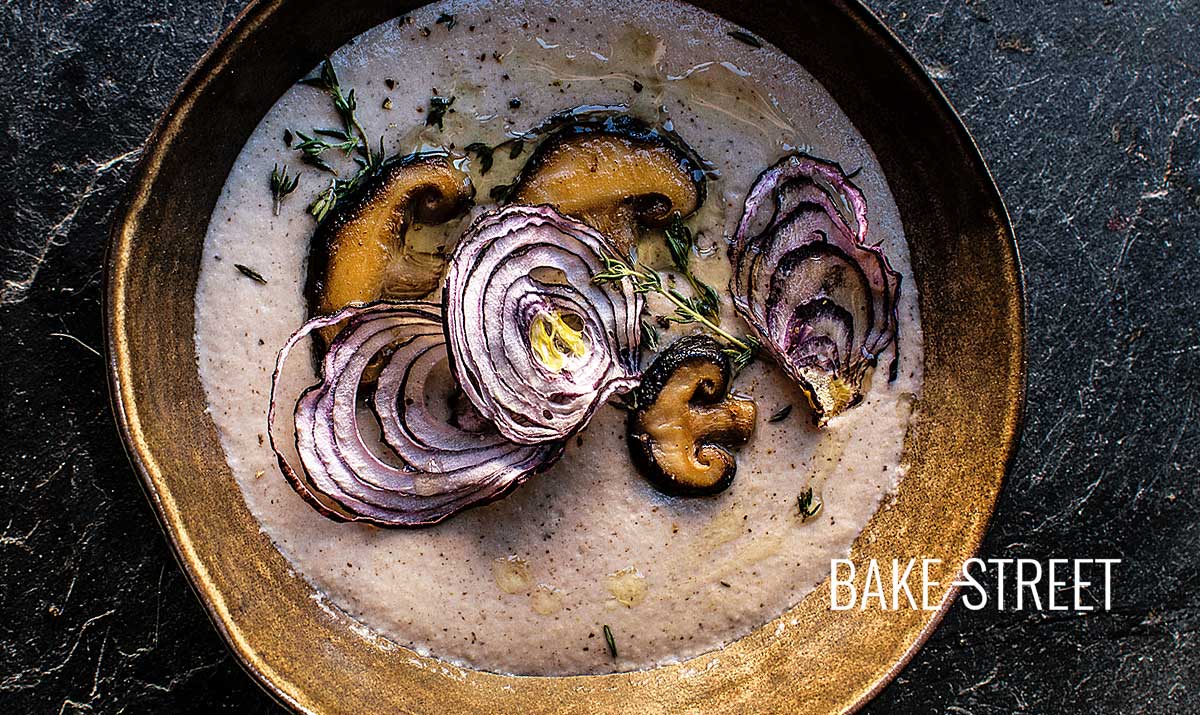 Cashew and shiitake cream
Este post también está disponible en Spanish
You know my addiction to soups and creams… There isn't a week I haven't left you one. Although considering how much things make things easier for us, how versatile they are and how rich they are, since they are almost something to be thanked for, right? This time I leave you a cashew and shiitake cream.
As you can imagine, today's cream is very nutritious and will be a great energy source for us. Yes, very rich and healthy! The idea for this cream came from a Mississippi Vegan's cream with cashews and potatoes decorated with shiitake. I really liked the combination of cashews and shiitake and I decided to make a cream with those two ingredients.
The main base, which will give us creaminess and thickness to the cream, we will achieve it by preparing a cashew nut paste. To do this, we will use this nut in previous soaker and process together with some water, apple vinegar and crème fraîche. The result will be a very soft and creamy paste.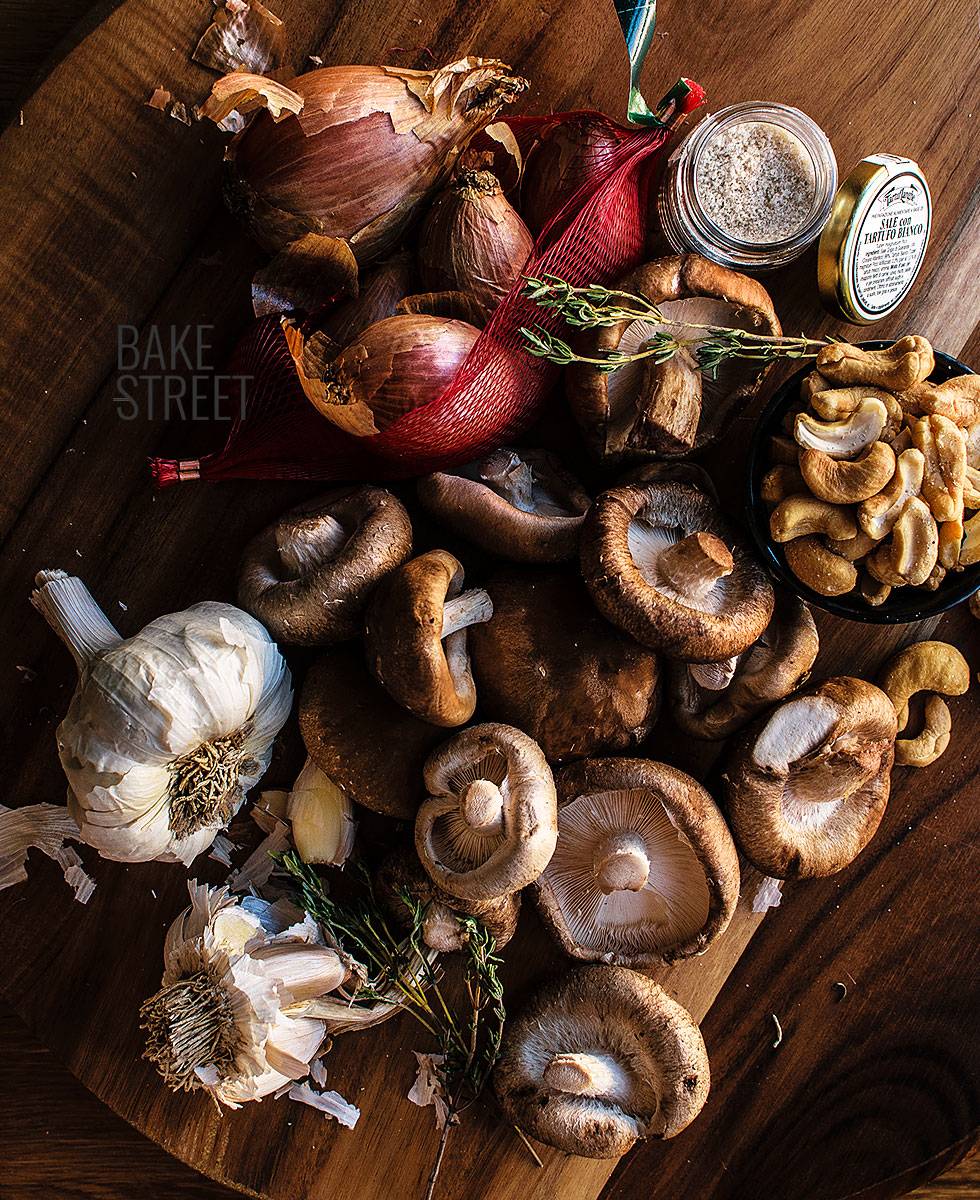 A great addition of flavor.
The main base of the cream, as I told you before, we will achieve it with cashew nut paste. But this will not be our main element with which we will be able to enhance and aromatize this one, but with the shiitake mushrooms.
Of course and as you can imagine, you will like this cream if this variety of mushroom is to your liking. The flavor that will rest on your palate, mostly, after each spoonful will be the one that comes from this ingredient. For me, it's wonderful, though not for every palate.
To add it to the cream, sauté them in coconut oil beforehand. Why this variety? I was looking for a mild flavor that could also bring a particular aroma. The coconut looks like an ingredient that fits very well with other elements and I thought it would be a perfect companion for mushrooms. By sautéing them beforehand, we favor that they expel the water and we manage to highlight its flavors.
To lighten the cream, which will be very dense, we will use a vegetable broth or vegetable and chicken broth, as you prefer. What I do recommend is that it be homemade… canned broth are not good enough. And we don't know how they did it, how much salt they're carrying… etc.
Serving.
When serving the cream we can do it from the simplest way to complicate everything that goes through our head. In my case, we'll leave it in an intermediate thing…
I thought about making some purple onion chips by dehydrating them, it takes a little while to get them ready, but try to ventilate the kitchen until they are ready… I reserved some sautéed shiitake slices to give them a heat stroke in the frying pan and lightly brown them. A little fresh thyme and truffle salt will finish the dish.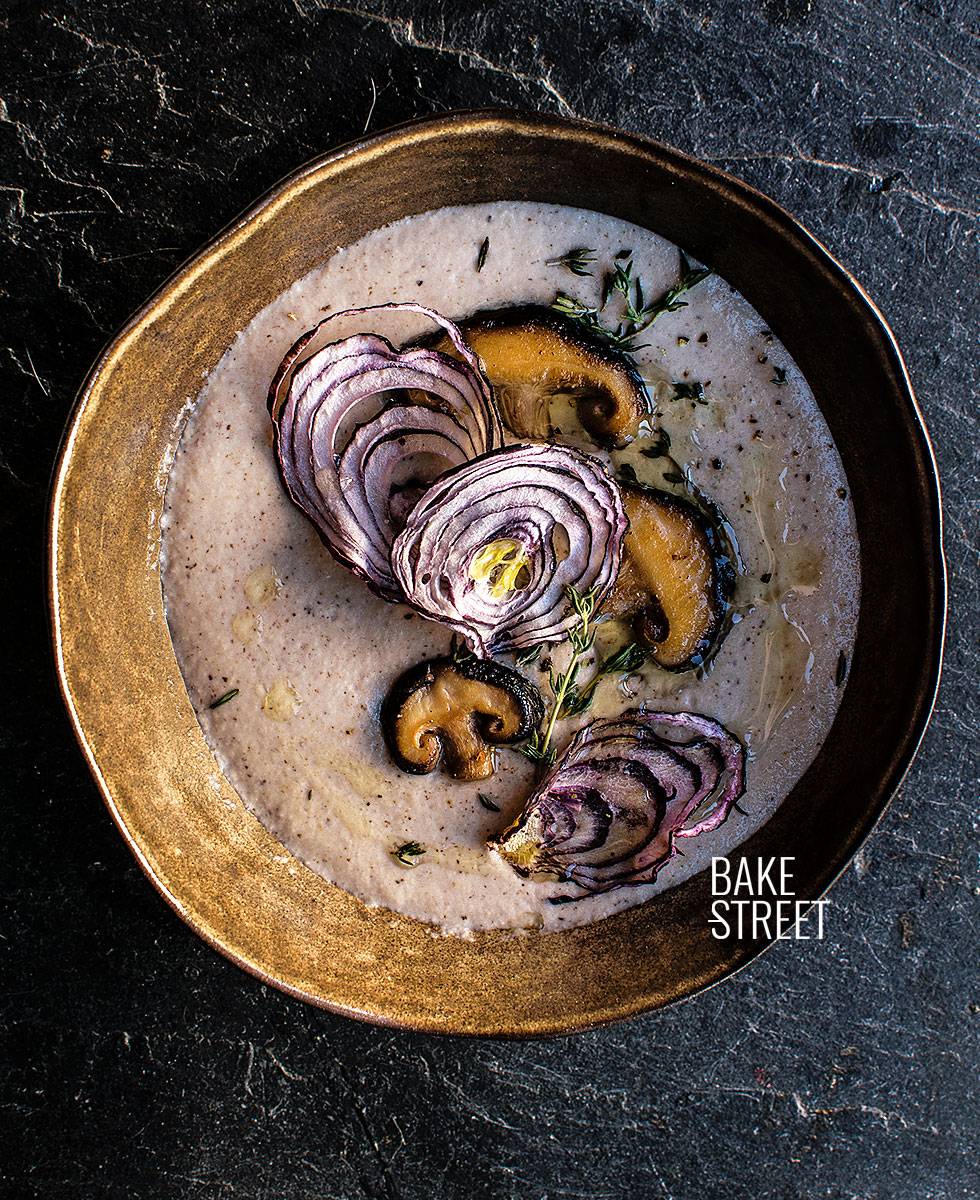 Ingredients for 2 serves
FOR THE CASHEW CREAM:
3,5 oz (100 g) cashews + water to cover
3,25 oz (92 g) water from the soaker
1 tsp apple cider vinegar
2 oz (55 g) crème fraîche
FOR THE CREAM:
6,35 oz (180 g) shiitake
1,6 oz (45 g) coconut oil
1,6 oz (45 g) shallot
0,17 oz (5 g) garlic
7 oz (200 g) vegetable or chicken and vegetable broth
all cashew paste
salt to taste
pinch of black pepper
FOR GARNISH:
dried purple onion chips
sautéed shiitakes
fresh thyme leaves
truffle salt
olive oil
Instructions
Soak the cashews.
The night before, place the cashews in a bowl and cover with water.
Cover with film and leave to soak overnight.
Dehydrate purple onion.
Using a mandolin and using the thinnest cut, laminate the onion.
Place the slices on the trays and turn on the dehydrator.
Set at 160ºF and leave for 2 1/2 hours. The final time will depend on the thickness of the slices and the drying capacity of our dehydrator.
Once dry, store in an airtight container or a large glass jar, Fido type.
Make the cashew nut paste.
Drain the cashews and transfer to a food processor together with the water and apple cider vinegar. Blend until we get a paste.
Add the crème fraîche and blend until fully integrated.
Set aside.
Sauté shiitake.
Wash the shiitake and dry with some kitchen paper.
Slice the mushrooms, set aside.
Pour the coconut oil in a medium skillet and place it on medium heat. Let it get a little warm.
Add the mushrooms and cook in medium heat. They will have to release the water and reduce it, it will take about 12-15 minutes.
Remove from the heat, put it in a strainer and let it drain for a few minutes.
Reserve some slices to garnish the cream.
Sauté the shallot and garlic.
Finely chop the shallot and garlic.
In the same frying pan where we have sautéed the mushrooms, and where there will still be a little fat left, sauté both ingredients in medium low heat. The shallot will have a translucent color.
Remove from the heat.
Finish the cream.
Add the sautéed mushrooms to the food processor and blend until a homogeneous paste is obtained.
Add the sautéed shallot and garlic and blend again.
Pour the broth slowly and process it at the same time. The texture will become less thick and softer.
Taste and rectify salt. Add a pinch of ground black pepper, mix.
Pour the cream into a saucepan and place it in a medium low heat, simmer for about 5 minutes stirring occasionally.
Remove the heat.
Assemble.
Cook shiitake slices until golden brown. About 1-2 minutes.
Ladle the cream into serving bowls. Garnish with golden brown shiitake slices and some dehydrated purple onion.
Sprinkle a little fresh thyme leaves, a dash of olive oil and finish with truffle salt.
Serve immediately.
Notes
It is important to make a prior soaker with cashews to soften them and leave a creamy texture and not granular.
If you want to make the vegan recipe, substitute crème fraîche with canned coconut milk with high fat content.
Coconut oil can be replaced by another soft oil; grape seeds, sunflower seeds...
Can I use another mushroom variety? Yes you can, but the final flavor will have nothing to do with whether the cream is made from a shiitake if we prepare it with a common mushroom. As I mentioned above, the shiitake mushroom has a very particular taste.
Make a perfect blend from the ingredients so that the result is very smooth and creamy.
Purple onion chips can be replaced by sautéed purple onion, roasted... or if you don't like it, just omit it.
We can keep this cream refrigerated for 2 days.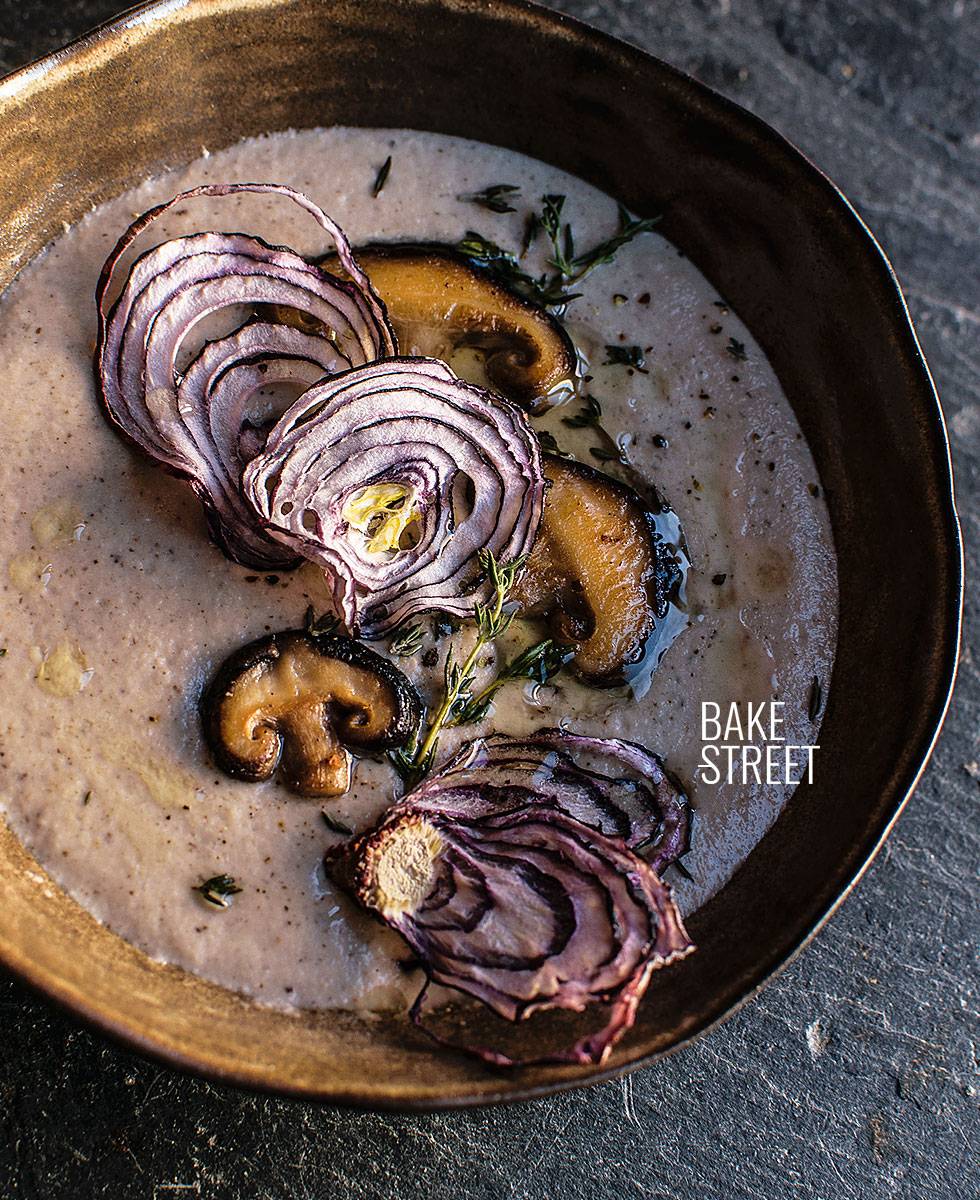 This cashew and shiitake cream is one of those creams you want to take "wrapped" yourself in a blanket, sitting on the couch and watching a great movie. Oh, I love this!
Not to mention we'll sleep like kings, I'll put you on notice. I hope you'll dare to try it and tell me how it went.
This next Friday there will be no post, we take a few days off. So I say goodbye to you until next Monday and I hope you have a wonderful, incredible weekend.
Big hugs,
Eva
Archivado en