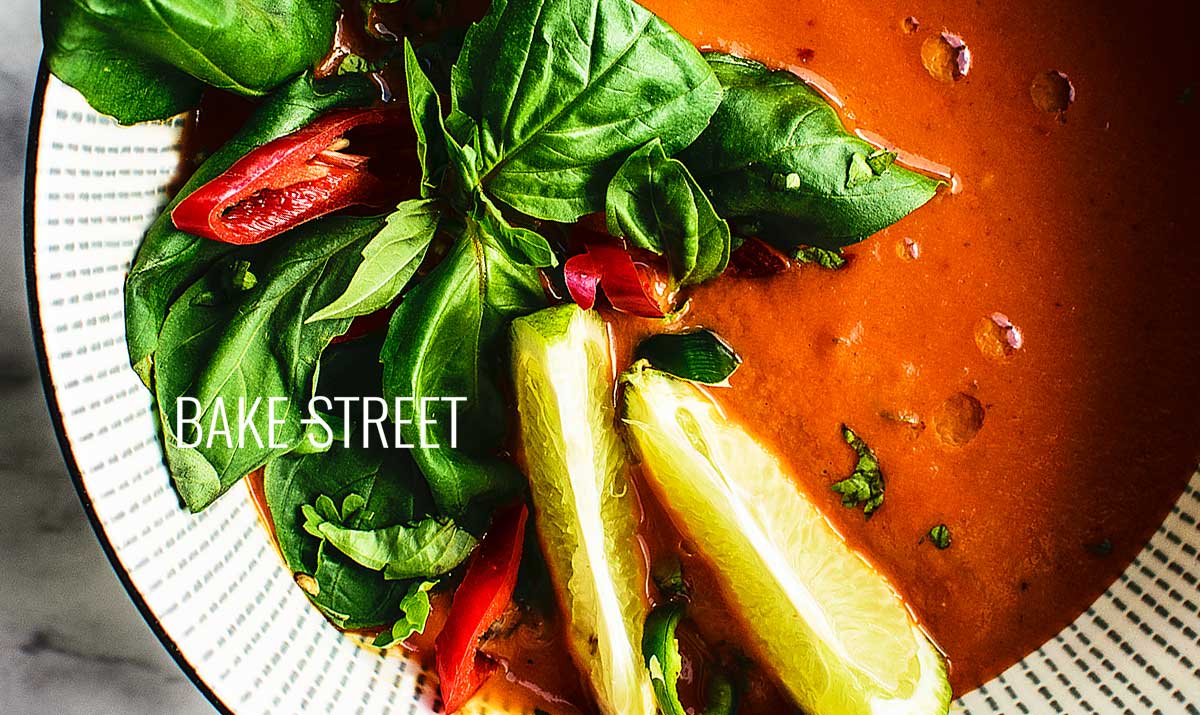 Toban-Djan tomato cream
Este post también está disponible en Spanish
It seems that time is already asking us to make creams and soups to cope the cold better. That or I missed them so much that my body is what makes me believe! In any case, I have already taken up 100% of the oven, starting this new season with this Toban-Djan tomato cream.
I'm sure the first thing you're thinking about is what's Toban-Djan? We're already with the weird inventions… Don't worry, I'm going to give you a good description of what this ingredient is all about. The truth is that until a couple of months ago, I was totally unaware of this sauce. I learned about it thanks to an Asian cookbook that I bought last winter and of course, I was curious. I had to look for it.
The toban-djan or dou ban jiang is a spicy sauce of Chinese origin made with fermented beans, soybeans, salt, rice, chilli peppers and spices. There are two versions: normal and spicy. You know of my unbridled passion for spicy… I had no doubt which one to choose.
It is used especially in Sichuan's gastronomy, in fact it is considered "the soul of its cuisine". One of the most recognized varieties is Pixian dou ban jiang, named after the city of Pixian (Sichuan).
Korean cuisine has a similar sauce called gochujang.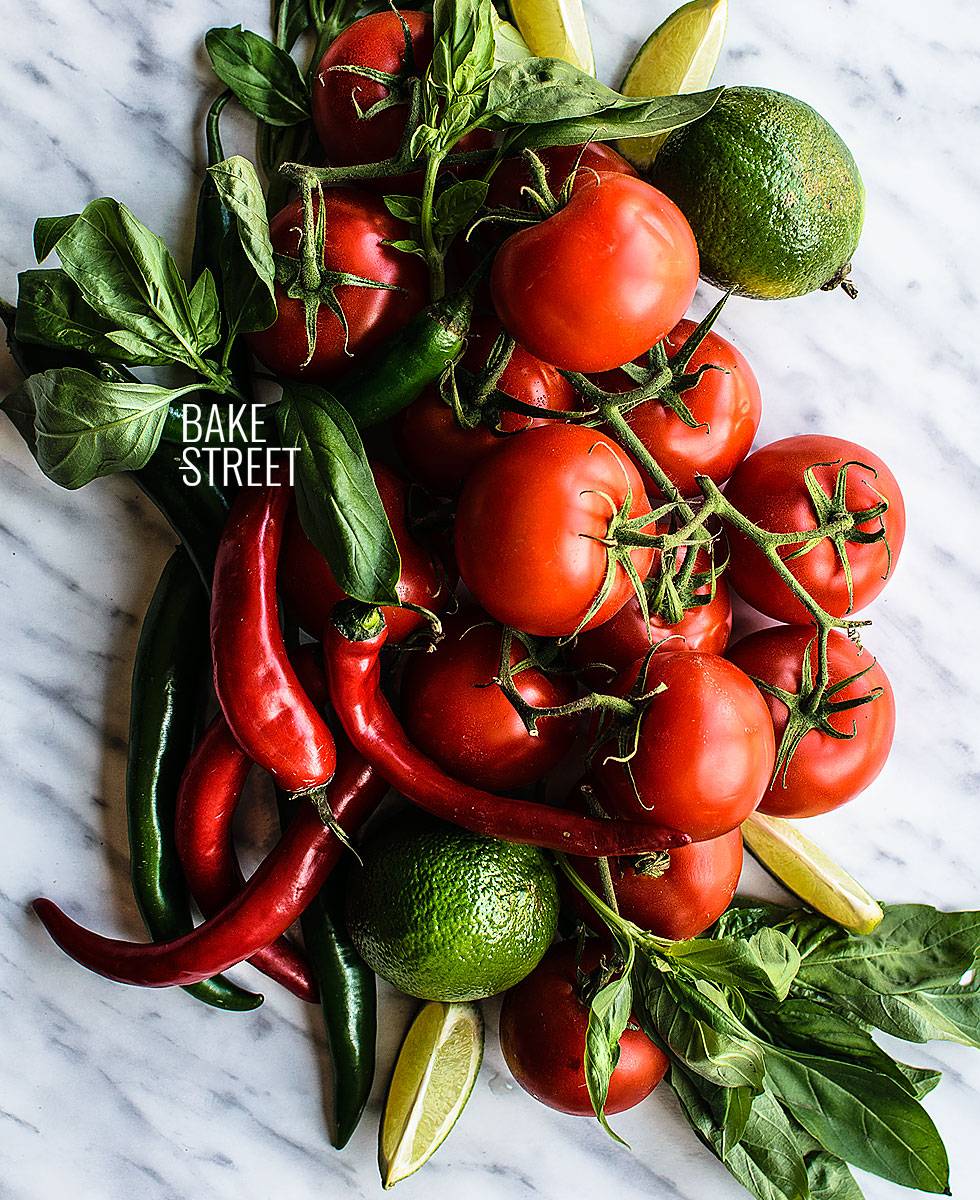 How to use this hot bean sauce?
The truth is that as a gastronomic ingredient, we can give it the use we want or consider. In my case, dress a cream with this wonderful sauce. It is very common to serve this sauce with rice or noodles and dishes made with tofu.
Making tomato cream.
Any vegetable cream can be made by boiling, sautéing or roasting the vegetables. These last two options allow us to highlight very interesting aromas and flavors that arise during cooking. In addition to providing toasted and even caramelized touches. That's why we'll roast both tomatoes and peppers.
Here I make a stop to comment. To make the cream we won't need a lot of peppers or tomatoes, but since we use the oven I recommend you to roast more to get the most out of it. Continue.
To lighten the cream and give it a creamy texture, I used coconut milk. Not the one we can find in bricks, but the one that sells canned and with a high fat content. This is the only way to get a silky texture.
The rest of the spices and sauces kept coming up as I went along. I tasted, added, tasted again, rectified… until I found the flavor I had in mind and looked for. So don't hesitate to readjust some amounts if you feel that way. The ideal is to try as we prepare it to reach the exact point that will make our palate happy.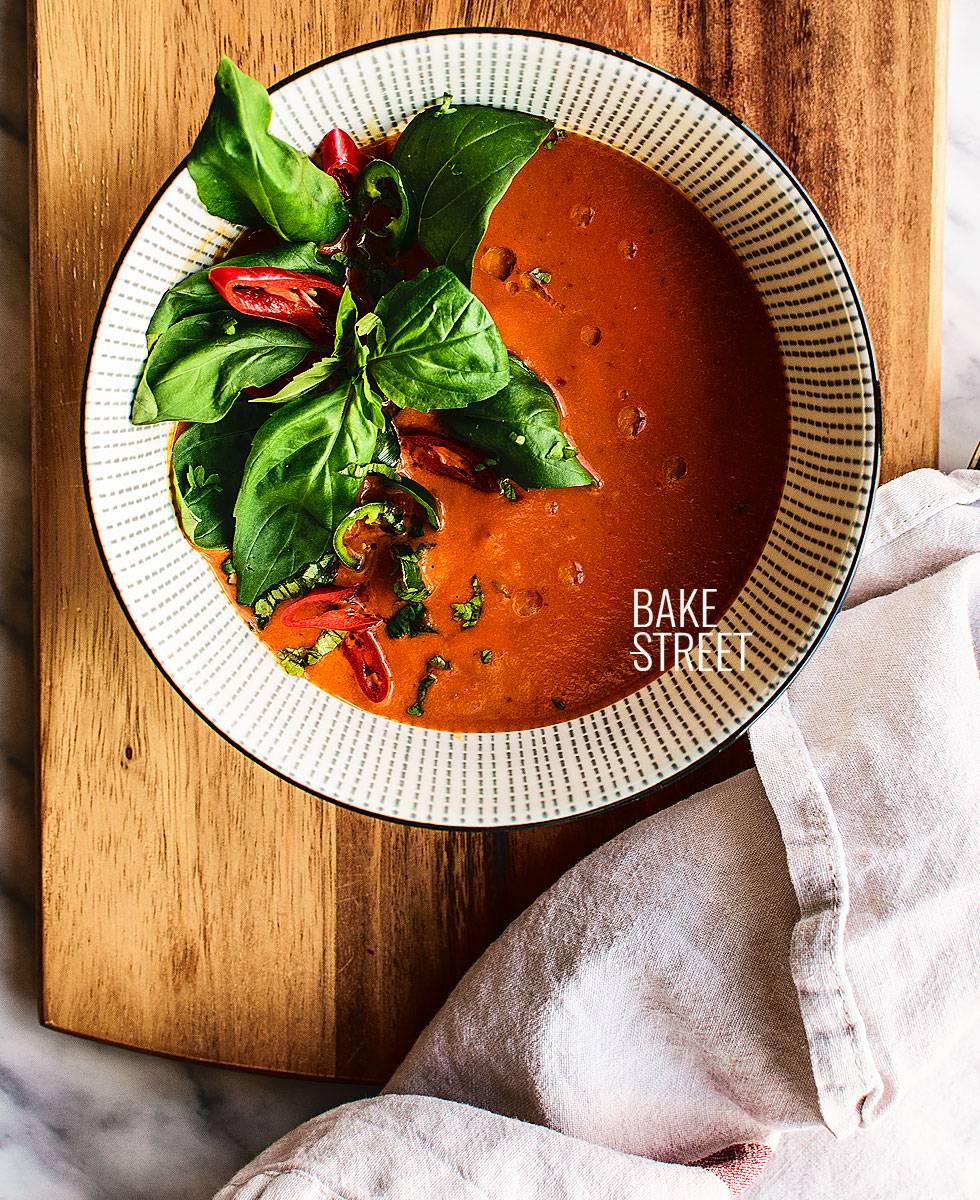 Ingredients
FOR TOMATE CREAM:
21,1 oz (600 g) roasted red tomatoes
5 oz (140 g) roasted red bell pepper (1 medium piece)
2 black garlic cloves
7,6 oz (215 g) canned coconut milk
2 y 1/2 tsp Toban-Djan sauce
2 tsp thai oil (grape seeds and citronella)
3 tsp tamari
2 tsp red vinegar
1/4 tsp Sriracha sauce (to make it homemade, click here)
1 tsp Worcestershire sauce
pinch of shichimi togarashi
lime juice to taste
pinch black pepper
salt to taste, if desired
GARNISH:
fresh basil
fresh cilantro
red and green chiles
Instructions
Roast the tomatoes and red pepper.
Preheat oven to 355ºF.
Wash the peppers and place them in an oven tray, previously lined with aluminium foil if you wish.
Bake for 30 minutes.
Wash the tomatoes and place them in the oven with the peppers. We take this opportunity to turn them around and finish cooking on the other side.
Bake for another 20-25 minutes.
Remove from the oven and let cool until we can manipulate them without burning.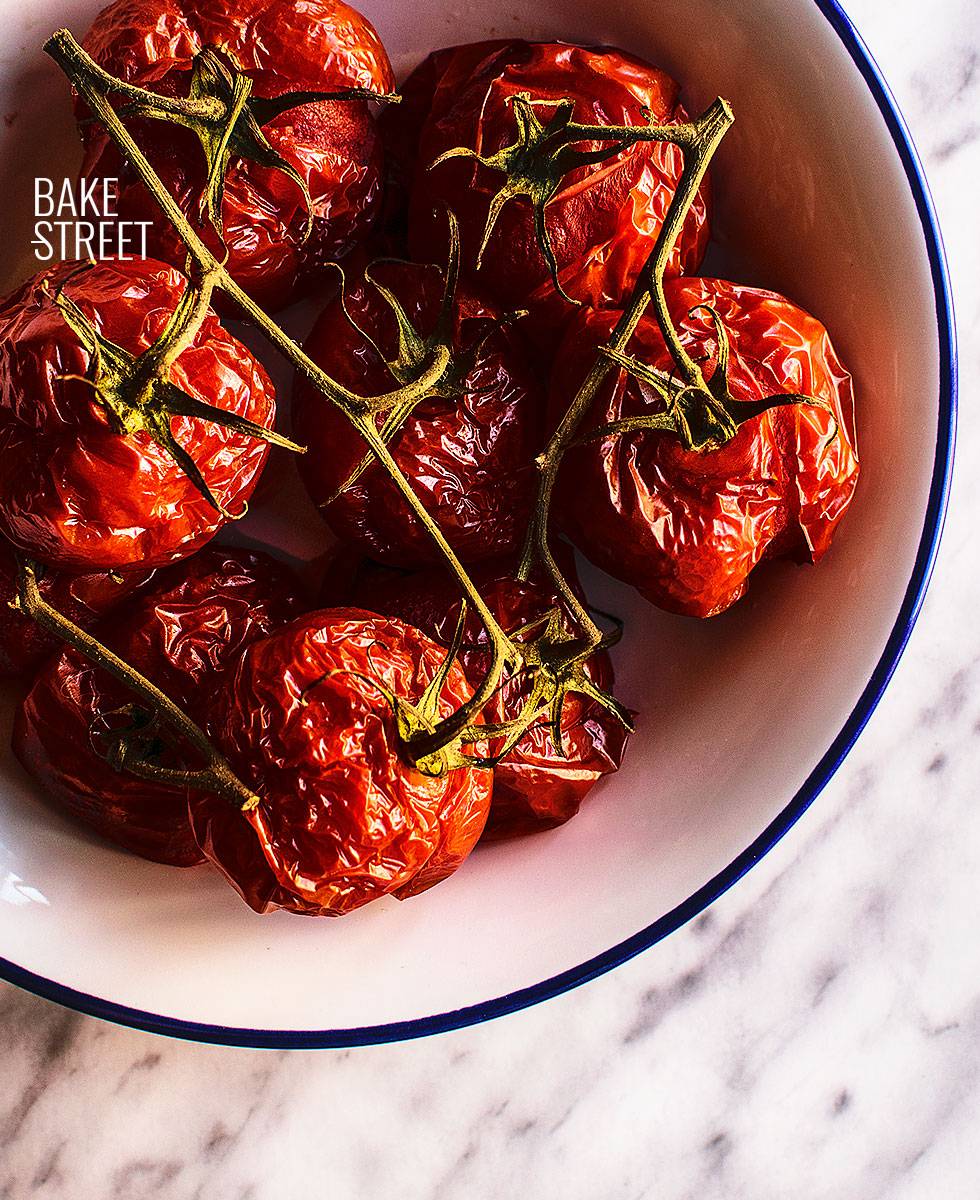 Make the tomato cream.
Remove the skin from the tomatoes and the top of the tomatoes (where the stem is located). Add in a food processor.
Remove the skin and seeds of the pepper, add together with tomatoes and black garlic.
Blend until a smooth and homogeneous cream is obtained.
Pour the coconut milk together with the Toban-Djan paste and the Thai oil. Blend again until fully integrated.
Add the rest of sauces, spices and blend to help them integrate completely.
Taste and rectify salt and pepper if necessary.
Pour the cream into a medium saucepan and simmer for 15 minutes, stirring occasionally.
Add lime juice to taste and stir.
Serve the tomato cream.
Ladle the tomato cream in two individual bowls.
Garnish with fresh basil, chopped cilantro and some slices of red and green chili.
Serve immediately.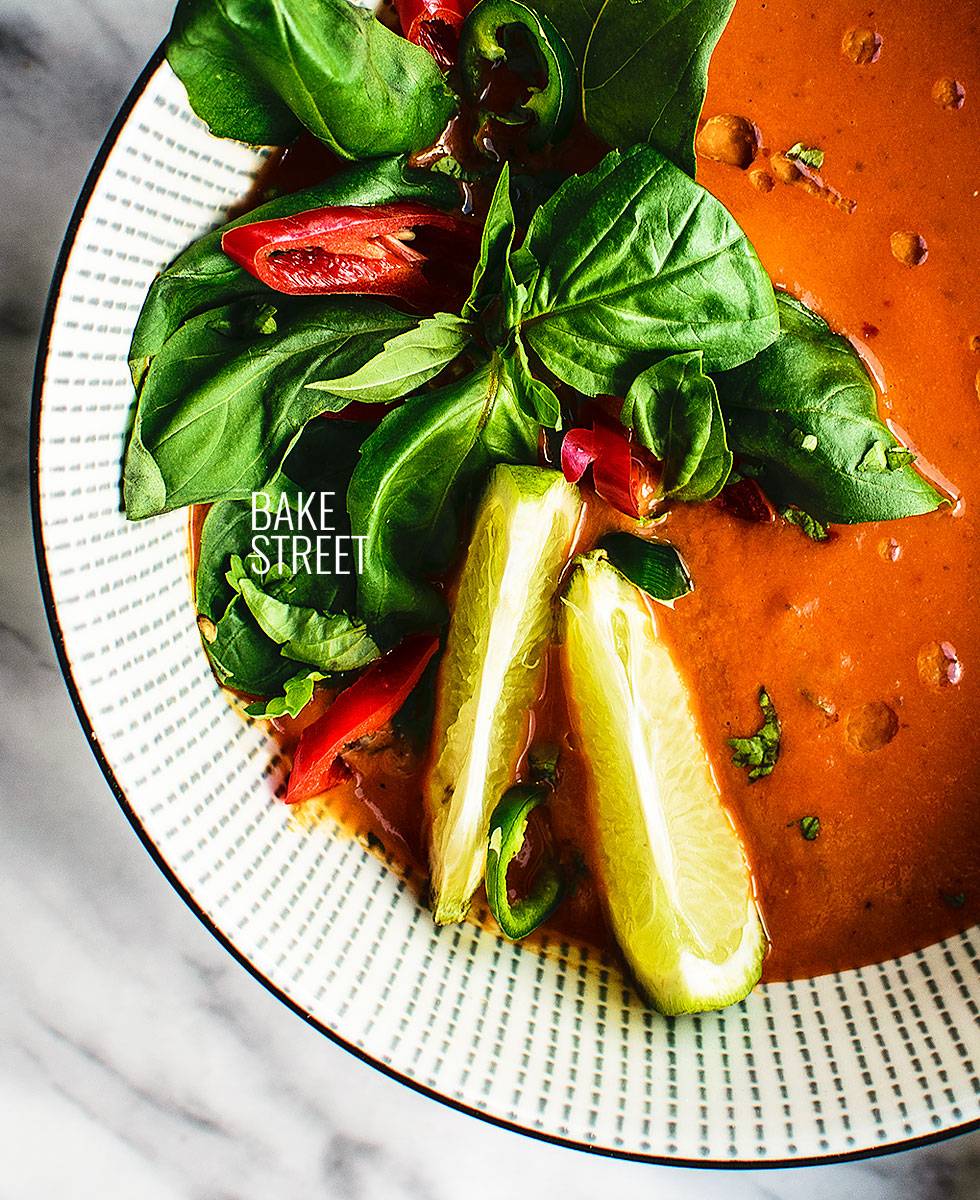 Notes
Can I use bottled tomatoes instead of roasting them at home? Yes, you can, of course. But the taste will have nothing to do with what you get by preparing them at home.
And the roasted pepper? You'd be the same way. Canned roasted peppers, which we find in supermarkets, do not have the same taste and texture as when we make them at home.
Can I replace black garlic with fresh garlic? Yes, you can. The difference between both is the particular taste garlic obtains after undergoing a fermentation process. Personally, I find licorice nuances. I would advise you to use it roasted if you choose fresh garlic. The taste will be much softer and lighter after eating.
Many sauces can be substituted by similar ones, if you wish. But don't rule out Toban-Djan sauce, which is one of the main elements of this cream.
You'll get two generous portions, at home we like big bowls. If you want to make more cream, you can freeze it in individual containers.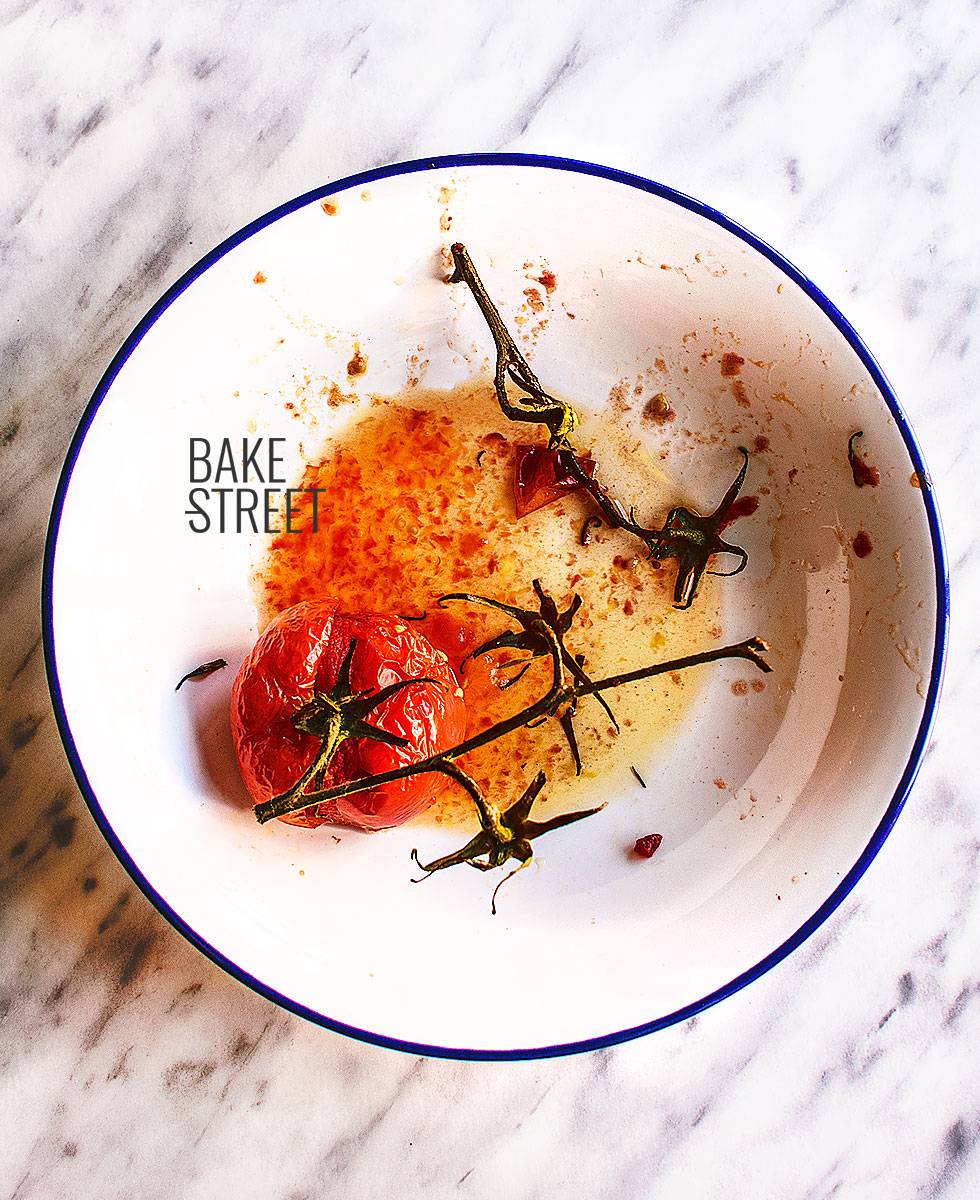 This Toban-Djan tomato cream is perfect for lunch and dinner. We can also make it in advance and, when we get home, heat it up, garnish with aromatic herbs (I like them very much) and ready to enjoy.
If we want an ideal accompaniment, some hua-juan or even naan bread is true love... but I will not give you more work than you should ;)
Big hugs,
Eva
Sources: Wikipedia
Archivado en