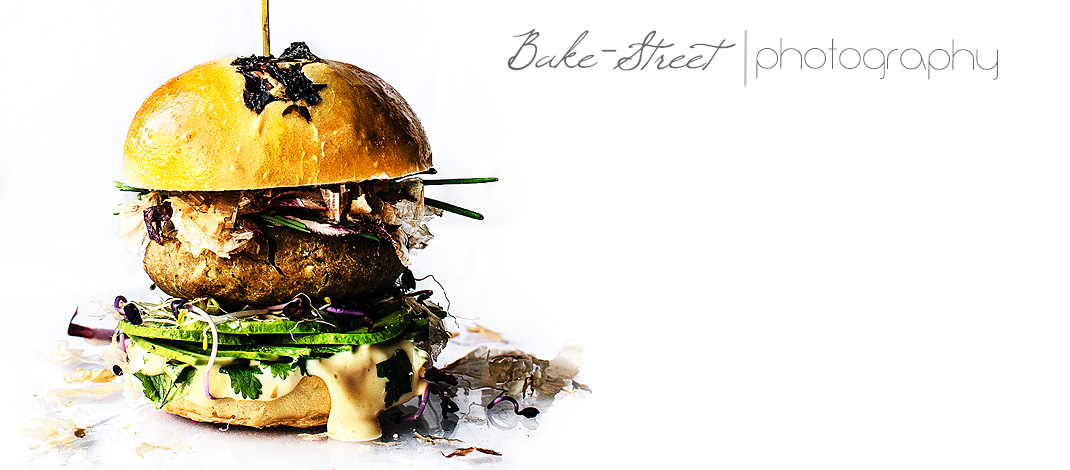 Chestnut and shiitake burger with sesame mayo
Este post también está disponible en Spanish
I think that veggie burgers for me are like an obsession. Each new burger I make, I love more than the last. So this makes me to want create and combine with more ingredients. Today I bring you chestnut and shiitake burger with sesame mayo.
I can not find words to describe what you will feel when you taste it. Too much flavor, intense aroma, smooth and nice texture… for me is perfect.
Such as I told you in my last post, recently I read a lot of Japanese cuisine books. I have always loved its gastronomy but so far, I had never tried any recipe. Our last days we have been eating a lot of recipes from this cuisine.
Chestnuts must be cooked to make this veggie burger. In my case, I decided to baked them because I loved them that way. But, if you want to make them other way, feel free.
We will get a firm texture without adding another kind of dried fruit, flours o legumes. Now, we want an incredible flavour, and shiitake is perfect for that.
About shiitake…
Shiitake mushroom (lentinula edodes) or Shii tree fungus (I love this name!) an edible mushroom native to East Asia. Its name meaning "fragrant or delicious mushroom". It is really this way.
It is native to China where it has been cultivating for more than 1000 years. The first written document where shiitake appears, date back to the Song Dynasty (960-1127) by Wu Sang Kwuang. Although some documents record their use before their cultivation, by the year 199.
During the Ming Dynasty (1368-1644) the doctor Wu Juei wrote about its health benefits, apart from being consumed as food. One of the virtues attributed to him was that he was able to raise the qi, the energy of life, and delay premature aging. It is also currently being given positive effects to fight cancer.
Traditionally, this mushroom was cultivated in tree trunks although at the present time it is made on synthetic blocks (mainly with non-aromatic hardwood sawdust, cereal bran, calcium carbonate and gypsum as nutritional supplements and using some thermal treatment for its disinfection ), mostly…
Looking for the perfect combination.
To condiment the veggie burger I use some traditional ingredients from Japanese cuisine, but not all. Scallions, chives, ginger, soya, wasabi and yuzu. This last ingredient I used it in paste because I don´t have dried or powder… but actually I do!
I thought that some kind of sesame sauce will be nice, so I made a sesame honey mayo with a bit of Hoisin sauce (I like it too much…) To serve this burger you can use what you want. I decided to use avocado, fresh coriander, sprouts, purple endive and a handful of katsuobushi 😀
CHESTNUT AND SHIITAKE BURGER WITH SESAME HONEY MAYO
Make 6 patties
12.7 oz (360 g) chestnuts
14.1 oz (400 g) fresh shiitake mushrooms*
6 scallions
0.14 oz (4 g) chive
1/2 tsp yuzu paste
1 tsp ginger powder or 0.88 oz (25 g) fresh ginger
6 tsp soya sauce
4 tsp Mirin
4 tsp Worcestershire sauce
1 tsp wasabi paste
pinch of salt to taste
* If you use dried shiitake, you have to hydrate them before cooking.
TO COOK SHIITAKE:
4 Tbsp Mirin
2 Tbsp soya sauce
SESAME HONEY MAYO:
2 Tbsp mayo (homemade or buy)
1 tsp sesame oil
1 tsp honey
1/4 tsp Hoisin sauce
TO SERVE:
avocado
fresh coriander
radish sprouts
alfalfa sprouts
purple endive chopped
Katsuobushi (dried tuna flakes)
INSTRUCTIONS:
Bake chestnuts.
Preheat convection oven 400ºF.
Wash and dry chestnuts.
Whit a sharp knife cut an X in each chestnut, this allow to peel them easier.
Put chestnuts in a baking pan with the cuts facing up.
Bake them for 15-20 minutes, they must be tender and lightly golden brown.
Transfer them to a cooling rack and let them cool just enough so you can touch them. They must be warm to make this part easier.
Peel them and let aside.
Cook shiitake.
Wash and clean shiitake. Remove any tough spots on the stems.
Put a pan to medium heat.
Add whole shiitake and cook for 2-3 minutes, stirring occasionally, until remove part from the juices.
Add Mirin and soya sauce into the shiitakes and cook medium heat until liquids reduce. Roughly for 3-4 minutes.
Remove from the heat and allow them to warm.
Make chestnut and shiitake patties.
Add baked chestnuts and cooked shiitake in a food processor with scallions, chives, sauces, wasabi, yuzu and ginger (powder or grated).

Process until smooth. You will want to eat them at this point, but not yet.
Taste and rectify salt if you wish.
Pour mix into a bowl, cover with film and chill for 1 hour.
Make sesame and honey mayo.
In a bowl add mayo with sesame oil and mix.
Add honey and Hoisin sauce, mix again.
Cover with film and chill until you need it.
Cook chestnut and shiitake patties.
Divide the paste in 6 equal portions, about 3.1-3.3 oz (90-95 g), and shape them into burgers.
Heat a cast iron skillet over medium heat and add a dash of olive oil (or another kind of vegetable oil).
Transfer the patties and cook for 3-4 minutes by side, they must have a nice crust but do not burn them!
Serve burgers.
Cut red miso and nori seaweed buns in half and toast.
Put the sesame mayo, a handful of fresh coriander, avocado thin slices and sprouts. Put over the patty and more mayo if yo wish.
Finally put more sprouts, katsuobushi, chives and finely chopped purple endive.
PRESERVATION: Patties can be frozen raw cover individually with plastic film.
This chestnut and shiitake burger is my new favorite vegetable burger. I know always I say the same… but this is awesome!
Combination ingredients are perfect for me but feel free to change one or some of them if you prefer other/s. You must try this veggie burger before chestnut season go away. And if you make red miso buns… the burger will be perfect!
Big hugs,
Eva
Sources: Wikipedia