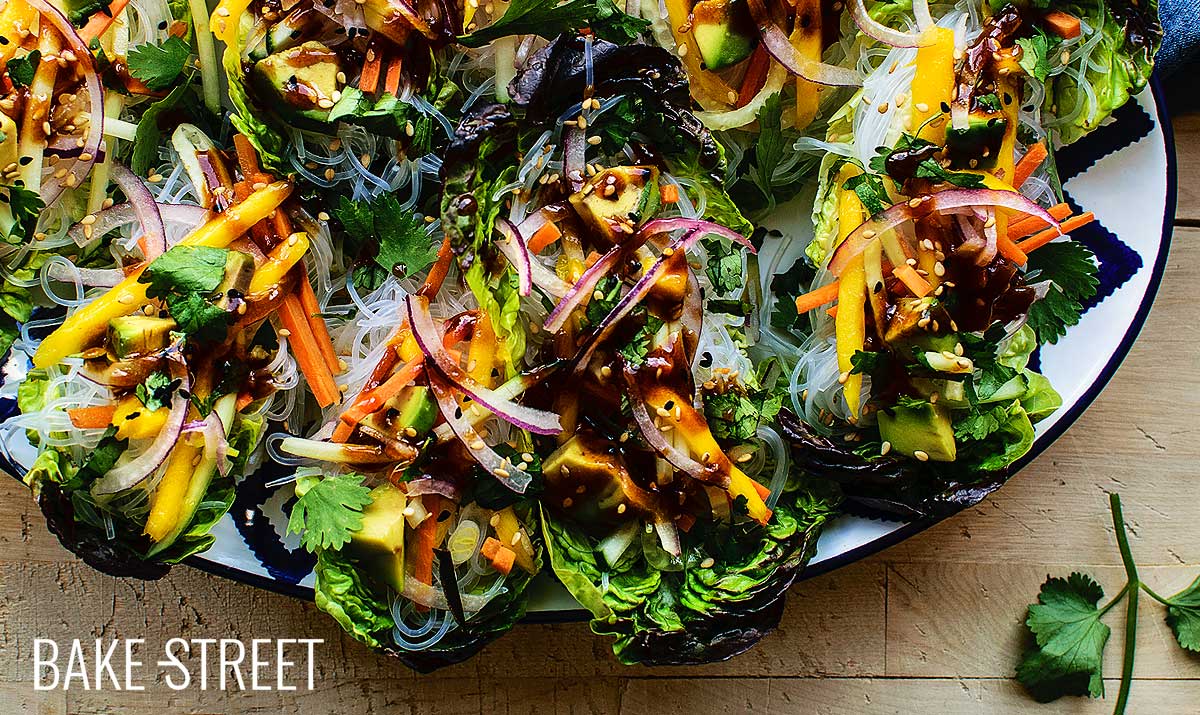 Lettuce wrap with vermicelli, mango and hoisin-sriracha sauce
Este post también está disponible en Spanish
I have decided to leave you several simple and fresh ideas to solve, lunches or dinners, during the summer months. At this time of the year we are joined by various situations such as not wanting to cook with hot weather, holidays, beach time or swimming pool…. And they can make us neglect our diet. But they can also help you to have more ideas and alternate them with your own. This lettuce wrap with vermicelli, mango and hoisin-sriracha sauce can be ready in just 15 minutes.
It can be a perfect option to present it as a starter, to accompany some kind of meat or to use it as a main dish since part of the filling is vermicelli.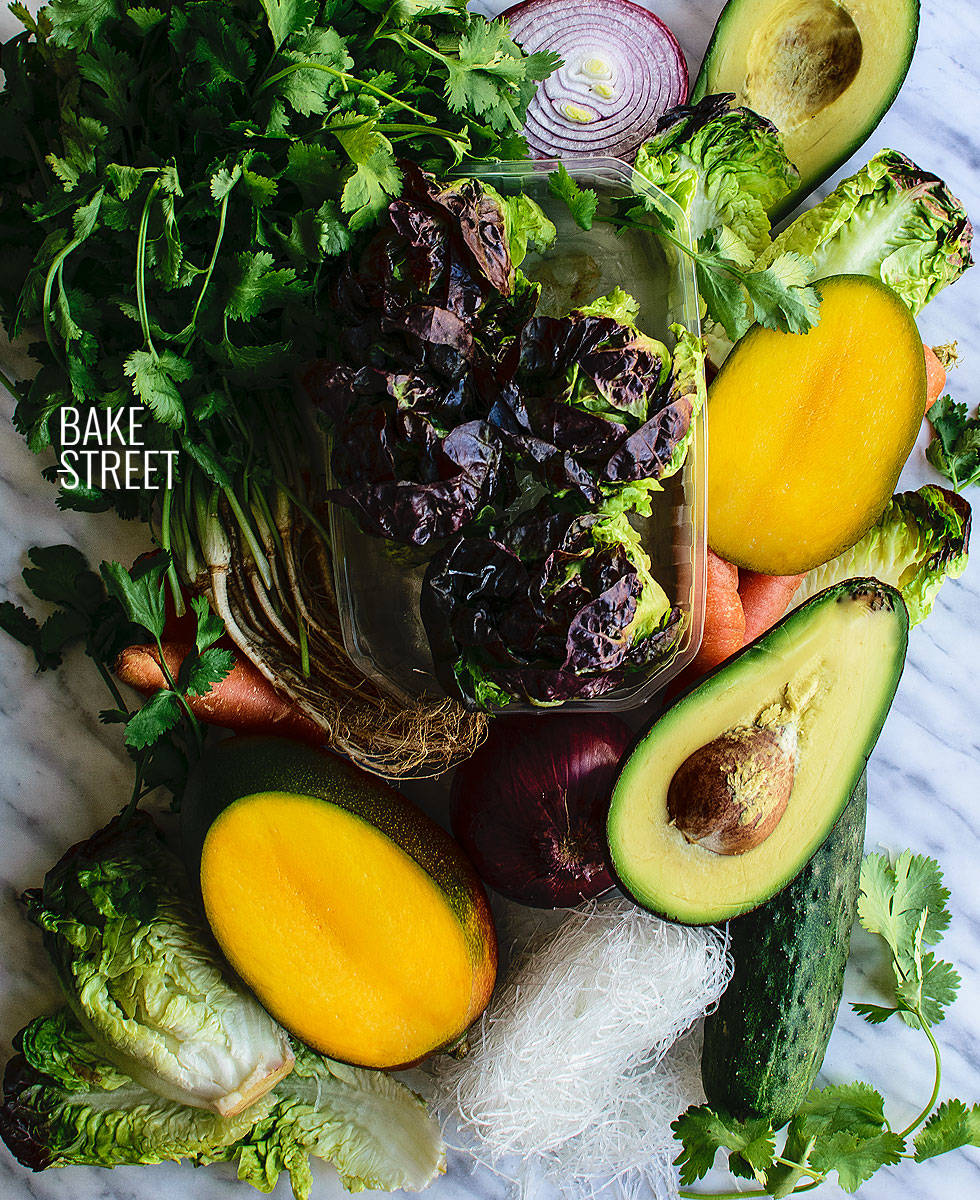 Simple and quick solutions for the summer.
Many of you ask me for simple and quick choices to make. On the blog you will find some of them, I usually join them under the label "quick dinners" in Spanish. At first, quite some time ago, I thought about trying to create dinner ideas that would be easy since we often arrive tired from work and don't feel like spending a lot of time cooking.
But this idea has been growing and has ended up encompassing all those recipes that we can enjoy at the moment we prefer the day. With a common goal: that they are prepared in a short time and are healthy.
A new way to present a salad.
Although they call it "wrap", which is what they mostly call this type of preparation, I think it is still a new way of presenting a salad.
Your mothers or family members have probably prepared the famous "chicory boats" with a wide variety of fillings countless times. In Spain was very popular some years ago, it´s an old-fashioned recipe. Or the traditional Tudela buds cut lengthwise in half and decorated with anchovies and red peppers. They are somewhat old dishes, but I bet they have been present in your homes on more than one occasion.
These wraps, with a more "modern" name, are still the same, but in a more modern format. In any case, I liked the idea of presenting a salad this way.
We can eat it with our hands, fill it with what we like and prepare it in a few minutes. They can be served with an infinite number of sauces (the one I leave you is addictive) and they are great to consume very cold.
Of course you already know that you can modify/adapt any of the ingredients to suit your tastes or needs.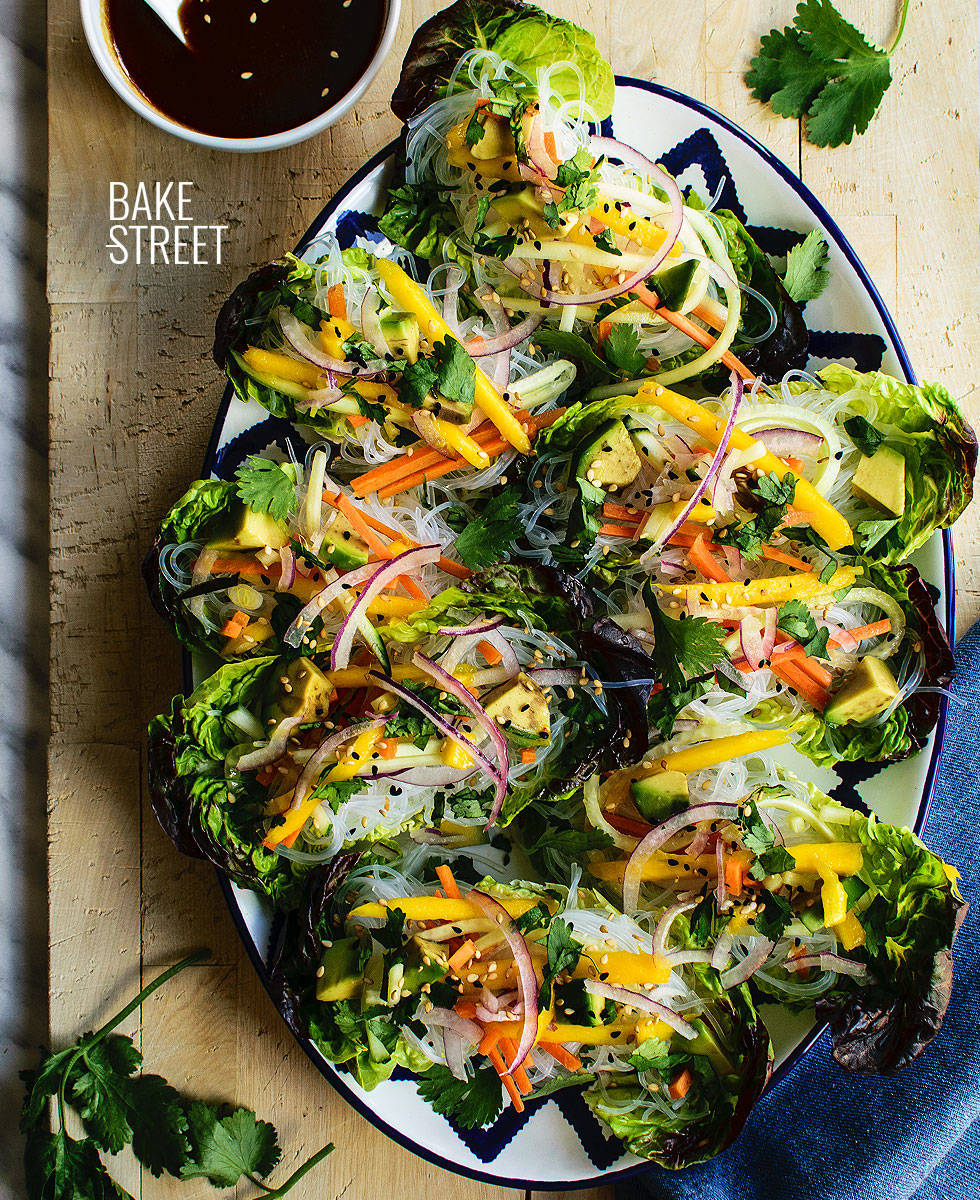 Ingredients for 9 pieces
FOR WRAPS:
18 lettuce bud leaves 
55 g vermicelli
1/2 cucumber
1/4 purple onion
2 small carrots
1/2 mango
1/2 avocado
fresh cilantro
nigella seeds
roasted sesame
FOR THE SAUCE:
2 Tbsp Hoisin sauce
1 Tbsp sesame oil
rice vinegar, 1 Tbsp
1 Tbsp lime juice
1/2 tsp Sriracha sauce (recipe link)
1/2 Tbsp peanut sauce or butter
Instructions
Make the sauce.
In a small bowl, mix all the ingredients until a homogeneous mixture is obtained.
Cover with film and refrigerate until the moment of its use.
Cook vermicelli.
To cook the vermicelli you will have to follow the instructions on the package, in my case I made it as follows.
Fill a medium saucepan with water, place on medium high heat and let it boil.
Once the water has come to the boil, add a pinch of salt and remove from the heat. Put the vermicelli inside.
Let stand, submerged, for 5 minutes.
After this time, place in a colander, rinse with very cold water and let them drain very well.
Cut the ingredients.
Using a mandolin, cut the onion, carrot and cucumber into very thin strips.
Using a sharp knife, cut the mango into strips and the avocado into small squares.
Wash the lettuce leaves and drain well.
Assemble lettuce wrap.
Overlay two lettuce leaves, with the curly side facing outwards, simulating the appearance of a boat.
Put some vermicelli on top of them.
Garnish with carrot, onion, mango, avocado and chopped cilantro.
Sprinkle with nigella seeds and toasted sesame seeds.
Serve immediately with the sauce.
Notes for perfect lettuce wrap
I have used mung bean vermicelli, but you can use any variety of noodles you like.
The lettuce buds are of the variety that have the purple ends, but you can use the type of lettuce you like best.
All the ingredients of the filling can be modified to your taste.

I recommend you to have all the ingredients refrigerated so that when you prepare and serve them they have a cold temperature.
If you want to add some nuts, fried peanuts go great.
If you want more sauce ideas, in this post I'll tell you how to make peanut sauce and miso and ginger sauce.
This lettuce wrap with vermicelli, mango and hoisin-sriracha sauce is a perfect option to enjoy both when we come from the beach, and when we get home at night and enjoy them with a cold beer.
They are very versatile since any ingredient we like will be great. We can make them with legumes, quinoa or even bulgur too. Let me know when you try them!
I wish you a wonderful start to the week.
Big hugs,
Eva
Archivado en