Watermelon, pea and quinoa salad
Este post también está disponible en Spanish
I don't know about you, but with this hot weather I just want salads, cold creams, gazpacho to liters and things like these. I think we've asked for the cold weather and the rain to go away too high… hahaha. Well, I'm more of a warm-weather guy, so I'm not gonna complain much. In addition, there is always a solution for every situation. Today I leave you this salad of watermelon, peas and quinoa with cream, peppermint and honey sauce a perfect choice for these summer days.
If you ask yourselves when I thought of mixing watermelon and peas I'll tell you that I haven't the slightest idea…. But I can promise you that the combination is not only amazing, but also absolutely incredible.
It may be that these hot temperature will cause crazy ideas to come… I have no doubt about it. But this time, I was very happy with the result.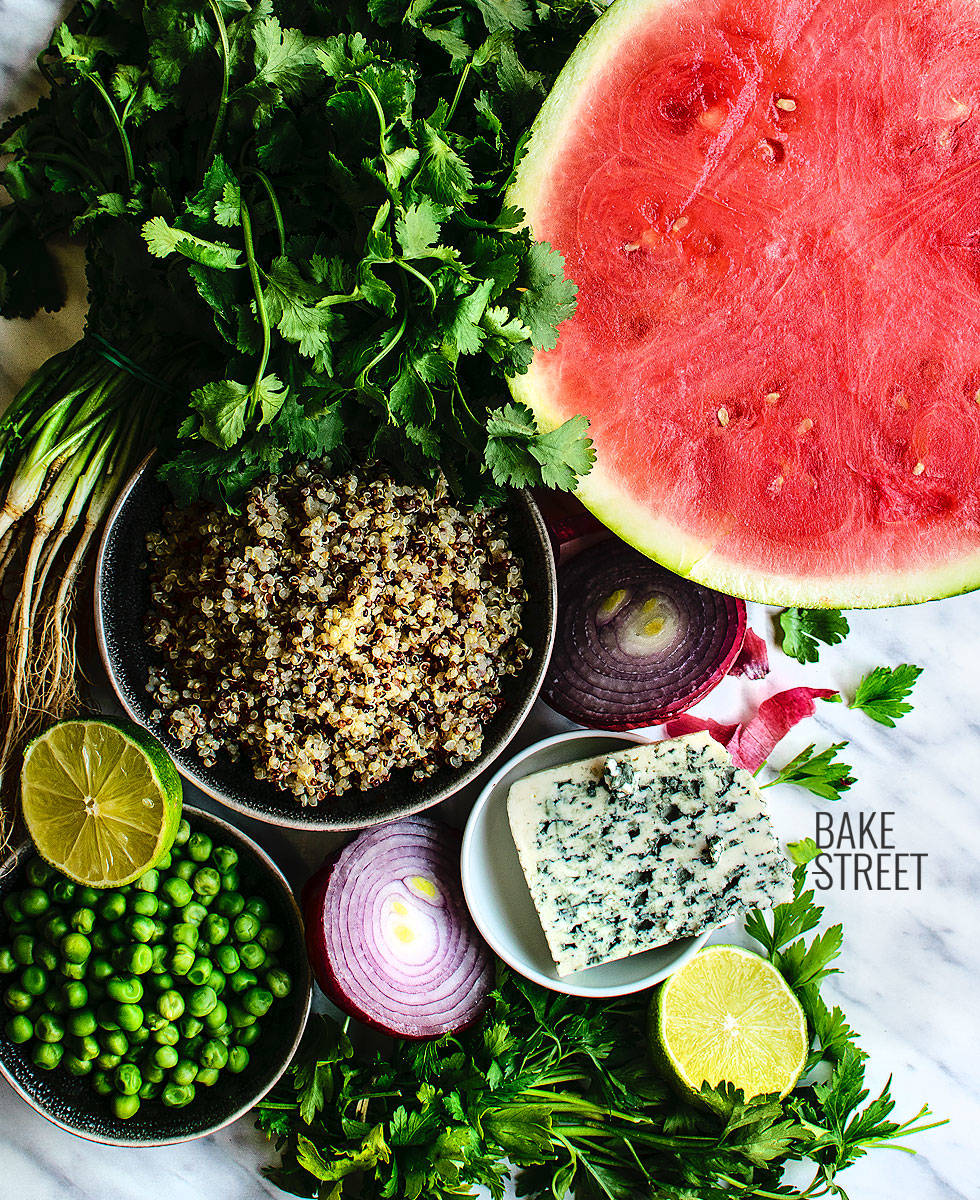 Different and fun salads.
Usually when I think about combining ingredients, I try to imagine in my head both textures and flavors to see if they would work well.
The idea of making a watermelon salad, different because I usually use it a lot for this purpose, had been around for several days in my head. I thought of the base that would accompany the other elements and give consistency. I hesitated a lot, but in the end I decided on tricolor quinoa. And I don't know how I suddenly thought of peas.
I liked the combination of both colors, red and green is summery, perfect and refreshing, but also both textures… Hey, what must have been incredible! So I took some peas out of the freezer that I had left and cooked them.
Enhancing flavors.
At the moment the three ingredients on the table were quite flat in taste, perhaps I could highlight the sweetness of the watermelon…. But nothing else that would make us not want to let go of the fork. I had to look for sparkle, not only in the other ingredients, but also in the dressing.
I looked in the fridge and it had blue cheese, coriander (I always have a lot) and fresh parsley. Well, there were more things, but these fit me to go with the salad. To which I added red onion and toasted almonds.
Now I had to make a sauce that would bring flavor and creaminess/smoothness, at least that's what I thought would go well with quinoa. I wanted a mild but very aromatic sauce. And the ingredients came alone… These include mustard, honey, crème fraîche and peppermint.
The result is wonderful…. A very refreshing taste, soft and with a powerful nuance that would highlight the rest of the ingredients.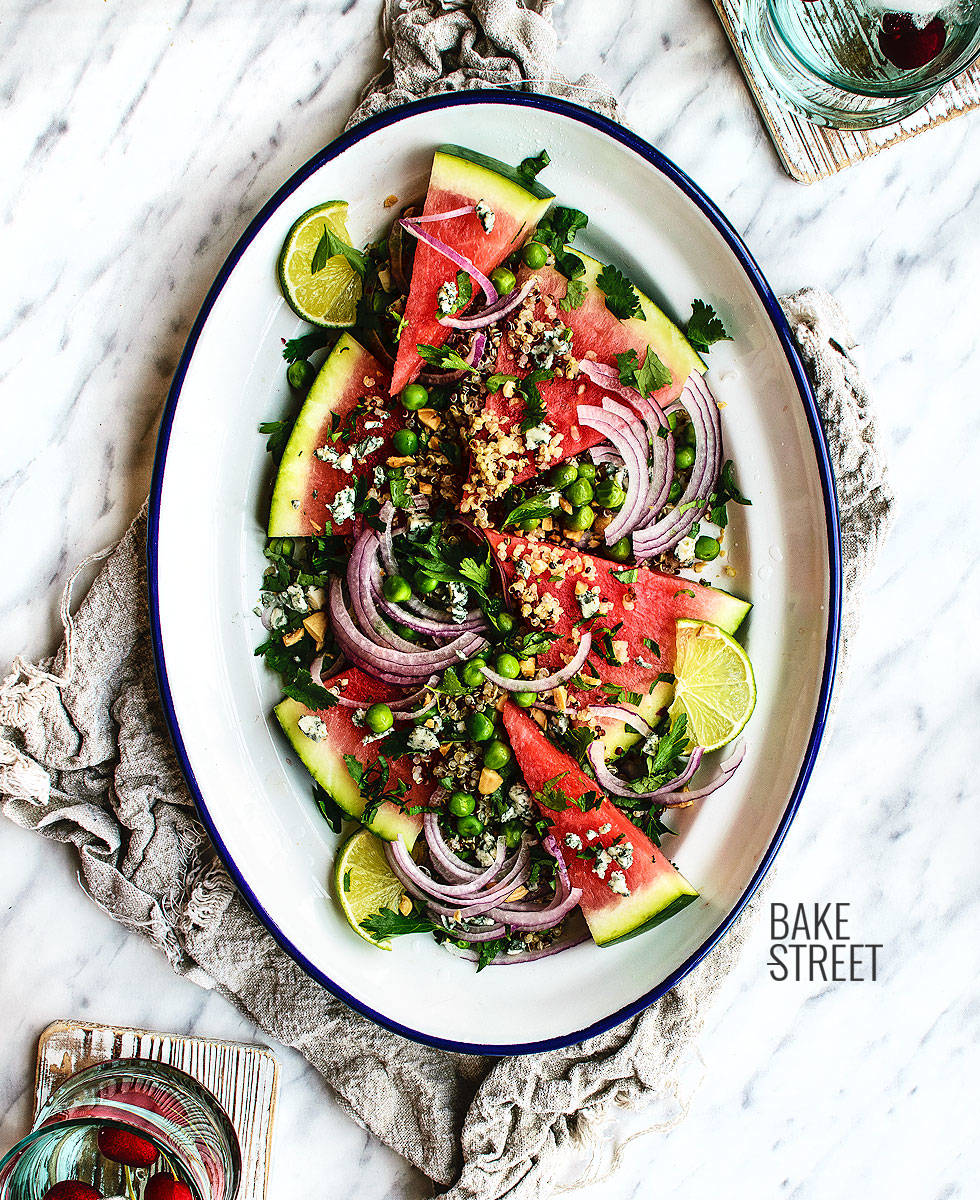 Watermelon, pea and quinoa salad
Ingredients for 2 serves
FOR THE SALAD:
watermelon to our taste, preferably cold
100 g tricolor quinoa + 300 g water
130 g peas, cooked or frozen
1/2 purple onion
blue cheese to taste
a handful of fresh parsley, just the leaves
a handful of fresh cilantro, just the leaves
lightly ground toasted almonds
lime wedges or slices
FOR THE CREAM, HONEY, PEPPERMINT DRESSING:
100 g crème fraîche
1 medium garlic clove
5 peppermint leaves
1/2 tsp Dijón mustard
6 g honey
17 g olive oil
4 g rice vinegar
salt and black pepper to taste
Instructions
Make the cream, peppermint and honey sauce.
In a food processor add all the ingredients together.
Blend until we obtain a homogeneous and light sauce. Be careful not to over-process the sauce to prevent it from spoiling. Ideally, this should be done in 4-5 second batches.
Pour into a bowl, cover with film and refrigerate until use.
Cook the quinoa.
Wash the quinoa very well.
Place the quinoa in a medium pot together with the water. We must add 1 part of quinoa per 3 parts of water.
Place over medium heat and cook for about 15 minutes. You will notice that the seeds become transparent, increase their volume and release their whitish germ, besides absorbing all the water.
Remove from the heat and set aside.
Assemble the salad.
Cut a thick slice of watermelon and divide into triangles. Put some of them in a serving plate where we are going to present it.
Place the quinoa on the watermelon slices with the peas.
Lightly mash the toasted almonds, as much as you like, and sprinkle on the quinoa.
Place the rest of the watermelon triangles.
Decorate with crumbled blue cheese, chopped parsley and cilantro, finely sliced red onion and a few lime slices.
Serve with the sauce in individual bowls.
Notes
I have used a variety of quinoa tricolor, but you can use the most common white variety or even the red one.
In case you don't like quinoa, you can fill it with lentils, beans, rice, bulgur... I leave it entirely to your choice.
Watermelon can be cut in triangles, Like I show you in the recipe, or make balls with a Parisien spoon. You can see an example in this post .

Crème fraîche can be replaced with unsweetened Greek yogurt or coconut/soybean yogurt if you are vegan.
Almonds can be replaced by the nut you like best.
In case you are vegan, honey can be replaced by Maple Syrup.
This watermelon, pea and quinoa salad with cream, peppermint and honey sauce will undoubtedly be one of our must-haves this summer. We loved the explosion of flavor, freshness and textures that are united in the same dish.
In fact, we can leave some of the elaborations prepared, such as the sauce, quinoa and peas, in the absence of assembling it just at the moment of serving. It won't take us more than 3 minutes... Eating healthy, tasty and easy is possible without always falling into lettuce and tomato salads.
I wish you a wonderful Monday!
Big hugs,
Eva
Archivado en