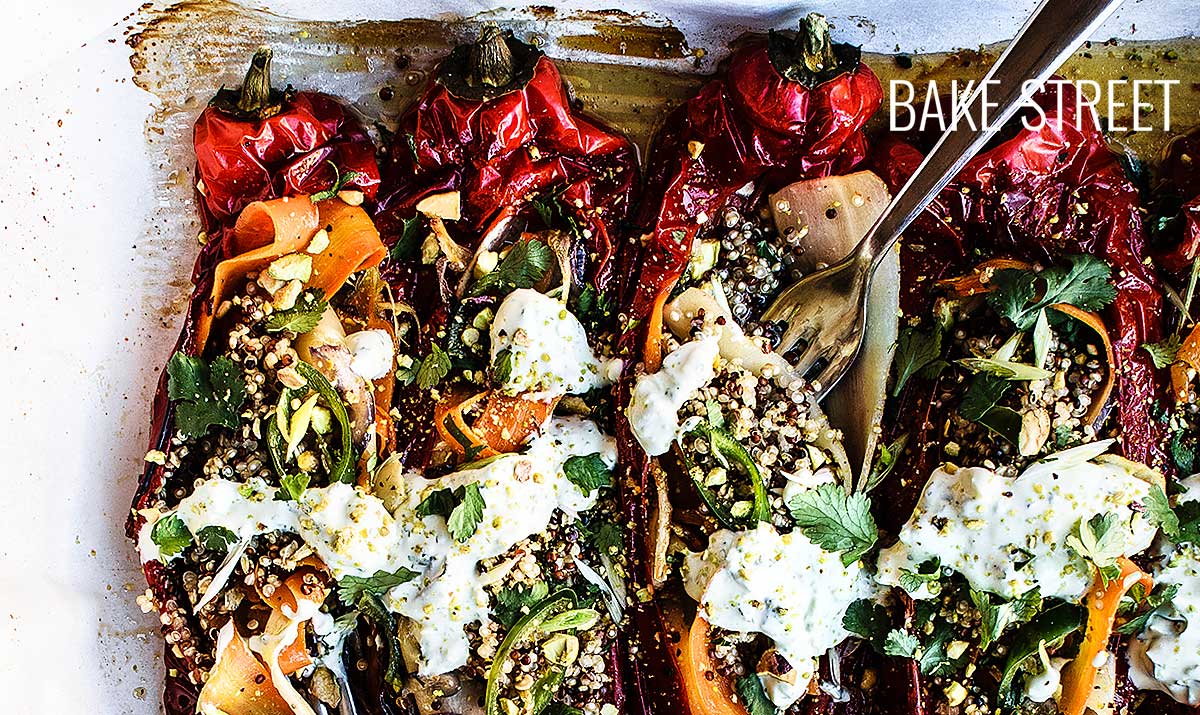 Italian red pepper stuffed with quinoa tricolor and vegetables
Este post también está disponible en Spanish
I'd been wanting to make a recipe with Italian red peppers for a long time. I've always found them very attractive when it comes to serving them on a plate, more so than the greens, especially when stuffing them. The fact is that the other day, when I went shopping, I found some beautiful red peppers and decided to take them home. I thought about the filling until I decided to make Italian red pepper stuffed with quinoa tricolor with vegetables.
All this came as a result of seeing a recipe from one of my favorite chefs, Yotam Ottolengui, for this variety of stuffed pepper. I found them very elegant and colorful, besides being different from the traditional stuffed peppers. In my house it has always been used to fill the variety of lamuyo red pepper and I liked the idea of changing the presentation.
I wanted the stuffing to be totally vegetable and had several options in mind. At first I thought I'd fill them with red lentils, but I knew they wouldn't keep their shape after cooking, which is why I finally opted for quinoa.
Quinoa tricolor.
Quinoa is a pseudocereal that does not have gluten and provides us with proteins in addition to being very rich in amino acids fiber of easy digestion, which helps us to have a good health of the intestinal transit preventing diseases.
There are several types of quinoa on the market:
White: It is the best known variety of all, with a fine and mild taste. It has more fiber than the red variety helping to control blood sugar levels. It is rich in protein, helping to strengthen muscles and tissues. Of the three types that exist, it is the one that contains the least amount of carbohydrates.
Red: Its nutritional properties are very similar to those of white quinoa. This variety is the one that contains the least amount of fat and the highest in carbohydrates. This makes it a superfood for athletes.
Black: This variety emerged as a hybrid between quinoa seed and spinach. It has a more earthy taste and its texture is crunchier after cooking unlike the other two varieties. Its nutritional characteristics are the same as the other two varieties. It also has the presence of lithium which helps to reduce stress and depression.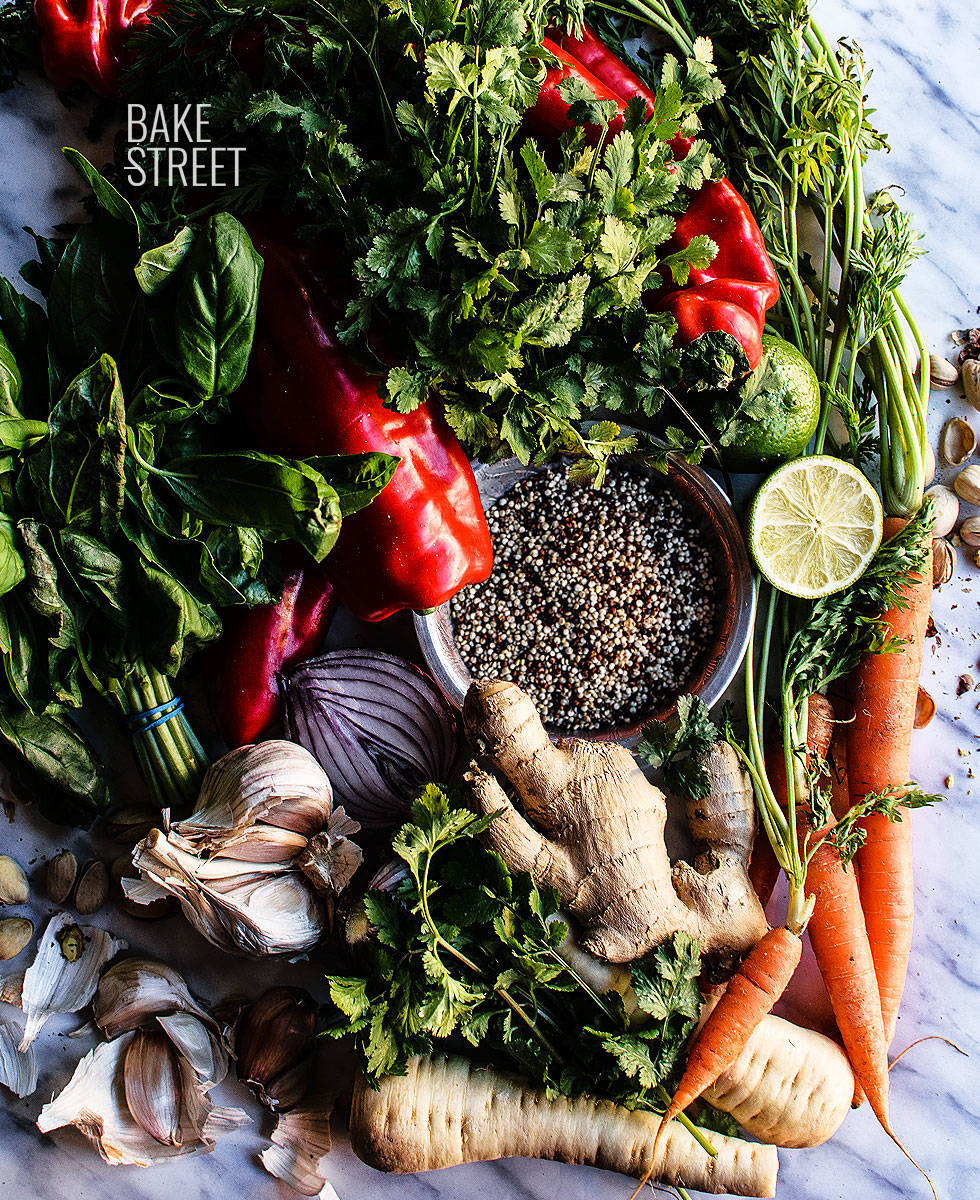 Accompanying it with vegetables.
To accompany the quinoa filling, I chose to use carrots, parsnips and red onions. Not only would they bring a sweet and particular flavor, but we would also have a subtly crunchy texture. These are products that we can easily find at this time of year.
We will enhance the flavor of these peppers by making a crème fraîche sauce with garlic, ginger, lime, fresh cilantro and basil. As you can imagine, the flavor and freshness it will bring to the dish is incredible. In fact it is a wonder to enjoy it spoonfully…
Optionally, if you wish, you can finish the peppers by decorating them with crushed pistachios, sliced green chili and fresh cilantro. The combot is simply fantastic, delicious and addictive!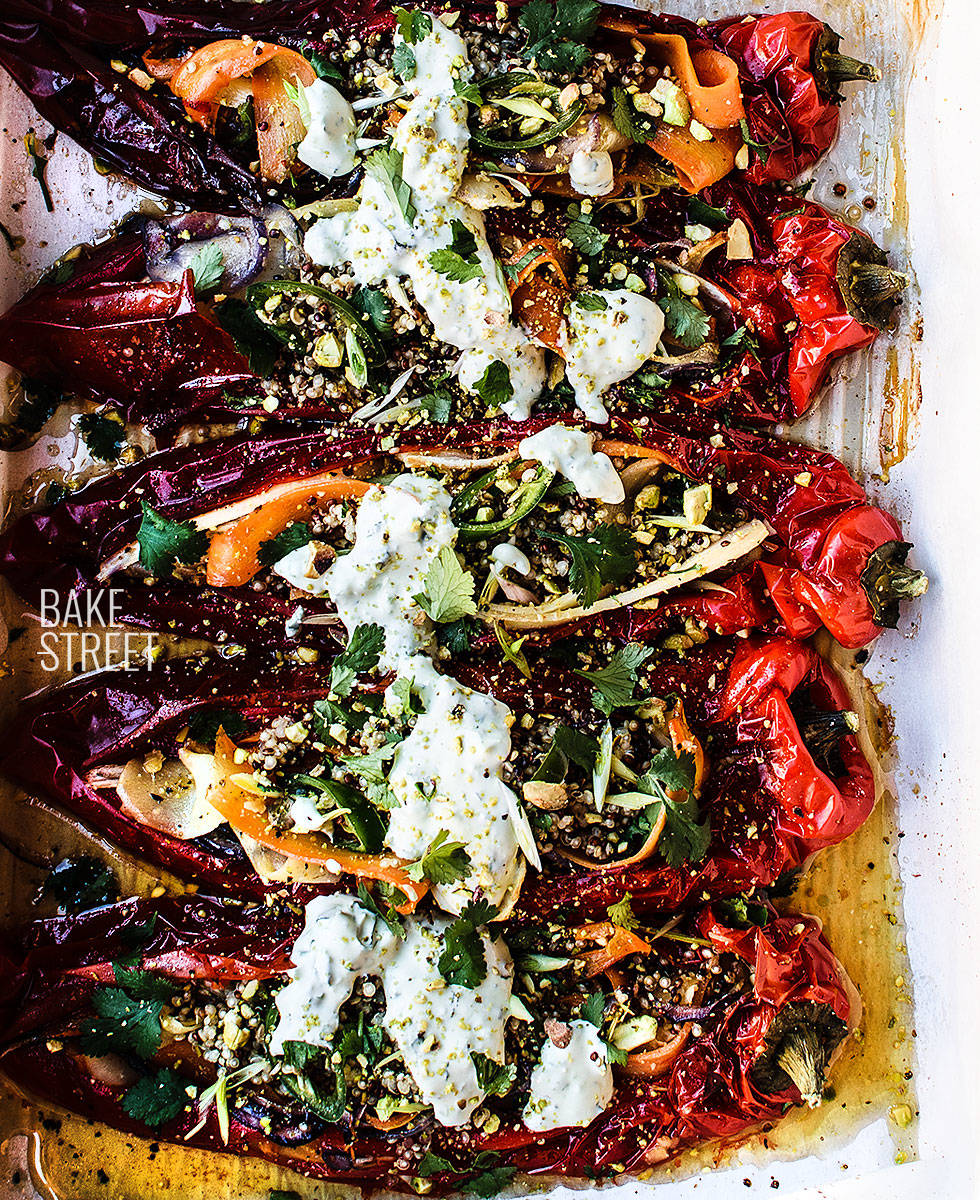 Let's start this Monday with music! My recommendation today is Andy Caldwell "Warrior", link Youtube.
Ingredients for 5 pieces
FOR THE RED PEPPERS:
5 Italian red peppers
olive oil
salt and pepper to taste
FOR THE FILLING:
7 oz (200 g) quinoa tricolor + 600 water
1 purple onion
4 medium carrots
3 medium parsnips
olive oil
salt and pepper to taste
FOR THE SAUCE:
3,5 oz (100 g) crème fraîche
1 large garlic clove
4 large basil leaves
a bunch of fresh cilantro, only the leaves
1 chunk of fresh ginger, about a 0,8 inch (2 cm) square
juice from half lime
1 Tbsp olive oil
salt to taste
GARNISH:
smashed pistachios
red chile finely sliced
2-3 green garlics
fresh cilantro
Instructions
Bake red peppers.
Preheat oven to 355ºF (180ºC).
Wash and dry the peppers.
Spread each piece with olive oil and season to taste.
Bake for 40 minutes.
Remove from the oven and let cool completely.
Make the sauce.
In a mortar add the garlic lightly chopped, together with the fresh ginger, cilantro leaves and basil.
smash until we get a paste.
Add this mash to the crème fraîche together with olive oil, lime juice and a pinch of salt.
Mix well until homogenized. Taste and rectify salt if necessary.
Pour into a serving bowl, cover with film and refrigerate until ready to use.
Bake the vegetables.
Turn the heat from the oven to 425ºF (220ºC).
Peel the carrots and parsnips with a vegetable peeler.
With the help of a mandolin we cut carrots, parsnips and red onions using the thinnest cut.
Sprinkle with olive oil and season with salt and pepper. Toss with the help of your hands to distribute it evenly over all the vegetables.
Bake for 25 minutes, they should acquire a slightly tender texture.
Remove from the oven and set aside.
While the vegetables are baking, we cook the quinoa.
Wash the quinoa very well.
Place the quinoa in a medium pot together with the water. We must add 1 part of quinoa per 3 parts of water.
Place over medium heat and cook for about 15 minutes. You will notice that the seeds become transparent, increase their volume and release their whitish germ, besides absorbing all the water.
Remove from the heat and set aside.
Stuffed the peppers.
Make a central cut in the pepper, without reaching either end. Using a teaspoon, remove the seeds from the inside while keeping the stem.
Stuff the inside with quinoa and roasted vegetables.
Sprinkle the surface with fresh cilantro, ground pistachios, green garlic finely sliced and green chili.
Serve with the sauce.
Notes
I recommend using Italian red peppers instead of the green variety because they are sweeter. Green peppers have a more bitter taste.
I decided not to remove the skin to serve them because they are much more esthetic. It also removes without any problems when tasting them. But, of course, you can remove the skin before stuffing them if you wish.
I have used a variety of quinoa tricolor, but you can use the most common white variety or even the red one.
In case you don't like quinoa, you can fill it with lentils, beans, rice... I leave it entirely to your choice.
The vegetables used are entirely optional. In my case I wanted to combine carrot and parsnip with a little purple onion, but feel free to vary any ingredient you don't like or can't find.
The sauce brings a lot of flavor and freshness to the dish, don't miss it.
Crème fraîche can be substituted with unsweetened Greek yoghurt.
The dish can be tasted slightly tempered, as indicated in the process or warm. In that case, heat them slightly when filling with vegetables and quinoa. Then sprinkle the cilantro, pistachios and chili just before serving.
If you like stuffed peppers, don't forget to try this version of Italian red pepper stuffed with quinoa tricolor with vegetables. For me it has been a winning combination that I will prepare on many more occasions.
Besides that I have loved the quinoa tricolor, I have never used it before (just the white variety) and without a doubt I will bring you new dishes prepared with it.
Have a great start to the week!
Big hugs,
Eva
Source: Comprar al productor
Archivado en