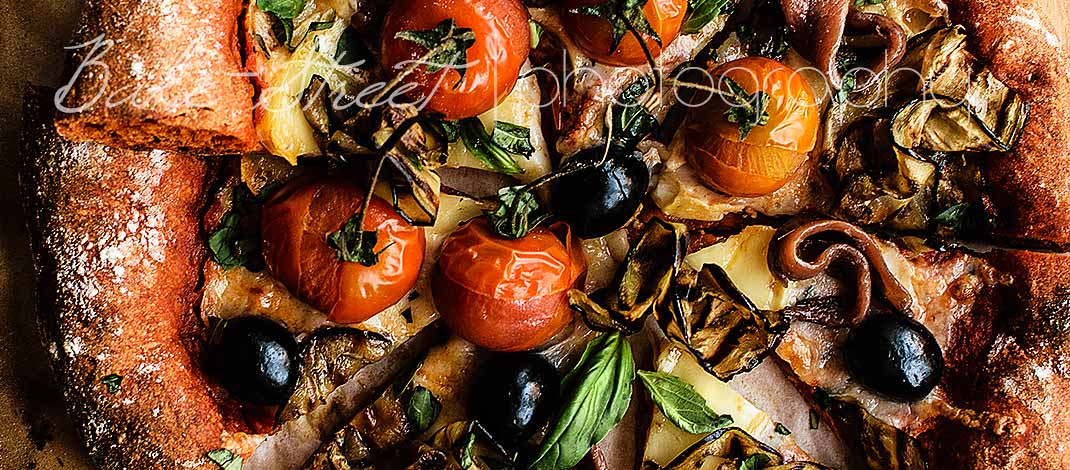 Red pepper pizza with eggplant, anchovies and black olives
Este post también está disponible en Spanish
Well, I am already back after a few rest days that were of imperious necessity. Have you missed me? Surely not! More than anything because I have left a bit of a truce with so many recipes that you tell me you are accumulating. But, I have already arrived again and I do it with this red pepper pizza with eggplant, anchovies and black olives.
Had long wanted to share another new version of pizza dough, now that the good weather is coming, I would like to have such recipes on hand to enjoy with a good fresh beer.
I know that a simple base, that is to say basic, is great but as I am to try everything I can then I came up with the idea of moisturizing the dough with roasted peppers. How wonderful, I assure you. After the beet pizza, this will be your second favorite.
The elaboration is basically the same as the one that I left you in the beet pizza, we will hydrate the dough with roasted pepper and the juice that the peppers release during their cooking. This will not only bring flavor but also will favor the color is much more intense.
And how will we season it?
With Mediterranean ingredients. We will have a base of tomato and basil passata along with some mozzarella and brie cheese. We will decorate with some slices of eggplant, previously cooked on the grill, cherry tomatoes, anchovies and black olives…
In addition, olives are one of those ingredients that are never missing in the pantries of houses … Mine always have all the varieties you can imagine; Green, black, gordal… And as we visit a pickle shop, we bought a lot of them.
We can enjoy them alone with a good cold beer, the tapas is what most fancy with the good weather, or add them in any elaboration that we come to mind since they are very versatile. As a curious fact, the olive is a food that has the four basic flavors; Sweet, salty, bitter and sour.
Maybe that's why they're so addictive?
They are really healthy, they have 77% oleic acid that helps us maintain cholesterol levels, are antioxidants and a source of vitamin E. And for those who like black olives, know that they enjoy a high content of iron reaching 45.5% of the recommended daily dose.
I know, a rough diamond in the Mediterranean diet 😉
RED PEPPER PIZZA WITH EGGPLANT, ANCHOVIES AND BLACK OLIVES
2 medium pizzas
Recipe adapted King Arthur Flour
FOR THE RED PEPPER DOUGH:
8.8 oz (250 g) bread flour
0,02 oz (0,6 g) dry yeast
0,7 oz (2 g) sugar
0,3 oz (8 g) salt
4,6 oz (130 g) roasted red pepper, without skin or seeds
3,7 oz (105 g) juice of roasted peppers
FOR DECORATE:
tomato and basil passata (recipe below)
1 small eggplant laminated longitudinally
mozzarella
brie cheese
anchovies to taste
cherry tomatoes
fresh basil
TOMATO AND BASIL PASSATA:
4 ripe large tomatoes
a good dash of olive oil
8-10 fresh basil leaves
salt
INSTRUCTIONS:
To make the red pepper pizza dough we will need to add to the dough this ingredient previously roasted in addition to much of the liquid it releases during baking. The hydration of the dough will be given with these two ingredients.
Can we use canned roasted peppers?
Yes, you can, but the result will not be the same in terms of flavor and color. In addition you need to add water to achieve the necessary hydration since in the containers there is not as much liquid (nor will it be of the same quality, so natural).
To obtain the amount of juice or liquid that I specify, you will have to roast more than one pepper … in my case I baked 4 large red peppers.
FIRST DAY
In a food processor blend the roasted pepper along with the peppers´ liquid until obtaining a very light cream. Set aside.
In a medium bowl add the dry ingredients and mix.
Add the red pepper mixture and mix until obtaining a homogeneous dough.
Cover with film and let rest for 18-24 hours at room temperature. Observe it to see its evolution after the first 16 hours, if you observe that it grows faster than it should, place it in the refrigerator so far that we will use it.
In case you do not want to use it after the first 24 hours, place it in the refrigerator until its use. You can keep it, obtaining good results, until after 2-3 days.
NOTE: This dough does not need to be kneaded to develop gluten, it will be enough to integrate the ingredients well and let it proof with calm.
Make the tomato and basil passata.
Wash the tomatoes, set aside.
Fill a medium pot with water and place in medium high heat until it reaches boiling.
Once it boils, add the tomatoes and blanch for 2 minutes.
Remove from the water with a slotted spoon, drain and set aside.
Peel them and chop.
Place a large skillet over low heat and pour the olive oil.
Add the chopped tomato along with chopped basil and salt, stir and leave on low heat for 90-120 minutes. We must obtain a paste, completely reducing the tomatoes water.
Remove from the heat and passed the tomato paste by a food mill to remove the seeds.
Transfer into an airtight container and allow to cool at room temperature. Once cooled, refrigerate until the next day.
SECOND DAY
Our intense and colorful dough will be bubbly and will have increased its size considerably.
Sprinkle generously on a work surface with flour, place the dough over it and proceed to divide the dough into two pieces with the help of a scraper. It is a dough with a high hydration, ideally to work with it is to moisten your hands with water or sprinkle with flour.
Fold each portion by taking each of the four ends towards the center, turn the dough and make a boule trying to apply tension.
Place the dough into a lightly floured bowl, cover and let rest for 45-60 minutes.
Shape the pizza.
Preheat the oven 30 minutes before introducing the red pepper pizza to 520 ° F. If your oven does not reach so much temperature, it doesn´t matter, use the maximum temperature with which allows you to work.
Turn the dough on a floured surface so that it maintains the rounded form, where possible.
With the fingertips press the surface of the dough without touching the edges so that they remain swollen and we do not lose the gases of its interior. This will give us an airy and swollen edge after cooking.
Flour the dough on both sides, depending on the final hydration of our dough we need to use more or less. It is important that we can manipulate the dough without it adhering to our hands.
We take the dough with both hands and begin to turn it over our fists, while turning the dough gravity will help us to stretch it. If you are afraid to do it this way or you do not feel completely sure, you can stretch the dough on a work surface using the fingertips. Gently slide these to go stretching the dough, remembering not to touch the edges.
Stretch the dough to form a disc about 10 inches in diameter approximately.
Place the dough on a baking paper or a well floured wood and proceed to fill it.
NOTE:
To bake it you can use as much steel sheet as stone, place it in the central part of the oven and remember that we must preheat with her inside.
If the dough opposes some resistance and shrinks, it is because it has tension. Let it relax for about 5-10 minutes and continue shaping. Although it is very rare that this happens to you unless you touch the dough in excess.
Cook sliced eggplant.
Wash the eggplant, dry and cut the top.
Using a mandolin with the finest cut, laminate the eggplant.
Place an iron skillet over medium high heat grill and pour some olive oil.
Cook the eggplant slices for 1 minute on each side.
Set aside.
Fill the pizza.
Spread the tomato and basil passata by the base of the pizza.
Sprinkle some mozzarella and a few slices of brie cheese.
Place some black olives and cherry tomatoes.
Set aside the roasted eggplant and anchovies.
Bake the pizza.
Before placing the pizza in the oven, turn on the grill at full power. Depending on what type of oven we have, it will have several options in terms of heat output. In my case I use the maximum.
Bake about 10 minutes or until the pizza has a nice golden color, with the edge swollen and toasted. Maybe in your oven it needs less cooking time, watch it to find the exact time. It can be around 7-12 total minutes.
Two minutes before removing the pizza from the oven, place the eggplant slices over the pizza and finish the baking.
Remove the pizza from the oven and finished decorating with the anchovies and chopped fresh basil.
IMPORTANT NOTE:
I already commented on this post of beet pizza, but I want to make a brief paragraph to repeat it.
HOW TO BAKE WITH GRILL
On the web where I have followed the recipe, they put a lot of emphasis on the baking distance of the pizza (especially if we use baking parchment in the base) and the grill. They recommend that this is not less than 8 inches because there is a risk that the paper will burn. In case your oven does not respect this distance it will be better to proceed with the baking without the grill.
To get a toasted edge, just prolong the final baking time and the result will be very good as well.
NOTES:
This pizza dough is ready to use from 18-24 hours but after this time, we can refrigerate it and keep it there for 2-3 days. I have noticed that pepper or pepper juice greatly weakens gluten.
If we refrigerate the dough we will have to let at room temperature for 2 hours before proceeding to work with it, otherwise it will be more complicated to manipulate it and the proof will not be properly.
We can refrigerate the dough in bulk and divide it, after the tempered one, to prepare the pizzas.
If you do not want to make the tomato and basil passata you can use a homemade tomato sauce, sure it looks great too.
The eggplant should be added few minutes before the end of cooking, because if we make it before they will become too dry.
The anchovies are NOT added during baking, they would be dry and ultra salty. Always, always when removing the pizza from the oven.
Fresh basil is best added after cooking to prevent it from becoming black and crisp.
This red pepper pizza with eggplant, anchovies and black olives is another variation that you can not fail to try. The flavor is very intense and aromatic, not only because of the tomato paste that is amazing … the dough is an incredible explosion of flavor.
In short, you will have no choice but to try it 😉
Big hugs,
Eva
Archivado en