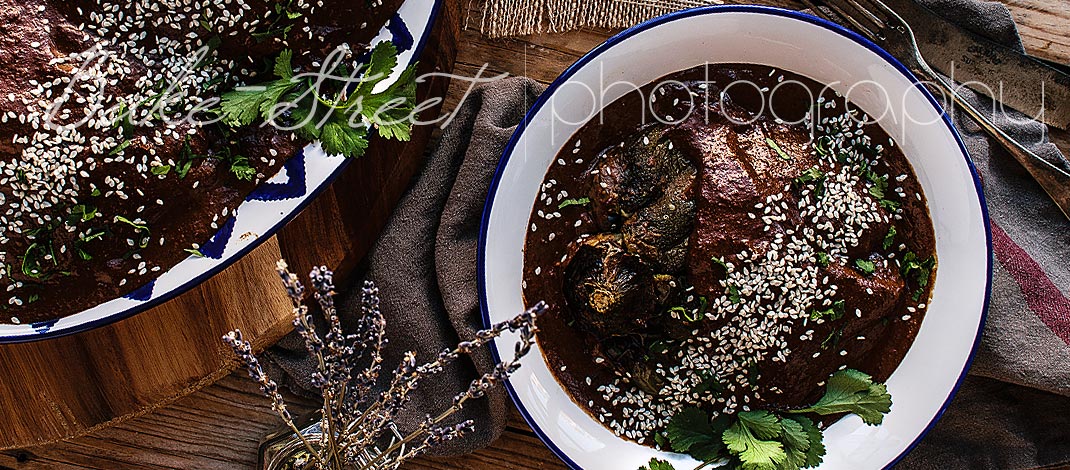 Stuffed green peppers with mole negro sauce
Este post también está disponible en Spanish
If you like spicy dishes, you can not miss these stuffed peppers with mole negro sauce. How much flavor united in a single dish, is fascinating. Yes, intense flavors, strong and with a lot of personality.
I saw the recipe on the blog Festing at Home, I fell in love. One day talking to a good friend recommended me this blog, of which I was totally in love, and I already have many of their recipes awaiting. Do not miss it, I'm sure it will fascinate you.
First of all I would like to clarify, especially for my Mexican readers, that the recipe for mole negro is not the original and traditional. It is a much simpler adaptation in which processes and ingredients have been modified. But I have to make a real mole negro when I can gather all the necessary ingredients.
There are some chilies that are somewhat complicated to find, like chili chilhuacle, but surely sooner or later I will find it  and I will be able to elaborate it. So far, we will enjoy this which is also a real treat.
What is mole negro and what is its origin?
Mole negro is a sauce made from chiles and spices thickened with corn dough, traditional of the gastronomy of Oaxaca. It is common to serve it accompanying meat dishes as well as vegetables.
There is evidence that the Aztecs already made sauces based on spices, chilies, cacao and jitomate (red tomato) that they called "mulli", which means "sauce." We can find great infinity of types of moles, in fact it is said that moles in Oaxaca are counted by dozens.
Some of the varieties are: almond mole, serrano yellow mole, mole coloradito,mole verde … Each sauce adapts to the area and its ingredients turning them into unique and peculiar elaborations.
Mole negro is one of the most complex, consisting of 34 ingredients including a variety of chilis, seeds, spices, plantain, nuts, onions, garlic, chocolate, ginger, tomato, miltomate (green tomato), tortillas, avocado leaf, sugar and salt. I'm sure I'll forget something … I'll have to study the whole process  the day I make it 😉
Making the recipe…
In spite of having greatly simplified the recipe of the mole negro, it is an elaboration that demands a little time. It will take us about more of 2 hours to have it ready, but it's worth it without a doubt.
I should have used poblano peppers instead of short green peppers, but for more than I have looked I have not managed to find them. One day when I do not looking for them and without any intention of buying them, I will see them. If you find them, do not hesitate to use them instead of this variety of pepper. I am sure that the elaboration improves a lot.
Some music for today… Sérgio Mendes & Fergie "The look of love", link Youtube.
The filling consists of black beans, quinoa, fresh cilantro mainly but I decided to add some more things unlike the recipe I followed. We will use some ingredients to add flavor.
To finish you do not need too much, a little roasted sesame and chopped fresh cilantro will be more than enough. The main element is the mole negro and we must not take protagonism 😉
STUFFED GREEN PEPPERS WITH MOLE NEGRO SAUCE:
Recipe adapted Festing at Home
4 serves
4 short green peppers or poblano chiles
FOR MOLE NEGRO:
3 guajillo chiles
3 pasilla chiles
2 canned chipotle + 1 Tbsp from its juice
3 Cobán chiles
19,4 oz (550 g) water
245 oz (175 g) seedless prunes
1 large onion diced
5 large garlic cloves
2 tsp cumin powder
1 tsp cinnamon powder
2 smashed cloves
1/2 Tbsp dried oregano
1/2 Tbsp dried thyme
210 oz (100 g) homemade peanut butter (recipe below) or canned
113 oz (45 g) black chocolate
1 y 1/2 tsp salt
freshly ground pepper
FOR THE PEANUT BUTTER:
210 oz (100 g) natural  or fried and salty peanuts
FOR THE FILLING:
250 oz (120 g) dried black beans
105 oz (40 g) dried quinoa
2 Tbsp pumpkin seeds
1/2 purple onion finely chopped
1/2 tsp cumin powder
a bunch of fresh cilantro finely chopped
2 Tbsp toasted sesame
2 Tbsp olive oil
salt and pepper to taste
FOR DECORATE:
toasted sesame
fresh cilantro finely chopped
INSTRUCTIONS:
Cook black beans.
THE NIGHT BEFORE
Soak black beans, cover with water completely, cover with film and leave 12 hours at room temperature.
THE NEXT DAY
Drain the beans and rinse with cold water.
In a pot add the black beans along with the water, pour enough water because it will reduce during cooking, and placed at medium-high heat. Once it boils, add a pinch of salt.
Let them cook on medium heat for 1 and 1/4 hours or 1 and 1/2 hours (in my case they were 1 h and 20 minutes), until tender but without exceeding the cooking time. We do not want to be undone.
Drain them well and set aside.
Bake green peppers or poblano chiles.
Preheat oven at 375ºF convection.
Wash and dry the green peppers.
Line a baking sheet and place the green peppers. Introduce in the oven.
Cook about 30-40 minutes, they should take a slight roasted color in the outside but without getting to soften their flesh.
Turn off the oven and let them rest inside, with the door close, for 30 minutes. The steam will help us to remove easily the skin from the peppers.
Remove from the oven and let cool completely.
Cook quinoa.
Rinse the quinoa under cold water, we can do it inside a fine mesh strainer.
Place the quinoa in a medium saucepan with the water. So you have an idea of how much water we should add is 1 part of seeds for 3 parts of water.
Place on medium heat and cook about 15 minutes. You will observe that the seeds become transparent, increase their volume and release their off-white germ, besides absorbing all the water.
Remove rom the heat and set aside.
Make peanut butter.
In a food processor or blender add the natural peanuts, without peel.
Blend until obtaining a paste that will take a rather liquid consistency. As we process, we will stop occasionally to lower the peanut paste from the walls.
It will take us a few minutes to achieve that consistency. Patience.
Set aside.
Make mole negro.
In a medium saucepan add the dried chiles along with the water, place on medium-high heat and bring to boil.
Reduce to low heat and let simmer for 10 minutes.
Add dried prunes, stir and simmer another 10 minutes.
Remove from the heat and set aside.
In a medium iron skillet pour olive oil and place on medium heat.
Poach onion and garlic
Add the diced onion along with the sliced garlic cloves. Reduce heat to medium low and cook for 12-15 minutes. We must obtain a tender and transparent texture.
Add the spices, mix and cook for 2 more minutes. Remove from heat.
Process the ingredients of mole negro
Remove the stems and seeds from chiles, set aside.
In a food processor add the poached onion and garlic along with the hydrated chiles, dried prunes, the chipotle + its juice and process.
We will get a thick paste.
Pour the pasta into a medium saucepan along with 8.1 oz (230 g) of the water cooking from the chilies along with chopped black chocolate, peanut butter, salt and pepper to taste.
Mix until get a smooth mixture and cook at low heat for 10 minutes. If the texture is too dense, you can add a little more water.
In case the mole negro does not have a smooth finish, but something lumpy, go through the blender to achieve a much finer texture. Set aside.
Stuff green peppers.
Preheat oven at 375ºF.
Peel skin off being careful to keep the pepper in tact and cut a vertical slit in the pepper and leaving stem.
In a bowl we mixed the black beans along with the quinoa, chopped cilantro, cumin, toasted sesame, chopped purple onion, pumpkin seeds, olive oil, salt and freshly ground pepper to taste.
Transfer the peppers on a baking tray.
Divide the mixture in the four peppers, trying not to break them.
Bake at medium height for 15 minutes.
Remove from the oven, divide into dishes and cover with mole negro sauce.
Garnish with a toasted sesame and fresh chopped cilantro.
Serve.
NOTE: Before covering the stuffed peppers with the mole negro, we will warm the sauce just before serving.
These stuffed peppers with mole negro sauce are a real delicacy, I assure you. I've never liked black beans … but I'm starting to love them, and even more so, if it's in this kind of spicy elaborations. When you try it you are bombarded with so many flavors that you do not know what to say … so that you still enjoy the dish 😉
With the arrival of Easter we are going to take a few days of holidays, we need it! So I will stop publishing from today until the return. See you again from April 19th.
Enjoy it a lot, have a great time and see you soon!
Big hugs,
Eva
Fuentes: Wikipedia, Marco Beteta.