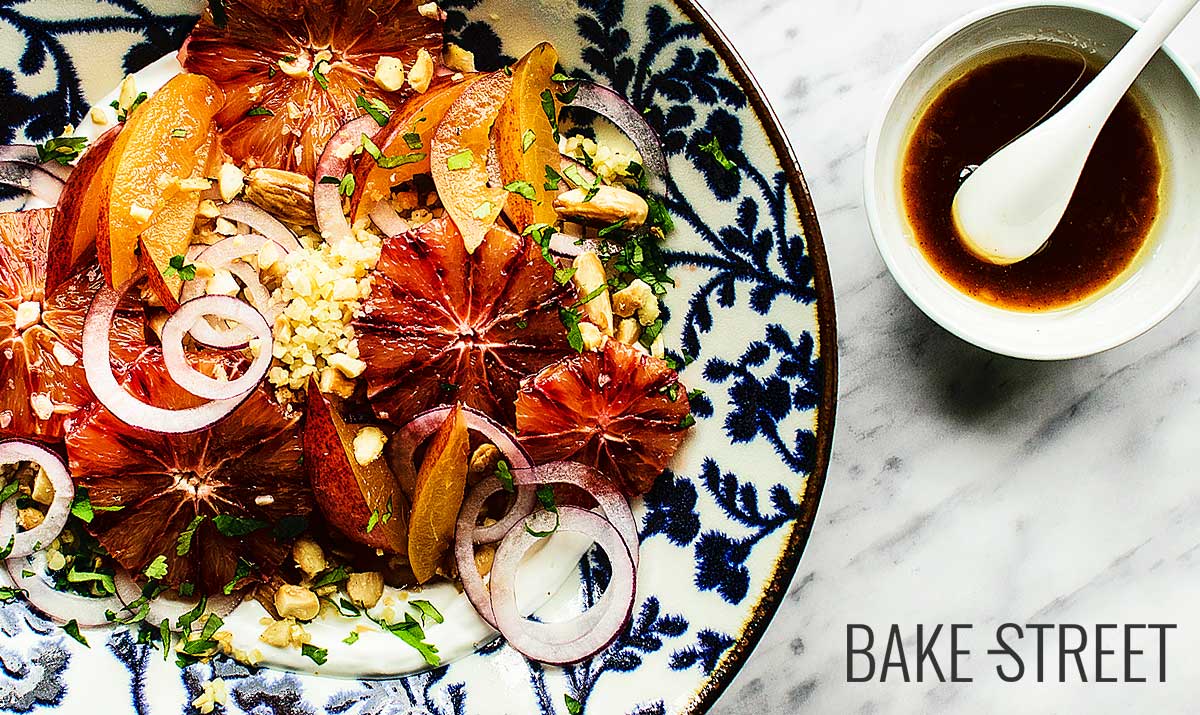 Aromatized bulgur salad with blood orange, plum and yoghurt
Este post también está disponible en Spanish
I know that the weather is not good enough for salads…. But if the weather is crazy, so are we! Besides, who can resist this aromatized bulgur salad with blood orange, plum and yoghurt? It is undoubtedly a perfect starter, a side dish for a main course or to share, and it can even be served as a unique dish if we prepare enough.
The salad I leave you today could be defined as a warm salad, is not that kind of salad that is eaten very cold. This is a good place to take it in a time when it's not too hot. Like the one we've been having these past few weeks.
This salad can be made in 30 minutes, which is the time it will take to get the bulgur ready. In addition, it does not require cooking just to hydrate it, making it a super simple preparation to carry out.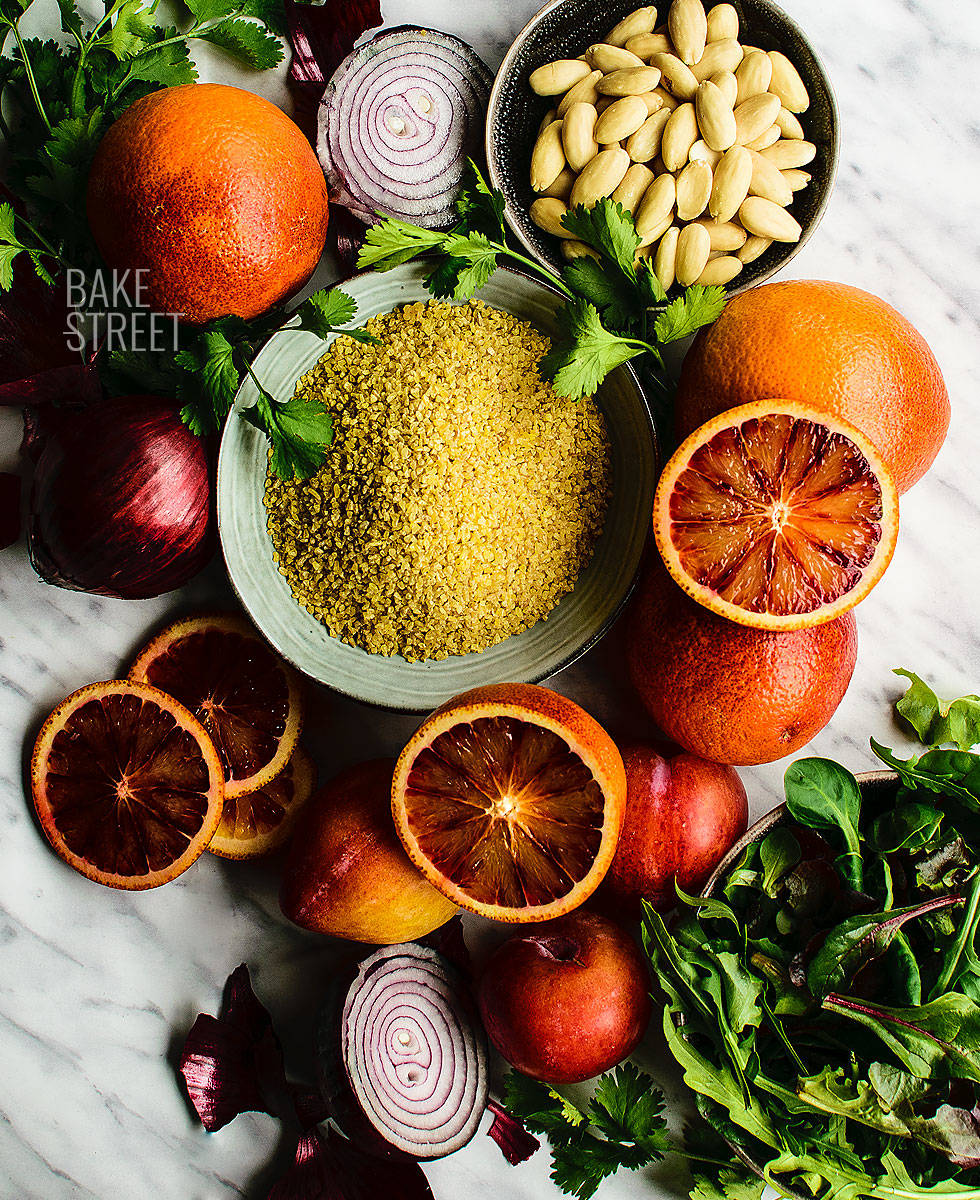 What is bulgur?
Bulgur or burghul, as it is known in Middle Eastern countries, is a food made from wheat. The etymology of the word denotes that it has Turkish or Persian origin. It is an element widely used to prepare dishes such as tabule, kibbeh and mujaddara.
But how do you get the bulgur?
The traditional way of making bulgur is by cooking wheat grains in a large pot with water. It is stirred quite frequently, so that we can ensure that it is cooked evenly. Its process is long, begins with a high cooking and is reduced, so that the grain is cooked slowly.
Once cooked, it is well drained and left to dry in the sun on the roofs of the houses for several days.
After the drying process, the grains are ground to grind resulting in irregular broken grains. The bran is removed and separated, through a sieve, to distribute them by size. After separating them, they are left to dry in the sun for several days. The careful drying of the bulgur allows us to keep it in perfect condition for a long time.
After finishing all this process 3 types of bulgur are obtained; coarse, fine and very fine.
As it has been previously cooked, it makes our work much easier when it comes to preparing it. In fact, you only need to hydrate it for a few minutes (depending on the size) with boiling water. And if we wish, we can aromatize it as I show you in the elaboration.
Kewra water.
Among the ingredients you will find that I use kewra water. Surely many of you already know it, but for those of you who don't, I will tell you a little more.
This water called kewra, keora or kewda (Hindi: केवड़ा, Bengali: কেওড়া, Odia: କିଆ, Urdu: in Punjabi ਕੇਵੜਾ/کیوڑہ ) is obtained from the distillation of the pandanus flower, a tree variety that can be found along the tropical belt of Africa and Oceania. Approximately 95% of the total kewra flower is exported from India and collected in areas around the city of Berhampur.
The coastal areas of Chhatrapur, Rangeilunda, Patrapur and Chikiti are famous for their aromatic pandanus plantations. It could be said that the flowers of the coastal places have an excellent floral aroma that rivals the varieties of the interior, being the most famous the endemic and cultivated ones in Gopalpur-on-Sea.
The Kewra flower has a soft and refreshing fruity aroma with hints of rose, hyacinth and honey.
It is often used to flavor rice, stews and savory dishes, although it is more commonly used in confectionery and even in soft drinks.
Uses we can give to the bulgur.
Not only can we use it in the traditional dishes I mentioned above. In fact, it is often used as a substitute for couscous (and vice versa) or served with meat.
In my case, I decided to make a lighter version doing a salad. It is one of those versatile, simple and fantastic ingredients that should not be missing in your pantry. They're almost as good as noodles.
For the salad I have used seasonal products such as blood orange (which is about to leave) and yellow plums. Of course, these ingredients can be varied throughout the year and adjustments can be made to what we have at that time.
We will put a base of Greek yoghurt, on top of this the bulgur with blood orange and yellow plum. Garnish with fresh cilantro, red onion and some almonds that we will fry on the spot. Serve with a vinaigrette, in this case sanguine, dates and tamarind, and ready. A super simple, nutritious and incredibly delicious dish 😉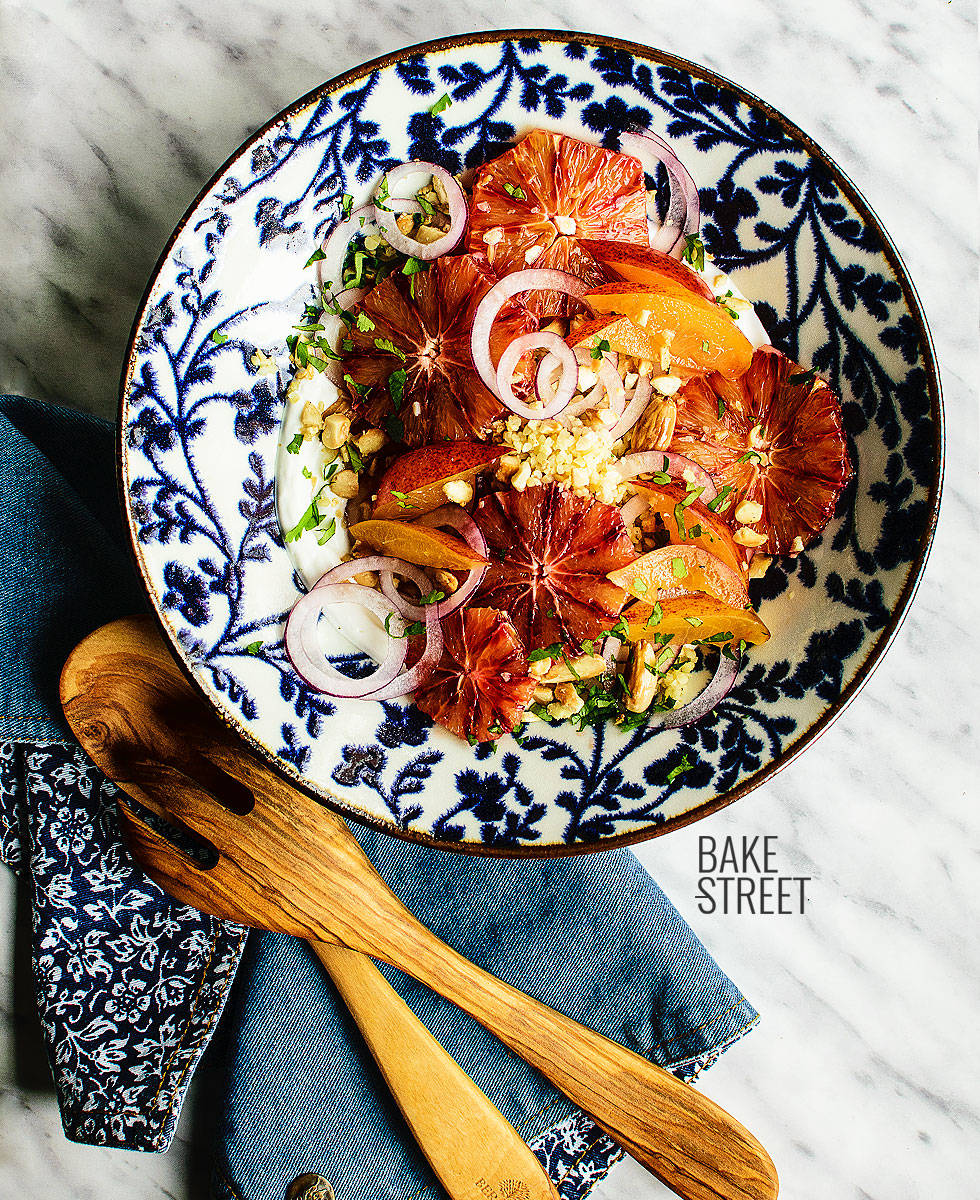 Ingredients for 2 serves
FOR THE BULGUR:
120 g bulgur (1/2 cup)
2 measures of boiling water for 1 bulgur, in my case 1 cup
1 tsp Kewra water
1 tsp rose water
pinch of salt
FOR THE SALAD:
1 blood orange, sliced and skinned
2 yellow plums, wedged
90 g raw almonds + 2 Tbsp olive oil + salt
1 unsweetened Greek yogurt
1/2 red onion finely sliced with mandolin
fresh cilantro
DRESSING:
2 Tbsp date and tamarind sauce
1 Tbsp blood orange juice
1 Tbsp olive oil
Instructions
Prepare bulgur.
Add the bulgur in a bowl, set aside.
Fill a pot with a little more water than we need. Place over medium heat and leave to boil.
Remove from the heat and pour over the bulgur.
Add the kewra water along with the rose water and the pinch of salt. Cover with a plate and leave to stand for 30 minutes.
After this time, the bulgur will have absorbed all the water.
Fry the almonds.
Pour the olive oil into a frying pan and place over medium heat.
Once it takes temperature, add the almonds and cook for 5-7 minutes. They should be slightly golden in color.
Remove from the frying pan and salt to taste.
Let them cool completely.
Make the dressing.
Mix all the ingredients in a bowl.
Set aside.
Make the salad.
Spread the Greek yogurt at the base of the bowl or plate, where we will present the salad.
Place the bulgur over the yogurt.
Decorate with sliced blood orange, the yellow plums cut into wedges and the red onion.
Sprinkle with chopped fresh cilantro and fried almonds, lightly mashed.
Serve with date, tamarind and sanguine dressing.
If we wish, we can also accompany it with some sprouts.
Notes
The bulgur doesn't need to be cooked, it just needs to rest in boiling water. This step will allow us to advance the rest of the ingredients while hydrating.
If you don't have kewra and rose water, that's okay. It can simply be omitted. With them we will be able to give a very attractive but optional aromatic flavor.
Blood orange is a seasonal product, in case we want to prepare it at another time of the year, we can use traditional orange or pink grapefruit.
If you don't like almonds, you can use hazelnuts, cashews, macadamia nuts instead.... Totally up to you.
The vinaigrette is also optional and can be varied or changed for the one you like best.
This aromatized bulgur salad with blood orange, plum and yoghurt is one of those recipes to take into account for when we have a lazy day, without time or simply when we feel like enjoying a different and wonderful salad.
It's very surprising, light, with fresh, sweet, aromatic, toasty flavors... I've absolutely fallen in love. What's more, this salad was one of those preparations that comes out as we go along. It was clear to me that I would use bulgur and blood orange. But when I arrived at the kitchen I began to look at combinations, flavors, aromas.... And all that research gave rise to this absolute delight.
If you decide to try it, you can tell me about it ;)
Big hugs,
Eva
Sources: Wikipedia,Wiki
Archivado en