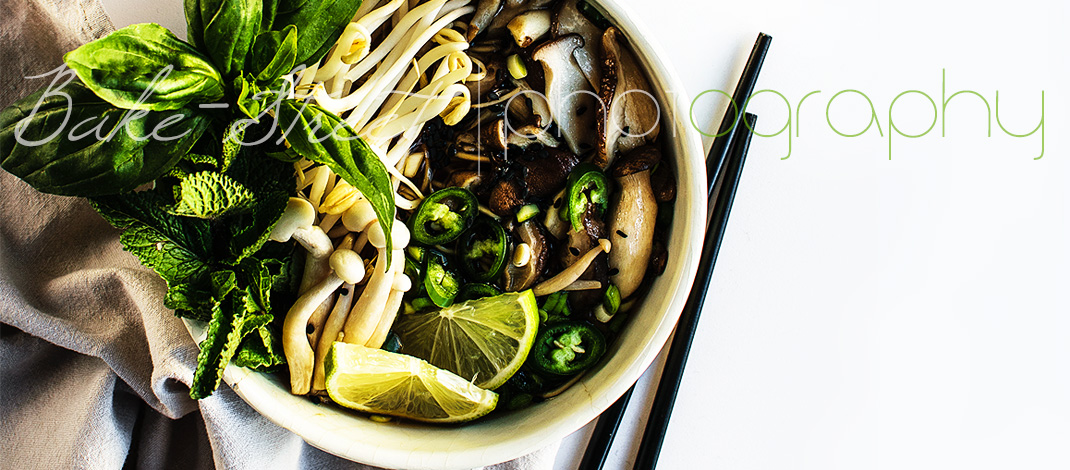 Vegetarian Pho – {Vietnamese soup with noodles}
Este post también está disponible en Spanish
As the cold does not leave us, we will have to fight it with simple and rich elaborations. This Vietnamese soup with noodles, known as Vegetarian Pho, is another soup that has come home to stay forever. I already told you some days ago that I am making this type of elaborations,  I think it is a starter or dish (in case of being for dinner) fantastic.
This time we will have it ready in about 35 minutes, but we can always leave the broth prepared in advance and store it in individual airtight containers. That way we can freeze it and / or heat it at the moment we are going to take it.
This soup called my attention especially because it was  made with cinnamon, join with ginger, cloves and star anise (which I love) I already had 80% sure that the result would like me.
The recipe can be adapted to ingredients that we have at home, except for the broth ingredients that you should try to keep as much as possible. The noodles you use may be rice, vermicelli, egg … here feel free to use those you like in texture and flavor.
To finish the soup is usually mixed fresh and sautéed vegetables among which are always mushrooms, basil and cilantro. The rest, if you look for this soup, you will see that in some cases they coincide and in others they do not. I followed the recipe by Oh my veggies that also makes use of soy sprouts and green chile. As a variant you can use pak choi, I am sure result will be perfect too.
The mushrooms I used were an assortment of shiitake, white shimeji and thistle mushroom, but you can use the ones you like. Of course you have the option of adding a bit of tofu on the vegetables. Do you remember that I told you I did not like anything at all? Well this week I bought a package, I'll give it another chance. To see how it turns out …
I like to squeeze some fresh lime and add 1/2 teaspoon of Hoisin or Sriracha, depending on the day. I recommend you to taste the soup and act accordingly. If you like a sweeter and smoky flavor, use Hoisin, and if you prefer a more spicy touch, use Sriracha.
VEGETARIAN PHO:
2 serves
FOR THE SOUP:
2 cups (360 g) homemade vegetable broth
2 cups (360 g) water
1 cinnamon stick
2 cloves
1 star anise
a piece of peeled ginger, rough 0.9 oz (25 g)
1/2 large onion
1 Tbsp tamari
4 oz (115 g) dried noodles
2.8 oz (80 g) mushrooms mixture
1/2 tsp olive oil
sea salt
FOR DECORATE:
soy sprouts
fresh basil
fresh mint
chopped chives
green chile slices
lime wedges
black sesame
Hoisin or Sriracha sauce to serve
INSTRUCTIONS:
Make broth for vegetarian pho.
Warm a medium soup pot over medium heat and add the cinnamon sticks, cloves, and star anise. Toast until fragrant, stirring occasionally, about 2-3 minutes.
Add the onion, ginger, vegetable stock, water and tamari. Raise the heat to high and bring the mixture to a boil, then reduce the heat as necessary to maintain a gentle simmer. Cook for 30 minutes.
Remove from the heat and season it to taste.
Sautée mushrooms.
Wash and dry mushrooms. Cut lengthwise the bigger, set aside.
Keep some fresh shimeji to decorate the soup before serve.
Warm the oil in a medium skillet over medium heat until shimmering.
Add the mushrooms and cook until the mushrooms are tender and lightly browned, about 4-5 minutes.
Add few dashes of salt and pepper, then set them aside.
Cook the noodles.
Fill a pot with 50 fl oz of water, place over high heat to boil.
Once the water is boiling, remove from the heat and add noodles. Let sit for 4 minutes.
Drain and set aside.
Serve the soup.
Divide noodles into the bowls and ladle the broth, strained previously.
Finish with sautéed mushrooms, soy sprouts, black sesame, fresh enoki and remaining fresh garnishes.
Serve with lime wedges and Hoisin os Sriracha sauce.
This Vietnamese soup, Vegetarian Pho, is a real wonder. Intense flavors, aromatic and with a very light and digestive result. Personally I really liked it, no doubt, it is already included in my weekly soup recipe.
I hope you like it as much as me and… try it! 😉
Big hugs,
Eva