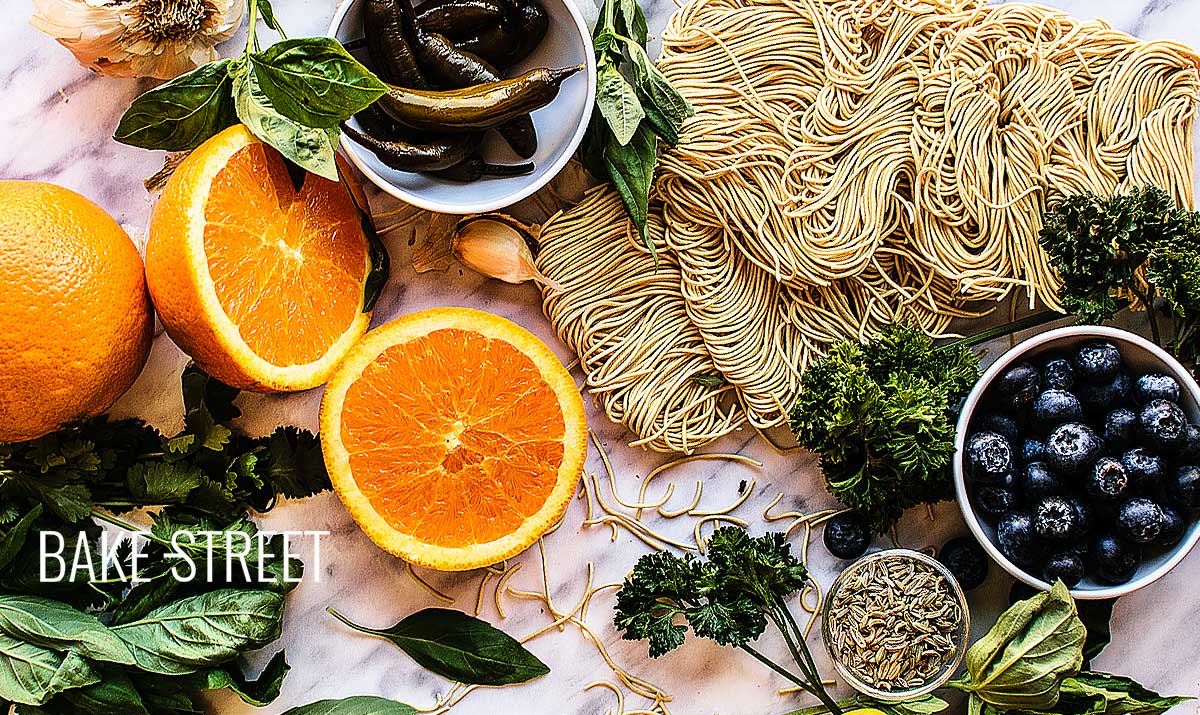 Noodles with caramelized orange and chimichurri
Este post también está disponible en Spanish
I love noodles, a lot, for a million reasons. Not only they are super versatile and can be served in soups, salads, sautéed with vegetables, meat, seafood … but also they are cooked quickly. It is the perfect ingredient for those days that we are a little busy and do not have much time to cook. Like these noodles with caramelized orange and chimichurri.
Did not you say that this recipe was for days when we do not have just enough time to cook? Do not be fooled by the caramelized oranges, to cook them you do not have to follow a process of several hours to have them ready. Basically it will be like sautéing them in caramel, which has been 1 minute in total.
Today's recipe we can be served as a warm salad that it is perfect for a single dish with the amount that I leave in the ingredients. I decided to combine three ingredients that caught my attention: orange, blueberries and fennel. The result is very pleasant to taste and surprising, especially the union of orange and fennel.
With the exception of the noodles and the orange, we will have to cook them, with the remaining ingredients we will only have to add them in a bowl and toss. Easy huh?
Our dressing: chimichurri.
To season this warm salad I thought about a sauce elaborated with many aromatic herbs, that's when I fell into the account of the famous chimichurri, a typical dressing from Argentine, Chile, Paraguay and Uruguay, which is popularly used to serve with meat. But it can be given many more uses, with vegetables also gives a great result.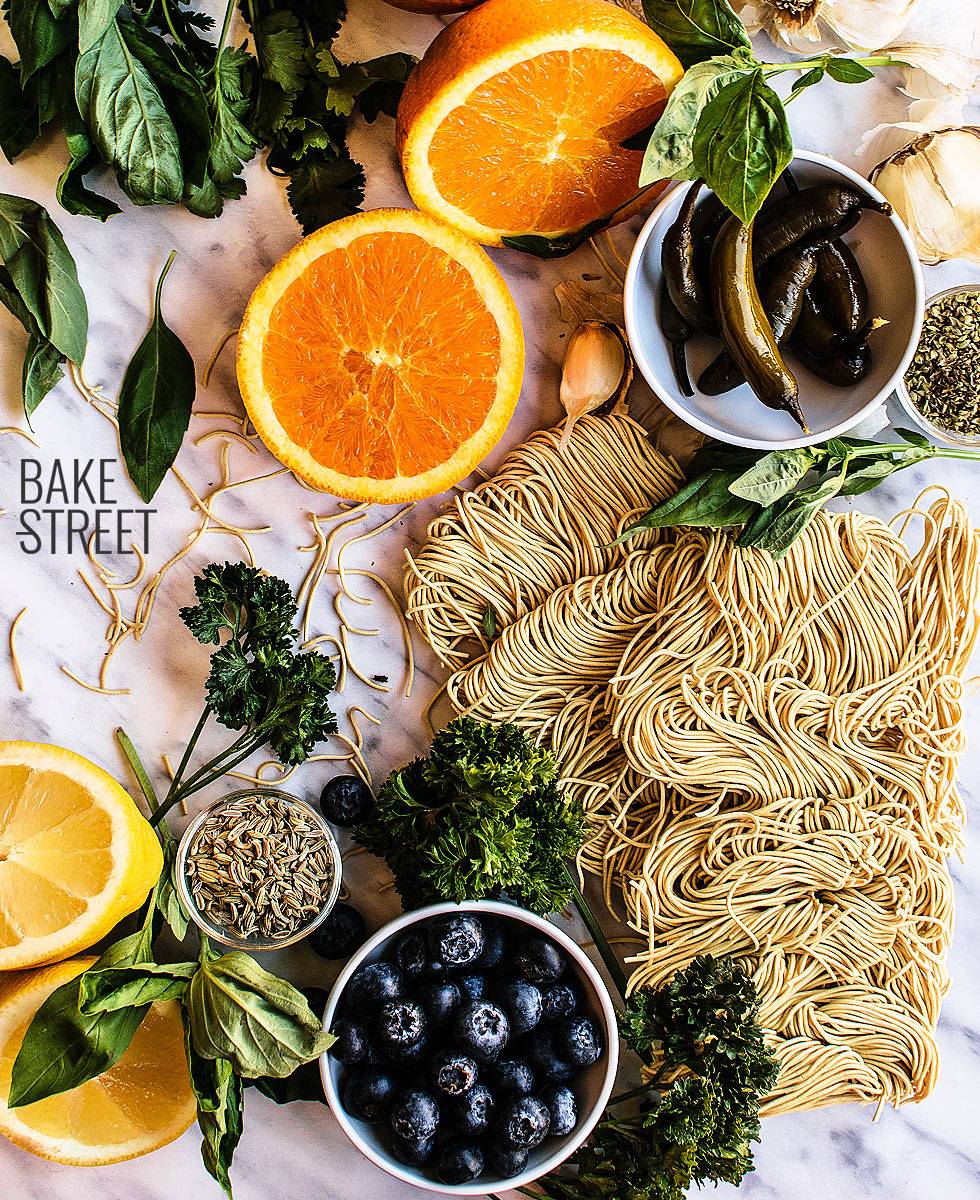 Formerly the chimichurri was prepared with a base of brine (as we do to make sauerkraut*) that, today, is replaced by vinegar. The most common ingredients used are parsley, garlic, vinegar, chili and salt. To these can be added others like oregano, coriander, bay leaf, pepper, thyme, mustard ..
*This recipe is only available in Spanish
They are crushed in a mortar, mixed with the liquid ingredients and allowed to macerate for a few days. In this way we will enhance the flavor much more.
In my case I modified the original recipe and I added cilantro, basil and Thai oil. The latter is a grape seed oil with lemongrass and Thai basil. It is not essential, of course, but it gives it a wonderful citrus aroma. I also make use of tamari (you know that it is a type of soy sauce of greater fermentation and without added sugar) because I like very much that salty taste so particular that contributes.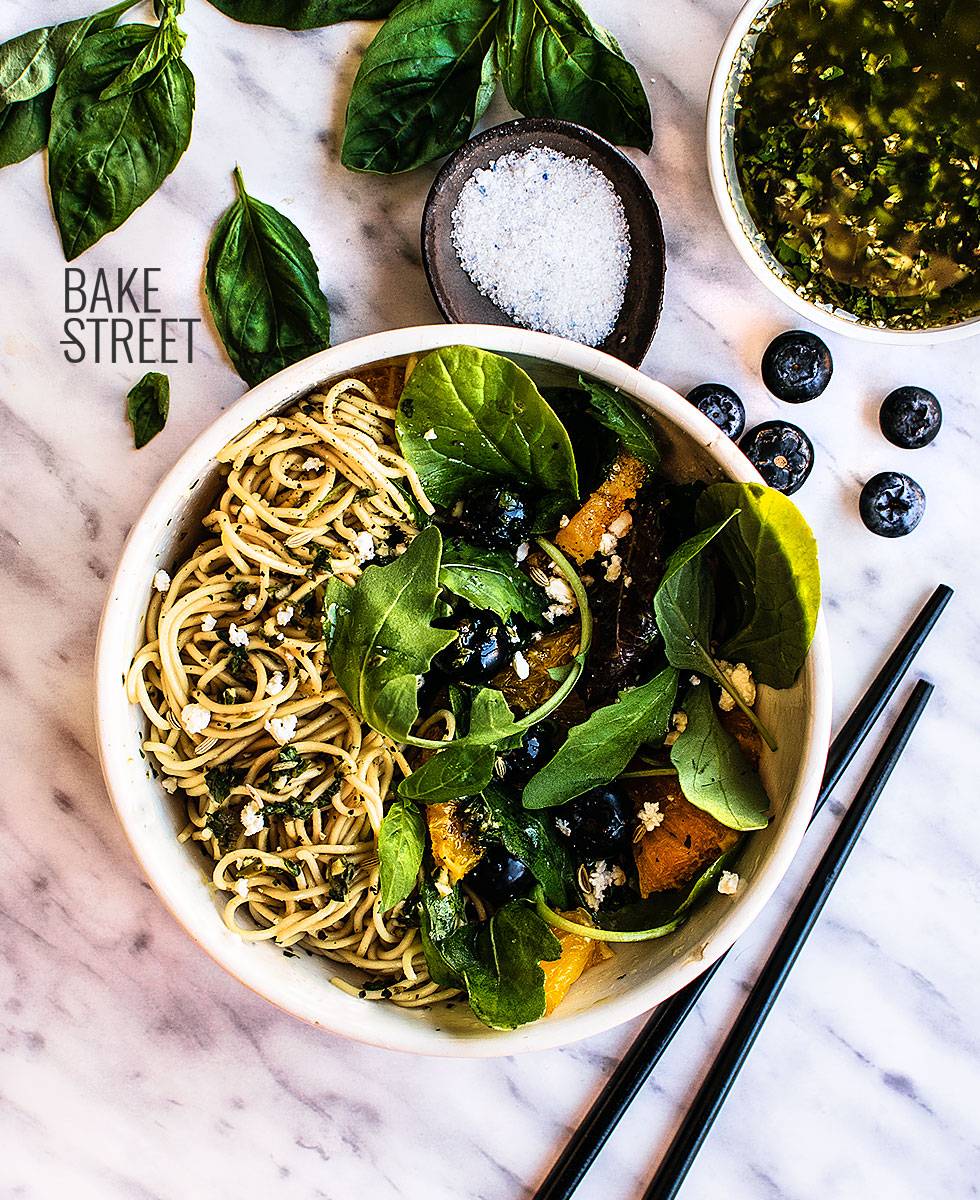 Ingredients
FOR NOODLES:
5 oz (140 g) dried noodles
1 large orange + 0,9 oz (25 g) sugar
blueberries to taste
feta cheese to taste
rocket
sprouts
tamari
1/2 tsp toasted fennel seeds
FOR CHIMICHURRI:
0,35 oz (10 g) curly parsley, only the leaves
0,1 oz (3 g) fresh cilantro, only the leaves
0,1 oz (3 g) fresh basil, only the leaves
2 tsp dried oregano
0,3 oz (8 g) garlic
1  serrano chile
3,2 oz (90 g) olive oil
2 tsp Thai oil
2 Tbsp apple cider vinegar
flaked salt to taste
Instructions
Make chimichurri.
Wash the aromatic herbs and drain.
Chop very finely and transfer into a bowl.
Also chop very finely the garlic and the serrano chile. Place in the bowl along with the aromatics.
Whisk the apple cider vinegar along with 3/4 teaspoon of flaked salt and oregano.
Add the two types of oil and whisk again until emulsified.
Pour into the bowl with the aromatics and mix until homogenized.
Store in a glass container until ready to use.
Caramelize the orange.
Slice the orange into slices. Cut the peel leaving only the flesh.
In a medium frying pan add the sugar along with a few drops of lemon and place over medium heat. Cook until we got a light-colored caramel.
Place the oranges on the caramel and cook about 30 seconds on each side.
Remove from heat and set aside.
Cook the noodles.
Fill a pot with 50 fl oz of water, place over high heat to boil.
Once the water is boiling, remove from the heat and add noodles. Let sit for 4 minutes.
Drain and set aside.
Serve.
In a medium bowl mix the noodles with 5-6 tablespoons of chimichurri and tamari to taste.
Divide the noodles in two individual bowls.
Garnish with caramelized orange, sprouts, rocket, blueberries and a some feta cheese. Sprinkle some toasted fennel seeds on the orange.
Serve accompanied with a bowl of chimichurri to finish seasoning to taste.
Notes
Can any variety of noodles be used? Of course, the ones you like most; Rice, with egg, vermicelli ...
Is it required to caramelize the orange? No, but the taste and texture changes a lot. And it is better ;)
Do not exceed the caramelized time of oranges or else they will break up.
I do not like blueberries. It doesn´t matter, you can replace them with figs that now they are on season and will also look great.
Some of the aromatic herbs don´t like me. You can omit it without problems, you have already seen that I have modified the final recipe to my liking. You can do it, too.
Why do you use curly parsley instead of common parsley? I like this variety much more because it has much more flavor and a very firm texture. But this is my personal taste.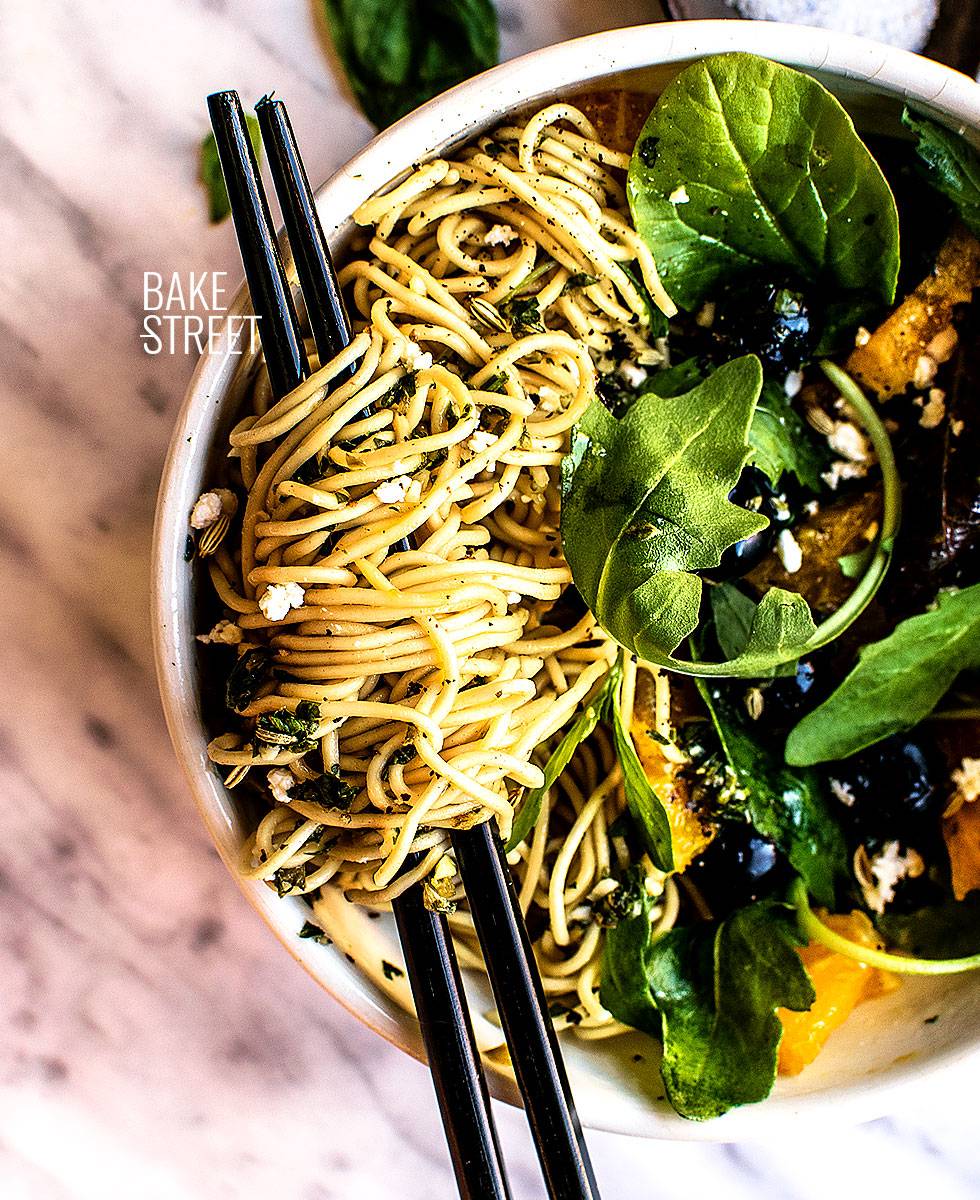 These noodles with caramelized orange and chimichurr are addictive. At first it may seem a very particular combination but the mixture of sweet, fresh, aniseed, citrus and spicy flavors makes our taste buds go crazy!
No doubt it is a light and quick idea to solve lunches or dinners of those days with much work or not enough time to cook. Which, in summer, are very common :)
Big hugs,
Eva
Archivado en