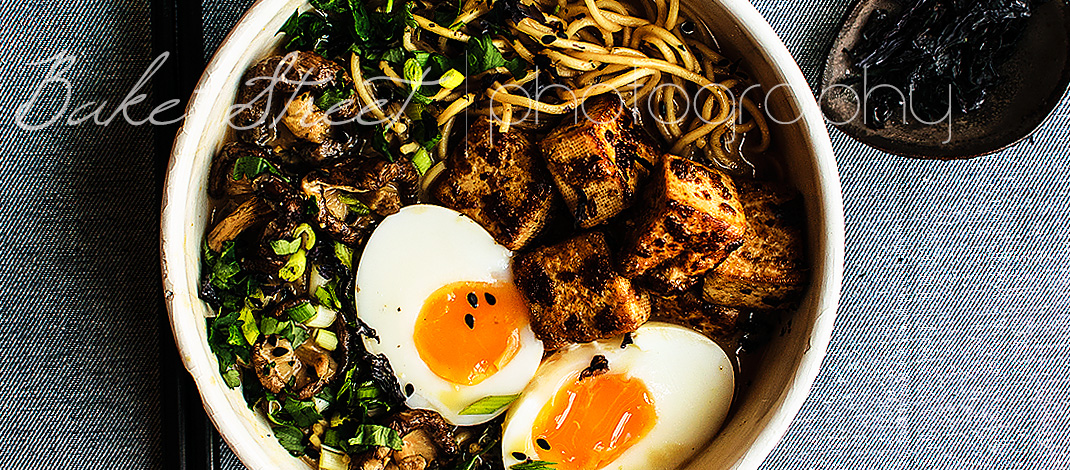 Spicy ramen with tofu
Este post también está disponible en Spanish
I thought that with the arrival of nice weather I would not be able to try this soup that makes me crazy! Yes, I know, we are still in March and cold days have to be more… but with these great days it seems that the spring is closer. The fact is that I have made my first soup of this variety, spicy ramen with tofu.
I've always been incredibly attracted to this type of soup, it's like an energy pump, flavor and textures all contained in a bowl. I have many recipes waiting to be cooked, but I wanted to start with a simple one. To have a first contact.
This recipe is a version of Pinch of Yum, which looks spectacular. I changed only a couple of things, but I have followed her steps and the result is extraordinary.
I do not know if you guys are hooked like me to the "Chef Table" series, few things make me enjoy more than this. If you have not encouraged with it, I recommend you do not miss it. They show in a wonderful way the way in which each of the chefs have reached their dreams, not to mention that the photography is very good.
In this last season, one of the chefs was specialist in ramen, Ivan Orkin. It was what I needed to see! It was the final push to encourage me to look for more recipes, ingredients and mixtures. Although, as Ivan says, a ramen allows all those ingredients that one wants to use. I recommend that you see his chapter because he and his way of seeing life is very funny.
A few posts ago I commented that I had to use tofu in some elaboration, to give it a second chance, so here you have it! First of all, recognize once again, that is a product that it does not like me too much… its texture is very peculiar and can not be compared to anything. The taste is "difficult", and that's why after trying it naturally I saw that the idea of sautéing it and dressing it with the miso paste would be great to make it more edible for me.
The outside turns crispy and rather spicy that does much to its advantage, in my humble opinion. I am sure that many of you like it as it is.
The soup has a WONDERFUL flavor, yes, it is peppery … so I say the usual, if you do  not like spice taste, reduce the amount to half of what I share. Taste and rectify in case you want it more powerful.
Shiitake dehydrated
You will see that I specify that shiitake mushrooms should be dehydrated, of course, there is no problem if they are fresh as I comment below. Maybe it is difficult for you to find them in this format. I always dehydrate them at home, it's a fabulous way to keep all types of food.
If you choose to dehydrate them, you should wash them very well and dry them. Put them in the dehydrator at 160ºF and leave it overnight (about 12 hours), we must remove the water completely to prevent mold from coming out once we store them. The texture they acquire is like cardboard and with a low weigh.
Once dehydrated, we can store them in an airtight container for months.
Music to start this Monday, today Lewis Taylor "Lovelight" a version from the original of Robbie Williams.
Eggs for ramen
It is important that the eggs have an egg-white cooked and a runny egg yolk. Maybe you are thinking that is difficult to get it at first time but if you follow my steps, everything will be great.
When removing the shell you must be very careful because it is a little more laborious to remove than with a boiled egg. The texture of the egg-white is more tender and fragile, so that we run the risk of breaking the outside and the egg-yolk comes out.
The recipe is an explosion of flavor, do not forget to try the roasted seaweed. It enhances the marine point, especially wakame, and they acquire a very crunchy texture.
SPICY RAMEN WITH TOFU
2 serves
FOR THE MISO PASTE:
1/2 medium onion chopped
1.6 oz (45 g) red miso
1.6 oz (45 g) white miso
1 y 1/2 Tbsp (18 g) Sriracha sauce (recipe on the link)
3 large garlic cloves chopped
0.7 oz (20 g) fresh ginger, peeled
mirin, 1 y 1/2 Tbsp (18 g)
olive oil, 1 Tbsp (8 g)
sesame oil, 1 Tbsp (8 g)
1 Tbsp roasted sesame
FOR THE TOFU:
6.2 oz (175 g) firm tofu
2 y 1/2 Tbsp olive oil
3 tsp miso paste (top recipe)
FOR THE RAMEN:
13.4 oz (380 g) vegetable broth or vegetable and chicken broth, homemade better
7 oz (200 g) coconut milk
4.2 oz (120 g) miso paste (top recipe)
0.35 oz (10 g) dehydrated shiitake
3 oz (85 g) dry noodles
2 large eggs
4 green garlics chopped
fresh cilantro
black sesame
1 Tbsp roasted seaweeds (I have used nori and wakame)
sesame oil
a pinch of schichimi togarashi
INSTRUCTIONS:
Make miso paste.
In a food processor add all the ingredients and blend until get a homogenous paste.
Pour in an airtight container and place in the fridge until needed.
Cook the tofu.
Cut the tofu into squares and let drain to remove as much liquid as possible.
Place a medium pan over medium heat, pour the olive oil and let it take temperature.
Add the tofu and sauté until light golden, about 7-8 minutes. Be careful when cooking it, its texture is delicate and we want to keep it whole.
Add the miso paste and stir gently.
Cook until you get a nice golden brown and watch a slightly crispy outer layer. It will take us about 4-5 minutes.
Remove from the heat and set aside.
Cook ramen broth
In a medium saucepan pour the broth along with the coconut milk and the dehydrated shiitake.
Place over high heat and let until boil, then reduce to medium low heat and simmer for 20 minutes.
Add the 120 g of miso paste and simmer for 5 minutes.
Remove from the heat and let rest the soup covered for 10 minutes.
Meanwhile, cook the eggs for the ramen.
Bring a small pot of water to boil.
When the water is boiling, add 2 eggs and reduce heat to low heat.
Cook for 7 minutes.
Remove from the heat and run under very cold water or place theme in a bowl in an ice water.
Let rest for a few minutes.
Cook the noodles
Fill a medium pot with water, place over high heat to boil.
Once the water is boiling, remove from the heat and add noodles. Let sit for 4 minutes.
Drain and set aside.
Serve spicy ramen with tofu
Remove the shell from the eggs carefully, wash with water to remove possible pieces attached.
Divide noodles into the bowls and pour the soup.
Decorate with chopped green garlics, chopped cilantro, black sesame, shiitake, salted tofu, roasted seaweeds, schichimi togarashi and 1 teaspoon of sesame oil.
Finish cutting in half the egg, place on the ramen and serve immediately.
NOTES:
Make sure the soup does not boil the moment we add the miso paste, that way we will keep all its benefits besides the flavor.
If the tofu has cooled, warm in the pan just before serving.
I have used dehydrated shiitake mushrooms because they bring much more flavor than the fresh ones, but you can make it with fresh shiitake as well. In that case use more of them, about 2.5 oz (70 g), and sauté them slightly before adding them to the broth.
We do not need to add salt because the miso is quite salty.
To toast the seaweeds we will place them in a frying pan and cook to medium high heat for about 3-4 minutes.
If you do not like tofu you can make the soup with sautéed vegetables or even prawns like in this Thai soup.
You will have a few more of miso paste that you will need for the recipe, you can preserve in the fridge for up 4-5 days or freeze it.
This spicy ramen with tofu is a good option to combat these cold days that seem to come back to accompany us. On one hand it is a shame that we leave the sun and warmth again … but on the other hand, allows us to enjoy dishes as incredible as this.
Have a good start to the week 😉
Big hugs,
Eva