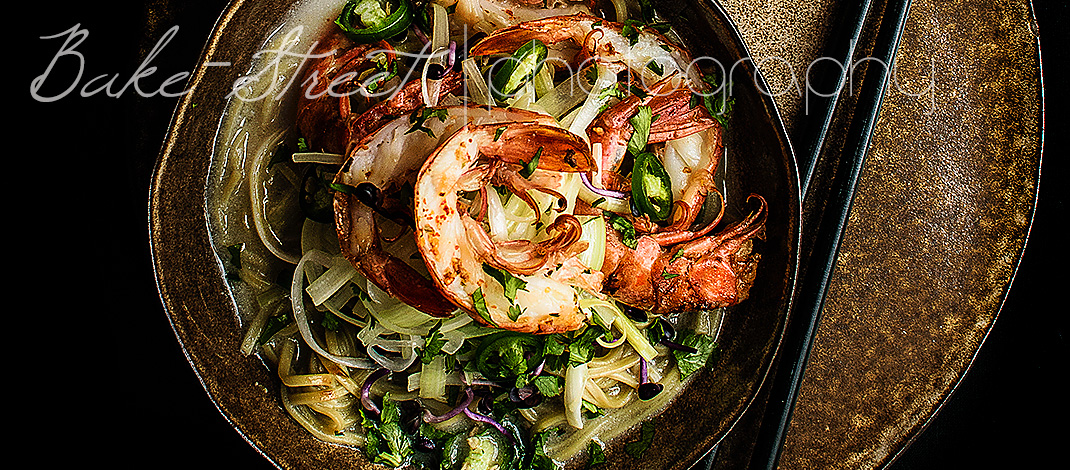 Coconut prawns soup with matcha noodles
Este post también está disponible en Spanish
In these cold days what I really fancy to eat are hot dishes and soups, they are a wonderful option. But, not to always take the same kind of soup (which I do not say are bad, because a "cocido" soup is one of the best in the world) it is good to know other options like this coconut prawns soup with matcha noodles.
It is true that these types of soups can become addictive, have a very powerful and pleasant flavor, not to say that we can enjoy it in just under 15 minutes. Perhaps some of its ingredients may look weird, such as tamari, but if you do not have it can be replaced.
What is tamari?
Tamari is a pure soy sauce, a difference from other types of soy sauce you can find in supermarkets. It is fermented only with water and salt over a long period of time in barrels of cedar (more than a year), which leaves us a stronger flavor and aroma in addition to a denser texture.
In nutritional terms, it contains more iron and carbohydrates than other types of soy sauce by a process and much healthier. When we use it in an elaboration, we must always add it at the end of the cooking to keep its enzymes alive.
Unlike shoyu, which is another type of soy sauce, it is also made in the same way as tamari but soy is milled and toasted with wheat, which makes it a product not suitable for celiac.
A conventional soy sauce also carries sugars, preservatives, additives and flavor enhancers. Hence we find a great price difference between a normal soy sauce and the tamari or shoyu.
Miso
At home I have 3 or 4 different miso types, I really like to use it in my recipes and I use to mix some of them. Flavor is great and also has many benefits for our health. In this case I used a dashi miso that also carries tuna broth. Of course we can use this or other type of miso without problems.
Mirin and Oyster sauce are easy to find in supermarkets or specialty shops. The remaining ingredients are available in markets and / or supermarkets.
Of course, these types of soups can be totally adapted to your taste or to the ingredients you have at home. The recipe that I share with you today is adapted from one of the last books that I received in Christmas, Magic Soup, is really great. I do not know how many recipes to make, the book is full of bookmarks everywhere …
The original recipe is made with pak choi instead of leek, soy sprouts instead of radish sprouts, she uses white miso, fish sauce instead of Oyster sauce, other type of noodles, she does not use cilantro, green chile slices, Schichimi togarashi… she uses lime kaffir leaves, but I have not found them this time. In the book, prawns, are cooked into the broth but I preferred to cooked them apart. I like roasted flavor and I thought it would be better this way.
Finally I changed some ingredients, but the base is hers recipe. So you can always make adjustments.
COCONUT PRAWNS SOUP WITH MATCHA NOODLES:
2 serves
FOR THE SOUP:
7 oz (200 g) coconut milk
7 oz (200 g) water
1 tsp Dashi miso
one green chile
1 tsp dried lemon grass or one stick of fresh lemon grass
0.9 oz (25 g) peeled fresh ginger
1 tsp Oyster sauce
one lime zest
1 tsp mirin
juice from half lime
4.2 oz (120 g) matcha noodles
FOR THE PRAWNS:
TO SERVE:
1 leek
chives
radish sprouts
fresh cilantro finely chopped
green chile slices
tamari to serve (or soy sauce)
lime wedges
INSTRUCTIONS:
Make coconut soup.
In a medium pot pour the coconut milk along with the water, place a medium high heat and let until it reaches a boil.
Once it is boiling, reduce to low heat and leave simmer.
Add the citronella along with the piece of ginger, lime zest, mirin and Oyster sauce. Cover and simmer for 7-8 minutes. Remove from heat.
In a small bowl add the miso along with a tablespoon of soup, mix until obtaining a light mixture.
Pour into the soup, remove well to fully integrate and reserve.
Sautée the leek.
Wash the leek and cut in half lengthwise.
Cut into julienne very fine.
Place an iron skillet over medium high heat and pour a the olive oil.
Once is heat, add leek and sauté for 1-2 minutes. It should soften slightly.
Remove from heat.
Cook the prawns.
Wash the prawns, remove the head and cut in half lengthwise.
Clean well inside.
Place an iron skillet over medium high heat.
Pour the oil and once it takes temperature place the prawns with the part of the shell downwards.
Top with soy sauce (if more was needed, use it) and sprinkle with the shichimi togarashi pepper. Leave for 3-4 minutes, we will observe that the meat turns white.
Remove from heat.
Cook matcha noodles.
Fill a medium pot with water and place over medium high heat. Let until water is boiling.
Then add matcha noodles and cook for 5 minutes (or follow package instructions).
Remove from the heat and drain.
Serve coconut prawns soup.
Divide noodles into two bowls.
Ladle the soup over them.
Place sautéed leek along with radish sprouts, chopped cilantro, chives and some green chile slices.
Finally place grilled prawns and serve with tamari.
Repartimos los noodles en dos cuencos.
NOTES:
I do not have dashi miso. It does not matter, you can use another type of miso that you have at home; White, red … or whatever you like. In this post I talk a little more about miso and its benefits.
I do not find citronella or lemon grass … in this case, omit it. The taste that gives us the slightly citric, as we have used lime and ginger could use us although if you manage to find it, the taste will be better.
I do not like prawns, I am allergic or vegetarian. No problem, omit them. Instead you can use tofu, if you wish, sautée it the same way like prawns and later add into the soup.
Is it required to use matcha noodles?Not at all. I bought it because they caught my attention but I have not noticed differences in its flavor. Only a green color.
Can I replace Shichimi togarashi pepper? Of course, you can. It is true that this pepper has a very particular flavor that makes it special thanks to yuzu, seaweeds … but we can use another one in case you do not have it.
This coconut and prawn soup is made in little more than 10-15 minutes and is absolutely delicious. Its flavor is very fresh and slightly spicy, accompanied by the grilled shrimp we have a really delicious dish.
I think it is certainly a great option to make a fast supper or lunch. In addition it allows us to eat well, a hot and quite light dish. I'm dangerously falling in love with this type of soups … so much that I make it once a week.
I hope you enjoy it 😉
Big hugs,
Eva
Sources: Soy cómo como, Wake the wolves