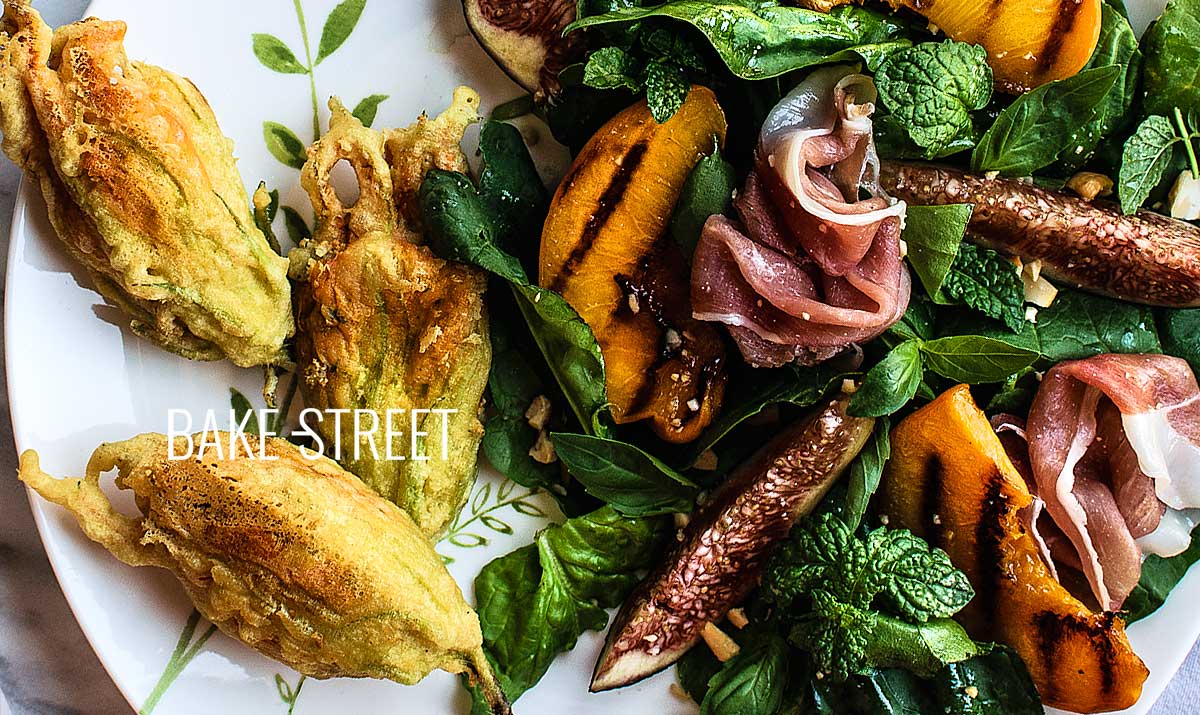 Stuffed squash blossoms with grilled peach salad
Este post también está disponible en Spanish
A few days ago I was at my parents' house and my mother showed me everything they have planted this year. They have decided to grow more fruit trees, vegetables, aromatic herbs… and I am delighted with it. If I have a goal in my life is to have a house in the countryside (with too much green, we will have to live in the North), a large garden and a wood oven. For that reason I enjoy so much every time I go to visit my parents, besides that I love being with them. The fact is that I brought some squash blossoms that they have in their garden, wonderful, and with them I have prepared today recipe. Stuffed squash blossoms with roasted salad.
My mother has very good hand with the plants, so much that I remember a year that she threw on a side of the garden a loquat bone and said, "Maybe something will grow". Nowadays they have a super big tree that gives some crazy loquats. All the flowers, plants, trees … are incredible. They have an immense surface of peppermint, wild! I love watching she takes care of everything.
But of course my grandfather was a gardener and my mother had a great teacher. Until the other day I did not know which were the squash blossoms that can be eaten and the ones that have to be left in the woods to get the fruit. My mother told me everything.
Male flowers are the ones that we can remove from the plant to give them another use since it will not give fruit, but we must be careful because they are also necessary to pollinate female flowers.
Female flowers are those that we should not cut and are very easy to differentiate because we see a thickened ovary (a green ball) at the base of the calyx which will become a fruit if it becomes pollinated.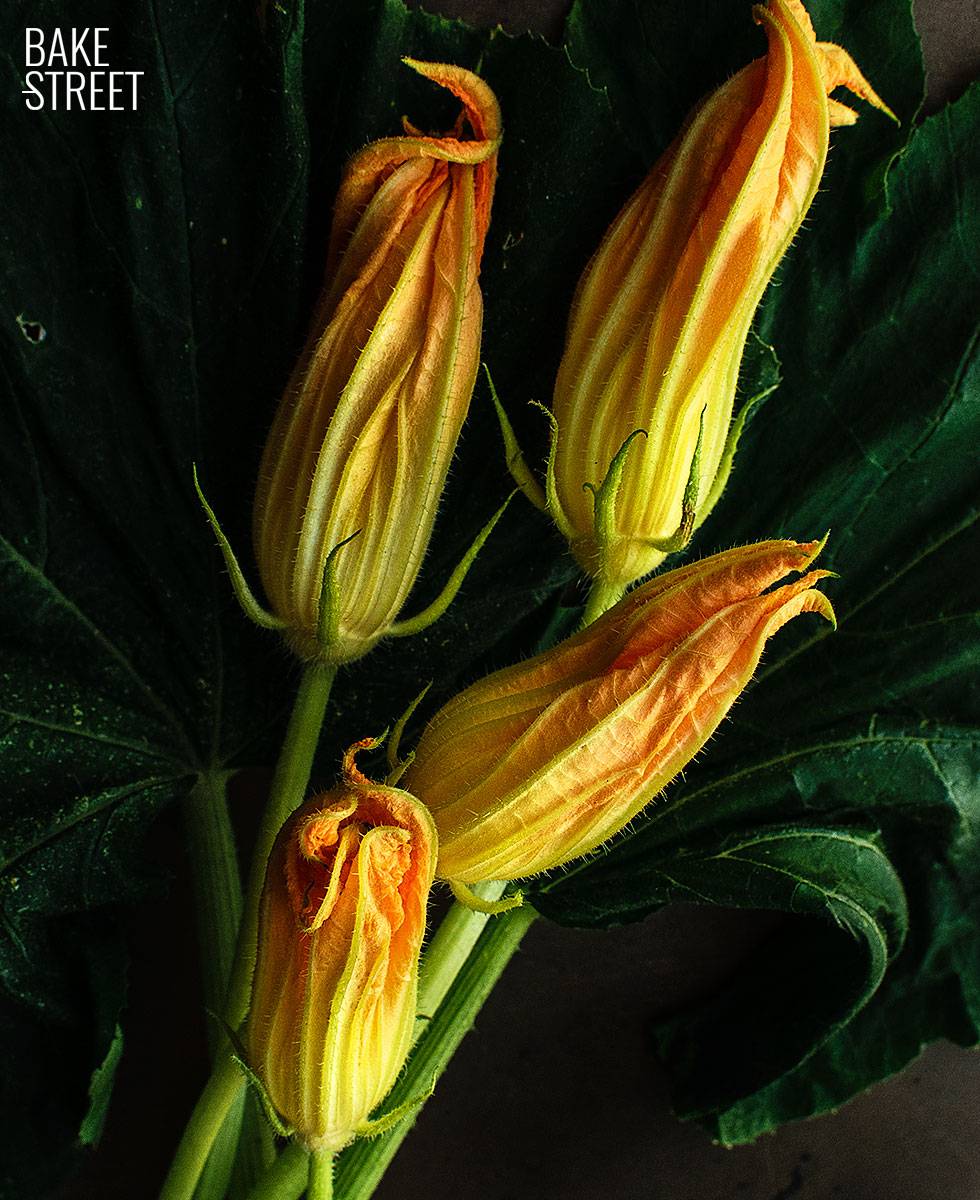 If I am sincere I have liked more these than the zucchini flowers, they are much more delicate and pleasant when we eat them, in my opinion. They are very versatile since they can be filled from what you prefer, in my case I opted for a mixture of cashew nuts and goat cheese.
A question that is usually asked about squash blossoms. When I stuff them, should I put a toothpick to prevent the filling from coming out?
No, it is not necessary. The filling that we are going to elaborate becomes quite compact and the petals of the flower are totally adhered to it. So do not worry thinking that the filling will come out when you are battering or frying the blossoms.
To serve them I thought about a salad, perfect for this season of the year. Then I remembered one I saw in the book What Katie Ate, which I loved too much! It's practically the same as the one Katie suggests by changing some details and I thought it goes perfect with this stuffed blossoms. Besides that actually are peaches and figs season, we must take advantage of them.
In my case I have used Calanda peaches that are … incredible. Super aromatic and with an unbeatable taste. We will give them a slight heat stroke on the skillet to roast them and thus enhance their taste a little more. If you have not tried it before, do it, you will love it. The rest of the ingredients will be served raw, just mix and serve.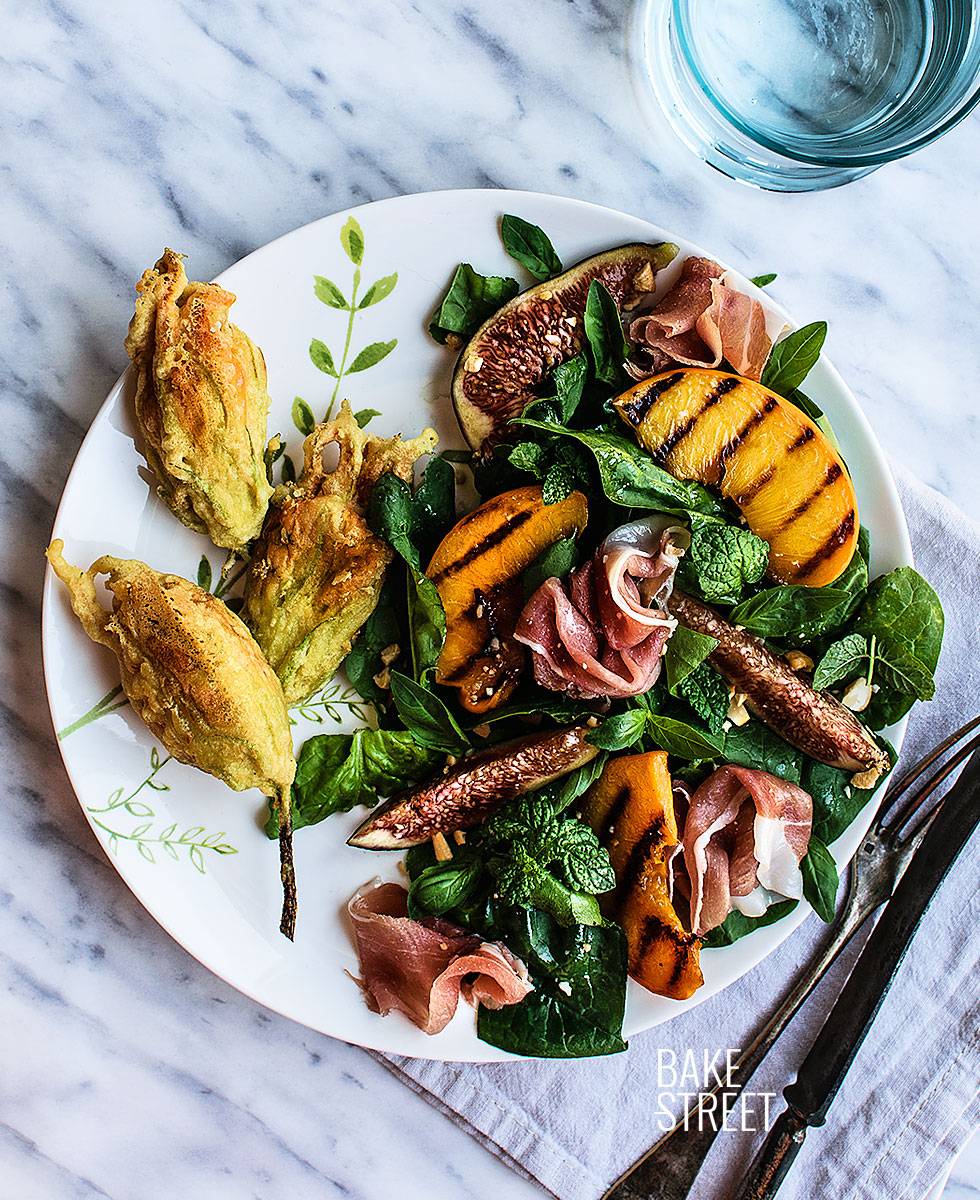 Stuffed squash blossoms with roasted salad
FOR THE STUFFED SQUASH BLOSSOMS:
8 squash blossoms
1,8 oz (50 g) soaked cashew nuts
2,8 oz (80 g) goat cheese
0,5 (16 g) green chile, I used serrano chile
1 tsp dried oregano
0,1-0,15 oz (3-4 g) fresh cilantro
juice from half lime
salt and black pepper to taste
1,4 oz (40 g) chickpea flour
2,1 oz (60 g) water
FOR THE ROASTED SALAD:
spinach to taste
1 peach + olive oil + 1 Tbsp honey + pinch of salt
2 figs
6 cured ham slices
mint leaves
basil leaves
smashed cashew nuts
FOR THE HONEY DRESSING:
0,5 (16 g) olive oil
0,35 oz (10 g) apple cider vinegar
0,35 oz (10 g) honey
0,2 oz (6 g) lime juice
Instructions
Prepare the filling for the squash blossoms.
The night before soak the cashews to acquire a very tender texture.
The next day drain well and transfer into a food processor along with goat cheese, serrano chile, coriander, oregano and lime juice.
Blend until obtaining a very smooth and homogeneous mixture. Season to taste, blend again and rectify if it is necessary.
Set aside.
Clean squash blossoms.
Carefully open the petals and remove the pistil. Cut near the chalice but without cutting it. We will also keep the sepals and a small part of the stem uncut.
Wash the flowers, inside and out, very carefully.
Set aside.
Stuff squash blossoms.
Open the petals from the top and stuff with the filling.
We will add more amount of filling according to the size of the blossom, be generous.
Close the top so the filling is covered with the petals.
Repeat the process with the rest.
Batter the squash blossoms.
In a bowl add the chickpea flour along with the water, mix until obtaining a mixture completely homogeneous and without lumps.
Prepare a medium skillet and pour sunflower oil, enough to cover the flowers. place over medium high heat and let it take temperature but without smoking.
Dip the blossoms in the batter mixture, coat them evenly, drain the excess and fry. Ideally, fry them in batches of 3-4 blossoms, depending on the size of the pan.
Fry for about 1 minute each side. They should take a light golden color, but not burned.
Remove and place on a plate with a paper towel.
Repite the process with the remaining blossoms.
Roast the peach.
Wash the peach very well, dry.
Cut into wedges with a thickness of 0,4-0,8 inches (1-2 cm) Spread olive oil on both sides and salt lightly.
Heat a grill pan over medium high heat.
Place the peach wedges and cook for 1 minute or so.
Flip the peach wedges and pour some honey over them, this way they will caramelize slightly.
Remove and set aside.
Make roasted salad.
Mix the vinaigrette ingredients in a bowl until completely homogenized.
Prepare a base of spinach, previously washed, in two different serving plates.
Place some roasted peaches, fig cut in wedges, cured ham slices and smashed cashews.
Garnish with mint and basil leaves. Serve with stuffed pumpkin flowers and the honey dressing.
Notes
Can I use zucchini flowers instead of squash? Of course, there is no problem. Although in my humble opinion, the squash blossoms are more delicate to the palate.
I'm a vegan, can I substitute goat's cheese for another ingredient? You can substitute the goat's cheese for cashews or another nut that you prefer. But soak them overnigh to acquire a very tender texture.
I have seen in the list ingredients serrano chile ... is the filling spicy? Yes, they are spicy. For me they are perfect but if you do not like the spicy, add it little by little and taste at the same time to achieve the spicy flavor to your taste.
Can they be battered with another type of flour instead of chickpea? Yes, you can do it. I chose this variety of flour so it could be suitable for more people. In addition the chickpea flour provides a very pleasant flavor. But change it if you wish.
I do not like spinach, I hate them ... Do not panic, we omit them and instead use sprouts, canons, arugula, a mix of lettuces ... whatever you prefer.
Can I omit honey or substitute it with another ingredient? Yeah right. You can use another sweetener that you like, Arce syrup, some kind of molasses ...
These stuffed squash blossoms with roasted salad is a great choice for this time of year. Seasonal fruits joined in a light and simple recipe plenty of flavor.
In addition we can enjoy it for dinner, serve it as a different entree or to accompany other dishes. In any case I have no doubt that you will love them ;)
Big hugs,
Eva
Archivado en