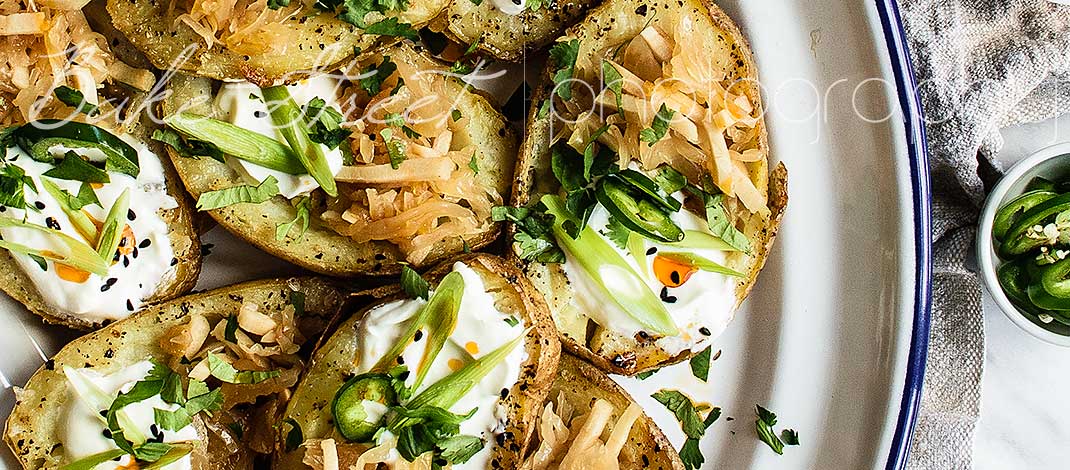 Roasted potatoes stuffed with pineapple kimchi
Este post también está disponible en Spanish
Almost a year ago I shared in IG a photo of a new variety of kimchi that I wanted to try, a pineapple kimchi. I had never before tried it with fruit and I wanted to try an invention like that. A couple of weeks ago we tried it and decided to bring it in this recipe of roasted potatoes stuffed with pineapple kimchi.
After that photo, we made 141 oz (4 kg) more of that same variety. I know it was very risky since we did not know if we would like it… but it was also possible that it was great and we regret. So we made several kilos in total of kimchi, sauerkraut (recipes only available in Spanish by the moment) and this pineapple kimchi. Long live the fermentation!
Final result?
Awesome! it has a totally different taste to traditional kimchi and gives it a slightly sweet and fruity taste fantastic. The texture of the pineapple does not change practically, it remains quite firm, I almost dared to say that with the same firmness with which we introduced it to ferment it. But there is some difference from the "more traditional" kimchi.
The pineapple has a high content of sugars and when subjected to a fermentation process we powerfully fed all these yeasts resulting in a much more gaseous and bubbling kimchi during the first 3-4 months of fermentation. When eating the pineapple can be appreciated "a gaseous taste", personally I was not convinced so I decided to leave the remaining glass jars fermenting for much longer. Enough for the sugars to be consumed and that sensation would disappear.
Almost 12 months later, fermenting at about 53-57 ° F, the result is extraordinary. I really do not regret having done almost 247 oz (7 kg) of this variety of kimchi.
To make it at home you can follow the same recipe of kimchi I have on the blog.
You only have to use these ingredients: 1 large cabbage, 1 pineapple, 3,5 oz (100 g) fresh ginger, 3 large parsnips and 5-6 radishes. In addition to the salt, paprika and chilies at your choice to adjust the spicy taste.
Peel the pineapple and remove the center, cut it into slices and then make pieces of about 1 inch.
The recipe does not have to be done so if you do not want to, if you do not like the radishes you do not have to add them or if you prefer to add another ingredient, like fennel for example, then do it. I have left the ingredients that I used so that you have a reference.
The kimchi is absolutely delicious without adding anything…
But if we combine it with other ingredients … it's little less than a delicacy. A few weeks ago I found the blog of Two Red Bowls and her wonderful recipe of "kimchi potato skins". Wonderful! When I saw it I imagined such combination of flavors and I began drooling … So thanks to this recipe, I share with you my new recipe of pineapple kimchi.
One thing I want to say so you do not do it. Do not heat the kimchi, add this once you have everything cooked. In the recipe I specify the process well and in other posts I have talked about it, but I will make a brief summary.
All fermented foods lose their beneficial properties, probiotics and enzymes, when subjected to a temperature above 114º F (46° C).
We kill them and this does not interest us, in addition to enjoying their flavor ideally is to take full advantage of its potential. It is true that there are some elaborations like soups made with sauerkraut or kimchi in which this element is cooked. They are delicious but in those cases, we will only benefit from its flavor.
By the way… many time without share a song. Today I bring you one of my favorite singers since I was 13 years old. I discovered it because I loved to record video clips on VHS tapes… I watched the 40´s program, the MTV … Everything! And one day they shared this video of Jamiroquai and from that moment I was a super fan. I have his entire discography and I have been able to see him in concerts … my idol! This song is probably not the best known, but it's the one I fell in love with LOL
If you do not have Spotify, you can listen it on this Youtube link.
After this, I leave you with the elaboration 😉
ROASTED POTATOES STUFFED WITH PINEAPPLE KIMCHI
4 serves
FOR THE ROASTED POTATOES:
8 medium potatoes, about 5,8 oz/piece (165 g)
olive oil to rub potatoes
salt and pepper to taste
shredded Cheddar cheese, 1 Tbsp/half potato
FOR THE DRESSING FOR PINEAPPLE KIMCHI:
7 oz (200 g) pineapple kimchi
honey, 1 Tbsp
rice vinegar, 1 Tbsp
sesame oil, 1 Tbsp
FOR GARNISH:
scallions finely sliced
green chile slices
chopped fresh cilantro
chopped fresh basil
nigella seeds
8,8 oz (250 g) unsweetened Greek yogurt
red chile oil* (optional)
* Recipe on the link.
INSTRUCTIONS:
Bake the potatoes.
Preheat oven to 400ºF.
Wash the potatoes very well under cold water to remove the soil, dry.
Rub each potato with olive oil, prick them all over with a fork and place on a baking sheet. Season to taste.
Bake during 50 minutes or until potatoes are tender.
Remove from the oven and let rest until they are easily to handle.
Turn the oven up to 500ºF.
Cut potatoes in half and scoop out the flesh leaving a 0,4 inch border. Store the flesh  to make a puree, add it to a dough or other use that you prefer.
Pallarès knife and Seigaiha de Tokyo Design Studio porcelain bowl from Claudia & Julia.
While lightly cooling the potatoes, prepare the dressing for the pineapple kimchi.
In a bowl mix the kimchi along with the honey, rice vinegar and sesame oil.
Set aside.
Finish the potatoes baking.
Brush the inside of potatoes with olive oil, season to taste and place them cut-side down on the baking sheet. Bake for 5-8 minutes. The skins will become crunchy.
Flip them with care and sprinkle the shredded Cheddar. Bake for 5-8 minutes more, cheese must be melted.
Remove from the oven and stuffed them with the kimchi mixture, 1 tsp of Greek yogurt, scallions, cilantro, basil, green chile and nigella seeds.
If you like the spicy flavors too much, a dash of red chili oil will be perfect.
NOTES:
Can I use another type of kimchi? Of course, if you have already elaborated your own, use it!
And if I use sauerkraut? It will also be great, but in this case I recommend you to use the red chili oil to get a spicy taste.
Greek yogurt can be substituted for crème fraîche or even cream cheese.
Nigella seeds may be omitted or used instead black, golden sesame or other seed that you prefer.
The ideal is to consume these potatoes, once they are stuffed, on the same day. If you have more roasted potatoes than you eat, you can refrigerate them for 2-3 days.
If you are passionate about kimchi, these roasted potatoes stuffed with pineapple kimchi will fascinate you. For me it has already become another indispensable more at home. I think that it is an ideal and surprising entree in which the greater work will be roasting the potatoes.
Today's task is double, the pineapple kimchi on the one hand … and these stuffed roasted potatoes on the other!
Big hugs,
Eva