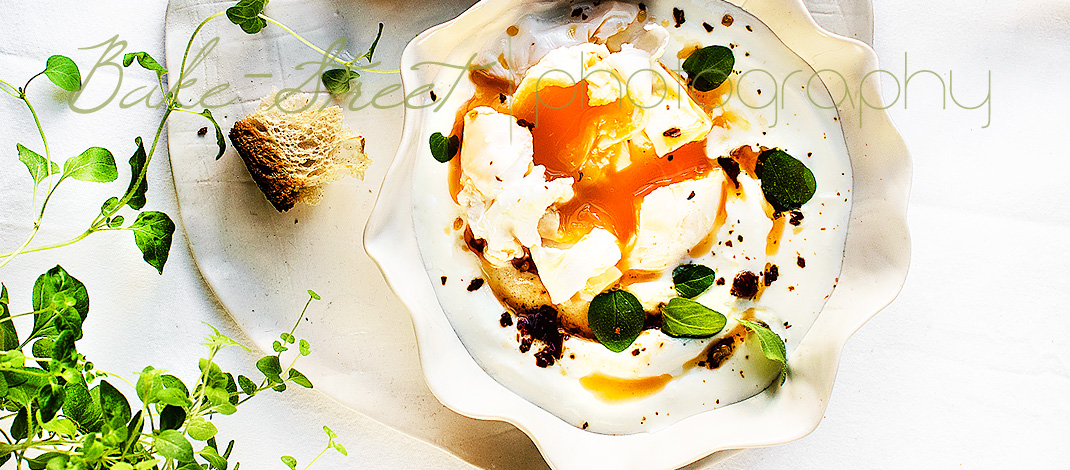 Yoghurt soup with poached egg
Este post también está disponible en Spanish
If you like to enjoy breakfast time you can not miss this yoghurt soup with poached egg and chili oil. I know that you probably find it strange to mix yoghurt and egg in the same dish, but I assure that the combination of both is very pleasant and really surprising.
This recipe comes from a book that I have recently recommended to you, Magic Soup, I have changed some ingredients to my personal taste. For example truffle salt , fresh oregano and the recipe to elaborate the chili oil.
Certainly I was totally unaware of how to make a homemade chili oil, I always thought that it would be enough macerating the chiles in the oil for a long time. But looking for how to make it, I found this process which I saw in several videos.
You have to put the oil in the heat to achieve a low temperature, once the oil is ready, add the chili peppers and cook for one minute to soften slightly. We will observe that the red of its meat becomes more alive and intense. From here we proceed to smash the chilis in a mortar along with the salt until almost obtaining a paste and, later, we will mix with the oil.
The amount of chilis is "free" as its the variety, depending if we want smoky, spicy aromas … In my case I have to say that the result is a very spicy oil, I warn you because I like it a lot but in some cases, maybe excessive.
Poaching eggs, how can I make them?
Poached eggs can be made the way I show you today or in film, as I showed you in this recipe with artichokes. This process may seem somewhat more complex or laborious, but following certain steps, everything will go well.
The most important thing is to use fresh and good quality eggs. We must drain them beforehand to remove the most watery part that, during cooking, can generate many strands in the water. The water should not get to boil, we must maintain a warm temperature and a gentle bubbling. Around 187º F.
What is the use of adding vinegar to the water?
It helps us to coagulate the egg white, accelerates the process which benefits us in this method of cooking to contain the yolk.
Does it bring flavor?
It is quite subtle and not unpleasant at all.
The result is a mixture of flavors and textures very lively and fresh, I think it is certainly a fantastic option to start the day differently and healthy. Of course, do not forget to accompany a good slice of toast. If it's homemade, much better 😉
YOGHURT SOUP WITH POACHED EGG
1 serve
5.3 oz (150 g) Greek unsweetened yoghurt
1 ó 2 poached egg (at your choice) – Recipe below
1 Tbsp chili oil – Recipe below
white truffle salt
fresh oregano leaves
FOR POACHED EGGS:
35 oz (1 l.) water
2 Tbsp apple vinegar
2 large eggs
FOR THE CHILLI OIL:
3.5 oz (100 g) olive oil
7 red hot chili, guajillo
2 serrano chili
6 Cobán chilis
1 tsp Maldon salt
INSTRUCTIONS:
Make chili oil.
In a medium saucepan pour olive oil and place over medium low heat.
Let to warm olive.
Add chilis and stir for 1 minute with a wood spoon.
Remove from the heat.
With a slotted spoon remove the chilis and transfer to a mortar.
Add salt and smash in a mortar to get a soft pulpy.
Pour olive oil and mix.
Set aside.
Make poached eggs.
Pour water in a medium pot along with apple vinegar, place over medium high heat. Water must simmer but not boil.
While put a fine mesh colander over a bowl. Crack the egg and place in the colander, let drain the watery part.
Transfer the egg into a small bowl.
With a spoon stir water to create a a whirl, place the egg in the water with care and cook for 3 minutes.
Remove from the water with a slotted spoon, let drain over kitchen towel and place in a dish.
You can see how to make the process in this video.
Serve yoghurt soup.
Place Greek yoghurt in a bowl and warm slightly for a few minutes in the microwave oven.
Put the poached egg on the surface.
Drizzle with chilli oil, sprinkle white truffle salt and garnish with fresh oregano leaves.
Serve with a homemade bread toast.
NOTES:
Chili oil is very easy to make and preferable to consume it homemade. We can make a selection of chilies to your liking, in my case I used a mixture of spicy and smoked chilies. Once done, it can be preserved for many months in a glass container.
Poached eggs can make the way I show you today or, if you want a simpler method, wrapped in film as I show in this post.
Truffle salt is optional, it gives a wonderful aroma and taste, but it can be replaced by salt in flakes if you do not have it.
If you do not like fresh oregano you can use another aromatic herb or sorrel leaves instead.
This yoghurt soup with poached egg is a different and healthy way to enjoy breakfast, especially if you like more salty than sweet flavors. The mixture is very nice and the spicy touch works great.
I know it is a dish that may be rare at first, but I assure you that you will like it and will surprise equally 😉
Big hugs,
Eva
Archivado en