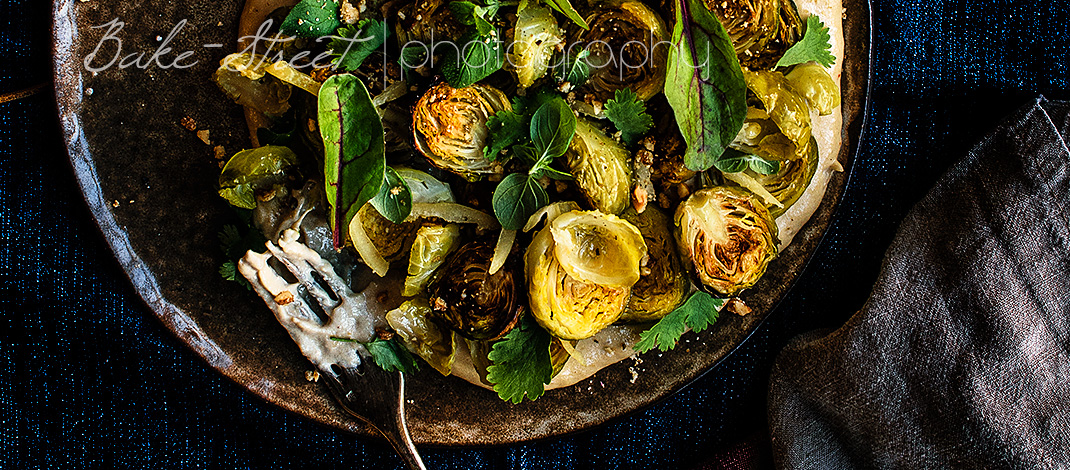 Brussels sprouts with tonnato sauce
Este post también está disponible en Spanish
After these festive days, we have to return to the habit and detox our bodies! But, we have enjoyed too much! Have a healthy diet it isn´t a sacrifice, it has not to be bored. For example these Brussels sprouts with tonnato sauce from one of my last acquisitions, Bar Tartine. I like too much this book, it has surprising recipes and a big amount of techniques and new ingredients. I recommend it you! 
Now, you will tell me, Brussels sprouts? They are terrible! I know it will be impossible to persuade you in some cases… But it will be possible with some of you. I swear they are really delicious and this fantastic sauce… is superb!
It is common to make vegetables always the same way; boiled, sautéed, with olive oil, garlic and some paprika… I am not telling that this is a bad way to make them, but maybe unattractive.
In this case we are going to cook them blanched and baked. Awesome.
Brussels sprouts, without anymore, haven´t got a great flavor but with tonnato sauce is a different story. What a great discover, I have never tasted something similar and for sure it will not be the last time that I make it.
What is tonnato sauce?
This sauce is part from an Italian recipe, Vitello tonnato. It is veal round served with a sauce make with anchovies and tuna, so they called it "tuna veal".
The elaboration from this sauce is quite similar to homemade mayo, we must have to care do not break the emulsion while we are pouring oil over the mixture. But do not be afraid of, it is really easy. Process little by little but do not over-process or mixture will be heat and could spoil it.
Our recipe is similar to tonnato sauce but with some changes that goes to Oriental cuisine. In the recipe from Bar Tartine they use grape-seed oil (I was completely ignorant) instead of olive oil, I tell you because if you have this kind of oil, use it. Furthermore, I made some changes to adjust my personal tastes, but the origin it is from their recipe.
This meal is really fantastic and complete! Even though we use vegetables, sauce has a great a nutrient content.
For my part, I have got a new follower at home with Brussels sprouts, if I make it this way… Tell me if you get the same result! 😉
BRUSSELS SPROUTS WITH TONNATO SAUCE:
4-6 serves
FOR BRUSSELS SPROUTS:
2 lb (900 g) Brussels sprouts
2 Tbsp olive oil or vegetable oil
2 tsp kosher salt
FOR TONNATO SAUCE:
2 oz (55 g) cooked potato
4 oz (115 g) canned tuna
12 oil-packed anchovy fillets
2 dried shiitake mushrooms
6 large garlic cloves
2 large egg yolks
3/4 cup (180 g) olive oil or vegetable oil
2 tsp Oyster sauce
1 Tbsp fresh lemon juice
Shichimi togarashi pepper
FOR DECORATE:
fresh cilantro leaves
fresh oregano leaves
baby red chard leaves
finely strips from preserved lemons
5-6 honey peanuts, smashed
freshly ground black pepper
juice from 1 lemon + 1 Tbsp olive oil
INSTRUCTIONS:
Cook Brussels sprouts.
Preheat oven 390ºF. Line a baking tray with baking parchment, set aside.
Fill a large pot with salt water and place a high medium heat to boil. While, fill a large bowl with water and ice. Set aside.
with a sharp knife remove ends from Brussels sprouts and pick the out leaves. Wash well, drain and cut in half.
Once water is boiling, add the Brussels sprouts (in batches) and cook for 20 seconds. Remove with a slotted spoon and transfer to the ice bath for a few seconds. Transfer them to a colander.
Repeat with the remaining Brussels sprouts.
Place them over the baking tray, cut side up, pour olive oil, salt and bake for 20 minutes. When time baking is finished, Brussels sprouts must be golden brown, if not, turn on the grill and let for 2 minutes.
Remove from the oven and let cool.
Make the tonnato sauce.
Bol de porcelana Tokyo Design de Claudia & Julia.
In a small saucepan pour olive oil along with canned tuna (well drained), dried shiitake and garlic cloves smashed. Add olive from anchovies too.
Cook over low heat until garlic is tender enough to be easily pierced, about 30 minutes.
Remove from the heat, transfer to a bowl and let cool in a fresh place. Cover the bowl with an aluminium sheet and chill for 30 minutes.
Remove shiitake and discard. Strain the chilled mixture, reserving the tuna mixture and oil separately.
In a food processor add cooked potato along with tuna mixture, anchovies, Oyster sauce, egg yolks, Shichimi pepper and fresh lemon juice. Process until get a smooth puree. About 1 minute.
Begin to pour oil, while processor is running, slowly. the same way if we make homemade mayo. Do not over-process the mixture, other wise we can break the emulsion. Sauce must be smooth but thick.
Transfer the sauce to an airtight container and place in the fridge until ready to use.
Serve.
Spread some tonnato sauce on the dish.
Place roasted Brussels sprouts, sides facing up, over the sauce.
Decorate with some preserved lemon strips (only the peel, discard the flesh), smashed honey peanuts and cilantro, oregano and red chard leaves.
Mix lemon juice with olive oil and pour, at your choice, over the roasted Brussels sprouts.
Finally, sprinkle some black ground pepper and served.
TIPS FROM THE SAUCE:
To make it we use anchovies, so I do not use salt because I consider is salty enough. But, of course, you can taste and rectify if you wish.
It is better to serve at room temperature, and much better freshly made if it possible. If you make it in advance, early in the morning for example, I recommend you to temper before serving.
You can store it in the fridge for up 2 days.
These Brussels sprouts with tonnato sauce is a good choice to begin the new year, eating vegetables and enjoying them.
This sauce can use to serve with other kind of vegetables, spread on sandwiches or toasts! It has a potent flavor but really nice. Its preservation is quite delicate, very similar to homemade mayo, so do not use it beyond 2 days. Good a healthy begin!
Big hugs,
Eva
Archivado en