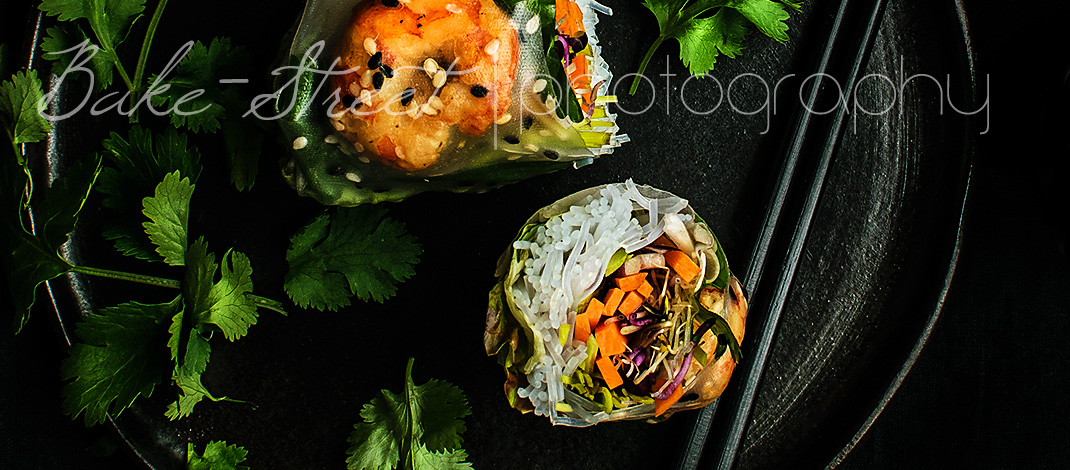 Vietnamese rice paper rolls, spring rolls
Este post también está disponible en Spanish
I had never worked before with rice paper and, for my first time (I think that I risked a lot!), I decided to make these Vietnamese rice paper rolls stuffed with prawns, vegetables and served with two dipping sauces; miso ginger and peanut. To be honest, I didn´t think that they were complicated to work, and they were at first.
Rice papers are round and firm sheets, to work with them it is necessary to hydrate them before so we can roll or mould them the way we prefer. May be you are thinking, easy, but you must know it´s very important not to hydrate them too much time or we can´t work well with them because they become very sticky. Especially to itself.
The first rice paper I hydrated it like the packet specified. When I removed from the water and put over a work surface, it was impossible to work with it. So I decide to follow Recipe Tin Eats, and everything goes perfect. She uses two rice papers, I don´t.
We have to hydrate rice paper only for 2 seconds, may be it looks short time, but trust. It is perfect. When you remove rice paper from the water, it will be still firm, but not for a long time. They are really sticky and fragile so we must be patient.
Filling can be at your choice, it is common to stuff them with fresh and raw vegetables. I used carrots, scallions, purple endive, coriander, oak leaves lettuce and sprouts. Prawns or shrimps can be boiled or sauteed, this is the way I made them. And finally noodles, I used peas mungo bean vermicelli but you can use rice noodles if you wish.
To serve an incredible peanut dipping sauce (based in Recipe Tin Eats) that you will love too much! Besides, I made a miso ginger dipping sauce (adapted from my book The Miso Book: The art of cooking with miso.).
A healthy and awesome snack, lunch or supper, that I am sure you will make several times…
VIETNAMESE RICE PAPER ROLLS:
Serves: 12 rolls
FO THE ROLLS:
12 rice paper sheets
2 nest dried vermicelli
12 leaves of oak leaf lettuce or butter lettuce
2 oz (60 g) carrot
2 scallions
1.4 oz (40 g) purple endive
1.2 oz (35 g) fresh coriander, only leaves
radish sprouts
alfalfa sprouts
24 fresh prawns
PRAWNS DRESSING:
2 Tbsp olive oil
2 Tbsp rice vinegar
3 Tbsp soya sauce
4 tsp sesame oil
allspice
MISO GINGER DIPPING SAUCE:
red miso 2 Tbsp + 2 tsp 
tahini 2 Tbsp + 2 tsp
rice vinegar 2 Tbsp
Mirin 2 Tbsp
1 tsp ginger powder
2 basil fresh leaves
PEANUT DIPPING SAUCE:
2.1 oz (60 g) peanut butter
1.4 oz (20 g) Hoisin sauce
1 tsp soya sauce
1.4 oz (20 g) sesame oil
2 tsp moscabado sugar
1/4 red chilli
1 Tbsp lime juice
sesame seeds
water
INSTRUCTIONS:
Make dipping sauces.
In two small bowls, mix each ingredients and cover with plastic wrap.
Chill until needed it.
Sprinkle sesame seeds over peanut sauce and thinly cut basil over miso ginger sauce.
Prepare vegetables.
Wash and drain vegetables.
Cut into julienne vegetables except for lettuce and coriander. Set aside.
Cook prawns.
Peel and remove heads from prawns.
In a small bowl stir soya with rice vinegar, set aside.
Put a medium saucepan over medium heat with olive oil. Once it is hot, add prawns. Cook for 30 seconds by side.
Add soya mixture and cook for 2 minutes. Sprinkle with allspice and remove from heat.
When they are cooled, pour sesame oil and stir.
Cook vermicelli.
To cook vermicelli, you must follow packet instructions.
Fill a pot with water and put over medium high heat until reaches boiling point.
Once the water is boiling, remove from the heat and add vermicelli. Let sit, submerged, for 4 minutes.
Drain and rinse with cold water.
Make Vietnamese rice paper rolls.
Fill a large bowl with cold water and put a cotton cloth over a work surface.
Submerge rice paper, one at a time, for 2 seconds, no more time! Texture will be firm. Don't be tempted to hydrate the wrapper longer because it will be hard to remove and work with.
Put over the cotton cloth for a few seconds to remove water excess and move into a work surface.
On the top part of the rice paper, place 2 prawns with 3 coriander leaves in between, dust with sesame seeds.
Below, put one lettuce leave and some vermicelli, then wrap the lettuce leaf around and scrunch together lightly.
Put some carrots, scallions, purple endive, sprouts and more coriander leaves.
Fold the left and right edges of the rice paper in, then starting from the bottom and roll up.
Repeat with remaining rolls.
Serve…
Once rolls are ready, ideally, have to be serve immediately. Serve Vietnamese rolls with peanut and miso ginger dipping sauce. Enjoy! 🙂
PRESERVATION: Sauces can be stored in the fridge, cover with plastic wrap, for up 2 days. Vietnamese rolls are better to be eaten the same day you make them.
These Vietnamese rolls are fresh, light and… scrumptious! I like too much both sauces but if I must to choose one of them, it would be peanut sauce…
Have a nice Wednesday!
Eva
Archivado en