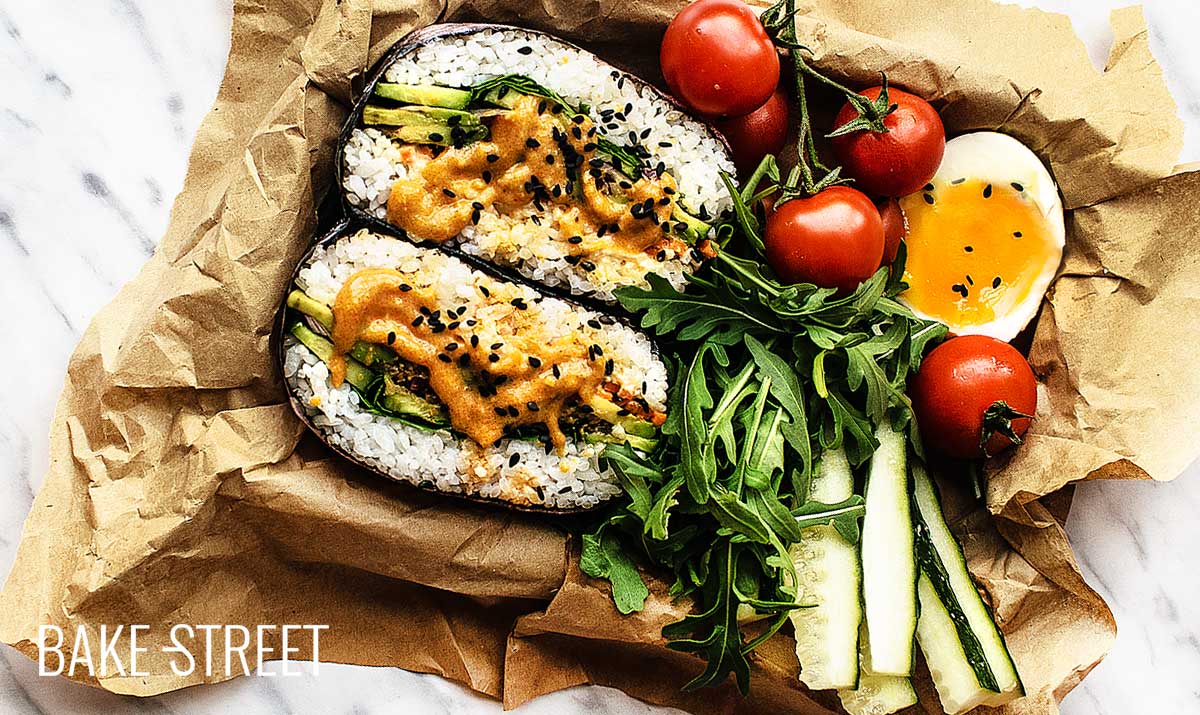 Onigirazu – Onigiri Sandwich
Este post también está disponible en Spanish
I've been trying different recipes of Japanese gastronomy for a few weeks now (the easiest for the moment!). I know I've told you on more than one occasion, but it's one of my favorite super favorites. Nothing can make me happier than to enjoy the combination of flavors and textures that they achieve through their dishes. I'd certainly eat it every day, but I try to control myself. Today I bring you a  "cousin" of the onigiri, whom I left with you a couple of weeks ago. Onigirazu or Onigiri Sandwich, your next must at home.
One could say that the onigirazu is an evolved version of the onigiri. The main base is rice (always remember, short Japanese rice or sushi rice) and nori seaweed. Then we will fill it in in a more generous and varied way than the traditional onigiri. The result is the most delicious and healthy snack, sandwich, appetizer, main dish…. you can imagine.
What's so great about the onigirazu?
A lot of things, but first of all it's incredibly versatile. You can fill in everything you like without exception. There is no specific recipe for making these sandwiches, as it is a more modern and tasteful version of the dish that is part of a more traditional one.
We can use fish or meats cooked , raw or marinated, eggs, vegetables, legumes, noodles (yes, noodles, I have seen recipes of all kinds), tofu… Whatever you want. Just think of a sandwich and move that idea to a rice and seaweed wrapper instead of bread. At first it may sound strange, but I can assure you that it is absolutely delicious, besides being suitable for celiacs.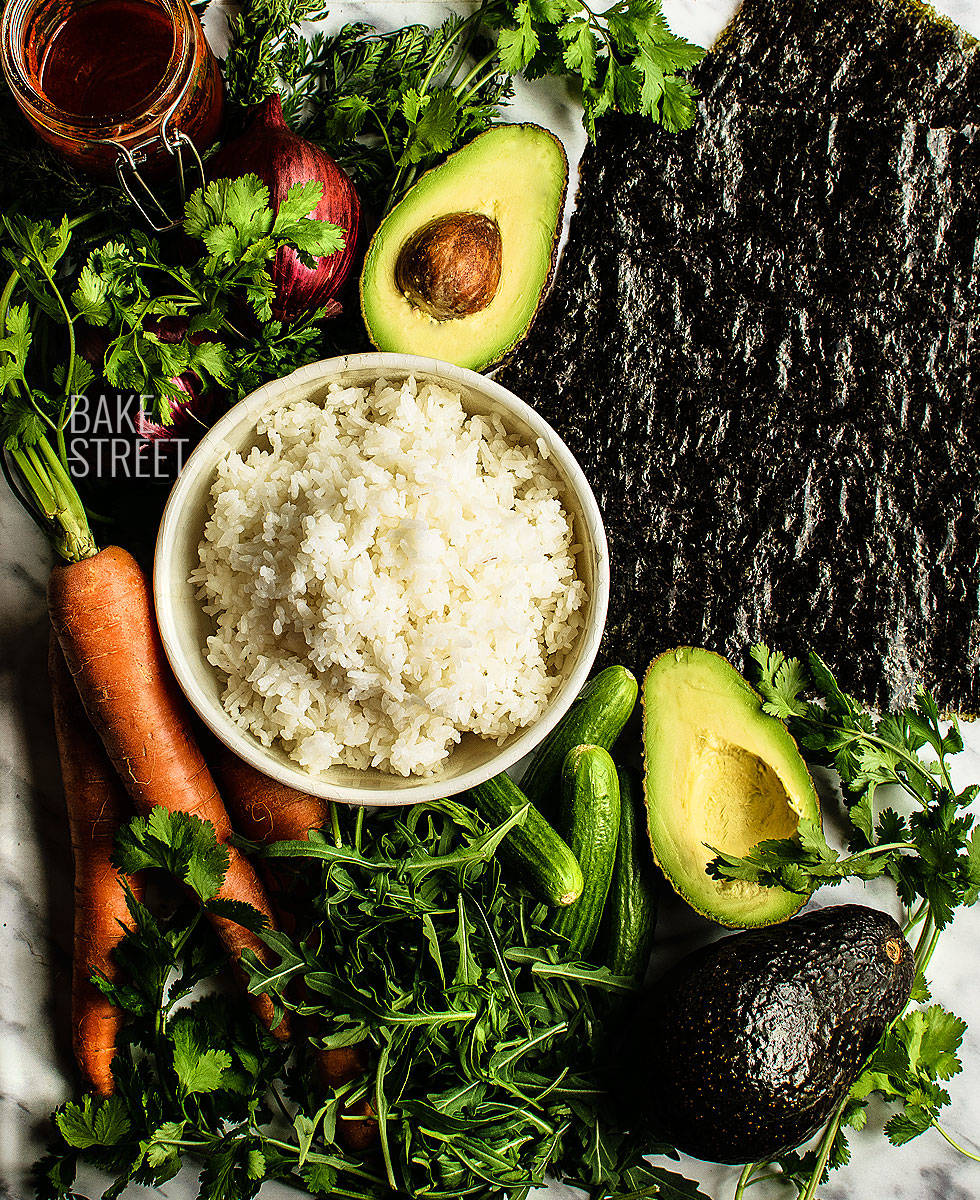 Another plus is that we can leave them ready in advance and refrigerate them until they are ready for use. In my case, when I make them, I make more than we are going to consume. Once we get them ready, it's the same to make 4 or 8 units. After shaping and wrapping them in film, I refrigerate them and can eat them the next day. In fact, these, like the onigiri, are usually part of the bento (lunch ration) accompanied by vegetables, eggs, sausages….
It is perfect to leave it prepared because it preserves its texture and freshness as well as freshly made. That goes for vegetables or cooked meat/fish. If you decide to use raw meat/fish, its shelf life is greatly reduced.
Things to keep in mind when preparing onigirazu.
The main thing, which you can imagine, is to use the right kind of rice. It cannot be made with any kind of rice and the reason is that it is the only variety of rice that is sticky enough to hold together when molded or pressed.
It is not necessary to season the rice, just use a pinch of salt on our hands when we shape it will be more than enough. Keep in mind that it is a larger version of onigiri and the flavors will be provided through the filling and the sauces.
To hold all the filling we will need to use the nori seaweed. This food has many good and other things to watch out for as it can alter our metabolism.
Nori seaweed.
Nori is a Japanese term used to refer to various types of edible seaweed belonging to the red seaweed Porphyra. The same term is also used to refer to food products made from them.
These seaweeds are cut into sheets or strips and dried for use in the cooking.
The nori can be found in two other formats:
In paste format and flavored with soy sauce, Noritsukudani
Dried or powdered nori that is used as a spice, Aonori
This seaweed, like other types of edible seaweed, is very rich in protein. Helps to level and stabilize cholesterol, has a satiating effect, strengthens the immune system and is a powerful antioxidant.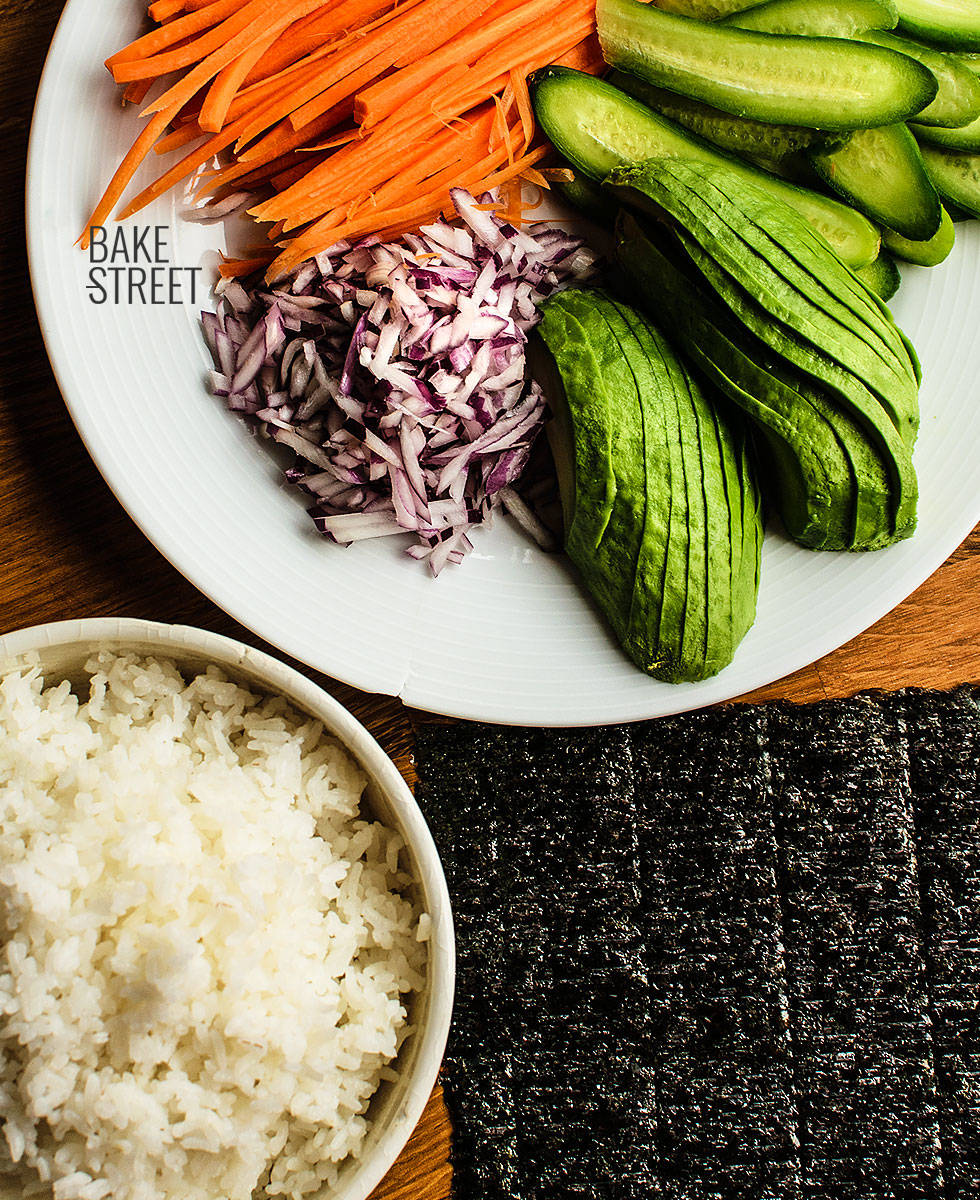 It also has many vitamins (B1, B2 and B3), K and C, minerals, especially potassium, magnesium, iron and iodine. We must pay particular attention to the latter, because its content is very high. In fact, a single sheet of seaweed weighing 2.5 g already gives us the maximum amount of iodine we should consume per day. So watch out, don't eat 27 onigirazu at once. I know it will not be for lack of desire, but we must know well what we ingest and its effects on our body.
For the same reason it is not advisable for people with hyperthyroidism to consume it. In contrast, people with hypothyroidism may be able to consume it because it stimulates the functional activity of this gland.
High sodium content.
As it is an seaweed we must remember that it has a high sodium content, so it is a food that is not recommended for people suffering from hypertension. The recommended daily intake of sodium is 2,000 milligrams, equivalent to one teaspoon (about 5 g). A nori sheet contains only 11 milligrams, but we should keep in mind that many of them are flavored and therefore contain additional sodium.
It contains DHA or docosahexaenoic acid, which is a type of omega-3 fatty acid that promotes a good development of the nervous system and vision. It occurs naturally in salmon, mackerel, tuna and sardines. That's why it's a great source for people who are vegan. Keep in mind that DHA can interact with certain medications to control blood pressure.
It is a food that should be consumed with moderation and is not recommended for pregnant or lactating women.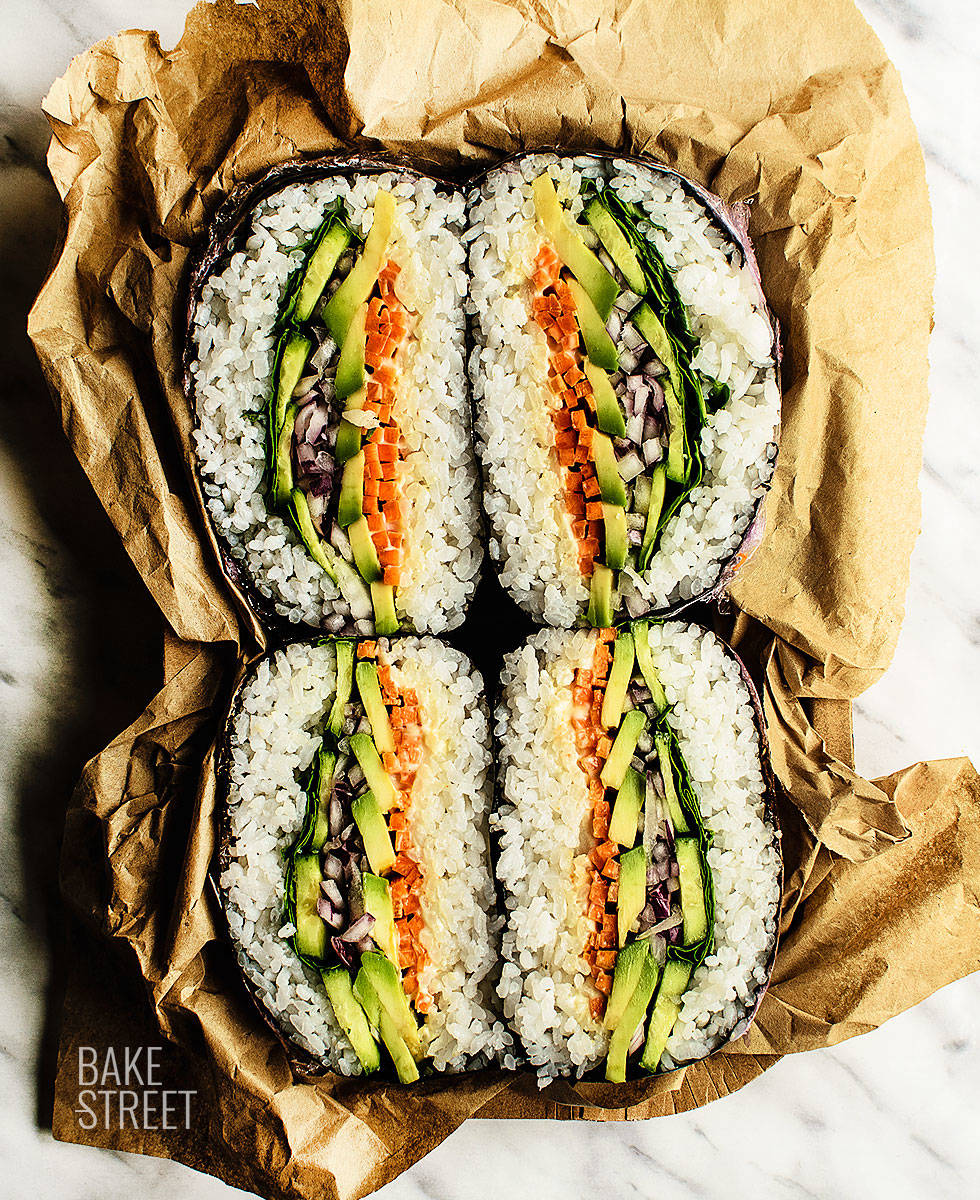 Ingredients for 4 onigirazu
FOR THE RICE:
13,75 oz (390 g) sushi rice
18,5 oz (525 g) water
FOR THE FILLING:
4 nori seaweed sheets
2 large carrots
2 medium avocado
4 mini cucumbers
1 medium red onion
fresh cilantro
arugula
mayo
Sriracha sauce (recipe in the link)
black sesame
FOR SERVE:
soya sauce
Satay sauce (peanut and coconut)
Hoisin sauce
Instructions
Cook the rice.
Wash the sushi rice very well. To do this, place it in a drainer and rinse it under cold water by moving it with your hands. We'll do it until the water comes out clear and starch-free.
Leave in the strainer itself, with a bowl underneath, to rest for 30 minutes.
Pour the rice into a large pot. Pour the water and place on medium heat.
Once it comes to the boil, leave for 2 minutes.
After that, cover, reduce to low heat and cook for 13 more minutes without lifting the lid.
Remove from heat and leave to rest in the pot for 10 minutes.
Make the filling.
Peel and wash the carrots.
With the help of a mandolin, cut into very thin strips. Set aside.
Cut the red onion with the fine julienne cutter, so that small onion cubes are obtained.Set aside.
Wash the cucumbers and laminate.
Cut the avocados in half lengthwise and slice them very finely.
Shape onigirazu.
Place a sheet of film paper on a clean work surface.
On top of this, put a nori seaweed sheet with the shiny side facing down.
For each onigirazu we will need 6,35 oz (180 g) of rice, divided into 2 parts. Put a square of rice in the centre of the seaweed, as shown in the picture.

Spread some mayonnaise and a pinch of Sriracha sauce.
Place the carrot cut in julienne, the avocado, onion and cucumber. Place fresh cilantro and arugula to taste on top.

Place another square of rice over the filling and press gently.
Fold the corners of the seaweed towards the centre and over the filling, trying to fold inwards the seaweed remaining in each lower corner of the packet.

Place a piece of carrot on the first layer of film, perpendicular to the way you have placed the inner carrot, so that when cutting the onigirazu, the arrangement of all the ingredients can be appreciated. It will serve as a guide for us to cut it later.

Wrap the film so that it is tightly wrapped into a package and flatten gently. Very gently!
Let stand for 10-12 minutes for the seaweed to hydrate and acquire a smooth texture.
Cut in half, remember to do it in the same direction as we put the piece of carrot, and without removing the film.
Enjoy with a little black sesame and the sauce of your choice.
Notes
Onigirazu can only be made with sushi rice (Japanese short grain rice), just like the Onigiri. It does NOT work with other rice varieties. The reason is that it is the only variety of rice that is sticky enough to hold together when shaped.
To cook the sushi rice, you must follow the instructions on your package. The process may vary from brand to brand. The amount of rice and water is usually the same, except for the latter (water) which is added a little more.
It is important to moisten your hands to shape the rice. This way we can handle it without leaving the grains adhering all over the surface. Remember to spread some salt on your hands after moistening them, the same way we do when shaping the onigiri.
We will use 180 g of rice for each sandwich, 90 g for the base and 90 g for the top. This is equivalent to 1 cup or 1/2 cup for each side, I tell you because it is very easy to measure the quantities.
The fillings are optional and, of course, can be changed if you wish. I have left you a vegan option, but you can stuff multiple ingredients such as fish, meat, eggs, vegetables....
Do not forget to place the film on the base to wrap the onigirazu after shaping it. Otherwise you run the risk that everything will fall apart when you try to move it because the seaweed will not have hydrated well yet.
Cut the onigirazu in half with a very sharp knife.

If you want to prepare Ramen eggs, like the one in the picture above, you can see how to do it in this post.
If you like Japanese food, onigiri and trying new things, then don't hesitate for a moment to try these Onigirazu or Onigiri Sandwiches. I promise that you will love the taste, freshness and combination of textures.
To accompany it, as far as sauces go, I leave it to your choice. I'm a big fan of Hoisin sauce, it drives me crazy! So for me it's definitely the best option.
Enjoy this wonderful Wednesday!
Big hugs,
Eva
Sources: Live Strong, Ecoagricultor
Archivado en