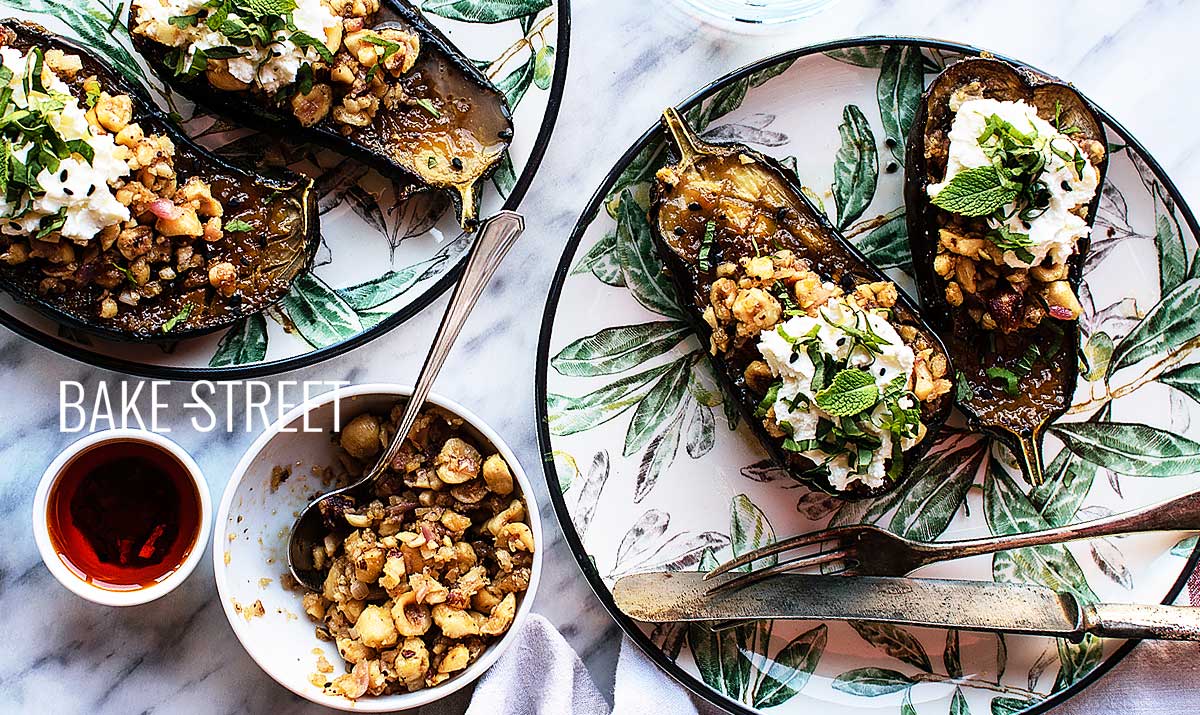 Nasu Dengaku with sautéed hazelnut
Este post también está disponible en Spanish
I love eggplants, in all formats. There's no way I can make them that I don't like. It's an ingredient I always have at home and every week I make a recipe with them. Sometimes I make them with more common and habitual recipes, but sometimes I try new ways of cooking them. This time I prepared Nasu Dengaku with sautéed hazelnut.
It is a Japanese recipe that we can also find under the name of eggplants glazed with miso sauce. This production has its origin in the Japanese rice planting celebrations, which could be of two types:
a musical accompaniment for the rice planting celebration
dances joined to the sangaku
The dengaku celebrated for rice planting was done by villagers in the New Year or during the planting season in early summer. Hence they took this name, "dengaku".
Its preparation is very simple, which allows us to have them ready in little more than 30 minutes. They are usually served as an accompaniment to rice, but of course you can accompany them with what you like best or simply serve them as a starter.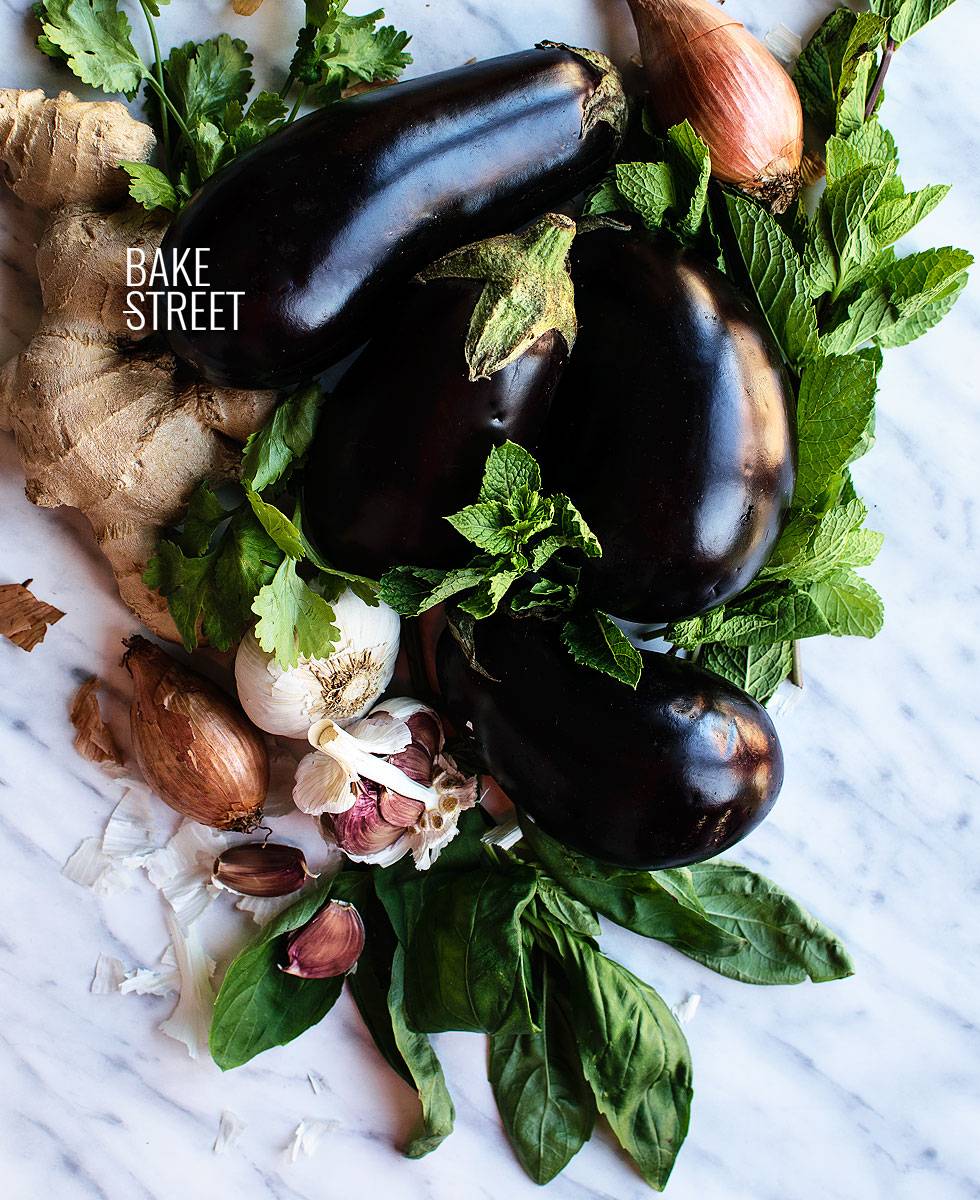 What type of eggplant should I use?
Normally Japanese aubergine is usually used, it is much thinner and longer than the one we are used to buy in stores. Its texture is also much softer and finer. So if you find them, don't hesitate to use them. What you should bear in mind is that since they are much thinner and narrower, the cooking time can be shorter.
In my case I have used some eggplants that I found on the market much smaller than the normal ones, but with the same shape.
Changing the recipe…
Normally these aubergines are served as they come out of the oven. In my case, I decided to accompany them with a sauté of hazelnuts, shallot and garlic. If the aubergines already have an impressive flavor, with the accompaniment we finish to achieve a fantastic flavor and texture.
I also served them with some crème fraîche or mascarpone cheese. I know it is an ingredient that shocks a lot in this elaboration, but it brings a creaminess along with a fairly neutral flavor that goes great. To finish off some aromatic herbs to give it freshness and a dash of red chili oil, if you like the spicy. Scrumptious.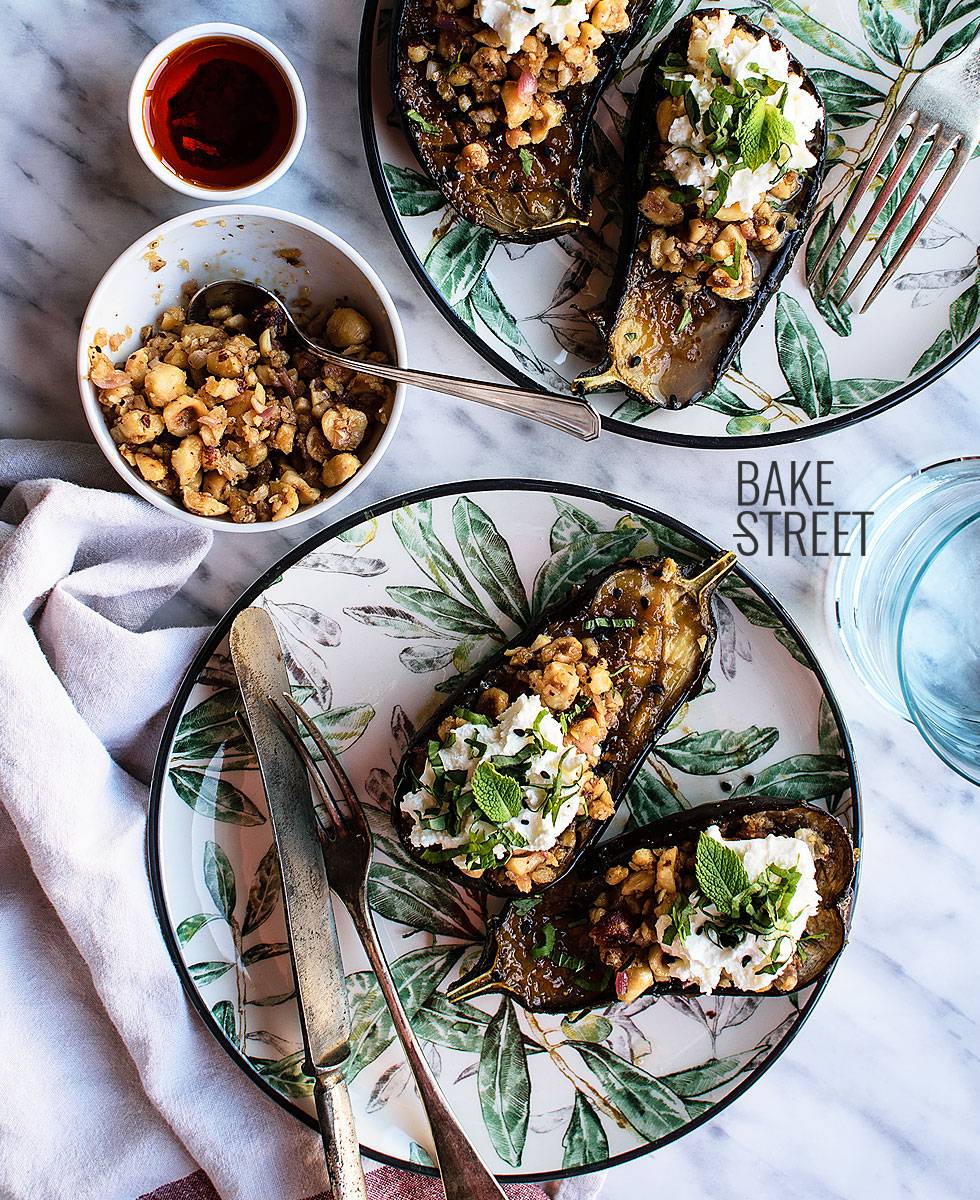 Ingredients
FOR EGGPLANTS:
4 small eggplants, 7 oz (200 g)/piece
3 Tbsp mirin
2 Tbsp sake
1,25 oz (35 g) honey
1,75 oz (50 g) white miso paste (shiro miso)
1 tsp grated fresh ginger 
black sesame to sprinkle
FOR HAZELNUTS SAUTÉ:
2,65 oz (75 g) lightly mashed toasted hazelnuts
2 y 1/2 Tbsp olive oil
1 Tbsp rice vinegar
1,4 oz (40 g) finely chopped shallot
2 medium garlic cloves finely chopped
2 tsp red chili oil
pinch of salt
GARNISH:
fresh basil
fresh cilantro
fresh mint
crème fraîche or mascarpone cheese at room temperature
Instructions
Bake eggplants.
Preheat oven to 390ºF.
Wash the eggplants and cut them in half lengthwise without removing the top stem. We make cross sections of  0,4 inch/1 cm creating a rhombus pattern, without reaching the edge of the eggplant. Set aside.
Line a baking tray with baking paper and place the eggplants. Garnish generously with olive oil and season with salt and pepper.
Introduce in the oven, at medium height, and bake for 25-30 minutes. They must be tender.
Meanwhile, we prepare the eggplant glazed.
In a saucepan pour mirin along with sake, miso paste, honey and grated fresh ginger. Place it over low heat and dissolve the miso paste with a whisk. It'll take about 2 minutes.
Remove from the heat and set aside.
Make the hazelnut sauté.
In a medium skillet, pour the oil and place it in over medium heat.
Once it gets warm, add the chopped shallot together with the finely chopped garlic. Sauté until the shallot acquires a semi-transparent texture.
Heat it up to medium-high heat and pour in the rice vinegar. Cook for 1-2 minutes, until practically all the vinegar evaporates.
Add the hazelnuts together with a pinch of salt and chili oil, sauté for 1-2 minutes.
Remove from the heat and set aside.
Glaze the eggplants.
Take the tray out of the oven, brush the eggplants with the glaze and sprinkle black sesame on the surface.
Put the tray back in the oven and broil for 5-7 minutes. They should acquire a slightly golden color, watch them from time to time to prevent them from over-browning.
Remove from the oven and set aside.
Serve.
Place one eggplant, two halves, by person in a serving dish.
Put two tablespoons of hazelnut sauté over the eggplants´ surface with some crème fraîche or mascarpone cheese.
Garnish with basil, mint and cilantro freshly chopped.
Serve immediately with some red chili oil.
Notes
The eggplants baking time will always vary depending on their weight and size. You must take this into account to give them an optimal cooking with a good result.
Originally, miso glaze is made from sugar instead of honey. You can change one ingredient for another if you wish.
Fresh ginger is also an extra addition to the original recipe, in case you don't like it or don't find it, you can omit it.
Hazelnuts can be substituted by other ingredients such as cashews, almonds, chestnuts... Let yourself be carried away by your personal tastes.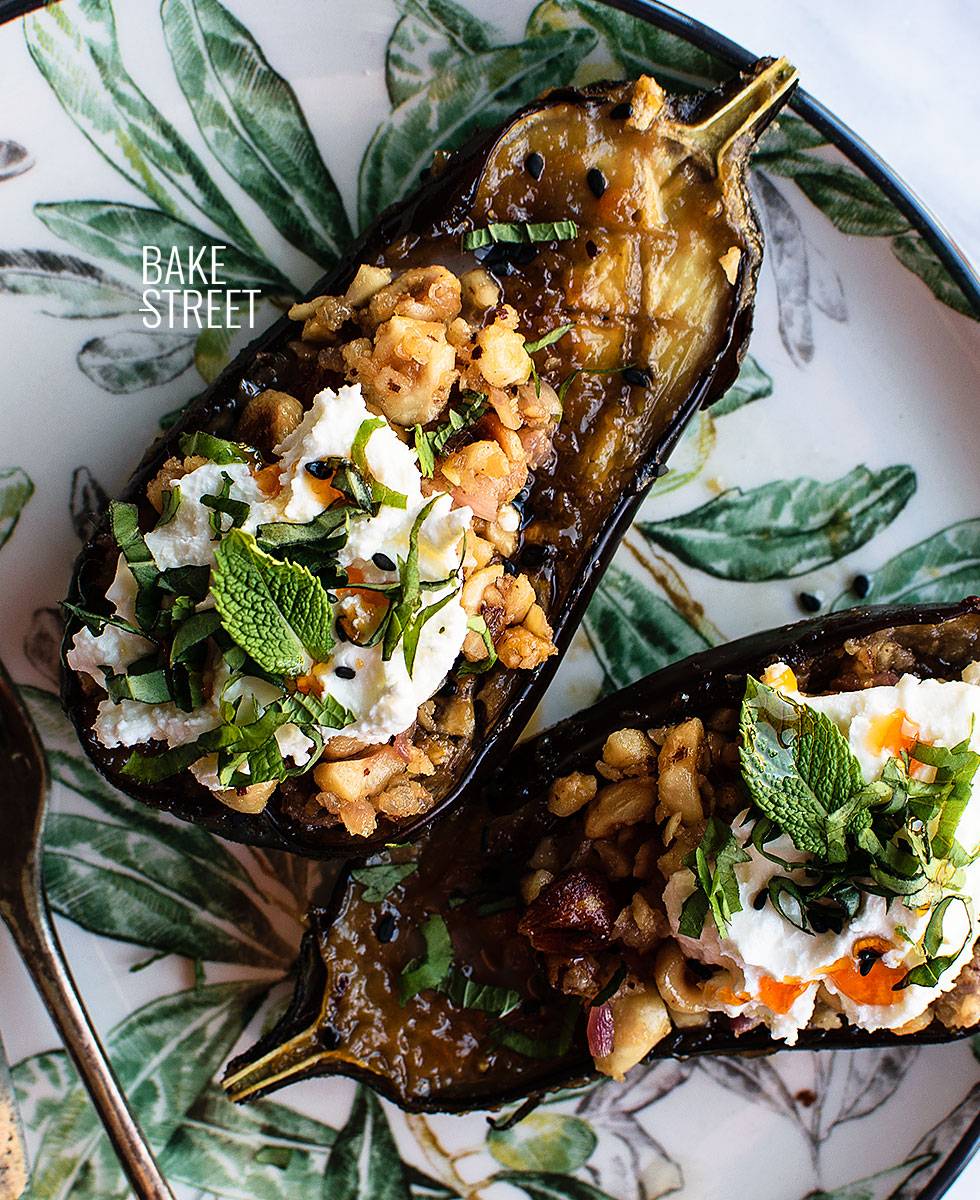 These eggplants glazed with miso sauce or nasu dengaku, are perfect to solve a quick dinner or an unforeseen meal. The flavor is really powerful, pleasant and surprising. Do not rule out preparing them even as a garnish or starter.
At home we have already increased the options to prepare them, this has been a success and it won't take long to make again... Happy beginning of the week!
Big hugs,
Eva
Archivado en