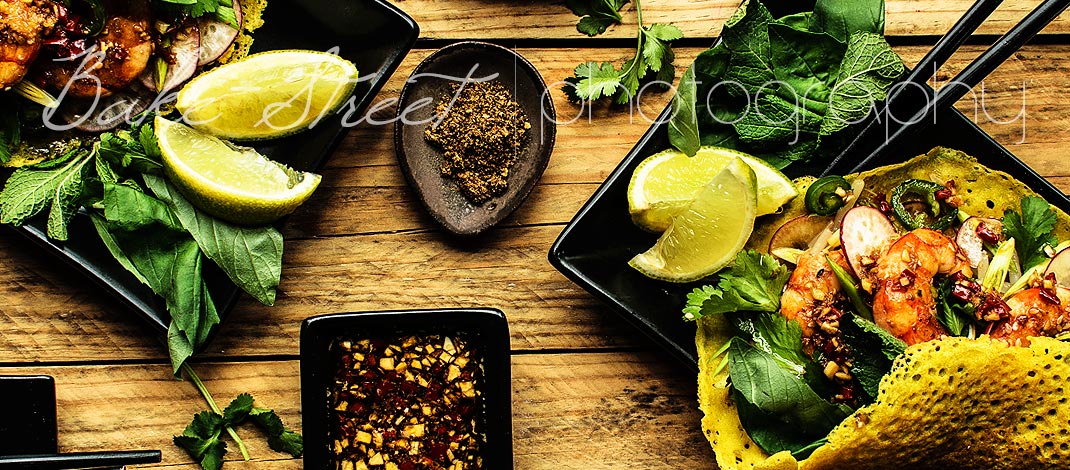 Bánh Xèo {Vietnamese crepes}
Este post también está disponible en Spanish
Today's recipe will delight you! It is not only those recipes that love just seeing them, but also is very simple and quick to elaborate and is absolutely delicious. Bánh Xèo or Vietnamese crepes, remember this name because it has arrived into your life to stay forever and ever.
Surely many of you already know them, lucky you, I just had the pleasure of enjoying them a few weeks ago and I thought … why has it arrived so late? The truth is that I have not enough hours by day, I would like to be able to cook everything that I have on my list but then I would live continuously in my kitchen and without any life beyond the stoves. Do not you think this would make me unhappy …
Bánh Xèo literally means "sizzling cake", when reading it made me smile since it seemed that the name was put by Jim Carrey in the movie "The Mask" (Sparkling!). I found the translation very curious because the definition of sizzling is to fire sparks repeatedly, although it could also be defined as a sparkling cake … if this was the intention, it could not be better described. I assure you that it is.
These crepes or pancakes are made with rice flour, turmeric, salt, water and coconut milk that are fried until get a crisp edge. Traditionally they are filled with pork, prawns, sprouts and aromatic herbs like basil, mint and cilantro. It is usually covered with a leaf of mustard or lettuce accompanied by a sauce called nuoc cham.
I have seen that we can cook them in two ways …
We can make them as I leave in the recipe below or pouring the batter into the pan with the ingredients on its surface while the bottom is cooking, then folded in half. I liked the first one, it is the way I show you how to make them but, of course, you can choose the second one if you prefer.
The filling has been to my choice, but yes, I have maintained the main aromatics herbs with which they are usually served. You can make a vegetarian version if you want, but I have to recognize that I like very much prawns… and much more in this type of elaborations.
I have sautéed them as I often make at home. A little oil, soy sauce and some sesame seeds, cook for a couple of minutes over high heat and they are ready to serve. A touch of Shichimi is going great, if you have, do not hesitate to use it.
Both the recipe of the pancakes and the sauce are from the book "Plenty" by Ottolengui. The pancakes I had to add a little water because they were too dense, but I imagine that this point depends in the coconut milk that we are using. Mine was canned which has a much denser texture. The sauce to accompany them is not the original nuoc cham, but it is quite similar. I liked Ottolengui´s recipe more and that's why I decided on it.
If you prefer the original sauce you must use the garlic, red chile, brown sugar, lime juice and 2 tablespoons of fish sauce. Season to taste.
BÁNH XÈO:
4 serves
FOR THE TURMERIC AND RICE BATTER CREPES:
8-10 crepes, recipe adapted Ottolenghi "Plenty"
7 oz (200 g) rice flour
10,6 oz (300 g) canned coconut milk
4 oz (115 g) water
1 large egg
1 tsp turmeric, generous 
1/2 tsp salt
FOR THE SAUCE:
Recipe adapted Ottolenghi "Plenty"
0.6 oz (18 g) de fresh red chile finely chopped
0.3 oz (8 g) garlic finely chopped, one large garlic clove approx.
0.4 oz (12 g) fresh ginger grated
2 y 1/2 Tbsp lime juice, one large lime approx.
1 y 1/2 Tbsp sesame oil
rice vinegar, 1 Tbsp
soy sauce, 1 Tbsp
1 Tbsp dark moscabado sugar
1/2 tsp salt
FOR THE FILLING:
FOR THE PRAWNS:
24 large prawns
2 y 1/2 tbsp olive oil
6 tsp soy sauce
1 y 1/2 Tbsp white sesame
shichimi to taste
GARNISH:
8 fresh radishes finely sliced 
8 green garlics finely sliced
3 green chiles finely sliced 
soybean sprouts
a bunch of fresh cilantro
fresh mint
fresh Thai basil
INSTRUCTIONS:
Make the sauce.
Mix all the ingredients in a small bowl.
Cover with film and we reserve until needed.
Make turmeric crepes.
In a medium bowl mix rice flour along with turmeric, egg, salt and coconut milk. Mix until obtaining a dense and homogenous mixture.
We begin to pour the water little by little and mixing at the same time. We must obtain a slightly thick mixture, which flows easily, but is not too liquid.
Place a skillet of 9 inch diameter over medium high heat. Pour 1/2 teaspoon of olive oil and let it take a little temperature.
Pour about half ladle into the pan and, using the base of the own ladle, make circular movements to help the batters to expand. We can also tilt the pan with circular movements.
Cook until the crepe acquires a light golden color and a crispy and curled up edges, about 2 minutes. Then flip carefully over with a spatula and cook for another 2 minutes.
Remove from the skillet and repeat the process with the next.
In my case I used 1/2 teaspoon of olive oil to cook each crepe, I leave it to your choice. As we take out the crepes, we will stack them on top of each other.
Once the crepes are ready, cover them with a cotton cloth while we prepare the prawns.
Cook the prawns.
We clean the shrimp, remove the head, the shell and the intestine. Set aside. (We can make this while we are cooking the crepes)
Heat a frying pan over medium high heat along with the olive oil.
Once the oil is warm, add the prawns along with the white sesame and sauté for a couple of minutes. Add the soy sauce along with the Shichimi, sauté a few seconds more and remove from the heat.
Serve Vietnamese crepes.
Serve 2 crepes/person.
Fill with sliced radishes, laminated green garlics, soybean sprouts, 3 sautéed prawns / crepe, a few slices of green chile, cilantro, mint and basil.
Serve individual bowls with the sauce.
NOTES:
It is likely that the first pancake / crepe is thicker than desired. But think that it will help you to take the exact measurement so the next will be thinner and with a crispy edge. In addition you can enjoy it while cooking the rest …
The amount of crepes can be more or less, it will depend on the size of the pan and, above all, the amount of batter you pour to make each one.
When you cook the pancakes let them brown slightly before flipping them over, otherwise it is very likely to break.
Do not you like coconut? Then you can use another type of vegetable milk or even water. But, pour it little by little to achieve the correct density since the one I use is denser and you can get a very liquid mixture.
If you do not like prawns substituted for pork; Can be pulled pork, bacon … Empower imagination!
It is not necessary to tell you the shelf life of these pancakes … because they will not last long at the table 😉
Dear Bánh Xèo, thank you for having crossed my way, we will continue to see it at our table for many more years. I hope your experience is as pleasant as mine.
Enjoy your day!
Big hugs,
Eva
Source: Wikipedia