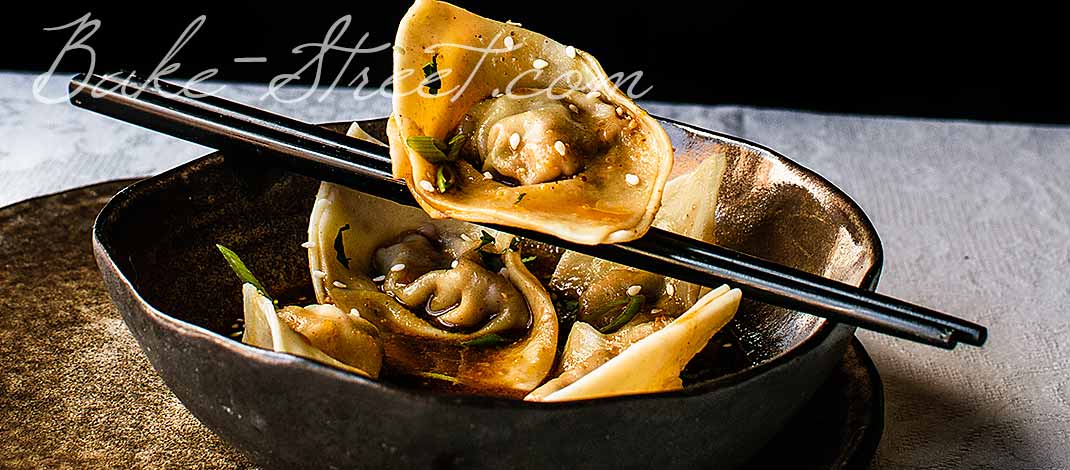 Shrimp Wontons Sichuan-Style
Este post también está disponible en Spanish
Recently  I left you how to make wonton wrappers and today I bring you a filling suggestion that has fascinated us at home. Shrimp wontons Sichuan-Style, wonderful.
The usual thing is to find wontons stuffed with pork and, at some time or other, stuffed with a meat and shrimp mixture. I really like the meat but I do not eat it too much … I almost prefer to eat fish or seafood and vegetables. So when I thought about a filling for them, the idea of shrimp + spicy soon came to my mind.
Generally the filling is raw or previously macerated, but I thought the vegetables would be better previously sautéed. I did not want to find a texture raw or too crunchy when eating the wonton. The shrimps could add raw, but if we cook them just the right time, we will be able to highlight even more its flavor at the same time to flavor with the rest of ingredients. We loved the result.
Making the filling…
I decided to make a stir-fry of garlic, green garlic (you can use scallions instead) and shiitake to which I would add, at the end of the cooking, the shrimps previously chopped. Soy, ginger and rice vinegar would be more than enough to season the filling. I also added a bit of chopped fresh cilantro to give a fresh touch (and because I like it a lot). I know that some of you are not lovers of this aromatic herb, omit it if you wish 😉
Shape wontons.
There are several ways to shape wontons, in fact I think we could do it in the way that we like more. In the end, the most important is that the filling is kept inside during cooking. But I think the ideal is to follow traditions, at least the first time we elaborate them and from there give them our touch or essence. Today we will see how to shape the traditional wonton that will be the most common shape.
Its shape can remind us a tortellini, where the union or sealing of the piece simulates the gesture of one hand placed on the other. In fact its name in Mandarin is "chao shou" and its translation literally means that (crossed hand or crossed hands), Hong You Chao Shou (抄手 抄手) *.
* Source The Woks of Life
To cook them, this time, we will boil them as if it were another variety of pasta. They can also be fried or even steamed. As I am very fond of this gastronomy, I will leave you different ways to prepare and cook them so you can try different options until you find the one you like.
SHRIMP WONTONS SICHUAN-STYLE (18 WONTONS)
2 serves
18 wonton wrappers*
9 shrimps
2 garlic cloves finely chopped
5 green garlics or scallions, finely chopped
3 Tbsp olive oil
1 y 1/2 Tbsp rice vinegar
ginger powder, 1 tsp
1 y 1/2 Tbsp Tamari
6 dehydrated shiitake mushrooms
a bunch of fresh cilantro, finely chopped
* In this link you can see how to prepare the homemade wontons wrappers.
FOR THE SICHUAN-STYLE SAUCE:
Recipe adapted from The Woks of Life
4 y 1/2 Tbsp Tamari
2 Tbsp rice vinegar
4 y 1/2 Tbsp red chile oil*
3 tsp moscabado sugar
1 y 1/2 tsp tahini* o sesame oil
* In the link you will see how to prepare it at home.
GARNISH:
green garlics or scallions, finely chopped
sesame seeds
fresh cilantro finely chopped
INSTRUCTIONS:
The first thing we have to make is the wontons wrappers. In this post I show you how to make them at home with a video. But you can always buy the ready-made dough if you prefer.
Make shrimp and shiitake filling.
Hydrate shiitake mushrooms, place in a bowl, cover with water and leave to soak for 30 minutes.
Drain well and chop. Set aside.
We clean the shrimp, remove the head, the shell and the intestine. Chop and set aside.
Heat a frying pan over medium high heat along with the olive oil.
Once the oil is warm, add garlic along with green garlics, shiitake and sauté for 6-8 minutes stirring from time to time. They must acquire a tender texture but without roasting.
Add the rice vinegar along with the Tamar and ginger powder. Remove to get a homogeneous mixture.
Add chopped shrimps and sautée for 1 minute.
remove from the heat, add chopped cilantro and stir again.
Transfer the mixture to a bowl and let lightly cool before stuff the wontons.
Make Sichuan-Style sauce.
In a bowl add all the ingredients and mix well until homogenizing.
Set aside until needed.
Stuff and shape wontons.
Take a wonton wrapper and add a teaspoon of filling in the middle.
Coat the edges with water, to favor both sides seal together after shaping, and fold in half the wonton so you get a rectangle shape.
Bring together the two outer corners and overlap them, you can moist with a drop of water, and press to seal with your fingers.
Repeat the same process with the remaining wrappers.
NOTE: At the end of the video "How to make wonton wrappers", you can see how to shape them.
Cook wontons.
Fill a large pot with water and place over medium high heat, let until the water is boiling.
Once the water boils, add a pinch of salt and drop the wontons.
Cook for 6-7 minutes. In case you like it with a hard texture, go try it out from the 3-4 minutes of cooking.
Remove from the heat, use a slotted spoon to drain the water and transfer them to a serving bowl.
Serve shrimp wontons with Sichuan-Style sauce.
Pour the Sichuan-Style sauce over the wontons and garnish with sesame seeds, cilantro and scallions finely chopped.
Serve.
NOTES:
The filling can be adjusted completely to your tastes, if you do not like shrimps you can substitute for meat or sautéed vegetables instead.
Tamari is a type of soy sauce with longer fermentation time and no added sugars. In case you do not have it, you can use soy sauce.
I have used dehydrated shiitake mushrooms because they taste better, but can be replaced with fresh shiitake mushrooms. In this post I tell you how the dehydrate at home.
To make the Sichuan-Style sauce is common to use black vinegar instead of white rice vinegar, which is the one I have used. So if you have it at home, use this instead.
Wontons can be frozen, stuffed and shaped, for 15 days.
These shrimp wontons Sichuan-Style are a total and absolute vice. The filling we will have ready in a short time and the result will be a dish with an incredible flavor that combines the spicy, sweet, salty, in addition to fresh notes thanks to herbs.
It is from those recipes that you prepare only two serves and after you think, I should have done more! If you liked the post how to make your own wontons wrappers, I guarantee you this stuffing is a great option.
Big hugs,
Eva