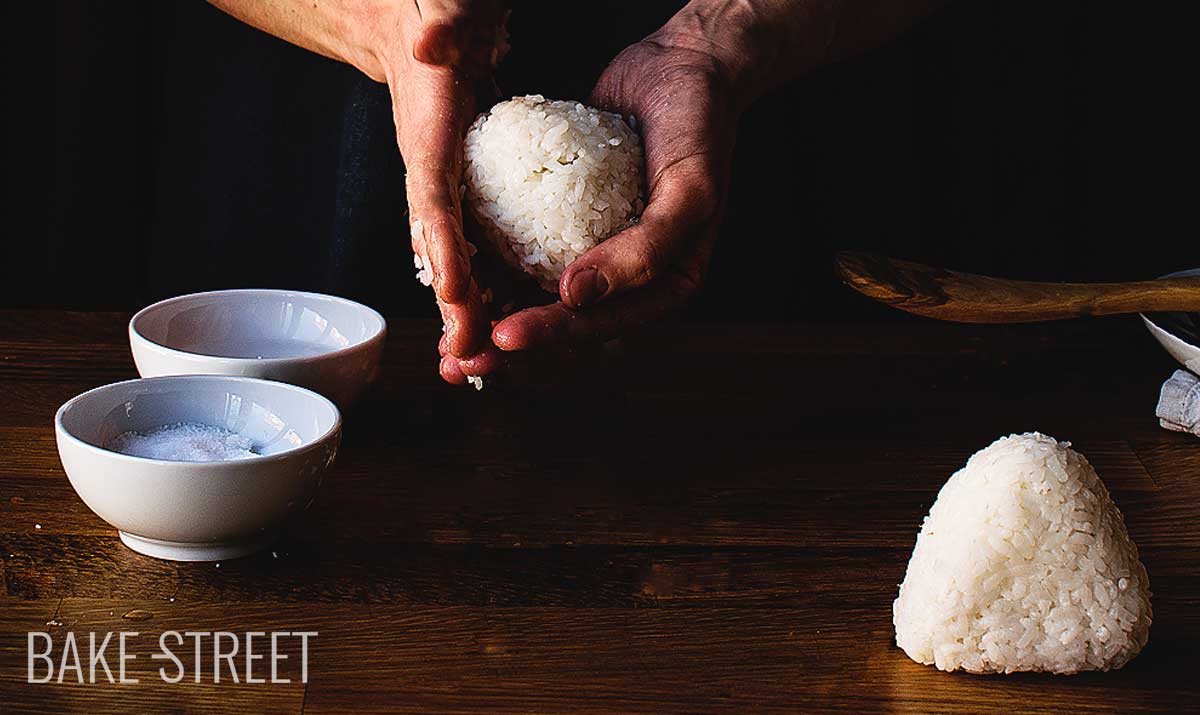 Yaki Onigiri with miso sauce
Este post también está disponible en Spanish
I'm sure many of you are total and absolute fans of Japanese food. At home we are and a lot, in fact, one of those whims that falls at least once a month. I don't think it's easy to make them, but everything has a beginning and this time we'll make a first contact with this Yaki Onigiri with Miso sauce.
The translation of "Yaki onigiri" (焼きおにぎり) from Japanese would be "grilled (yaki) rice ball (onigiri)". I'm sure that if you look around you will see that it is used for many different types of dishes: Yakisoba, Teriyaki… It is a variety of the traditional onigiri in which we will toast them with a little butter and miso sauce. In this way we will achieve a crunchy touch on the outside, as well as an impressive taste.
What is the onigiri?
The o-musubi, nigirimeshi or onigiri, as it is commonly known, are rice balls filled with ingredients. They are usually decorated with a strip of dried nori seaweed or with sesame.
Not to be confused with sushi or related to a variety of it. The onigiri is just rice, delicately salted, while the sushi is made with vinegar, sugar and salt.
They are considered a very practical and perfect food to eat away from home, which is why they are usually made for the children's lunches at school and are part of their bento (a simple meal ration, usually prepared at home, to take away) along with other foods.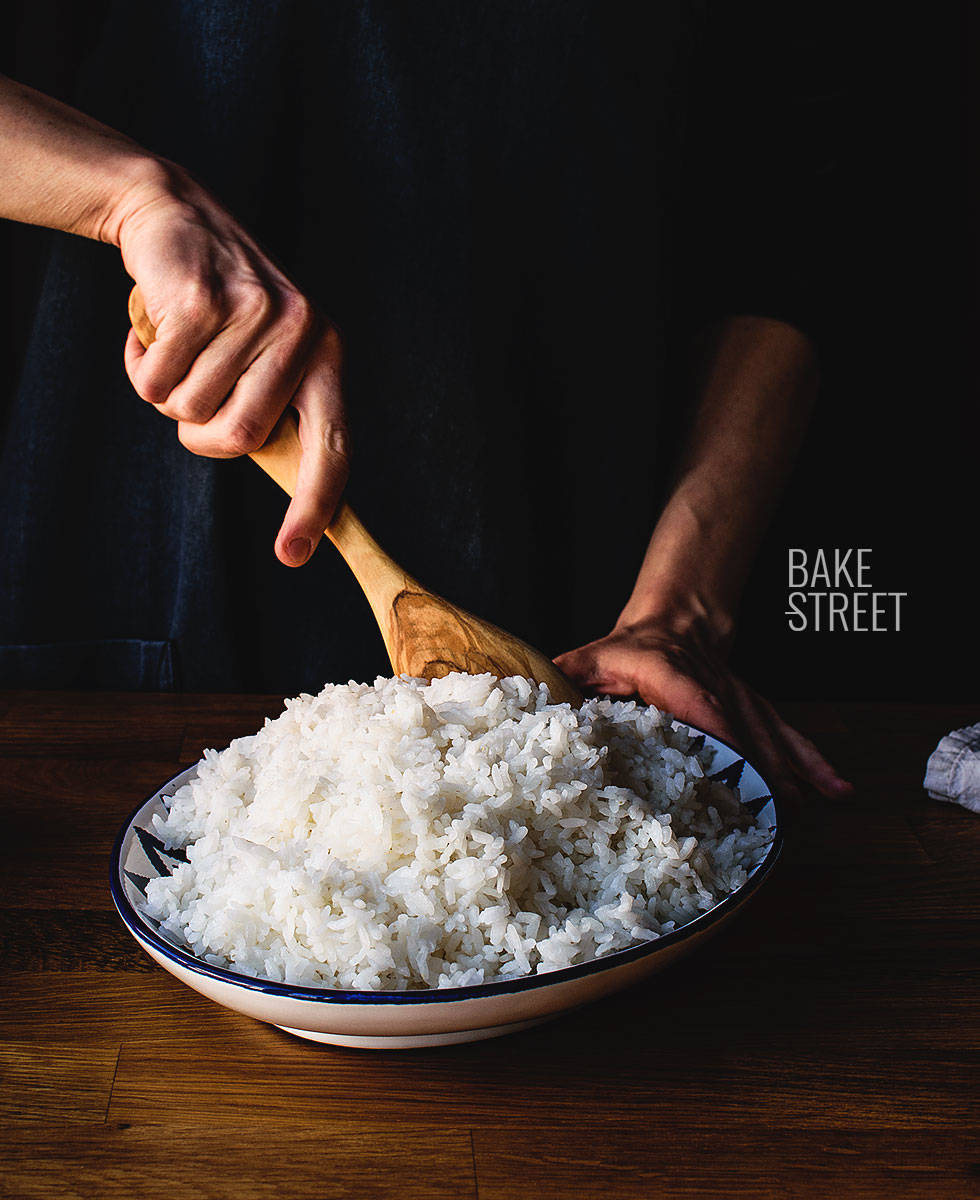 Origin of the onigiri.
In the 11th century diary of Murasaki Shikibu Nikki, a Japanese writer known as Lady Murasaki, she wrote that people ate "rice balls". At that time they were called tonjiki and were usually eaten for lunch in the open air.
Other writings found and dating from the 17th century, stated that many samurai stored rice balls wrapped in bamboo sheaths to be eaten as fast food at lunchtime during the war.
But the origins of the onigiri are far older than even those of Lady Murasaki. Before the use of chopsticks became widespread, in the Nara period (from 710 to 794), rice was usually eaten in the form of balls so that it could be easily caught.
In Heian period (from 794 to 1185), rice was also consumed in a rectangular shape known as tonjiki, so that it could be stacked on a plate and eaten easily.
From the Kamakura period to the early Edo period, the onigiri was used as fast food. The cooks only had to worry about making enough of them and not about serving them. At the time, they were just salty rice balls.
It was not until the Genroku era (from 1688 to the third month of 1704), in the middle of the Edo period, when nori cultivation became widespread and its transformation into sheets could be used for gastronomy.
It was in 1980 when it took its triangular shape due to the use of a machine that formed them in this way.
Types of onigiri.
Onigiri of different fillings can be found. In Japan, any seasoning used to dress any dish of rice is often called furikake, but in practice furikake is understood to be a mixture of seaweed, dried fish, pulses, seeds and salt. Normally, to differentiate them from each other, a small amount of filler is placed on top of them.
The most common fillings are:
Tuna salad with mayonnaise, prawns with mayonnaise….
Dried fish, roasted and shredded mackerel
Tarako, salted cod roe
Shiojyake, grilled salmon
Fried foods such as tempura, meat…
Kakuni, Dongpo pork
Dehydrated foods such as okaka (katsuobushi, fermented and dehydrated tuna flakes)
Shiokara, paste made with seafood
Tsukudani, seafood or seaweed cooked with soy and mirin
Pickled fruits, umeboshi (Chinese plum), takana (mustard)
Miso, mixed with green garlic or spread over the surface of the onigiri and then roasted (as we will do)
In my case I have used two types of filling that are the ones we can make more easily; tuna salad with mayonnaise and okaka (katsuobushi with soya).
This recipe wonder I have followed from the wonderful Shihoko from the "Chopstick Chronicles" blog. If you like Japanese food, be sure to visit their website and try their recipes! 😀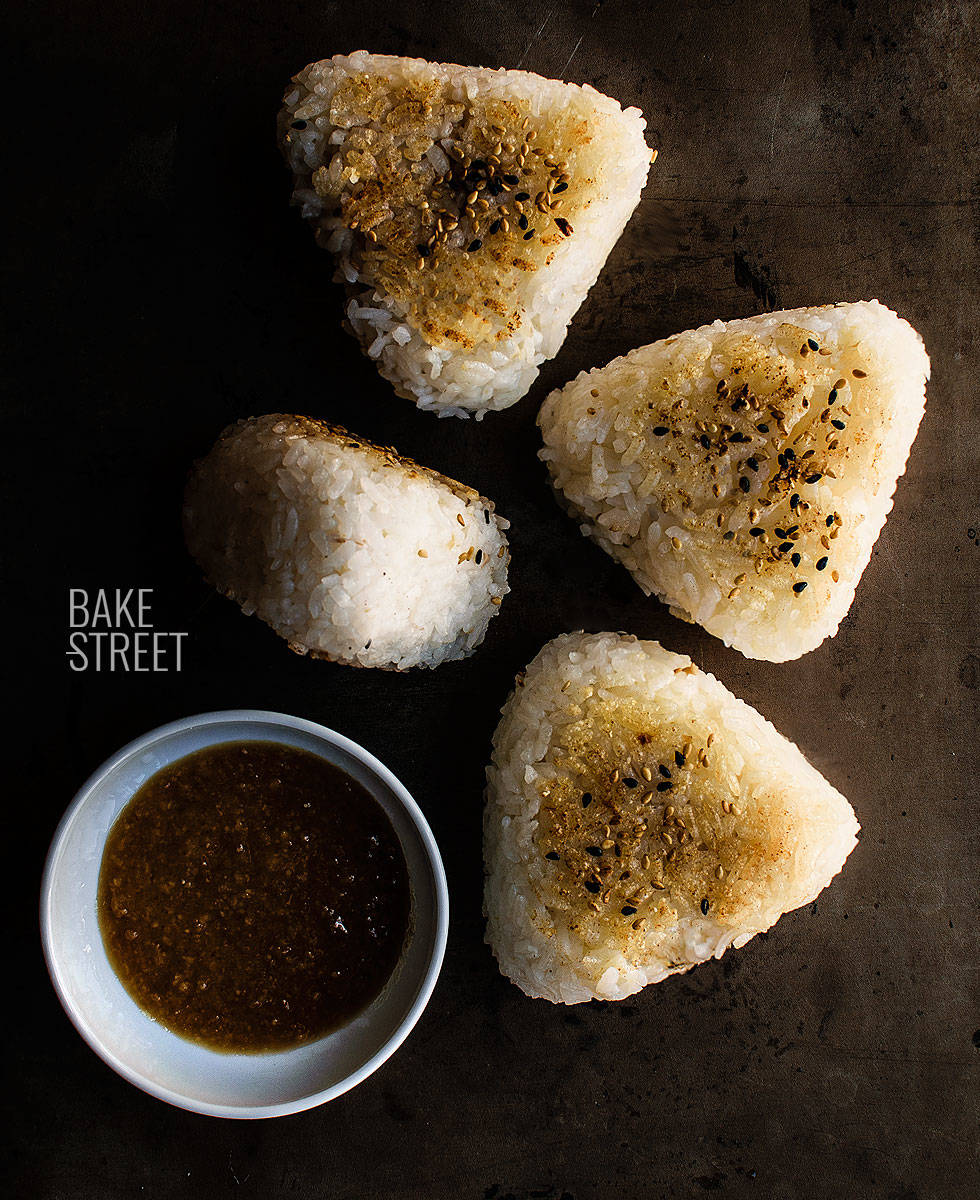 Ingredients for 6 pieces
FOR THE RICE:
13,75 oz (390 g) sushi rice
18,5 oz (525 g) water
1 Tbsp unsalted butter
sesame (optional)
FOR THE FILLING (OPTIONAL):
2,8 oz (80 g) canned tuna, drained
1 Tbsp mayonaisse
1 tsp happo dashi sauce or soy sauce instead
0,35 oz (10 g) katsuobushi
1 tsp soy sauce
FOR MISO SAUCE:
1/2 Tbsp white miso paste
1 tsp Mirin
1 tsp sake
3/4 tsp sugar
1 tsp water
Instructions
Cook the rice.
Wash the sushi rice very well. To do this, place it in a drainer and rinse it under cold water by moving it with your hands. We'll do it until the water comes out clear and starch-free.
Leave in the strainer itself, with a bowl underneath, to rest for 30 minutes.
Pour the rice into a large pot. Pour the water and place on medium heat.
Once it comes to the boil, leave for 2 minutes.
After that, cover, reduce to low heat and cook for 13 more minutes without lifting the lid.
Remove from heat and leave to rest in the pot for 10 minutes.
While the rice is resting, prepare the filling.
In a small bowl, mix the tuna with the mayonnaise and the sauce.
Mix until completely homogenized.
Set aside.
On the other hand, mix the dried bonito flakes with the soy sauce.
Set aside.
Shape onigiri.
Stir the rice in the pot and transfer into a bowl.
Wet our hands with a little water and salt, we will try to cover the whole palm of the hand.

Take a portion of rice, about 5 oz (140 g), and form a ball.
Make a hole in the center and insert 1 teaspoon of filling. Make a ball with the piece until we close the hole with the filling inside.

We begin to rotate the piece between both hands while at the same time giving it a triangle shape. In this video (from minute 5) you will be able to see perfectly how to do it.
Make miso sauce.
In a bowl, mix all the ingredients until completely homogenized.
Set aside.
Grilled the onigiri.
Place a large skillet over medium heat. Add the butter and let it melt.
Put the onigiri on the skillet and cook for 1 minute on each side.
Brush them with miso sauce, sprinkle with sesame seeds and cook again for about 1 minute on each side.
Serve with miso or soy sauce.
Notes
The onigiri can only be made with sushi rice (Japanese short grain rice), it does NOT work with other rice varieties. The reason is that it is the only variety of rice that is sticky enough to hold together when shaped.
To cook the sushi rice, you must follow the instructions on your package. The process may vary from brand to brand. The amount of rice and water is usually the same, except for the latter (water) which is added a little more.
The onigiri are large, I have used 5 oz (140 g) to form each of them.
It is important to moisten your hands to shape the rice. This way we can handle it without leaving the grains adhering all over the surface.
The fillings are optional and, of course, can be omitted if you wish. The amount I leave you is to make 3 with each filling.
If you do not want to grill them, once they are shaped, decorate them with a strip of nori seaweed. It adheres perfectly to the onigiri.
At home they were delighted with these Yaki Onigiri with Miso sauce. In fact, it has been a wonderful discovery for my son and he has already told me that I have to do this every week... hahaha.
It is a very simple recipe to carry out in which we will only have to pay attention and care to the cooking of the rice. This is vitally important to do well in order to achieve a good result. The rest will come alone ;)
I wish you a wonderful start to the week!
Big hugs,
Eva
Sources: Wiki, Love at first Bento
Archivado en