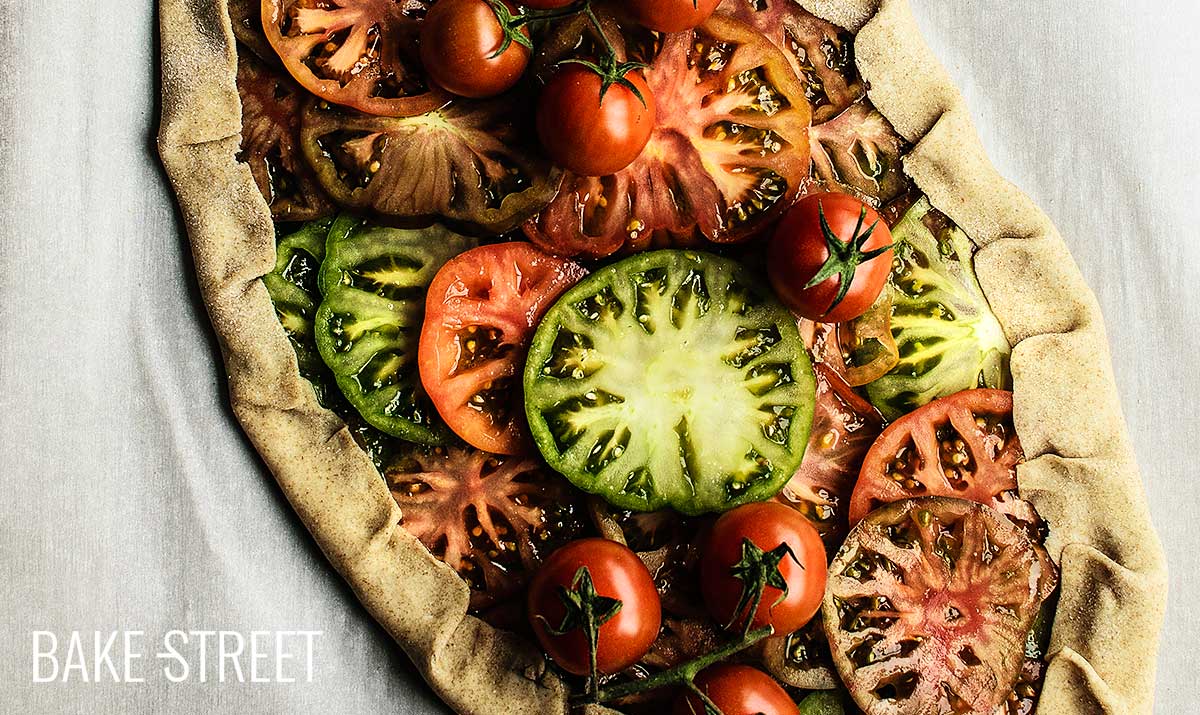 Rye galette with pesto and tomatoes
Este post también está disponible en Spanish
How many times do we go around the house menus, either for daily meals or to receive guests. Most of the recipes that we find have long and elaborate processes, which many times due to lack of time can take us back… Well, if you are looking for a simple recipe, with good results and full of flavor, what I bring you today is a wonderful option. A rye galette with pesto and tomatoes.
I promise that there is nothing easier in the world than to make a galette. Simply mix the ingredients, let stand in the fridge, stretch and fill. It couldn't be easier.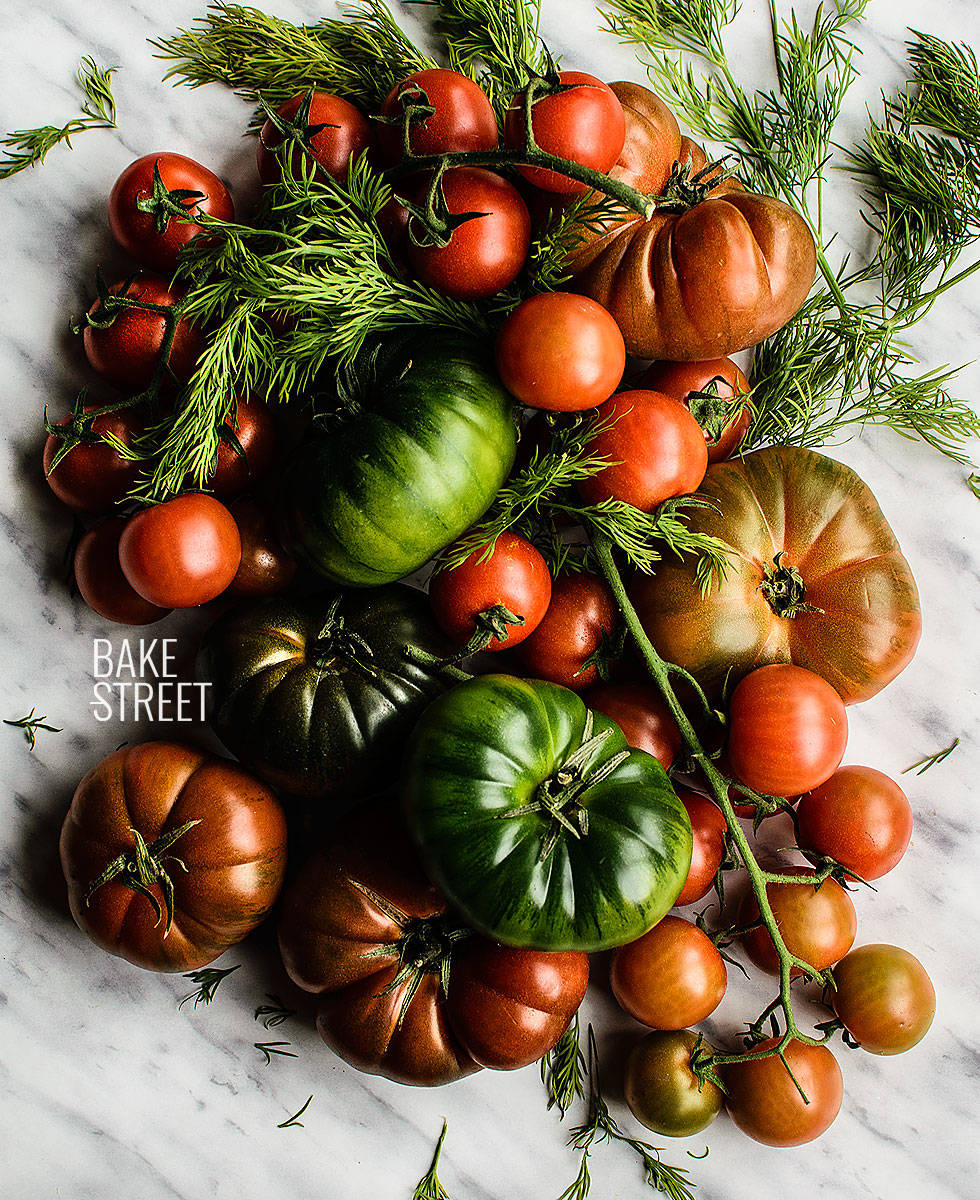 Galettes.
The galette is a term used in French cuisine to describe different types of dough or flat round cakes. We can find the Galette bretonne which is a crepe made from buckwheat that is traditionally filled with salty ingredients.
In the variety of cakes, we can find the traditional Galette de Rois, a cake filled with almond cream and made with puff pastry. Franco-Canadians call galettes large pastas or cookies.
We are going to make a galette that looks more like a tart or salty cake. It is very common to find recipes of this type, whether they are salty or sweet, when we look for that term.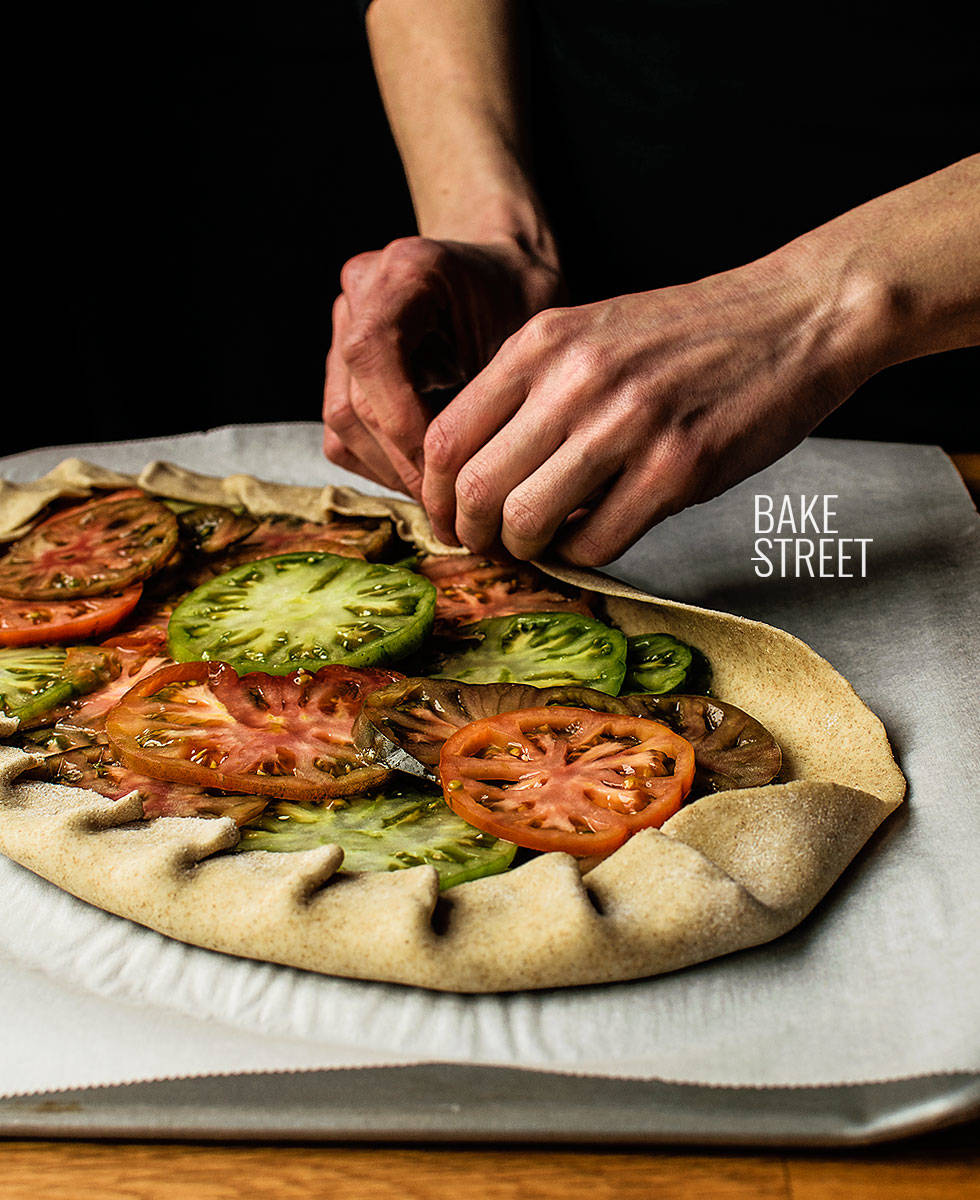 Our rye galette and tomato.
There are as many types of doughs to make a galettee as there are options available. They can be found made with butter, without it, with different types of flour, with an addition of cream cheese, spices… As far as our imagination goes.
In our case we will use bread flour and whole rye flour. I like the color, aroma and flavor of this flour very much. But feel free to replace it if you can't find or don't like it.
My stuffing was clear that it was going to consist of 100% tomatoes. I wanted to use different types and, if possible, in different tones to achieve a more colorful result. I was fortunate that when I went to buy them, I found a colorful assortment in the tomatoes impressive. I almost went crazy buying tomatoes, hahaha.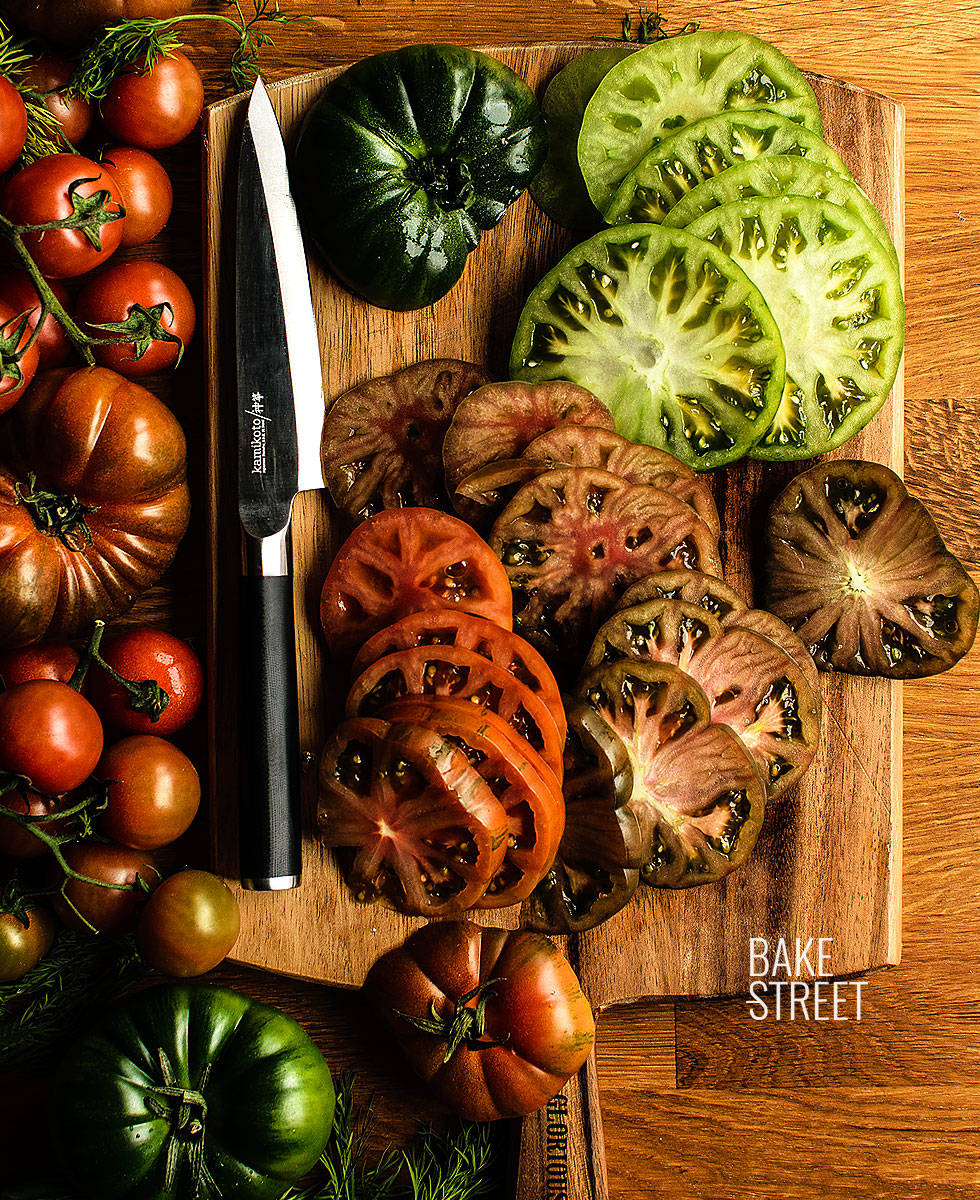 To add flavor and juiciness, I used homemade pesto. I always have a glass container with pesto in my fridge, it's never the same recipe because I improvise a lot with what I have in the kitchen or what I'm thinking about at the moment… The good thing about it is that it keeps very well, and for several days, if we cover it with a layer of olive oil.
We won't need too much to finish it. Fresh dill leaves, a touch of salt and pepper and a dash of olive oil.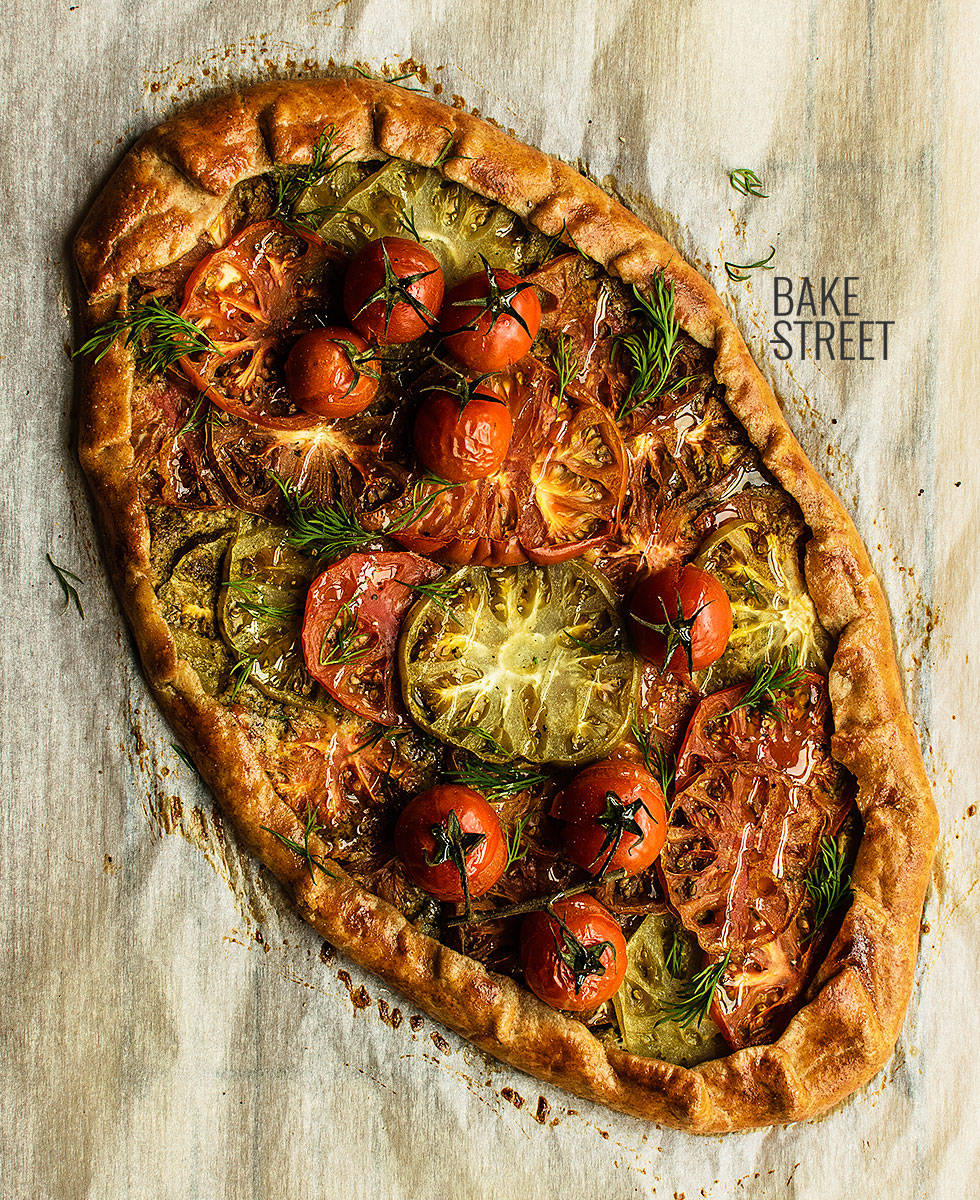 Ingredients
FOR THE DOUGH:
2,45 oz (70 g) bread flour
2,45 oz (70 g) whole rye flour
3,15 oz (90 g) unsalted butter cold
0,07 oz (2 g) salt
pinch of sugar
2,1 oz (60 g) very cold water (from the fridge)
1 beaten egg + pinch of salt + 1 tsp water for brush
FOR THE FILLING:
basil, rocket and almonds pesto (recipe below)
3-4 firm and beautiful tomatoes (green, red...)
cherry tomatoes
salt and pepper to taste
a dash of olive oil + fresh dill
FOR THE BASIL, ROCKET AND ALMOND PESTO:
0,9 oz (25 g) basil, only the leaves
0,7 oz (20 g) rocket
2,65 oz (75 g) fried and salty almonds
125 g olive oil
,4 oz (100 g) parmesan cheese
1 large garlic clove
salt to taste, if deshired
Instructions
Prepare the basil, rocket and almond pesto.
Wash the rocket and basil leaves with cold water, dry carefully. Remove the stems and leave the leaves alone.
In a food processor, add the rockete leaves along with the basil and oil. Blend until a deep green paste is obtained.
Add the almonds together with the parmesan and garlic. Blend again until a homogeneous mixture is obtained.
Taste and rectify salt if necessary.
Pour the mixture into an airtight container, cover with olive oil and refrigerate until ready to use.
Make the galette dough.
In a large bowl, or in the KA bowl, add the 2 types of flour together with sugar and salt. Mix slightly.
Add the butter cut in small squares and, with the help of the flat beater, mix at speed 1 until a sandy texture is obtained. If done by hand, rub the mixture with both hands until the texture specified above is obtained.
Pour the cold water and mix with the flat beater until you get a homogeneous mixture. If done by hand, combine the ingredients until a homogeneous dough is obtained.
Transfers the dough to a clean surface and knead for a few seconds.
Shape a flattened disc, cover with film and place it in the refrigerator for 2-3 hours.
Shape the galette.
Lightly sprinkle a work surface with rye flour.
Stretch our dough, giving it an oval shape, until we reach approximate measures of 10 x 17 inches (25 x 45 cm). The dough must be very thin.

Place on a tray lined with baking paper and refrigerate while cutting the tomatoes.
Wash the tomatoes very well, dry them and cut them into slices that are not too thin or too thick. Set aside.
Stuff the galette.
Remove the pesto from the refrigerator 20 minutes before filling the galette to obtain a more spreadable consistency.
Get the dough out of the fridge.
Spread the pesto over the surface, leaving 1,2 inches (3 cm) around without covered the edge. We will use between 4-5 tablespoons of pesto.

Place the tomato slices over the pesto, interspersing the colors and sizes of the slices.
Fold the edges inwards, covering part of the tomatoes and folding.
Refrigerate for 45 minutes so that the dough becomes firm.
Bake the galette.
Preheat the oven to 355º F (180ºC).
Get the galette out of the fridge.
Place some cherry tomatoes on the surface, salt to taste.
Brush the edge with beaten egg and bake for 30-35 minutes.

Raise the temperature to 390º F (200ºC) and bake for another 5 minutes.
Remove and let it warm for a few minutes on a rack.
Just before serving, sprinkle ground black pepper to taste, pour a dash of olive oil and decorate with fresh dill leaves.
Serve.
Notes
Can the dough be made without rye flour? Yes, it can be done. Just skip it and use more bread flour or wholemeal instead. But I recommend using it because the taste is fantastic.
Rye flour makes the dough sticky to the touch. So this texture is completely normal when you knead it.

We must respect the cold times of the dough to ensure that, at every step, it has the right consistency and firmness.
The pesto can be this variety that I leave you or any other, even the traditional made with basil and pine nuts. On the blog you can also find a sage and hazelnut pesto and a kale pesto, this last only available in Spanish.
Tomatoes that you use make sure they are firm and of very good quality. This way you will ensure that the taste is extraordinary.
This rye galette with pesto and tomatoes is one of those things that when you make them, you think, I've made a small amount. Its flavor is extraordinary, very aromatic and fresh. The texture of the dough is soft and slightly brittle, not at all hard or dense. I could almost say it melts in the mouth.
At home we really liked this combination, especially for dinner. The dough had already been prepared on other occasions, so at this point it was on the safe side :D
I look forward to seeing yours on social networks! I love it when you share your experiences with me. Nothing can make me more excited!
I wish you a wonderful Wednesday.
Big hugs,
Eva
Archivado en