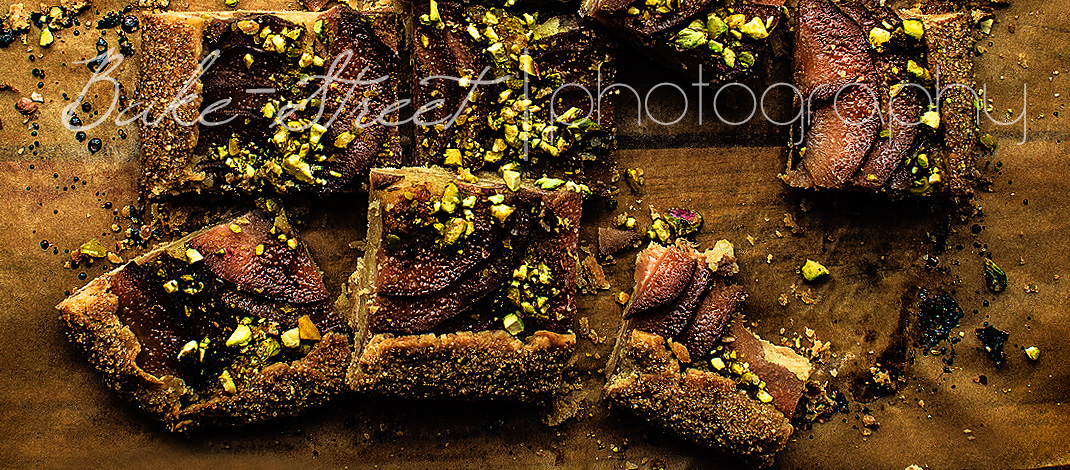 Quince, almond cream and pistachios galette
Este post también está disponible en Spanish
I still have some quinces that my parents gave me … When I told you that they gave me a big amount, it was not a joke! Although it is true that, in these days, I am cooking the last. This quince, almond cream and pistachios galette has been an awesome choice.
This recipe is one of those that you do not expect, nor do you have in mind to do, but it comes to you suddenly. A few days ago I was watching Instagram and I saw a wonderful galette that Monika "thereshecooks"was doing (I'm sure many of you already know her). She makes some beautiful photos and is a great artisan baker.
I fell in love ipso facto. And I thought – What good use I will give to the few quinces I have left. I kept the idea and presentation from Monika to make my recipe.
The galette dough is from another recipe that I have already used in the blog, in this plums, figs and lavender galette. I changed the kind of sugar and omitted the lemon zest. For the filling I decided to make an almond cream instead of a sour cherry butter, which is similar to a cherry jam with spices, which Monika uses. I saw a good combination with the quince, besides, the cold temperature still accompanies for this type of filling.
The quinces, I think, would have been better poached at a low temperature in the oven … But it was too many hours cooking them and I needed the oven for other bakings. That's why I decided to cook them this way. Even then, the result is really good and quinces have a fantastic texture.
You can omit syrup if you wish. I wanted that the surface had a bit of shine since the way I cooked the quinces, with little sugar, would not create a layer of syrup over them. Finally a few pistachios and enjoy.
QUINCE, ALMOND CREAM AND PISTACHIOS GALETTE
FOR THE DOUGH:
6.2 oz (175 g) wheat flour
3.5 oz (100 g) unsalted cold butter
0.07 oz (2 g) salt
1/2 Tbsp dark muscovado sugar
1 – 1.8 oz (30-50 g) cool water
FOR THE FRANGIPANE:
unsalted butter at rom temperature, 3.5 oz (100 g)
ground almond,3.5 oz (100 g)
icing sugar,3.5 oz (100 g)
1 large egg
FOR THE QUINCES:
2 large or 3 medium quinces
28.2 oz (800 l.) water
1.8 oz (50 g) hazelnut liquor
3.5 oz (100 g) dark muscovado sugar
1.25 oz (35 g) honey
1/2 fresh lemon juice
FOR DECORATE:
pistachios
light syrup – 3.5 oz (100 g) water + 1.8 oz (50 g) sugar
beaten egg to brush + demerara sugar
INSTRUCTIONS:
Make galette dough.
In a large bowl add flour along with sugar and salt, mix with a silicon scrapper.
Cut the butter into squares and transfer to the bowl. Rub the mixture with your hands until get a sandy texture.
Pour cold water little by little, mixing with your hands each time. You must get an homogenous dough, not friable.
Make a disk with the dough, cover with plastic film and place in the fridge for 1 hour.
Cook the quinces.
Peel quinces with a sharp knife or vegetal peeler and remove quince core with a baller Parisienne scoop. They are too hard so be careful when you make this step.
Cut in quarters, drizzle with lemon juice and set aside.
Pour water in a pot with honey, sugar, liquor and quinces.
Cook medium heat until quinces are tender, roughly 65 minutes. If you insert a fork, must come in and out easily.
Remove from the heat and let lightly cool.
Make almond cream.
In the bowl of the stand mixer add the butter and, with the paddler, beat until whitened. It will take about 3 minutes. It will acquires some volume.
Add the icing sugar and beat again. I recommend placing a cloth over the bowl to avoid forming a cloud of sugar in the kitchen.
Incorporate the ground almond slowly, in 2 or 3 batches.
Once the mixture is homogeneous, pour in airtight container and place in the fridge for 30-60 minutes.
Make the galette.
Drain the quinces and cut into 0.20 inches (0.5 mm) slices. Set aside.
Between two teflon sheets stretch the dough with a roller. We must try to form a  9 x 14 inches (25 x 35 cm) rectangle.
Remove the teflon top sheet and place a baking sheet instead. Turn the dough on a tray and remove the other teflon sheet (which will now be on top).

Spread the almond cream over the dough leaving about 5 cm free on each side. We'll have a little more than a tablespoon of cream which we will not use.

Place the quince covering the almond cream.

Fold the outer edge over the fruit and seal the corners.

Brush with beaten egg and sprinkle demerara sugar.
Place in the refrigerator for 30 minutes to get a harder dough.
Bake quince galette.
Preheat oven at 390ºF.
Bake the galette on medium high for 40 minutes.
 Ten minutes before finish the bake, make the syrup. Put the water along with the sugar in a saucepan and place on medium heat until get a light syrup. About 5-7 minutes.
Remove the galette from the oven, brush the quince with syrup when it still warm, and let cool completely over a rack.
Decorate with mashed pistachios before serving.
PRESERVATION: We can store it in an airtight container for 5-6 days, best refrigerated. remove from the fridge a couple of hours before eating it.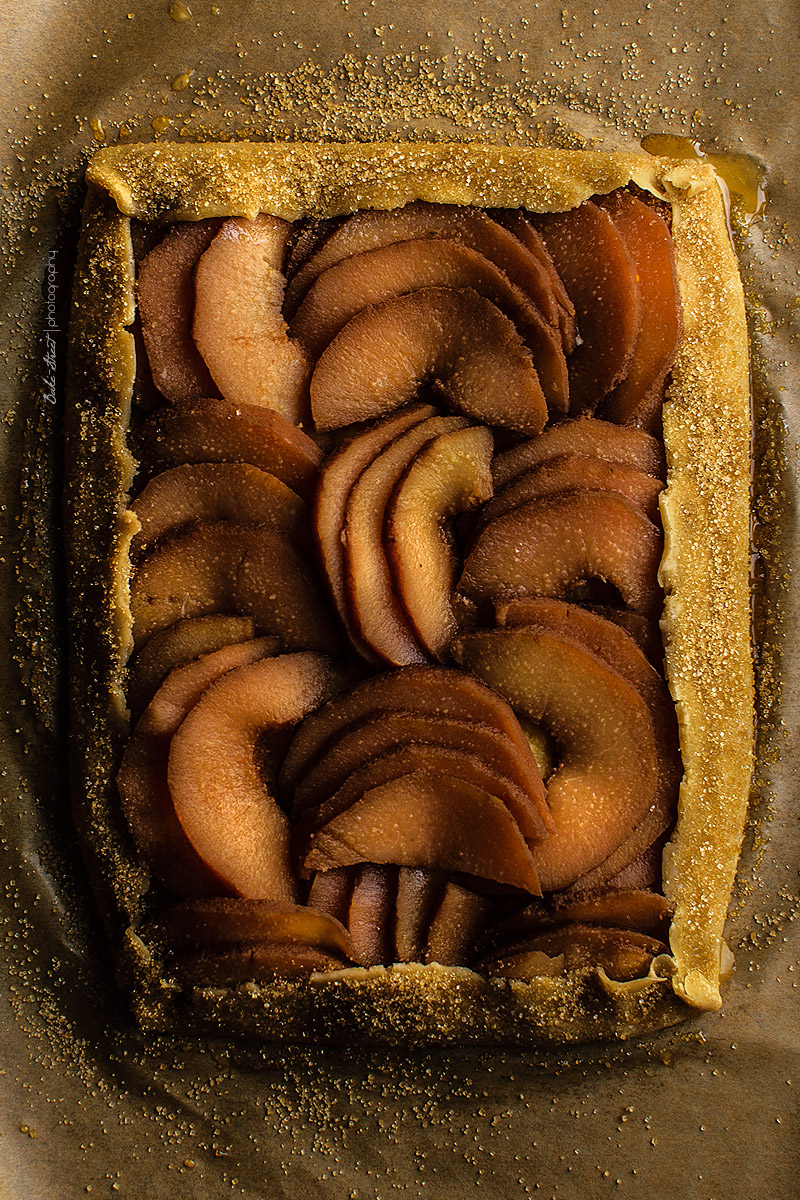 TIPS:
I do not find quinces or I do not like … It does not matter, you can use instead apple, pears in syrup, peach in syrup or your favorite fruit..
The galette dough can be made in advance and refrigerated until the following day. If you want to do it some days before, you can freeze it perfectly.
The dough can be brushed with milk instead of egg, if you prefer.
I like to use demerara sugar for this type of decorations because it is a kind of sugar that withstands very high temperatures and after baking continues to maintain its appearance. If you can not use normal sugar, almond crocanti, poppy seeds or even make a crumble.
The almond cream can be made in advance and refrigerated for one day. If it is longer, you should freeze it. For the amount that is left you can make a couple of toasts like these bostocks 😉
This quince galette is, without a doubt, a good treat for the weekend. A creamy almond cream accompanied by a very sweet quince with chopped pistachios … I am drooling!
Enjoy the weekend and see you again on Monday.
Big hugs,
Eva