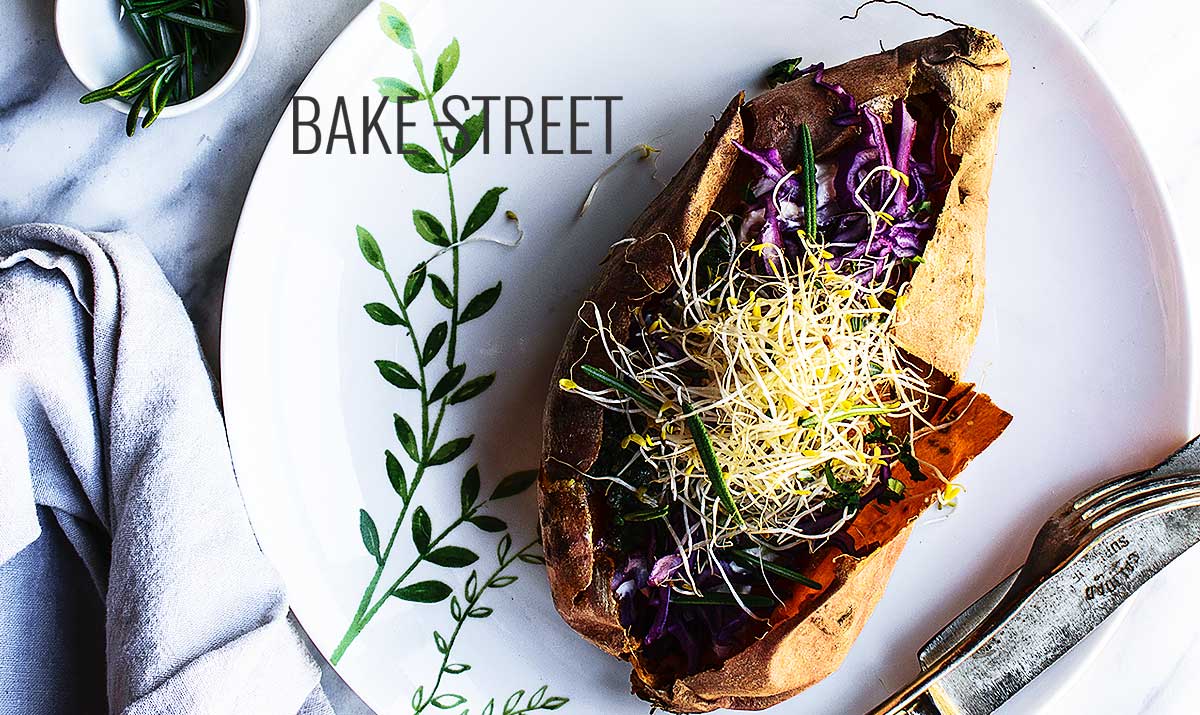 Sweet potato stuffed with red cabbage and sage pesto
Este post también está disponible en Spanish
If there's one thing I like about autumn are sweet potatoes, well and chestnuts. There are two ingredients that can not miss in our food pantry arrival this time of year. Not only because of how incredibly delicious they are, even by simply roasting them, but also because they are versatile in the kitchen. Today I leave you a new elaboration for you to enjoy this incredible ingredient, sweet potato stuffed with red cabbage and sage pesto.
Oh, I know that a lot of you will put aside the fact of finding red cabbage in the elaboration. But I think you should give it a new chance. I'd almost dare say you won't regret it.
Red cabbage, that ingredient that can be the protagonist in our dishes
Raw red cabbage is a wonderful ingredient to use in the kitchen, I like it much better than when we cook it. We have all eaten the traditional red cabbage cooked with apples and pine nuts on more than one occasion. It is one of those dishes that the first time we find funny, but as you consume it more often seems to be losing interest…
I like this raw ingredient very much because it provides a super crunchy texture along with a fresh and pleasant taste if we know what ingredients to combine it with. By combining it with the roasted sweet potato, we achieve a mixture of sweet and fresh fantastic flavors.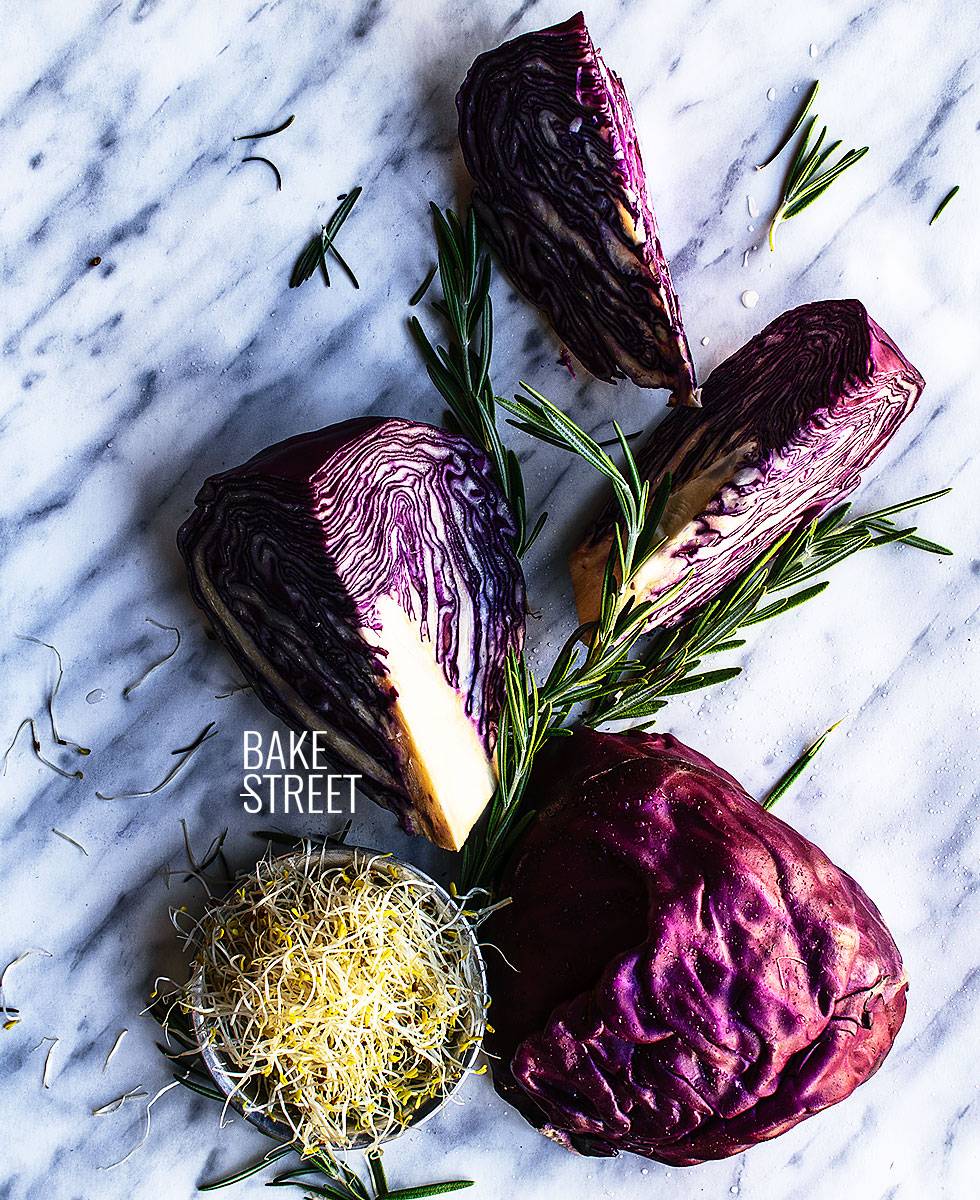 A memory of my student childhood
I remember a native teacher I had in my English academy and her anecdote with red cabbage. When she went out with her friends to the countryside or spend the day in a natural environment, she always made raw shredded cabbage sandwiches with mayonnaise. He told us it was her favorite sandwich.
Her friends always told her that she prepared very rare sandwiches, that they were not appetising… Until they asked her if they could taste it. Well, they ate her sandwiches… and she'd say to them – "You didn't say my sandwiches were not fancy… if you ate them!" -.
That anecdote about my teacher was fixed in my mind forever and I can't help but remember it when I cook with it. Curious
Looking for flavors for our stuffing
Pesto is a sauce that goes well with everything. That's the way it is. Whether it's pizza*, toast*, fresh pasta or even salads. In addition to that, we can elaborate with countless ingredients. This time I decided to prepare a sage pesto, I had a lot at home and I didn't want it to spoil.
*Only available in Spanish.
Since pesto is a very tasty preparation, I had to look for "companions" that will help to highlight its flavor without "disturbing" the whole. That's why I opted for a crème fraîche together with the red cabbage, sprouts and a touch of rosemary.
Rosemary is an aromatic that cannot be better combined with sage. An aromatic herb with citrus touches along with the power of rosemary ensure a stunning result.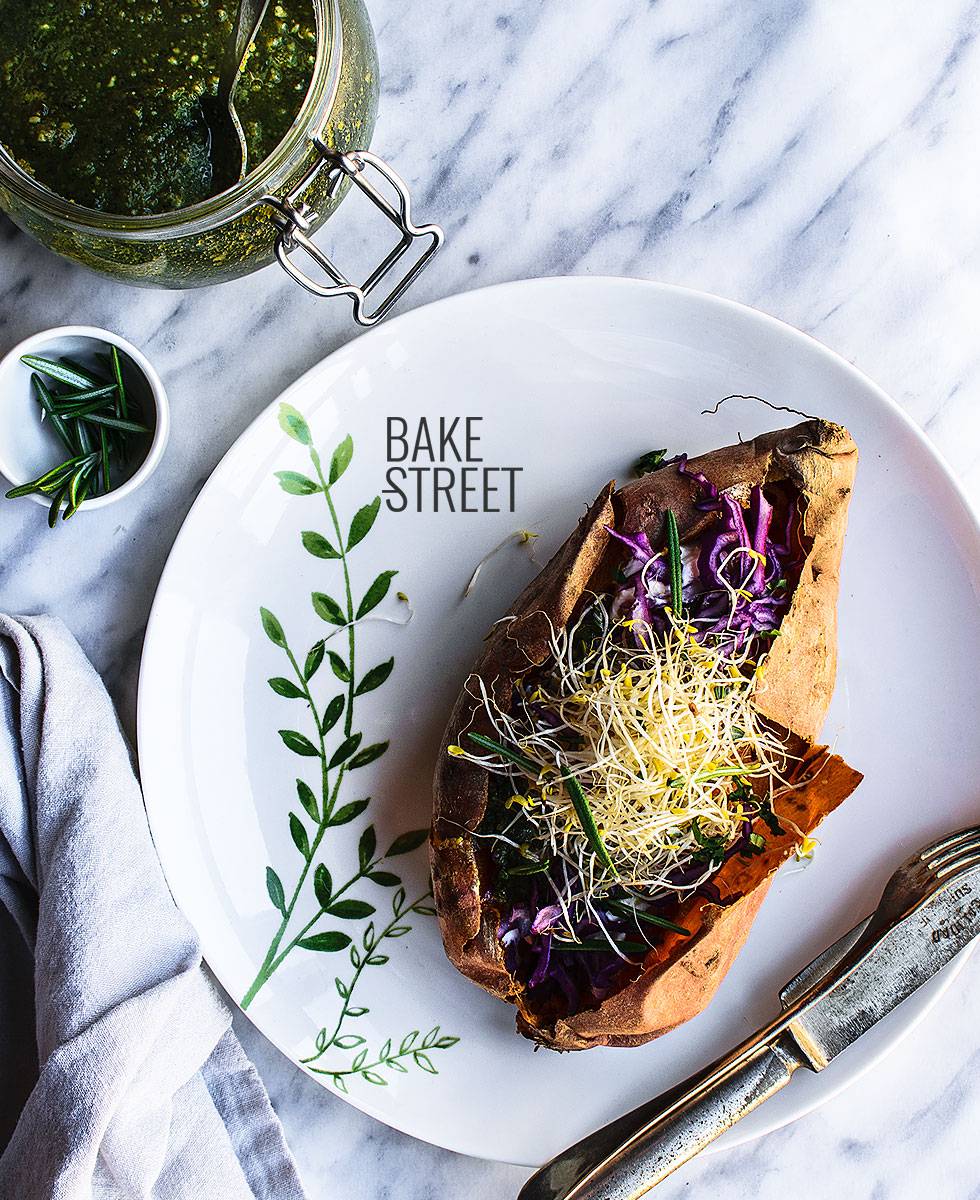 Ingredients for 2 serves
2 large sweet potatoes
raw red cabbage
3,2 oz (90 g) crème fraîche
sage pesto (recipe below)
alfalfa sprouts
fresh rosemary leaves
FOR SAGE AND HAZELNUTS PESTO:
0,9 oz (25 g) sage, only leaves
0,7 oz (20 g) basil, only the leaves
2,65 oz (75 g) roasted hazelnuts
4,4 oz (125 g) olive oil
3,5 oz (100 g) parmesano
1 large garlic clove
salt to taste
Instructions
Prepare the sage and hazelnut pesto.
Wash the sage and basil leaves with cold water, dry carefully. Remove the stems and leave the leaves alone.
In a food processor, add the sage leaves along with the basil and oil. Blend until a deep green paste is obtained.
Add the hazelnuts together with the parmesan and garlic. Blend again until a homogeneous mixture is obtained.
Taste and rectify salt if necessary.
Pour the mixture into an airtight container, cover with olive oil and refrigerate until ready to use.
Bake sweet potatoes.
Preheat oven to 355ºF.
Line an oven tray with aluminum foil.
Wash sweet potatoes very well underwater to remove all the mud on the surface. Dry with paper and place in the tray.
Bake for about 1 hour. The baking time will depend on the size of the sweet potatoes, it can be around 45-75 minutes. To find out if they're roasted, we'll prick them with a knife, this one should come out easily.
Remove and allow to temper slightly.
Assemble sweet potatoes.
Wash the red cabbage and cut into thin strips using a mandolin. Set aside.
Cut the sweet potatoes in half, longitudinally, without reaching the end. Open slightly to "make a hole" where to place the filling.
Put a base of shredded red cabbage cut into strips, crème fraîche, 2-3 spoonfuls of sage pesto and finish with alfalfa sprouts and finely chopped fresh rosemary.
Serve.
Notes
Why should we remove the stems from the leaves? Because otherwise we would get a bitter taste.
Pesto can be made with the variety of sage I have left you or, if you prefer, with the traditional pesto. You can also use this variety of kale pesto which I left you some time ago.
If you choose to use kale pesto, instead of using only crème fraîche, you can use the ginger cream that I leave in this recipe.
The hazelnuts in the pesto recipe can be replaced by almonds, walnuts, pine nuts... of your choice.
Pesto have to be tempered a few minutes before serving so that it acquires a more melting texture.
Fresh rosemary goes very well with sage, try not to omit it because the combination is fantastic.
Crème fraîche can be replaced by a cream cheese, mascarpone for example, in case we do not have it.
Sprouts are optional, personally I like them very much. Especially the fresh and country point they bring.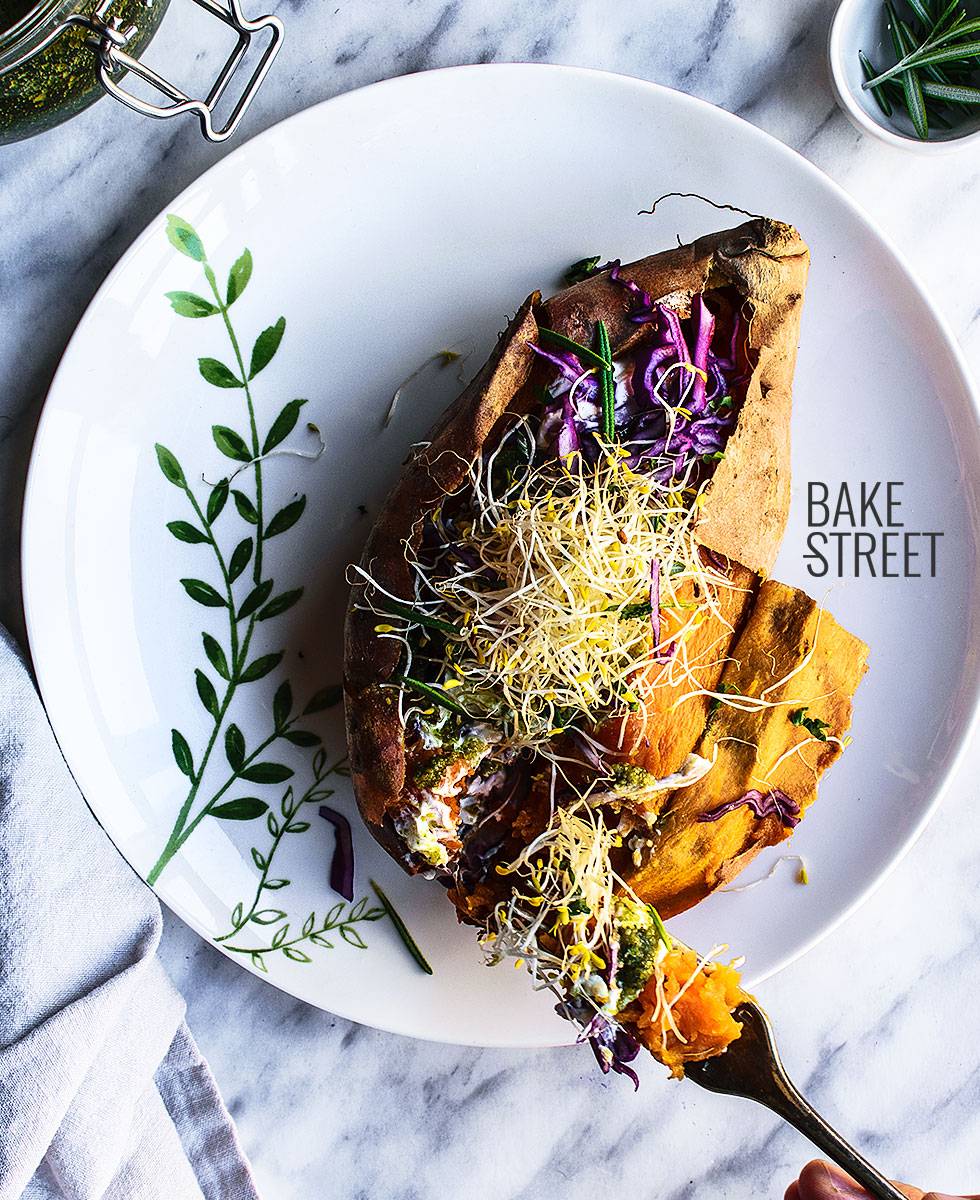 These sweet potatoes stuffed with red cabbage and sage pesto are a fantastic, healthy and simple option to solve a dinner or a first course. We can leave everything prepared in advance without warm them and assemble before serving.
The texture of the roasted sweet potato together with the crispness of the red cabbage and the mild and aromatic mixture of the sauces make this simple dish a real delight.
Have a good start to the week.
Big hugs,
Eva
Archivado en